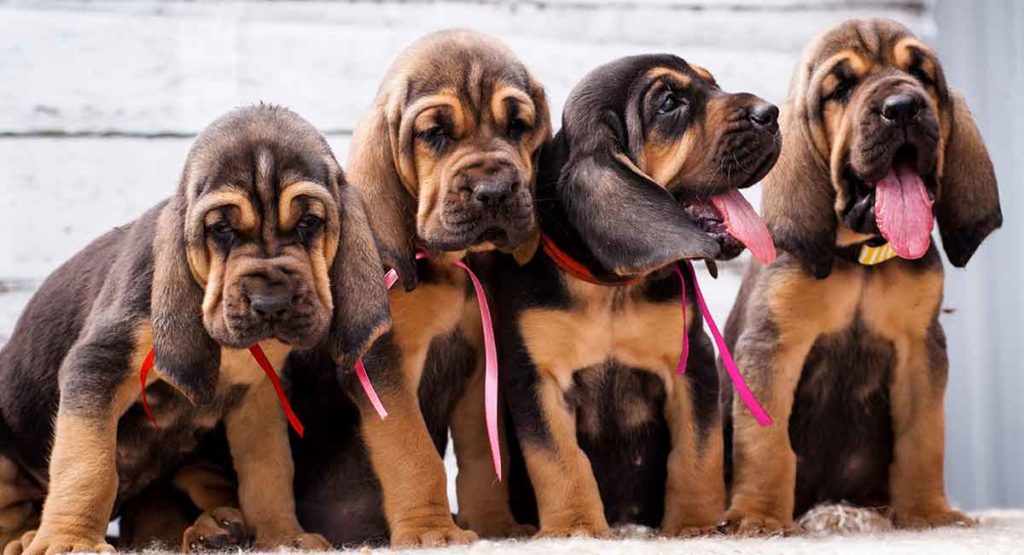 The best Bloodhound names suit their stoic looks and dependable nature.
We've got hundreds of suggestions, starting with 100 of our all-time favorite names:
Abel
Arthur
Artemis
Alice
Avalon
Ben
Boris
Betty
Bobo
Bourne
Brian
Bud
Baseley
Bopp
Baker
Boosey
Buxton
Bentley
Charlie
Crawford
Cassie
Clara
Chudley
Collins
Cox
Clarke
Clement
Chandler
Cordelia
Dom
Dudley
Doyle
Duffy
Doris
Dunlop
Earl
Ember
Eddie
Edmund
Everly
Fred
Fortnum
Flora
Fudge
Grant
Grumble
Gertrude
Georgia

Greer
Gormley
Giles
Garrick
Herbert
Hoovie
Hemingway
Harriet
Herriot
Isla
Ireland
Idol
Iris
Jackson
Jerry
Jasper
Juliet
King
Kudos
Kelsey
Lionel
Lancelot
Lola
Laurel
Lerond
Miller
Morris
Mallory
Moose
Mayall
Maxwell
Molly
Minnie
Neil
Nelle
Orvill
Percy
Petra
Rouse
Rhodes
Regis
Rosie
Ruby
Sullivan
Stainsby
Thomas
Theo
Wilf
Walder
Bloodhound Names
Inspiration for names can come from a whole variety of places. For Bloodhounds, some of the best names tend to be classic human ones.
That's just one choice though. The options are endless!
Bloodhounds are renowned for their hunting abilities, so strong, regal names suit them well. But of course, their skills aren't the only inspiration you can find for their name.
Your puppy's personality and appearance can also prompt the perfect name. Maybe a flower will inspire you, or the name of a character you love. Books, movies, stories and history can all prompt a great name idea.
No matter where it comes from, when you find the right name for your Bloodhound puppy, you'll both know it!
Best Names for Bloodhounds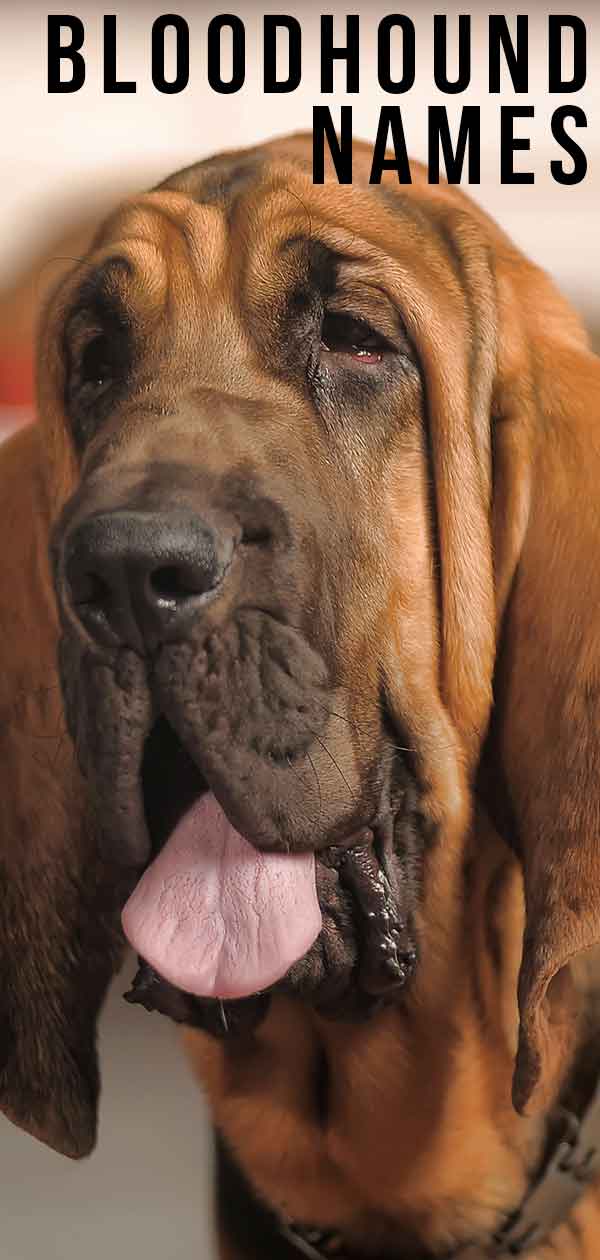 There are some names that are just classics. That's what makes them so popular.
Many standard names seem to fit Bloodhound dogs perfectly. And when you look in your puppy's face, one of these names might feel just right.
Here are some of the best names that we love:
Roscoe
Beacon
Delilah
Toby
Scout
Sadie
Lady
Baxter
Gertrude
Betsy
Boomer
Harlow
Are you considering giving your canine a name that describes his appearance? The color of their fur, patterns or unique features is great for inspiration.
Here are some of the best color-inspired ones for your puppy:
Red
Brandy
Caramel
Ruby
Tanner
Scarlett
Hazel
Amber
Copper
Ginger
These standard dog names are well-known and popular. Not everyone wants something common though! We have a lot more unique and creative ones for you to choose from.
Names for your Female Bloodhound
A lot of people like to give their pets human female names. There are lots of names that can bring a sense of femininity to your pup.
Something about the face and demeanor of a Bloodhound makes them the perfect candidate for classic names. They hardly look like movie stars of the silver screen, but the names seem to fit them as well as any star.
Of course, you can also use these names for male Bloodhounds as well, if you feel that the name is just right.
With that said, here are some of our favorite female names:
Piper
Lucy
Bella
Marley
Josie
Agatha
Maybelle
Clara
Matilda
Dolores
Beatrice
Dolly
Shirley
Zoey
Abby
Ruth
Betty
Molly
Lois
Chloe
Phoebe
Grace
Emma
Heidi
Names for your Male Bloodhound
There are nearly endless options for a great male Bloodhound name.
Do you want them to have Southern charm? Do you want to accentuate their talent for hunting? Or maybe you just want them to have a human one.
Remember that these names aren't strictly limited to male dogs. If a name suits your female dog, go ahead and use it!
Here are some of the top male names:
Moose
Tobias
Bruno
Mac
Clarke
Oliver
Jack
Napoleon
Hubert
Rufus
Kane
Angus
Tucker
Luke
Bruce
Samwell
Jasper
Emmett
Theo
Eddie
Sampson
Carl
Bernard
Fred
Oscar
Winston
Cool Bloodhound Names
Choosing a cool name for your Bloodhound can give them an extra sense of pep. They don't have to be off the wall or random names, either.
Cool names can come from a number of places, from your favorite characters to your favorite musicians. Even typical short and catchy names give a sense of cool.
These are some of the top cool names for your dog:
Raven
Hunter
Jett
Cooper
Bo
Harley
Arya
Brienne
Rogue
Trusty
Odin
Rex
Gruber
Loki
Storm
Tracker
Titan
Baggins
Nash
Huck
Bronn
Music Inspired Names
Are you a fan of country music? Maybe jazz? Or how about good old rock-and-roll? Here are some of the best musician-inspired cool Bloodhound names for you to consider:
Emmylou
Patsy
Merle
Cash
Jackson
Nelson
Otis
Hank
Doc
Presley
Duke
Waylon
Cute Bloodhound Names
If you feel that your puppy is the cutest dog around (and I bet you do), then you need a cute name to match!
The perfect adorable name can come from lots of places. You can look at flowers, movies, history and lots more.
One of the most bountiful sources of inspiration is nature! Nature is beautiful, and there are lots of adorable names and words to choose from.
These are some of the best nature-inspired cute names:
Blossom
Brook
Daisy
River
Clementine
Rosie
Honey
Sweetpea
Bear
Willow
Holly
Here are some other standout cute Bloodhound names:
Ladybird
Skye
Penny
Chip
Reese
Dame
Maggie
Evie
Sophie
Princess
Missy
Sugar
Dottie
Charlie
Mabel
Casey
Dash
Funny Names for Your Bloodhound
Lots of puppies have a silly personality, and they could use a silly name to go with it! If you love to laugh, consider giving your Bloodhound a name that makes you smile every time you say it.
Here are some of our favorite funny names:
Merlin
Bongo
Pepper
Snickers
Boots
Meatball
Rocket
Sassy
Peanut
Scrappy
Spud
Brownie
Candy
Nacho
Taco
Kitten
Bandit
Unique Bloodhound Names
Your Bloodhound dog is unique, and maybe you'd like a unique name to help them stand out.
There are no rules when deciding on a unique Bloodhound name. If the word suits your puppy, and they respond to it, then it's a perfect name! That's all there is to it.
Do you love baseball? Maybe you'll want to name your Bloodhound after a stadium:
Fenway
Wrigley
Dodger
Miller
Bloodhounds are often seen dressed as Sherlock Holmes. This is likely because of their incredible detective noses. So, a mystery-solving name may be just the thing for your Bloodhound.
Sherlock
Watson
Nancy
Hardy
Holmes
Here are some other wonderfully unique names you can consider for your Bloodhound pup:
Beauregard
Lafayette
Juno
Sable
Ursula
Elmer
Figaro
Rugby
Dakota
Angus
Growler
Baby
Jed
Darcy
Tough Bloodhound Names
Your dog might have a more gruff personality. Or maybe you want them to radiate strength. Nothing fluffy or cuddly for them!
If your Bloodhound has a mischievous or hardy personality, then one of these tough names might be just the right fit for them.
Ranks and roles in positions of power often make for good, tough names. They represent command and strength. Here are some to consider:
Chief
Sarge
Major
Captain
Ranger
Admiral
General
Maybe you'd rather something a little more general. But you still want a tough name, and we have lots of ideas. Maybe you want an electric name; or something haunting!
These are some more of our favorites:
Gunner
Blaze
Brutus
Valkyrie
Beast
Ghost
Fang
Trigger
Phantom
Charger
Chaos
Fury
Blazer
Mountain
Diesel
Sabre
Fun Facts About Bloodhounds
Bloodhounds have been kept since the Middle Ages when they were developed as hunting dogs in France.
Bloodhounds have up to 300 million scent receptors in their noses, compared to our measly 5 million.
And those floppy ears aren't just for looks – they stir up scents from the ground for even more advanced sniffing!
What is Your Favorite Bloodhound Name?
Your new Bloodhound is going to bring so much joy to your life. And naming them is just a part of that fun!
You may consider lots of names, but when you find the right one, you'll know. Call to them using some of the names you've chosen. Speak them out loud, so you can really hear them.
You can start by deciding what type of name you'd like to give them, and narrow it down from there.
Remember, the best name for your Bloodhound is the one that suits them well.
Have you already named your Bloodhound?
Did any of the names on our list speak to you? Do you have name ideas that we didn't list? Let us know in the comments!
Get Pippa's free dog training tips delivered to your inbox