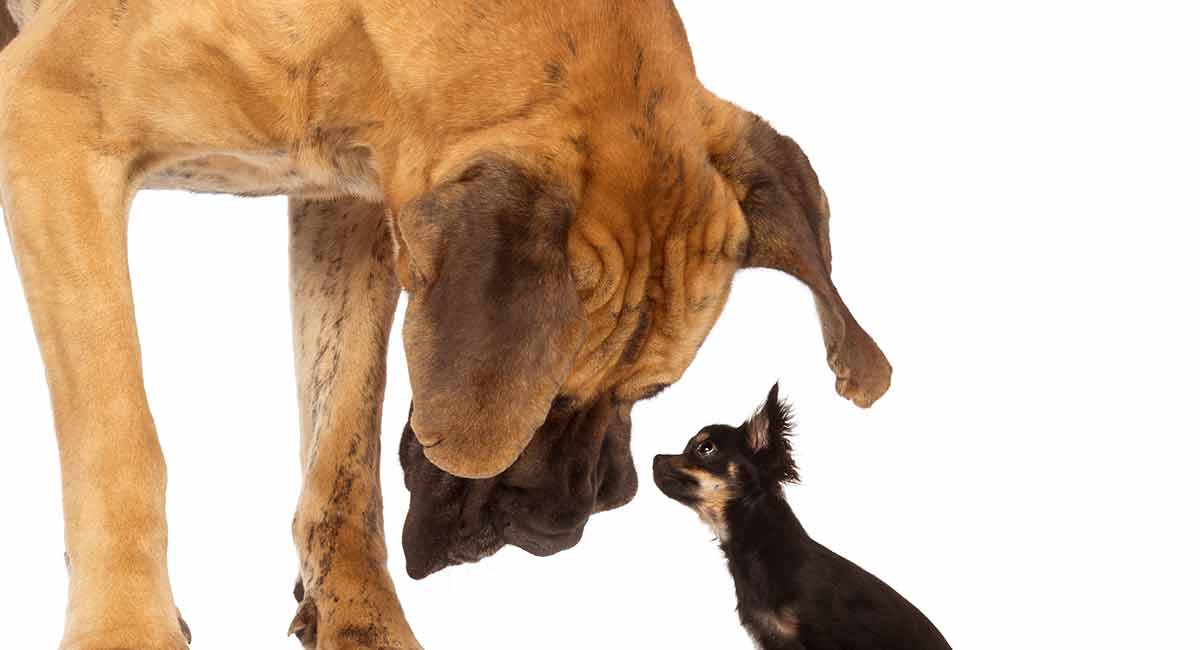 If you've just brought home a big dog, then you're likely looking for big dog names! You're in luck because this is the go-to resource for huge dog names for large breed dogs!
If you're lucky, this dog will stay with you for years to come. Now with that sort of investment, you're going to need the perfect name! For even more dog names check out the best dog names for all dogs here!
If you're curious as to what everyone else is choosing these days, then we've got you covered. Here are a few of the most popular names that you'll see running around the dog park.
Top Big Dog Names 2018
Max
Marmaduke
Buddy
Duke
Queen
Bluto
Tiny
Bruno
Rex
Bailey
While those are the most popular big dog names, if you're like many of us, you want something unique for that special little pup you've just welcomed into the family.
Fantasy Big Dog Names
One of the best ways to come up with giant dog names is to think of something magical; something that is fictional or mythical. You can always choose something from your favorite fandom, whether it be your favorite character or just someone with a solid name!
If you love sticking your nose in a good book or watching fantastical movies, then there's a chance you'll love these fantasy dog names. Large breed dog names are hard to find, so this is a bit of a cheat sheet.
Here are a few of the best big dog names for those seeking adventure:
Thor
Amazon
Beowulf
Xena
Zeus
Daenerys
Valkyrie
Sheba
Odyssey
Loki
Jabba
Godzilla
Vamp
Cujo
Eragon
Toothless
Regina
Smaug
Dragonite
Goku
Freya
Katniss
Ivy
Ragnarok
Huntress
Hermione
These dog names make you feel powerful. But if you want more names that allow you to sit at the cool kids' table, don't miss out on these cool dog names!
Funny Big Dog Names
If great and powerful isn't your style, then you may like to give your big dog a silly name that you can always smile at.
It's always okay to give your dog a silly name. The name is for you, not your dog, they don't even know what it means!
These large dog names aren't disgraceful, but they definitely add some fun to your family life. And some of them are rather ironic!
Check out these funny dog names that will have you nostalgic:
Clifford
Dumbo
Baloo
Groot
Baby
Egypt
Popcorn
Kitty
Peanut
Nugget
Snoot
Cogburn
Elmo
Waldo
Barney
Little Bit
Scrappy
Scooby
Woofs
Darla
Spanky
New York (The Big Apple)
Extra Feminine Big Dog Names
Finding big girl dog names isn't an easy task. Most big dog names are made for males. But that doesn't mean the little lady doesn't want a killer name too.
We have tons of dog names for girls to choose from! Check out these female dog names that your pup will love!
For a quick check, take a look at some of the most attractive large breed female dog names:
Diana (princess or superhero)
Wonder Woman
Harley (Quinn, of course)
Angel
Clara
River
Rose
Delilah
Melody
Daisy
Honey
Mama
Atlantis
Joan (of Arc)
Belle
Lady
Luna
Emma
Victoria
Elizabeth
Jane
Angelina
Not looking for big girl dog names? Then don't miss out on these strictly for male dog names.
Big Names For Little Dogs
Not all big dog names have to be reserved for actual "big" dogs. Some dogs have such a big personality that it takes a big name to really capture it.
Some of the biggest dogs we know need docile, sweet names while some of the teeniest deserve the name Everest!
We've collected some of the most appropriate big names for little dogs:
Kong
Diablo
Goliath
Titan
Terminator
Titus
It
Arnold
Orc
Grudge
Draco
Shrek
Hercules
Snorky
Monster
Mite
Bigfoot
Elmer
Babar
Jigsaw
Kandula
Tardis (bigger on the inside)
Fat Dog Names
If your pup is more than just…big, then you may be looking for something a little more selective. There's no shame in that!
Some dogs are just naturally pudgy rather than "big-boned," as they call it. Large breed dog names sometimes need an extra kick.
These chubby dog names will be perfect for your cheek-pinching pooch:
Angus
Skinny
Professor
Bubba
Beef
Pillsbury
Pugsley
Beast
McDonald
Ranch
Holstein
Burger
Whopper
Slim Jim
Pudge
Team
Hammer
Cookie
Crisco
Ten
Maximus
Muscles
Sumo
Miss Piggy
Rasputia
Cute Big Dog Names
For many, a dog (no matter how large) should have a name even more adorable than they are.
This type of name is rather common for people who get their pups as early as possible. It's hard to name your 6-week old baby something like Rex. If you don't find your name on this list, then check out these cute dog names, too!
Make sure that none of these cute dog names suit your fancy:
Blue
Ace
Gigi
Snookums
Lily
Kiki
Nessie
Jojo
Frankie
Nibs
Coco
Buddy
Baby
Candy
Chico
Nunu
Boots
Mittens
Babbles
Waffles
Tic Tac
Pluto
Nugget
Dibs
Double Name Big Dog Names
We have two names, so why shouldn't dogs? These big boy dog names and big girl dog names are perfect for those who want something more sophisticated.
Again, remember your favorite fandom or fictional character that really made a difference in your life. Or heck, go with your favorite food! The point is, a big dog needs an impactful name. These names have made a difference in millions of lives, so why not make sure your gargantuan doggo gets a name that fits?
Just remember, it's hard fitting these names on a bowl:
Bob Ross
Chuck Norris
Mister Rogers
Snickerdoodle Cookie
Stardust Sparkles
Butterscotch
Reese's Pieces
Wolfgang Puck
Mister Wigglesworth
Mister Miyagi
Barney the Dinosaur
Bruce Wayne
Sherlock Holmes
Forrest Gump
Homer Simpson
Bugs Bunny
The First Doctor
River Song
Crimson Chin
Roundhouse Kick
Kermit the Frog
Flopalopa Ding Dog
Mary Puppins
Duo Big Dog Names
Sometimes, you can't get just one. Oftentimes, you have to get two dogs at a time! In those cases, it's nice to have something that matches. Pick a pair of famous siblings, a couple, or just something that's cute together!
Here we have some amazing big dog names for pairs:
Yin and Yang
Harley Quinn and The Joker
Ben and Jerry
Badonka and Donk
Bert and Ernie
Donald Trump and Hillary Clinton
Romeo and Juliet
Princess and Pea
Sam and Dean
Pebbles and Bam Bam
Milo and Otis
Brooks and Dunn
Darkness and Light
Mama and Daddy
Sol and Luna
Beauty and Beast
Tony and Tonka
Misery and Company
Vader and Anakin
France and Italy
Princess and The Frog
Human Big Dog Names
When Cuddles just doesn't fit, you want a large dog name that gives your pup life. When in doubt, just give them a good old human name. It may seem plain, but most of the time, the dog has enough personality to make the name really count!
Some of the best human dog names are:
Brad
Andy
Opie
Toby
Travis
Trenton
Jack
Max
Jasper
Ben
Gilbert
Luke
Micaiah
Nicky
Bo
William
Harry
Link
John John
Lil Abner
Caleb
Charlie
Riley
Penelope
Linda
Timmy
Jo
Henry
Chad
Ted
Oliver
Sammy
Exquisite Big Dog Names
While some parents go with instinct, others want a large breed dog name that really means something. Take a name from history in this case!
Or, if you want more names that no one else will have, then we have an amazing list of unique dog names for you! Again, important names like these will match your dog's size!
These infamous names will never fail:
Mark Twain
Michelangelo
Jane Austen
Beethoven
George Washington
Samson
Isabella
Shirley Temple
Laura Ingalls Wilder
Nelson Mandela
Mother Teresa
Donatello
Gandhi
Albert Einstein
Ben Franklin
Marie Curie
Anne Frank
Socrates
Jesus
Abraham Lincoln
Charles Dickens
Buddha
Florence Nightingale
Rosa Parks
The best part about this type of name is you can pick someone that you personally look up to. Whether it be a politician, painter, or the man who invented Pringles! It's all up to you!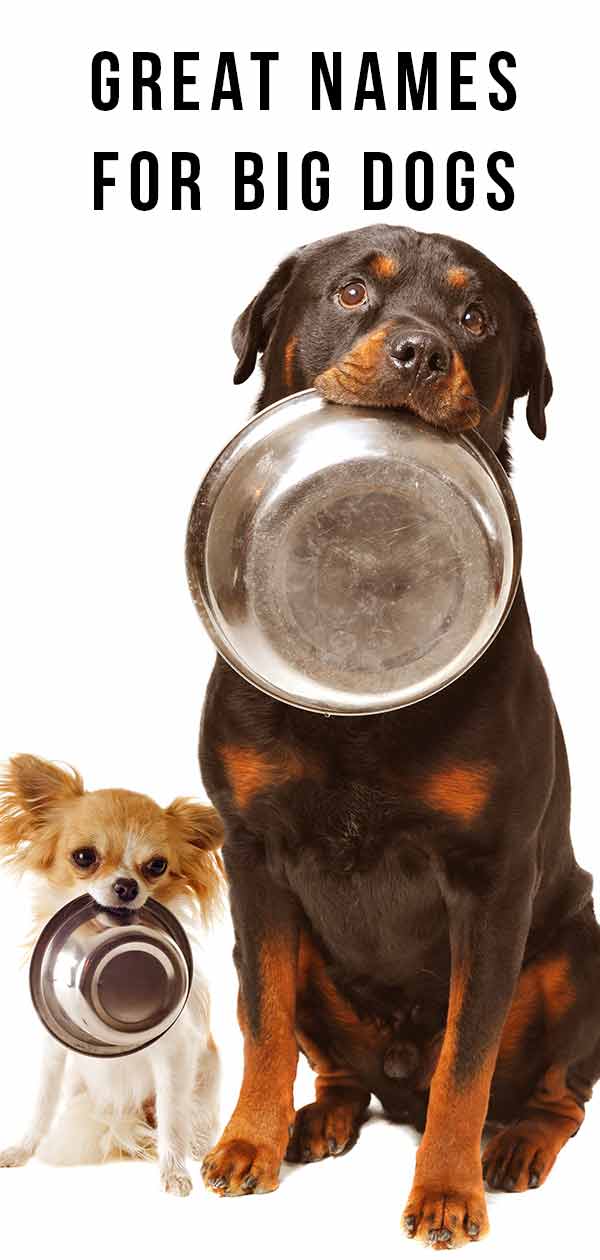 So What Is Your Best Big Dog Name?
Obviously, the best name for your dog is the one that sticks with you. If there's a name you can't stop thinking about, then it's probably "your" name.
If you want to test the waters, don't be afraid to use the name for a day and see how it feels on your tongue. If you change your mind, your dog will never know about that one day as a puppy!
No matter what you end up choosing, know that it was the right choice. You did your best to pick out that perfect name and succeeded!
And don't forget to let us know which name you chose in the comment section below!
Get Pippa's free dog training tips delivered to your inbox