An amiable Beagle pup can pull off all kinds of sweet, classic, or fabulous Beagle names. To get your inspiration fired up, here are our top 100 Beagle names:
Alfred
Arlo
Alice
Abney
Ada
Banjo
Blue
Bing
Bernie
Boris
Bardot
Booboo
Bella
Chester
Crofton
Cora
Chase
Camilla
Cassie
Devon
Dexie
Dusty
Dilly
Daphne
Ernest
Egg
Emmie
Eartha
Fred
Fitz
Flop
Frank
Flossy
Fidget
Graham
Grace
Henry
Harley
Hester
Harriet
Huff
Indie
Ira
Jojo
Jeffery
Jollity
Junebug
Juniper
Karl
Kinga
Lester
Laurie
Lottie
Lexie
Ludo
Munchkin
Milo
Merv
Mia
Moxie
Nico
Norm
Nelson
Nana
Noodle
Oscar
Oswald
Orla
Olibob
Professor
Paddy
Portia
Petal
Rollo
Rooster
Rudy
Rita
Rosa
Serge
Samuel
Silas
Softy
Stella
Sula
Suri
Tycho
Terence
Tizzy
Tidus
Thalia
Teal
Ulysses
Uber
Ugg
Vaughn
Verity
Violet
Winter
Wilder
Xavier
Zelda
Zoom
Are you the new pet parent of a Beagle? If so, then you are probably looking for some adorable Beagle names perfect for this cute, friendly, and affectionate breed!
We love the Beagle for his many wonderful qualities, and we are super excited that you have found yourself here so that we can help you find the perfect name for your new pup.
Whether you are rescuing, or you have gotten your Beagle from a breeder, naming your new dog is an exciting and fun part of the first steps of doggy parenthood.
So, congratulations and enjoy this time!
But is there anything you should know before you choose a name for your Beagle? Are there rules when it comes to naming your dog, and how quickly can your Beagle learn his name?
Let's find out.
Beagle Names
Most dogs are able to learn their names in as little as two weeks, but did you know that some names are easier for dogs to learn than others?
According to some experts, many dogs seem to be able to learn names with two syllables much quicker than names with only one syllable or names with three or more syllables.
That means that your Beagle may be able to pick up on a name like Boxer quicker than he would pick up a name like Tag or Delilah.
But does that mean you must only choose a two-syllable name for your Beagle? Of course not. So long as you use positive reinforcement during training and plenty of patience, your clever little Beagle should learn his name in no time.
Another thing you may want to consider before choosing your Beagle's name is the number of times you will be repeating it.
Make sure you pick a name that is easy for you to pronounce and that you are fine with repeating out loud in public and in your home. Fun and silly names may seem perfect and hilarious at the moment, but years down the road you may regret your choice when out in public.
Of course, the above are all just suggestions and none of them are rules. In fact, there are no rules when it comes to picking the perfect name for your Beagle!
And with that being said, let's get on with the fun of choosing the perfect Beagle name, starting with some of the most popular.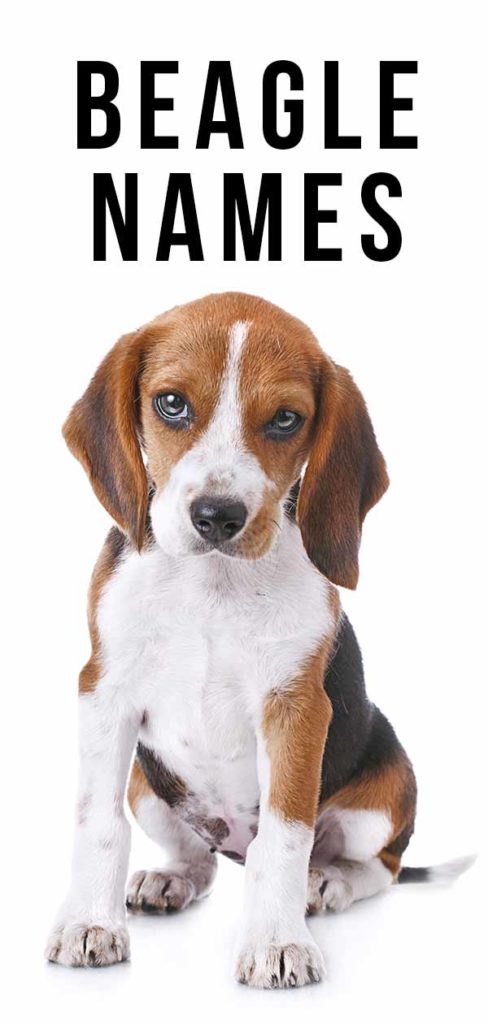 Best Beagle Names
Dog owners have united and listed some of the most popular names of this year all over the internet. These names are not only totally in and trendy, but they are also cool, cute, and fun.
If you love keeping up with the times and want to make sure your Beagle's name is totally relevant, then this is the list for you.
• Poco
• Lucy
• Milo
• Bonsai
• Sam
• Daisy
• Oreo
• Lucky
• Coco
• Max
• Duke
• Tucker
• Pip
• Rusty
• Gizmo
• Twitch
• Shadow
• Tucker
• Junior
• Oscar
• Fredrick
• Puddles
• Bonnie
• Bailey
• Rocky
• Riley
• Chief
• Bella
• Toby
• Winston
Female Beagle Names
If your Beagle is a vivacious little lady, then why not give her a vivacious, lady-like name?
Of course, you can obviously pull a name from this list and give it to your male Beagle. We don't care!
All we know is that we love these female Beagle names and think you will, too!
• Chloe
• Penny
• Bella
• Olive
• Lola
• Lexi
• Charlie
• Millie
• Zoe
• Grace
• Luna
• Remy
• Molly
• Piper
• Sadie
• Sophie
• Gracie
• Harley
• Ella
• Stella
Male Beagle Names
Is your Beagle dog all boy? Then chances are you will be wanting to give him a nice, strong, masculine sounding name.
But what if you love one of these male dog names but you have a female Beagle? Hey, we love boy names for girls, so have at it!
Here are twenty of the best male Beagle names.
• Jack
• Stitch
• Rocky
• Jaxon
• Buddy
• Sawyer
• Cooper
• Daxton
• Louie
• Tag
• Max
• Junior
• Duke
• Finn
• Nibbler
• Prince
• Murphy
• Dexter
• Goober
• Jesse
Cool Beagle Names
With his tidy coat and expressive face, the sporty little Beagle is as cool as they come.
Doesn't this dashing doggo deserve a name as cool as he is?
Take a look at this list of thirty way too cool dog names for your Beagle dog.
• Axel
• Jet
• Harley
• Phoenix
• Nixon
• Clover
• Salem
• Ryder
• Gunner
• Chase
• Carter
• Paxton
• Bolt
• Lox
• Maddox
• Nixie
• Saber
• Rave
• Cash
• Rush
• Orion
• Saylor
• Carson
• Racer
• Jupiter
• Blaise
• Flash
• Buck
• Lyric
• Sky
Cute Beagle Names
We don't know what it is about Beagles that makes them so cute, except for maybe everything. Whether you have a regular adorable Beagle, or a cute Pocket Beagle, these names are great.
Their incredibly infectious personalities, their bright eyes, and expressive ears – they're just too sweet for words. We've compiled a list of thirty cute names just for them.
Enjoy.
• Peanut
• Munchkin
• Lady
• Sweetie
• Nemo
• Cuddles
• Pumpkin
• Darla
• Bunny
• Ladybug
• Bear
• Brownie
• Alfie
• Dinky
• Hershey
• Bugsy
• Button
• Mitzy
• Spot
• Smalls
• Teeny
• Mite
• Tinkerbell
• Pixie
• Small Fry
• Boots
• Cupcake
• Tink
• Tiny
Funny Beagle Names
Did you know that Beagles are famous for their incredible comedic skills? For generations, these classic cuties have been causing grins and giggles just by being their silly selves.
They have a knack for making people smile, and if this sounds like your goofy little Beagle, then chances are you may be looking for a name just as funny as he is!
If that's the case, then you're in luck, because below are twenty hilarious names perfect for your furry little comedian.
• Dumbledog
• Miss Barkington
• Pyongyang
• Zoolander
• Butters
• Pawsome
• Meatloaf
• Mr. Barkley
• Pup Tart
• Dapper Dan
• Mary Puppins
• Dapper Daniella
• Sir Licks-a-Lot
• Miss Piggy
• Madam Humphries
• Shorty
• Penguin
• Hamburger
• Lolly-Pup
• Fleasy-E
Unique Beagle Names
If your Beagle is nothing else in this world, you can rest assured he is at least unique.
These dapper dogs have stolen the hearts of people all over the planet with their quirk, their sense of humor, and their love of family.
Are you looking for a unique name that stands out just like your Beagle stands out? Then take a look at this list of incredibly unique Beagle names below.
• Phoebe
• Gipsy
• Henna
• Tazz
• Sparrow
• Afrika
• Arlo
• Onyx
• East
• Huntington
• Sirius
• Harlow
• Chester
• Calico
• Aspen
• Sage
• Snapshot
• Christophe
• Lancaster
• Koda
• Hadley
• Harvard
• Amber
• Franklin
• Blondie
• Vixen
• Alaska
• Kodiak
• Rerun
• Lan
Tough Beagle Names
Beagles are funny, cute, and incredibly lively, but that doesn't mean you can't bless them with a tough sounding name.
Whether you intend to be ironic or you want your Beagle to have a sense of power, these tough sounding names are both adorable and intimidating!
Take a look!
• Knight
• Pirate
• Fang
• Killer
• Capitan
• Jet
• Diabolo
• Jaws
• Ember
• Hunter
• Pompey
• Avalanche
• Wolf
• Bullet
• Zeus
• Rambo
• Rhino
• Jackal
• Inferno
• Indiana
Fun Facts About Beagles
Beagles are one of our best-known dogs – in 2018 they were the 6th most popular dog breed registered with the AKC.
And what Beagle is better known than any other? Snoopy of course!
The Beagles' extraordinary sense of smell works better for following scent trails on the ground than in the air.
In Australia, Beagles are employed to use their remarkable noses for termite detection!
No wonder this little pup is so popular, and we are excited for you that you are introducing a Beagle into your life.
We would love to stay posted! Let us know which name you fell in love with by leaving us a comment down below!
References and Resources
Juliane Kaminski, Joseph Call, Julia Fischer, Word Learning in A Domestic Dog: Evidence for "Fast Mapping", Science, Issue 5677, Pages 1682-1683
Mary B. Harris, Some Factors Influencing Selection and Naming of Pets, Psychological Reports.
Ai Kutsumi, Miho Nagasawa, Mitsuaki OHTA, Nobuyo OHTANI, Importance of Puppy Training and Future Behavior of the Dog, Journal of Veterinary Medical Science.
Ian Dunbar, Before & After Getting Your Puppy: The Positive Approach to Raising a Happy, Healthy & Well-Behaved Dog, Chapter 1, What's Important to Know Right Away.
Brian Hare, Michael Tomasello, Human-Like Social Skills in Dogs?, Trends in Cognitive Sciences, Volume 9, Issue 9, Pages 439-444.
Emanuela Prato-Previde, Deborah Mary Custance, Catrina Spiezio, Francesca Sabatini, Is the Dog-Human Relationship an Attachment Bond? An Observational Study Using Ainsworth's Strange Situation, Behaviour, Volume 140, Pages 225-254.
Get Pippa's free dog training tips delivered to your inbox