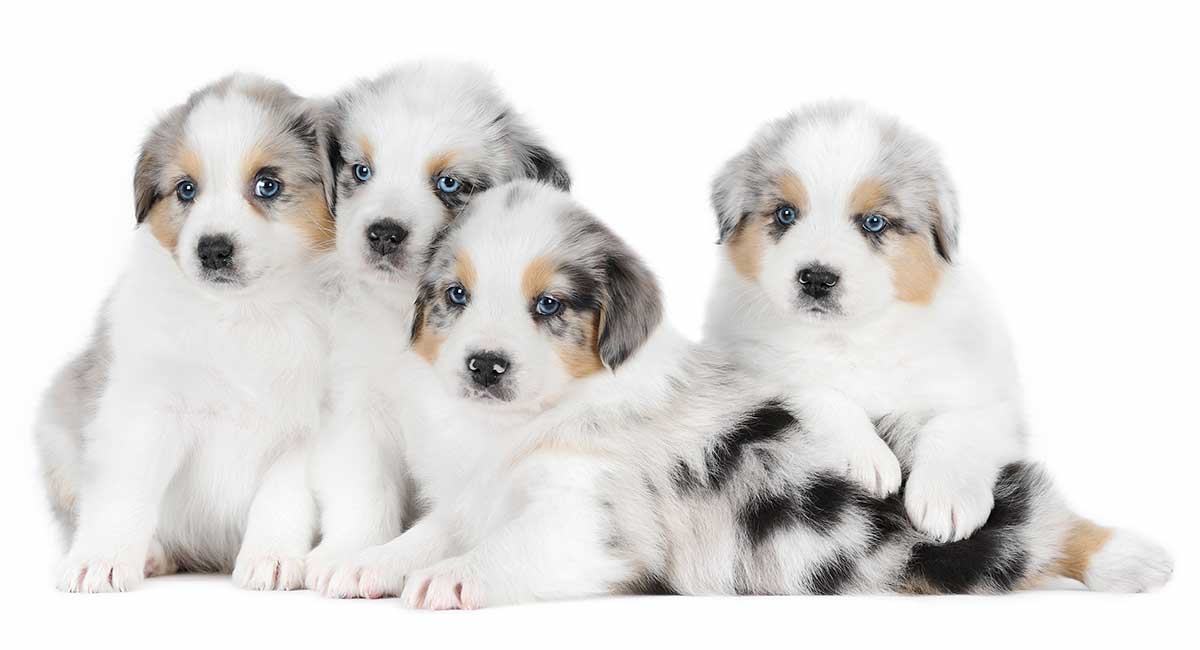 Aussies are as stunning as they are smart, and these are the best Australian Shepherd names to do them justice:
Levi
Austie
Marley
Jasmine
Benji
Riley
Lady
Axel
Georgie
Wallace
Oliver
Parker
Scooter
Retro
Quella
Quinn
Storm
Valentine
Hartley
Cub
Summer
Kata
Flicka
Emersyn
Rocky
Django
Choosing Australian Shepherd Names
We love Australian Shepherds. We love everything Aussie for that matter.
So it was crazy fun compiling this list of cute, cool, and even tough sounding dog names for the newest four-legged addition to your family.
But before we get started on picking out dog names, let's talk a bit about naming your Australian Shepherd.
And a few tricks that will help your Aussie learn his name in no time!
Australian Shepherd Names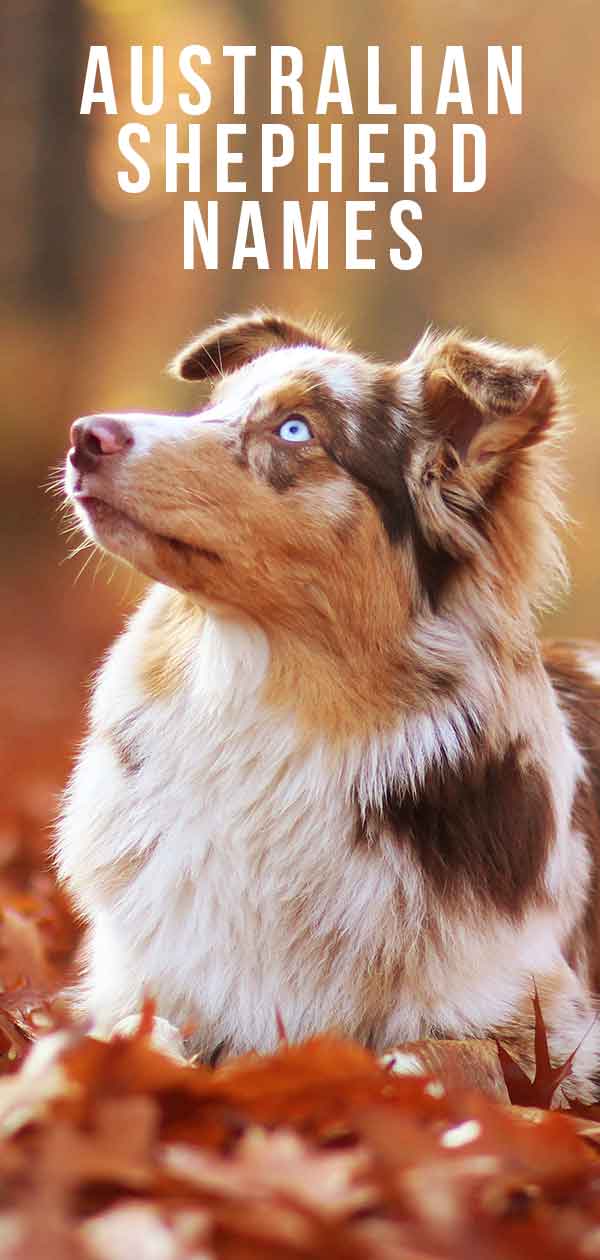 First of all, congratulations! If you've found yourself here, then chances are you have also found yourself a sweet new Australian Shepherd to call your own.
As you probably know by now, Aussie's are a special breed. They are packed full of intelligence, work ethic, and looks to match!
It's no wonder you've found yourself head over heels in love with this one-of-a-kind dog!
But while Aussie's are incredibly intelligent, there are still a few things you should consider before choosing your Aussie's name.
The first thing is, of course, your dog.
Try and remember that most dogs, even the brainy Australian Shepherd, tend to latch onto names a lot quicker when they have two syllables.
This means names like Fido and Rover will be easier for your dog to remember. As opposed to names with one syllable like Rex or names with three or more syllables like Juniper.
And when it comes to teaching your dog their new name, remember, studies have shown that positive reinforcement works best!
Another thing to consider when picking a good dog name for your new rescue dog or puppy is you.
Remember, you and your family and friends will be using the name quite often. Is the name you've chosen for your Aussie dog one you're comfortable saying in public? If so, then name away!
With that being said, we also want you to know that there really are no rules when it comes to naming your dog.
We think this journey should be an enjoyable experience for all of you. So, have fun!
Alright, without further ado, let's dig into some of the best names available for your new Australian Shepherd dog!
Best Australian Shepherd Names
If you are looking for a list of popular names for your Aussie, then look no further.
Below, you'll find 30 of the most desirable, adorable, and Australian Shepherd-approved names we could muster together!
These names rank high not only for Aussies but for doggies in general! Trendy, cute, and sassy, we think these names are perfect for an Aussie.
Luna
Darwin
Chase
Indie
Abby
Arrow
Blue
Karsyn
Ripley
Angie
Aladdin
Onyx
Bindi
Einstein
Roscoe
Eva
Elvis
Viper
Ava
Rocco
Taj
Cherokee
Cedar
Jackson
Lyra
Female Australian Shepherd Names
We already told you there are no rules here when it comes to naming your Australian Shepherd. And that still applies even to gender-specific names.
So, while these Australian Shepherd names ring with feminine pizazz, you are still totally allowed to give one of the following names to your male Aussie.
It's all up to you!
Clover
Winnie
Maggie
Lyra
Rosie
Masie
Scout
Sage
Grace
Sadie
Annie
Daphne
Bailey
Olive
Star
Piper
Male Australian Shepherd Names
These masculine sounding dog names are perfect for that man's man of an Aussie you have. Or even for that female Aussie who refuses to stick with gender conformity.
Whatever you have, male or female, we think these male names for Aussie dogs are insanely cute.
And they fit perfectly with whatever gender Aussie you are bringing into your home.
Take a look for yourself!
Mack
Buddy
Charlie
Cooper
Archie
Xander
Jack
Bernie
Max
Austin
Happy
Logan
Jiminy
Trevor
Otis
Champ
Theo
Cool Australian Shepherd Names
Let's face it. Australian Shepherds are just naturally cool dogs.
They have unique markings, incredible intelligence, and sometimes blue eyes, or even one blue eye and one brown eye!
These dogs also come with tons of swag and personality, and they know how to lead the pack.
Here is a list of 30 cool Australian Shepherd names perfect for that crazy cool Aussie you've got on your hands.
Nitro
Arya
Jaz
Galaxy
King
Monet
Beacon
Sailor
Harlow
Ace
Motor
Jaxon
Unity
Chase
Finn
Axle
Kingston
Harley
Racer
Sansa
Tyson
Captain
Gunner
Diesel
Chopper
Cute Australian Shepherd Names
Every dog is cute, but of course, not as cute as your dog. That's why your new Australian Shepherd needs a name as cute as he or she is!
Here's a list you are sure to fall in love with. Get ready for cuteness overload, folks!
Daisy
Flower
Rosie
Tater-Tot
Munchkin
Lacey
Pebbles
Skylar
Rerun
Baby
Bear
Pumpkin
Pipsqueak
Harper
Cowboy
Coco
Wrigley
Cowgirl
Hazel
Paisley
Domino
Puddles
Saber
Nacho
Hershey
Pony
Funny Australian Shepherd Names
Alas, welcome to our favorite section of Aussie dog names.
We love to laugh, and if you have found yourself looking at this section of the list more than the rest, chances are you are a jokester too.
Take a look at these hilarious dog names perfect for that comedian in both you and your Australian Shepherd!
Sir Waggington
Lady Borkington
Lolly Pup
Dumbledog
Aussie-Sheps
Andy War-Howl
Von Waggington the third
Miss Scratch-It
Mary Puppins
Muttilda
Snoop Dog
Sir Licks-a-Lot
Pup Tart
Barker
Mr. Puppins
Barkley
50 Scent
R2Dog2
Fleasy-E
Dee-Oh-Gee
Unique Australian Shepherd Names
While popular, Aussie's are unique, and they deserve a name that is just as one of a kind as they are.
We doubt you'll be hearing any of these names at the dog park or on the hiking trail that often! See for yourself.
Kofi
Aggie
Gazer
Armadillo
Hensel
Hanson
Isla
Morgan
Byron
PB&J
Lemmy
Dezzi
Navi
Trusty
Brownie
Speedy
Toto
Lolly
Flyer
Bagle
Priya
Dart
Mookie
Jaxtyn
Levar
Fiona
Tough Australian Shepherd Names
As we've covered, Australian Shepherd dogs are a lot of things. They are smart, attractive, and they are even a little tough.
Does your tough guy or gal need a tough sounding name? Or perhaps you've got a shy pup on your hands who needs a boost of confidence?
Either way, if it's tough Aussie names you want, then it's tough Aussie names you get!
Boomer
Eleven (Stranger Things)
Black Widow
Voldemort (Harry Potter)
Ghost
Eagle
Knight
Darth Vader (Star Wars)
Dragon
Fang
Bullet
Rambo
Growler
Tank
Pennywise (It)
Legend
Cruella Devil (101 Dalmatians)
Cleopatra
Fun Facts About the Australian Shepherd
Did you know that the Australian Shepherd breed has a somewhat deceptive name?
While this brainy breed does have Aussie roots, the breed itself was actually perfected in America.
That's right! The Australian Shepherd is truly a California dog in spirit and stole the hearts of cowboys throughout the wild west as a superstar herding dog.
In fact, Australian Shepherd dogs have such incredible drive and work ethic that they continue to be some of the most coveted herding dogs throughout the world.
What do you think about the smart, beautiful, and hard-working Australian Shepherd and our list of Australian Shepherd names? We'd love to hear your thoughts!
Drop us a note in the comment section below!
References and Further Reading
Kaminski J, Call J, and Fischer J. 2004. Word Learning in A Domestic Dog: Evidence for "Fast Mapping". Science. http://doi.org/10.1126/science.1097859
Harris MB. 1983. Some Factors Influencing Selection and Naming of Pets. Psychological Reports. https://doi.org/10.2466/pr0.1983.53.3f.1163
Kutsumi A et al. 2013. Importance of Puppy Training and Future Behavior of the Dog. Journal of Veterinary Medical Science. https://doi.org/10.1292/jvms.12-0008
Dunbar I. 2004. Before & After Getting Your Puppy: The Positive Approach to Raising a Happy, Healthy & Well-Behaved Dog, Chapter 1, What's Important to Know Right Away. New World Library.
Hare B and Tomasello M. 2005. Human-Like Social Skills in Dogs? Trends in Cognitive Sciences. https://doi.org/10.1016/j.tics.2005.07.003
Prato-Previde E et al. Is the Dog-Human Relationship an Attachment Bond? An Observational Study Using Ainsworth's Strange Situation. Behaviour. https://doi.org/10.1163/156853903321671514
Get Pippa's free dog training tips delivered to your inbox