Why are Terriers so stubborn? Terriers were bred for generations to hunt underground, flush out and catch small prey. To do this they needed to be bold, sassy, strong and confident. But those breed traits can also make this cute pet pup a little strong willed. Today we share everything you need to know about why Terrier personality is so stubborn, and how to work with them so that it doesn't cause you any problems in training or lifestyle!
The Terrier breed group contains over 30 breeds in a variety of sizes, appearances, and personalities. However, one trait that all of these breeds tend to share is a stubborn streak! In fact, many Terriers are known for their willful, headstrong temperaments. But, is this reputation well earned? Or are most Terriers not as obstinate as many people believe?
About Terrier Breeds
The AKC Terrier breed group contains over 30 different dog breeds, but "stubborn" is a term used to bind them all. These breeds vary in size and appearance. However, they are all energetic and often playful dogs. Some of the most popular Terriers in this group include the American Staffordshire Terrier and the Miniature Schnauzer. But, there are also plenty of lesser-known breeds, such as the Dandie Dinmont Terrier and the Cesky Terrier!
As well as certain personality traits, many Terrier breeds are linked by their early histories and working roles. Terriers were commonly used to guard their homes and families. And, perhaps more often, were used as exterminators. Terriers were considered ideal for hunting and killing vermin in a variety of locations, including factories, farms, coal mines and more.
Are Terriers Stubborn?
Stubborn is one of the most common terms used to link Terrier breeds. The typical Terrier temperament is independent, energetic, and playful. Terriers are fun-loving and spirited dogs that need just as much mental stimulation as they do exercise.
And, at times, our Terriers can behave in ways that we perceive as stubborn! For instance, if your Terrier is out on a walk, and you try to take them home, they may stop in the middle of the path, lying down so they can stay out longer! Or, they might simply refuse to do as instructed, despite all of your training sessions! So, why are Terriers like this?
Why are Terriers so Stubborn?
Due to their original working roles, many Terriers have been bred to have certain traits. These traits include things like independence, high energy, and a strong prey drive. And, at times, this strong-willed personality doesn't line up with the behaviors we expect from a modern companion breed. So, the traits that would make a Terrier excel as a vermin hunter could hinder their life as a family companion.
This can be why many Terriers are perceived as stubborn. But, when we think our Terriers are displaying naughty, wilful behaviors, they can actually be showing behaviors they were bred for. For instance, a strong prey drive was useful for hunting and killing vermin in factories. But, it can be frustrating when your Terrier chases cats and squirrels, ignoring your recall cues.
By understanding natural Terrier instincts, what these dogs have been bred for, and what training methods they best respond to, we can work with our Terriers to achieve the same goals! Let's take a closer look at the best ways to train Terrier breeds.
The Different Dog Training Methods
There are a number of ways that people choose to train their dogs, no matter what breed. Some owners use punishment based methods – doling out physical or verbal punishments when their dog displays the wrong behavior. Others use rewards to shape and encourage desired behaviors. And, some owners use a mixture of the two.
Studies into these various dog training methods have shown that aversive techniques cause more stress-related behaviors in dogs, such as increased vocalization and even aggression. Some studies also found that these behaviors became linked to the training commands themselves, rather than just to the punishment or aversive method used. This reaction was seen whether aversive methods were used alone, or in tandem with reward-based methods.
Studies have shown that reward-based methods, when used alone, were less frequently linked to stress-related behaviors and aggression. Reward based methods were also more often linked to better obedience and learning ability.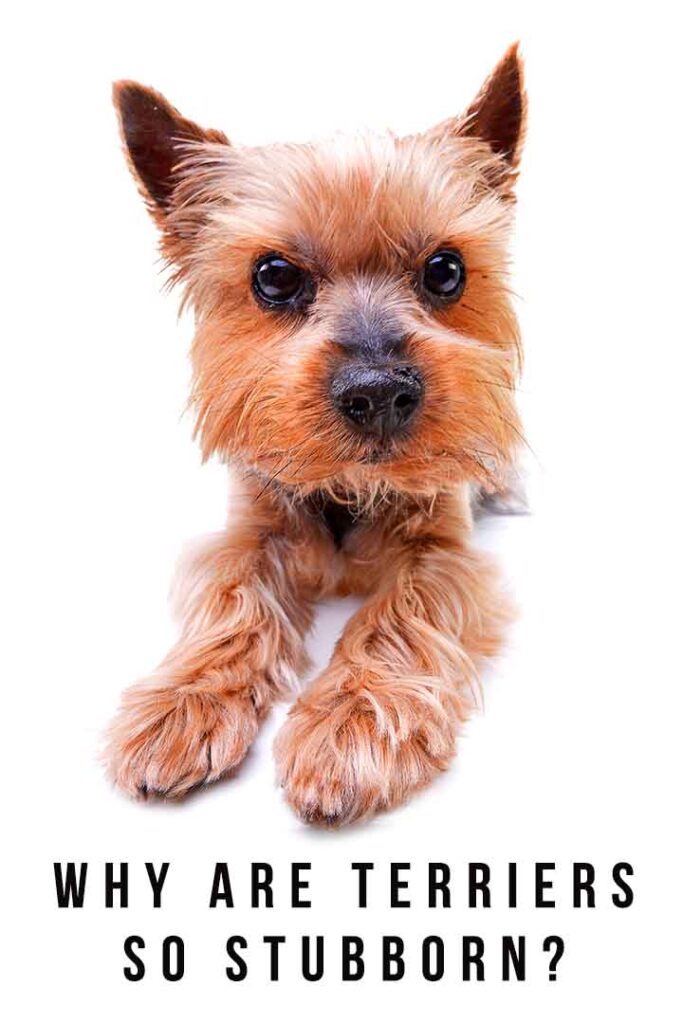 The Best Way to Train Terriers
Behaviors like barking are quite common amongst Terrier breeds. And, since aversive techniques can increase the frequency of these behaviors, and other stress-related or aggressive behaviors, it's a good idea to avoid aversive training techniques.
Stress related behaviors can often be misinterpreted as stubborn behavior in Terrier breeds. Since reward-based methods are less often associated with stress-related behaviors, you should stick to these when training your Terrier.
Reward-based methods rely on rewarding the behaviors you desire. These rewards can be affection, play, treats, and so on. Over time, you can shape these desired behaviors, adding duration, distance, and complexity to them before adding your cue. Rewarding the behaviors you desire and ignoring the behaviors you don't will show your Terrier exactly what you're looking for.
Training Guides
If you're struggling to train your Terrier breed, it can help to find a trainer to guide you. Or, take a look at guides online. We have plenty of training guides that can help you when it comes to teaching your Terrier breed, as well as several online training courses. Here are some links to start your training journey:
Raising a Friendly Terrier Breed
Choosing the right training techniques is just one part of raising a friendly Terrier. It's also important to understand your Terrier's needs and instincts when working to reduce potential stubborn behaviors.
Terriers are energetic dogs. Though some of them are small, they all need plenty of exercise each day to burn off their energy. They will also need mental stimulation every day, whether in the form of training or puzzle and interactive toys.
From an early age, it's important to socialize your Terrier well. Introduce them to various experiences from the time they come home, including different sounds, people, animals, vehicles, and more. Keep these experiences positive, and work at your dog's pace. You may need to start off at a distance, and decrease this over time.
Establishing a Daily Routine
Setting up a daily routine can help your Terrier to feel settled. And to minimize stress-related behaviors, which many owners misinterpret as stubbornness. So, from a young age, dedicate certain times of the day to training and exercise. Feed your Terrier regularly and set aside time each day for playing and interacting with your Terrier.
There are so many different Terrier breeds, and each of them have unique care needs. So, make sure to research the best care for your specific Terrier breed when establishing a daily routine. And, be aware of how this routine may change as your Terrier grows from a puppy into an adult. For instance, by increasing time spent exercising and decreasing meal frequency.
Which Terrier Breed is the Least Stubborn?
All Terriers tend to have plenty of energy and strong instincts which can earn them the reputation of stubborn. How you raise your chosen Terrier can have a big impact on their temperament and reactions to things as an adult. So, socialize your puppy well, and train them using positive reward methods.
But, good breeding can also play a part. Here are some Terrier breeds that are less spirited than other Terriers:
Glen of Imaal Terrier
Sealyham Terrier
Welsh Terrier
American Staffordshire Terrier
Why Are Terriers So Stubborn?
Terrier stubbornness is often caused by a misunderstanding of the Terrier's needs and natural instincts! With the right training methods, and a regular routine, you can witness the best traits that your Terrier has to offer. Terriers are loyal and tenacious dogs that have plenty of energy to burn. With the right care, they will become affectionate, playful, and intelligent companions.
Do you have a Terrier at home that can show some stubborn attitude at times? Let us know about them in the comments! We would love to hear about your Terriers!
Readers Also Liked
References and Resources
Get Pippa's free dog training tips delivered to your inbox