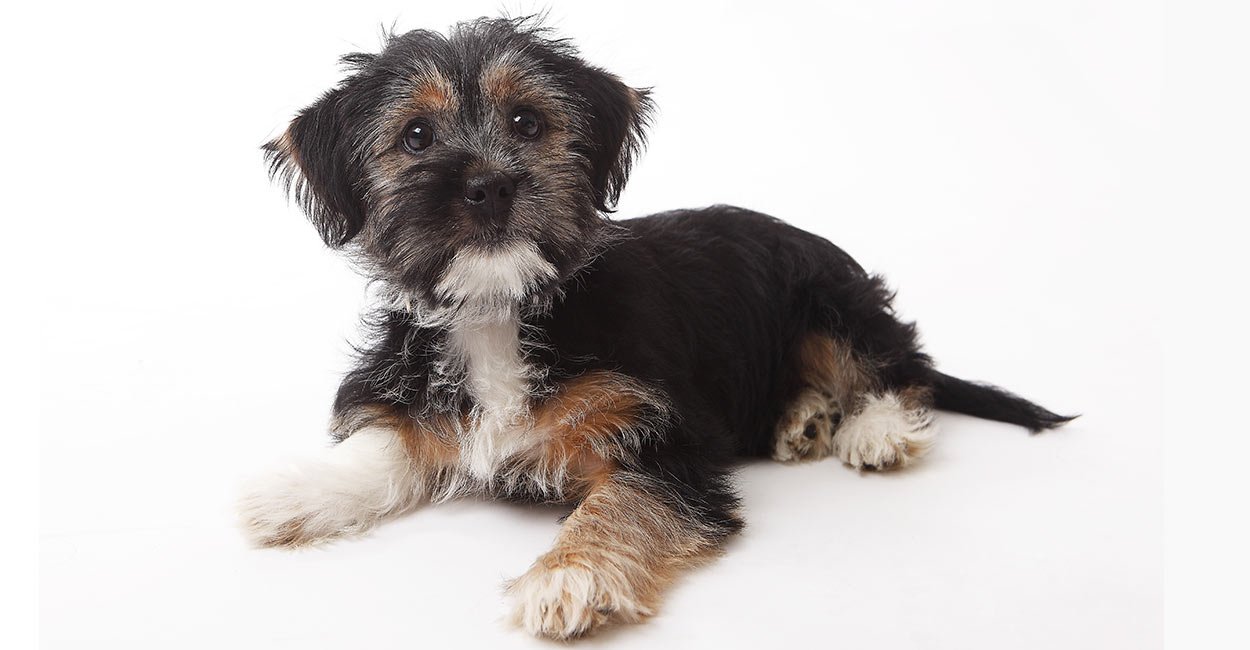 Welcome to our complete guide to the most popular Terrier Mix breeds.
Are you feisty, fearless and confident?
Then you want the perfect canine companion to match your personality. It may be a Terrier mix.
In this post, we examine their history, whether they are good pets and the controversy of "designer" dog breeds.
Which Terrier Mix Should You Choose?
There are a wide variety of Terriers to choose from, and there are even more mixes that may pique your fancy.
While mixes are called mutts or mongrels, mixed breeds are surely making waves in the doggy world.
This is especially true when it comes to Terrier mixes. But is this definitely a good thing?
Why do some people object to designer dogs?
And why are some Terrier mix breeds healthier or happier pets than others?
In this article, we look at the interesting and unique Terrier mixes so you can decide on a new puppy.
But before we dive in, let's take a look at that tricky subject—the designer dog controversy.
Terrier Breeds
Terriers are traditional British and Irish dogs traced back to the 18th century and even earlier.
The working dogs killed vermin, hunted small animals and herded sheep.
The word Terrier is derived from Latin and French words, and translates to mean burrow or earth.
This name is quite obvious if you think about the small, wiry, quick animals.
That's in addition to their incredibly useful hunting and mousing abilities.
As dog breeds emerge and gain prominence in England, Terriers became more refined.
The dogs were bred with other Terriers, hunting dogs and fighting dogs.
This helps establish the courageous, tenacious and fearless attributes that the dogs are known for.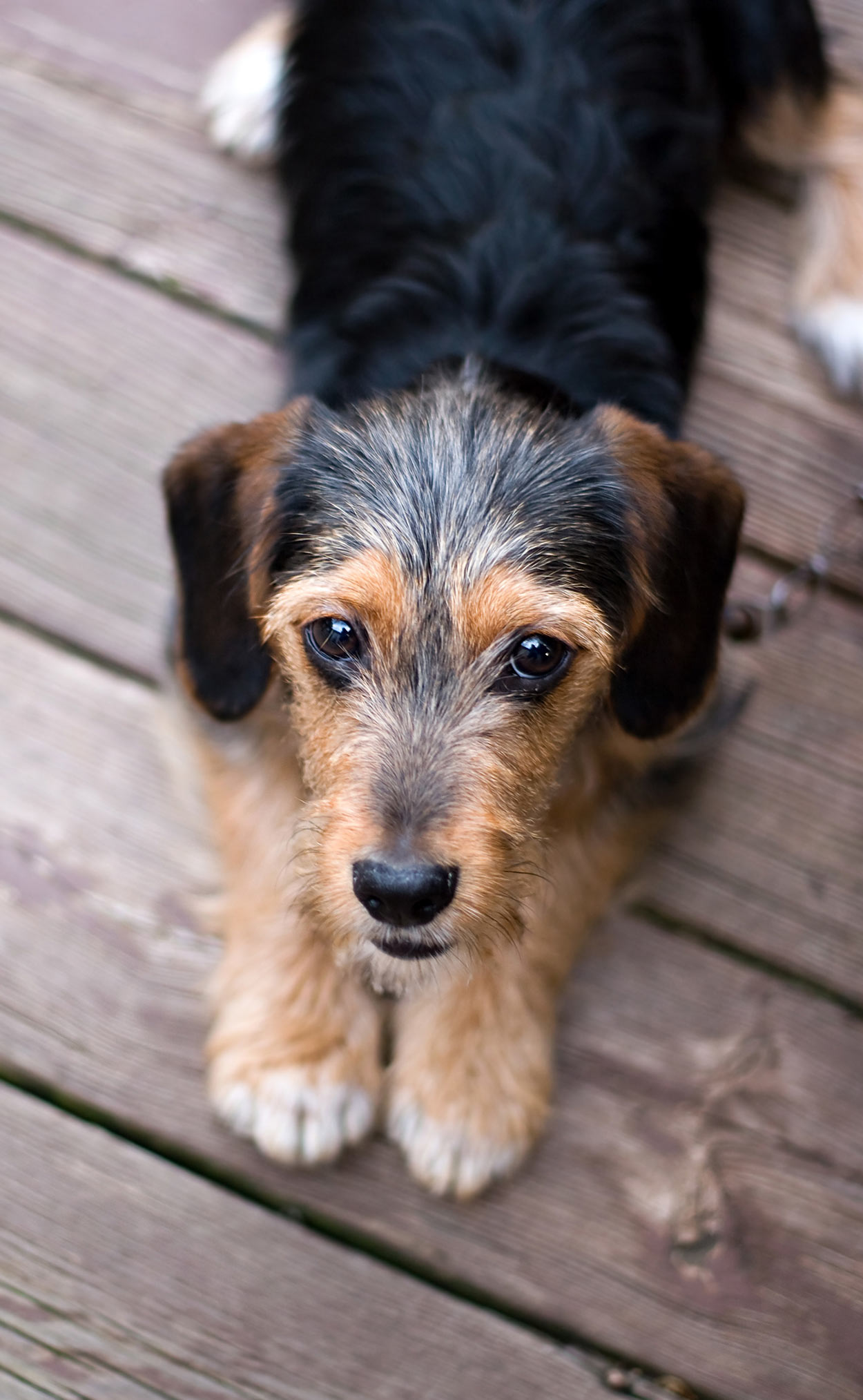 General Terrier Characteristics
In the early days of the Terrier, there were only two recognized breeds, the short- and long-legged varieties.
However, both English and American breeding helped expand the Terrier group to include a whopping 31 recognized breeds.
Although there are numerous breeds, some general characteristics are seen among all Terriers.
General Terrier Body Characteristics
Most Terriers are variations of the short-legged Terrier, and the dogs are somewhere between 9 and 12 inches high.
The longer-legged dogs are still small, but they come in at between 14 and 18 inches in height.
All Terriers have wiry hair that is either short or medium length.
Some Terriers can weigh as much as 40 pounds, but many weigh much less.
For example, a Rat Terrier weighs between 10 and 25 pounds.
Terriers look quite different, depending on the breed, but they are all active, energetic, busy and fearless.
This means supervision is essential. So is exercise and active play.
But what happens when you mix them with other breeds?
The Designer Terrier Mix
There are a lot of conflicting, and often loud, opinions when it comes to breeding two first-generation pedigree dogs together.
Some people really believe that it is wrong to create hybrid dog breeds.
They prefer we stick to breeds registered by the Kennel Clubs.
But a purebred dog is simply one that is on a list, and a man-made list at that.
However, ll the purebred dogs we have today were once mixes themselves.
When they were put onto a closed register, their gene pools inevitably started shrinking.
Mutts and mixes have something we call "hybrid vigor."
The effect that is created when we reverse the process reduces the genetic heritage of an animal.
In short, mixes really can be healthier, but only if you choose them carefully. Read more about the purebred vs mutt debate here.
For now though, let's move on to the interesting world of Terrier mix breed pups' health.
Terrier Mix Health Concerns
Mixed dog breeds can come with some health problems despite their hybrid vigor.
Illnesses can come from both breeds, or of course none may show up at all.
It really depends on the way the genes of the dogs' mix and express in the offspring.
However, if you know about common health problems in the two breeds, be aware of what to look at when choosing a puppy.
Dog DNA testing has become more widespread since canine genetic markers were first identified in 2004.
Since then, many companies have emerged and expanded on tests to identify diseases.
And good breeders test their stock for those disease that are relevant to the parent dogs.
As with many other small dogs, patellar luxation or the dislocation of the kneecap, can be an issue too.
Eye and Heart Health for Terriers
Terriers are prone to eye problems.
Cataracts and fat deposits along the cornea are common issues.
These problems obstruct vision and may progress to the point that visual acuity is severally impaired.
Heart problems can also be present in Terriers. A disease called chronic valve disease is one of the most common and severe.
This illness involves the continual degeneration of the heart valves, and it typically progresses into heart failure.
What Is a Terrier Mix?
Any dog from the Terrier group that is bred with another canine produces a Terrier mix.
Typically, mixes are created with purebreds. However, this is not always the case.
Since there are so many Terrier breeds, there are many options when it comes to mixes.
For example, the Labrador is often bred with the Bull Terrier.
The Chihuahua is often mixed with the Rat or Jack Russell Terrier.
We'll look at some of these in just a second. But first, what does the Terrier put into the mix?
Terrier Mix Temperament?
Terrier mix temperaments definitely vary based on the breed of dog mixed with the Terrier.
This means your canine may just be a laid-back dog or a feisty and aggressive one.
Knowing some of the traits of the Terrier can help you determine what you may see in a mixed breed dog.
However, there are no guarantees, as genetics can mix in a variety of ways to create the temperament.
Terriers are known for their strong-willed personalities. Mixed canines retain some of these characteristics.
Terriers are also not fond of other animals because they were bred to hunt and chase vermin.
Keep this in mind if you have other pets in the home.
However, the traits are amplified or softened by the personality of the dog mixed with a Terrier.
Terrier Mix Exercise
Terriers need a great deal of exercise because they are used to chasing, hunting, jumping and digging.
Keeping your dog busy is the key to a happy and healthy dog that exerts energy in a positive manner.
Without exercise, your canine may become bored and destructive.
Compulsive tail chasing, which some Terriers are prone to, is one example of a compulsive behavior from boredom.
Exercise requirements vary. However, you should invest in at least one hour of active exercise and play every day.
Terriers love to fetch and play with chasing toys.
Many Terriers are considered "escape artists" though, and can effortlessly dig underneath a fence.
For this reason, playtime should always be supervised.
Popular Terrier Mixes
It is not surprising that many Terrier mixes are created from some of the most popular Terrier breeds.
These include Rat, Jack Russel, Fox, Yorkshire and Bull Terriers.
Do not be surprised if you see a mixed pup with an Irish, Lakeland or Airedale mother or father.
Since mixed breeds are so popular, more variations are created by breeders.
Of course, if one of the long-legged Terriers are used for breeding, the resulting mixed dog will be a bit bigger.
So, what types of mixes might you come across?
Well, there are quite a few options.
Chihuahua Terrier Mix
Let's start with one of the most petite Terrier mixes out there, the Chihuahua Terrier mix.
These dogs are almost always created with the smaller canines like Rat or Bull Terriers.
This produces a canine that is a bit larger than a traditional Chihuahua.
This mix will produce pups with the telltale Chihuahua head and a body that is similar to the Terrier.
When it comes to Chihuahuas and their temperament, they are certainly full of personality.
The dogs are sometimes quite feisty, stubborn, bold and energetic.
They are also protective and alert.
Since Chihuahuas have many of the same traits as Terriers, they may be active, energetic and headstrong.
When it comes to health issues, Chihuahuas are prone to a few.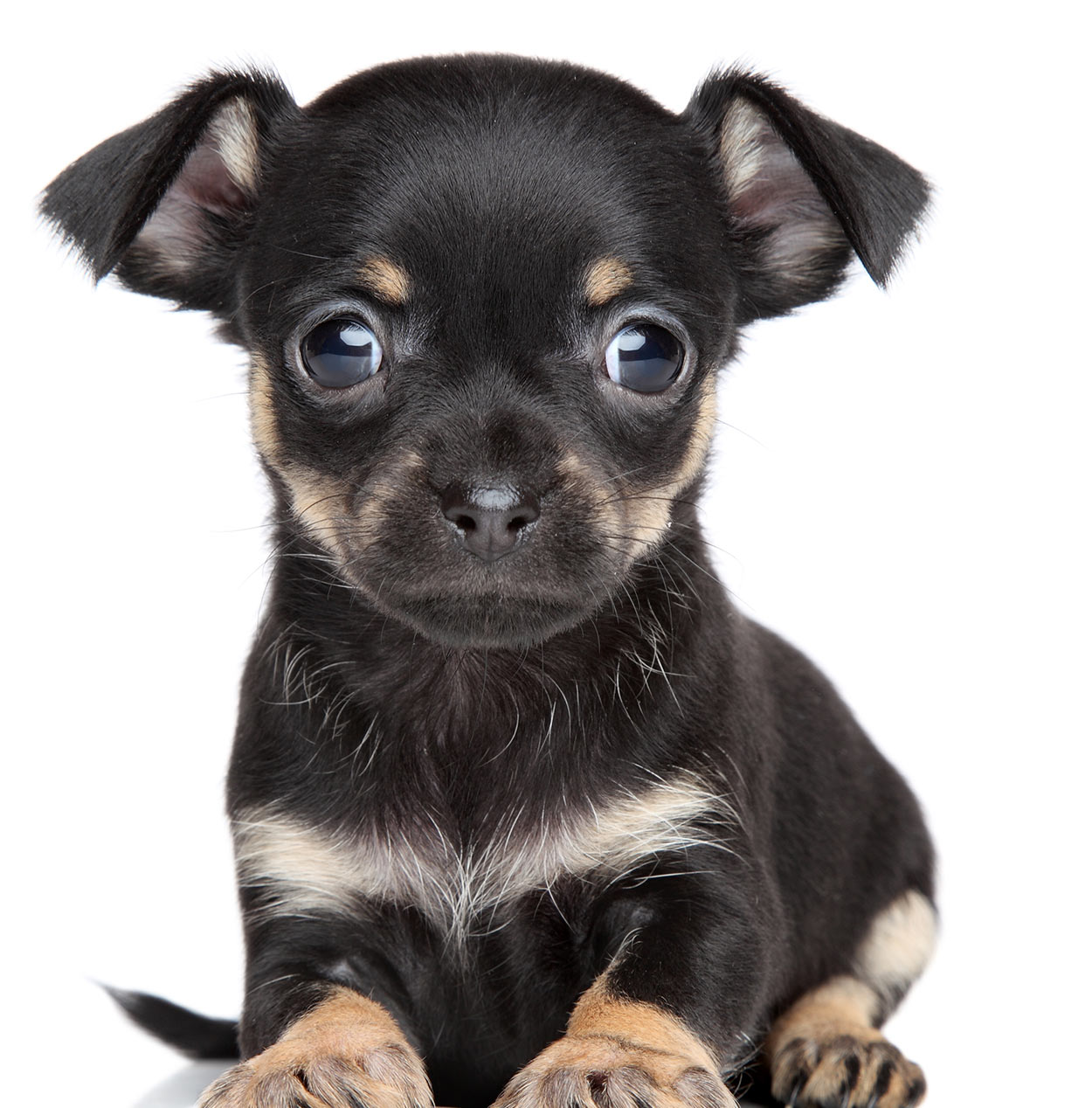 This is one reason why it is absolutely necessary to inquire about the health of the Chihuahua parent.
Like other small dogs, patellar luxation is a problem.
Hydrocephalus in Terriers or Chihuahuas
Hydrocephalus may be an issue where cerebrospinal fluid builds up around and inside the brain.
The problem is seen in certain Terriers as well, but studies show that it is most common in Chihuahuas.
Hydrocephalus can cause neurological issues and pain.
Other Health Issues for Chihuahua Terrier Mixes
Heart disease is an issue to be aware of too. Chihuahuas are prone to general heart disease and heart enlargement issues.
Also, like some Terriers, the dogs can develop heart valve formation issues.
Something called tracheal collapse, where the trachea weakens and degrades over time, is another concern.
So are eye issues. However, most eye problems, like dry eyes and allergies, are mild.
When you buy a Chihuahua Terrier mix puppy, ensure that both parents are health tested for those conditions.
Also, meet the Chihuahua and Terrier parent to ensure they have friendly personalities.
Poodle Terrier Mix
Poodle Terrier mixes are also quite adorable and feature medium to long hair.
This means a bit more brushing may be required, and some time at a groomer to tame wavy and curly locks.
Like the Chihuahua mix, the Poodle variety is often developed with one of the smaller Terrier breeds.
Both Yorkshire and Jack Russell Terriers are commonly bred with Poodles.
Poodles are agile, energetic and intelligent dogs.
Be prepared to invest in significant playtime with interactive toys if you own a Poodle mix pup.
Poodles are peaceful dogs, extremely sociable and sensitive. They also love spending time with their owners.
This can make for a Terrier mix that is more sociable and calmer than a Terrier alone. But there is no guarantee.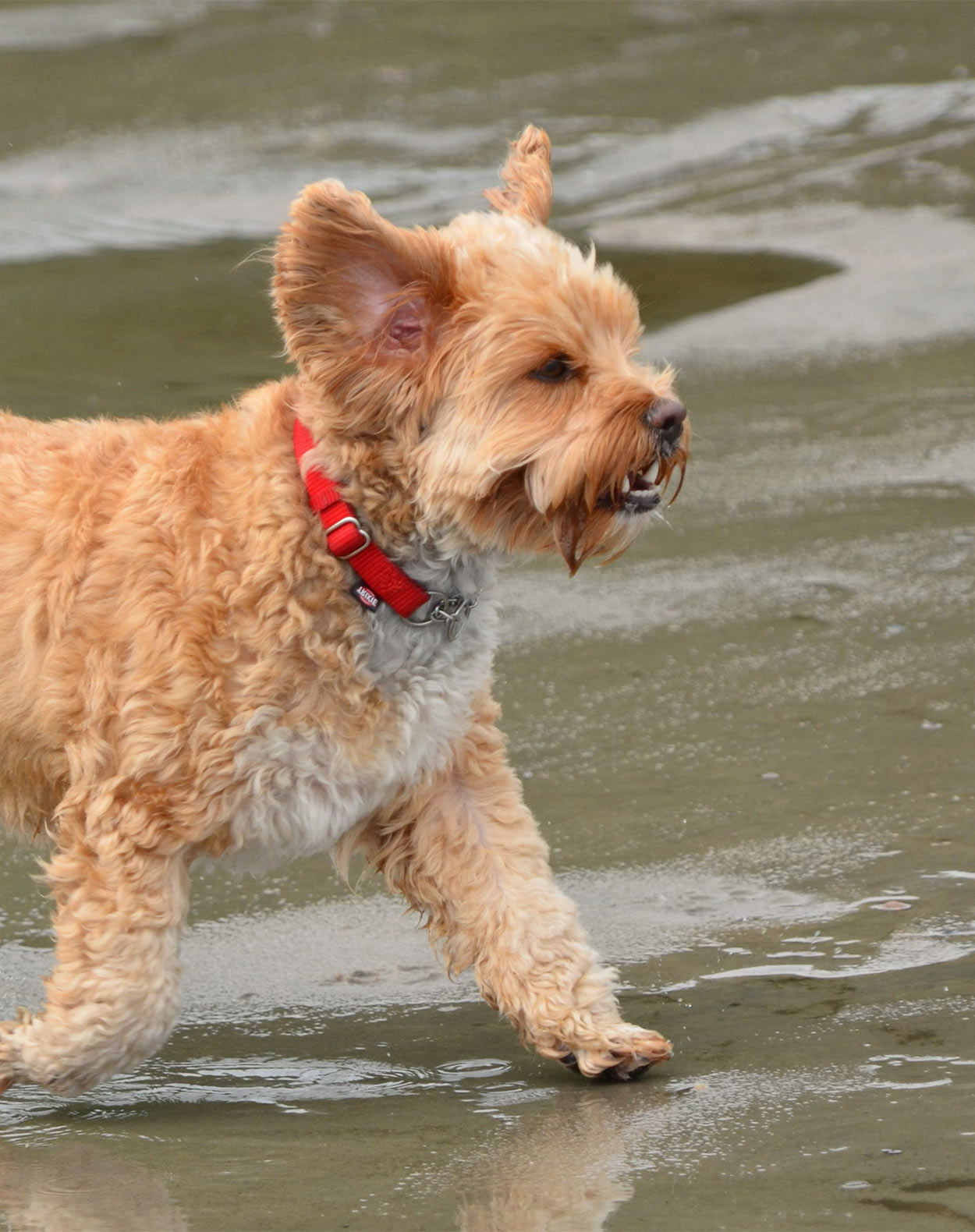 Eye Health Concerns for the Poodle Terrier Mix
Poodles, like many other dogs, have health problems that can appear in the Terrier mix.
The dogs are specifically prone to a variety of eye diseases.
Cataracts, glaucoma, retinal dysplasia and progressive retinal atrophy are ailments to be aware of.
When it comes to retinal atrophy, studies show that the ailment is most pronounced in miniature poodles.
Unfortunately, it leads to eventual blindness.
Other Health Concerns for the Poodle Terrier Mix
Poodles are prone to seizures and skin issues.
A Terrier mix may develop allergies due to the genetic background of the Poodle.
Also, it should be noted that a great many Poodles die from cancer.
Studies indicate that Poodles are prone to the development of oral and mammary cancers.
Tumorous carcinomas that develop in the toes are an issue as well.
Endocrine issues and orthopedic problems are a few less common health ailments to be concerned about.
When you buy a Poodle Terrier mix puppy, ensure both parents are health tested for all of the above.
Lab Terrier Mix
If you want a canine companion that is a bit larger, then a Lab Terrier Mix is definitely something to look into.
These mixed pups are bred using medium-sized Terriers like the Airedale.
Sometimes, the smaller Bull and Fox Terriers may be bred with the Labrador.
Many Lab Terrier Mixes are medium-sized dogs with a great deal of energy.
Labs are quite the playful and active dogs, just like Terriers.
Labradors are people pleasers with friendly personalities.
You may see these wonderful personality traits in your Terrier Mix.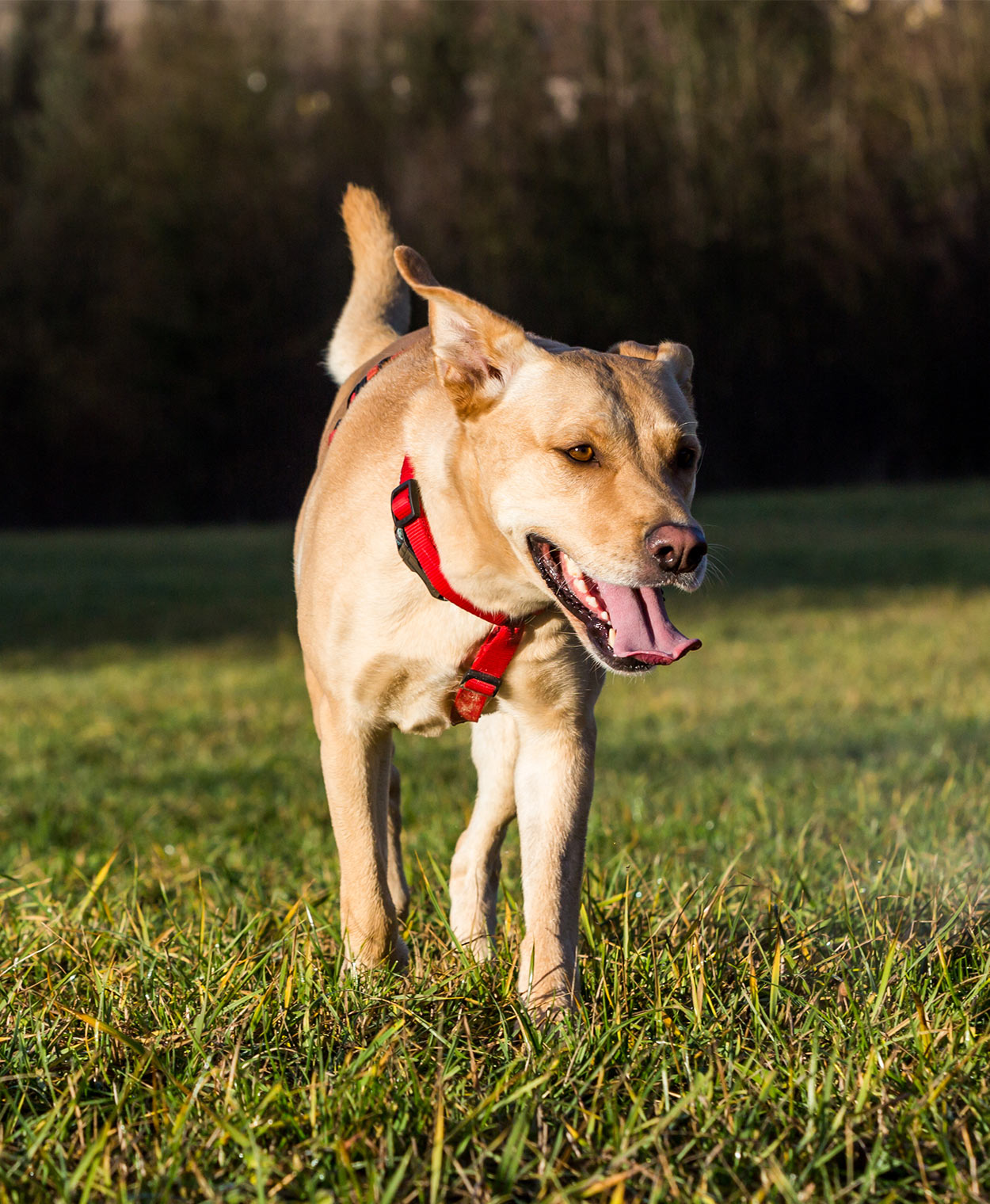 You can expect your canine to be both loyal and protective as well.
If you want the Labrador mix, be aware that some Terriers and Labradors are prone to joint issues.
Specifically, hip and elbow dysplasia may be problems inherited by both breeds.
Cataract issues are present in both Labradors and Terriers, and so are some health problems like cardiomyapathy.
Labradors also have a higher chance of developing cancer than other dogs.
According to research studies, the dogs are likely to develop highly aggressive mast cell tumors.
They are also genetically predisposed to the development of lymphoma, according to research studies.
The Labrador parent must have as a minimum a clear eye test, PRA clear DNA test, and good hip and elbow scores.
Beagle Terrier Mix
If you're yearning for a cute, small dog with large eyes, a Beagle Terrier mix may be about as close as you can get.
Mixed canines are often created using the Rat or Boston Terrier to create a miniature dog with a long telltale body of the Beagle.
Beagles have a lot of the same personality traits as Terriers, and this may not necessarily be a good thing.
Canines are smart and inquisitive, but they are also stubborn and busy.
The dogs can easily become bored and will often end up digging, howling and barking in response.
Since Terriers also love to dig and need to stay busy, the Beagle Terrier mix is a good choice for active families.
Beagler Terrier Health Concerns
Thankfully, Beagles are also loving dogs, so the Terrier mix can make a good addition to a household with kids.
Beagles have some genetic eye issues to be aware of. They can develop glaucoma, progressive retinal atrophy, and cherry eye.
Also, hip dysplasia is an issue, as with many Terriers.
Beagles are also prone to a disease called intervertebral disk disease.
While the illness is one with a specific genetic predisposition, the ailment is most likely to form as your canine ages.
Intervertebral disk disease involves the degeneration of the spinal disks that sit in between the spinal vertebrae.
The jelly within the disks that helps to cushion the spine is forced against the spinal cord, placing pressure on it.
This causes some discomfort and can lead to eventual paralysis.
When you buy a Beagle Terrier mix puppy, ensure that both parents are health tested for these conditions..
Dachshund Terrier Mix
Dachshunds, like Beagles and Terriers, are extremely busy and curious dogs.
The canines are stubborn like the other canines, and they also have the same digging and hunting instincts.
Daschunds are good watchdogs and bark when strangers approach.
Unfortunately, like Beagles, the dogs do tend to bark when they become bored and listless.
They have a loyal streak though and do well with children.
Health Concerns for the Dachshund Terrier Mix
Daschunds can develop progressive retinal atrophy, patellar luxation, hip dysplasia and intervertebral disk disease.
The risk of intervertebral disk disease is a high and heartbreaking one in Dachshunds.
Think long and hard if you want to buy even a cross with one of these dogs.
Also, both obesity and diabetes may become an issue.
Work diligently to make sure a good diet and exercise plan is followed.
Schnauzer Terrier Mix
Like Terriers, Schnauzers were originally bred to control vermin.
This means a Schnauzer Terrier mix makes sure that your home is free of all rodents.
Schnauzer Terrier canines are dogs that retain quite a few of the Schnauzers telltale and unique physical traits.
The "old man" or aged look of the Schnauzer with the fuzzy and scruffy muzzle is quite prominent.
Expect these small- or medium-sized dogs to have a wiry coat with medium length hair. Of course, this means extra grooming.
Schnauzers are intelligent, stubborn and may become bored quickly.
Like Daschund and Beagle mixes, this means encouraging activity, games and tasks for the curious dog.
Health Concerns for the Schnauzer Terrier Mix
Schnauzers may have hip dysplasia and diabetes issues, but these are not widespread problems to be concerned about.
However, urinary problems are something to be aware of.
This is a concern for miniature Schnauzers, and these dogs tend to develop calcium bladder stones.
The good news is that this issue can easily be controlled by diet.
When you buy a Schnauzer Terrier mix puppy, ensure both parents are health tested for those conditions.
Pug Terrier Mix
The petite and wide-eyed pug is one of the most popular dogs, so it is no surprise that the Pug Terrier mix is also popular.
The Pug Terrier mix is a small dog that is just a bit bigger than the Pug.
The dogs keep the wrinkled, wide-eyed look of the Pug.
However, their features are softened slightly by the physical attributes of the Terrier.
This may be a very good thing, since the flat-faced Pug can easily develop breathing issues.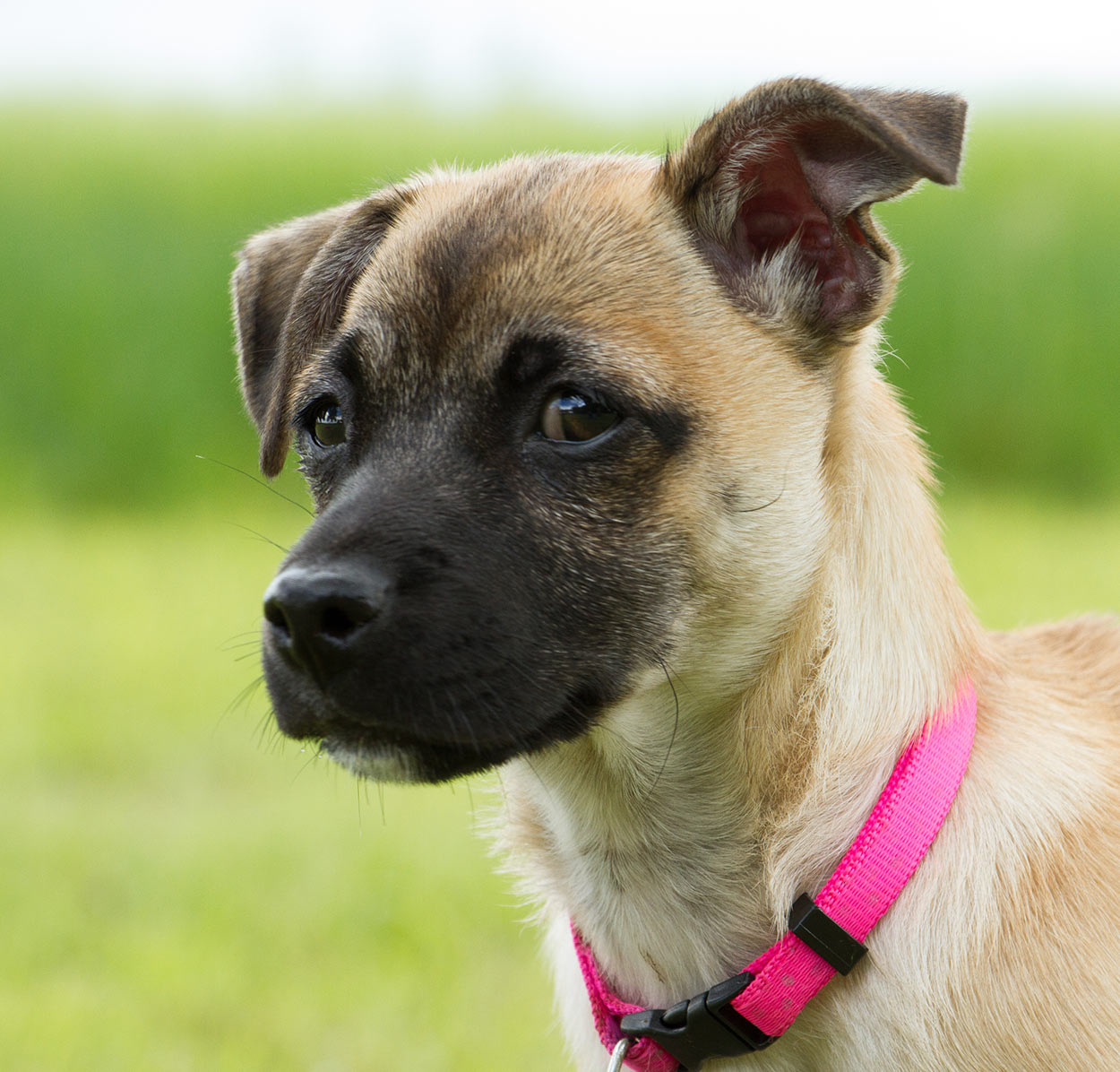 Terrier mixes have a longer and rounder snout, so this is not a huge issue.
Also, the eyes do not bulge as much, so eye problems are often reduced.
Pugs are playful dogs that absolutely adore attention. They are also loyal, loving and smart.
As always, the intelligence of the dog can really bring out the stubborn streak, so be aware of this.
Fortunately, they do not bark or act out when bored like some other breeds.
Your Pug Terrier Mix is usually better behaved than other mixed canines.
Their health is another issue.
Health Concerns for the Pug Terrier Mixes
Hip dysplasia and patellar luxation are concerns for these miniature canines.
The canines can develop some fairly mild skin issues like allergies and fungal infections.
Collapsed trachea problems may be a concern. Dry eye issues and corneal issues can appear as well.
Unfortunately, although the Terrier mix has less pronounced brachycephaly, this is not guaranteed.
Do a lot of research on brachycephalic airway syndrome and brachycephalic ocular syndrome before committing to a puppy.
Meet the Pug parent. Confirm that they have a longer than average muzzle and wide open nostrils.
Do not buy a pup from a Pug parent that needs surgery to help their breathing in the past.
Terrier Mixes As Pets
Terrier mixes vary significantly, depending on the type of dog that is bred with the Terrier.
You are likely to see all sorts of different variations in physical appearance and personality, depending on genes.
Heath issues may crop up too. Investigate the parents used during breeding to make sure they are as healthy as possible.
Health test both parents for health issues related to their own breed.
There is no reason your Terrier mix puppy search won't result in a wonderful new addition to your family.
Do you have a Terrier mix that you cherish? Let us know in the comment section below.
References and Further Reading:
Aguirre, G., 1982, "Pathogenesis of Progressive Rod-Cone Degeneration in Miniature Poodles," Investigative Ophthalmology & Visual Science
Burn, C.C., 2011, "A Vicious Cycle: A Cross-Sectional Study of Canine Tail-Chasing and Human Responses to It, Using a Free Video-Sharing Website," PLoS One
Dobson, J.M., 2012, "Breed-Predispositions to Cancer in Pedigree Dogs," International Scholarly Research Notices
Heidi G. Parker, H.G., 2004, "Genetic Structure of the Purebred Domestic Dog," Science
Hudson, J.A., 2010, "Ultrasonographic Diagnosis of Canine Hydrocephalus," Veterinary & Radiology Ultrasound
Thomasy, S.M., et al., 2016, "In Vivo Imaging of Corneal Endothelial Dystrophy in Boston Terriers: A Spontaneous, Canine Model for Fuchs' Endothelial Corneal Dystrophy," Investigative Ophthalmology & Visual Science
Get Pippa's free dog training tips delivered to your inbox