Target dog training is one of the many useful skills that we can teach our pups.
Targeting teaches a dog to touch an object with a part of his body.
The most common body parts we teach dogs to use are nose and paws. But any part of the body could be chosen.
What's the point?
Coming from a background of gundog training, I once looked on targeting as a rather pointless party trick.
In my ignorance I was simply unaware of the many useful applications of this skill.
It's probably fair to say, that many traditional trainers feel this way today.
Targeting actually has lots of benefits and uses.
This skill is what lies behind the ability of service dogs to operate switches, close doors, press buzzers.
It is essential for any kind of complex positioning or obedience 'routines'.
But the uses of targeting are not just reserved for dogs in competition or service.
You can teach a dog to walk to heel by targeting your hand on your hip.
With a shorter dog you can use a target stick for this.
Hand targeting makes a neat finish to a recall, and is a useful part of training a nice delivery to hand at the end of a retrieve.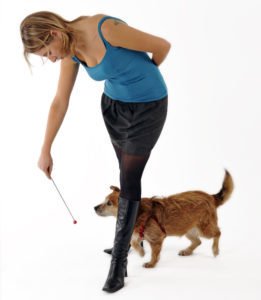 Different targets
The simplest target, and the first that many of us teach our pups, is the human hand.
Target sticks are useful, especially with little dogs, as they save you bending down.
I recommend you start target dog training with your hand as the target.
You can sit on the floor to do this for smaller dogs. If you enjoy yourself (and I'm sure you will) you can move on to using a target stick later.
Different body parts
Most of us begin by teaching a dog to target with his nose.  A popular follow up is targeting with paws.
This forms the foundation to tricks like a 'high five' or 'shake hands'.
We'll be looking at teaching paw touch in another article.
How will targeting help you and your dog?
Much more though, than just a foundation skill for other skills, targeting benefits the dog and your relationship with him for various reasons.
First and foremost it is a confidence builder.
But it is also a way of developing more general skills such as your ability to observe and react to your dog.
Not to mention your dog's ability to work with food, and his awareness of what different parts of his body are doing at any one time.
Confidence
Teaching a dog to target is amazingly easy.
In many cases you'll make progress in a single target dog training session. Three or four days will see you flying along.
This kind of progress is extremely rewarding and motivating, both for you and your dog.
Many people who think of themselves as 'a bit rubbish' when it comes to target dog training, will be amazed at what they can achieve in a day or two with a targeting exercise.
Not only will you gain in confidence, but you and your dog will gain in skill too.
 Skill
Targeting requires accurate timing and is done with force-free training techniques.
So learning to target will give you skills in both areas.
It teaches your dog how to earn rewards by offering the behaviours you are looking for.
Most importantly it teaches him that you are a really interesting person and worth spending time with.
Give it a go
It is hard to go wrong with targeting, and dogs just love to do it.
Next time you and your dog are a bit bored, get out your clicker and a few treats, and get targeting.  You won't look back.
And don't forget to let us know how you get on.
Get Pippa's free dog training tips delivered to your inbox