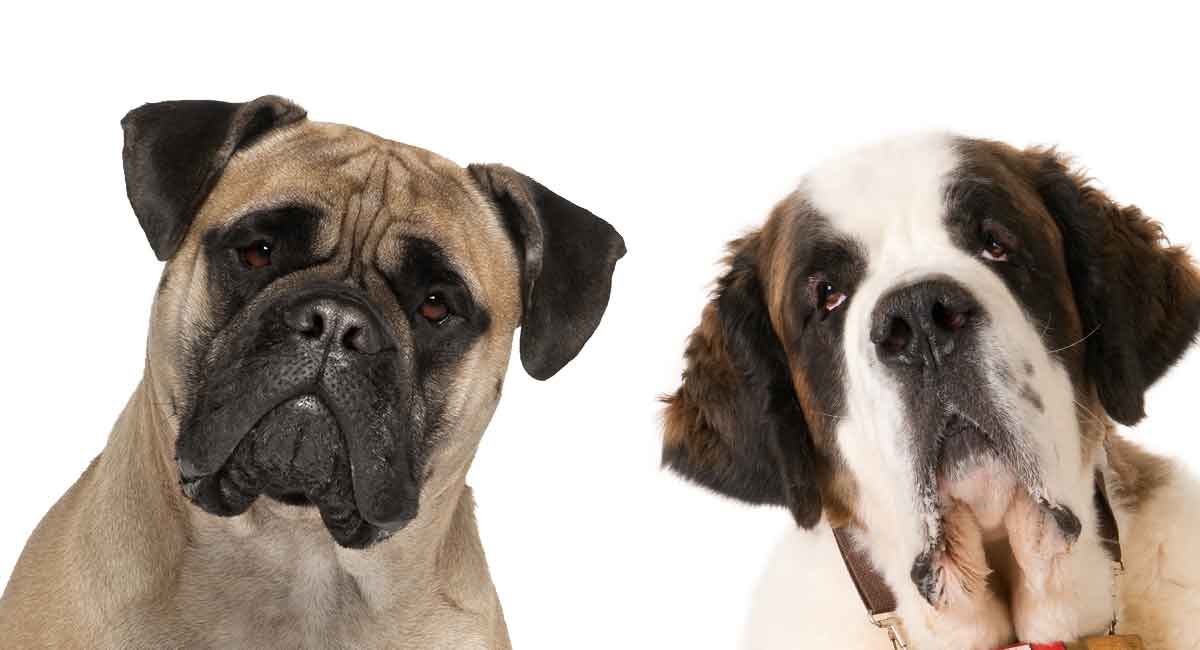 Is the St Bernard Bullmastiff mix the right puppy for you?
Welcome to our complete guide to the Mastiff Bernard mix!
The St Bernard Bullmastiff mix is a cross between the St Bernard and Bullmastiff breeds.
This large working dog is also known as the Saint Bermastiff or Saint Mastiff.
St Bernard Bullmastiff Mix
The Saint Bermastiff was created to combine the playful, charming, and inquisitive temperament of the St Bernard with the affectionate, loyal, and brave nature of the Bullmastiff.
The American Kennel Club ranks the St Bernard at number 48 and the Bullmastiff number 51 in breed popularity.
Strong, with short silky fur and distinctive floppy ears, a Saint Bernard Bullmastiff mix makes a formidable sight.
The St Bernard Bullmastiff mix is a first generation mix, and there's a lot of controversy surrounding the offspring of two different purebred breeds.
Before we take a closer look at the Mastiff Bernard mix, we'll examine the reasons behind the purebred vs. hybrid debate.
Purebred Dogs vs. Hybrid Dogs
Hybrid dogs—also known as designer dogs—are a cross between two purebred dogs.
Purebred dogs have been bred to breed standards over generations.
This makes aspects of their physical characteristics and temperament predictable.
In other words, you know what you're getting, and advocates of purebred dogs want to keep it that way.
However, due to this small gene pool, advances in DNA disease testing have discovered the extent of inherited disorders found in purebred dogs.
Designer Dog Controversy
Many believe that hybrid dogs suffer from fewer health problems because two different breeds are less likely to carry the same genetic tendencies.
This is often the case, but if both breeds are predisposed to the same inherited health condition, then the hybrid is just as susceptible.
Whether you choose a purebred or a hybrid dog, it's important to get your puppy from a reputable breeder who allows you to check the health of the parents.
Studies like this one, which states purebred and mixed breed dogs are equally at risk for some health problems, keeps the debate going.
History and Origins of the St. Bernard Bullmastiff Mix
Like many hybrid breeds, the Bullmastiff x St. Bernard probably originated during the 1990s, which is often referred to as the designer dog decade.
Since there's not a lot of history about this mixed breed, we'll take a look at each of the parent breeds in more depth to get an idea of what a Saint Bernard and Bullmastiff mix could be like.
History and Origins of the St Bernard
The ancestors of the St Bernard were most likely descendants of several Mastiff-like Asiatic dogs brought to Switzerland by the Roman armies.
They were acquired by hospice monks between the years 1660–70.
These powerful working dogs were originally bred as guard dogs.
The hospice was in a snowy pass in the Swiss Alps, and the St Bernard displayed an uncanny ability to locate and rescue travellers buried under snow.
History and Origins of the Bullmastiff
The mighty Mastiff was developed in England in the mid to late 19th century.
Gamekeepers crossed the old English Mastiff and the Bulldog to create a large, quick, brave dog to guard against poachers.
The English Mastiff was considered too slow, and Bulldogs at the time were too vicious.
A ratio of 60 percent Mastiff and 40 percent Bulldog turned out to be the right combination for the perfect watchdog.
Size, Height, and Weight of a St Bernard Bullmastiff Mix
The St Bernard will usually weigh between 120 and 180 pounds, depending on the sex.
Measured at the shoulder, height will range from 26 to 30 inches.
The Bullmastiff is slightly smaller.
They typically weigh from 100 to 130 pounds and measure from 24 to 27 inches at the shoulder.
Regardless of which parent your puppy favors, you can be sure that one day you will own a very big dog.
Defining Physical Characteristics of the St Bernard Bullmastiff Mix
The St Bernard is strong and muscular with broad, sloping shoulders.
A powerful head features well-defined cheekbones and eyes set to the front with an intelligent, friendly expression.
The coat can be various shades of red with white or white with red.
The Bullmastiff boasts a symmetrical physique that displays his strength and alertness.
A dark face mask, broad wrinkled head, and floppy jowls are defining characteristics of the breed.
Their short dense coat can be red, fawn, or brindle, or a combination of these colors.
St Bernard Bullmastiff mix puppies can inherit physical characteristics from either parent or a little from both.
Typically the face of the mix will be wide and square with a short muzzle, and the body will be stocky and thick with a broad chest.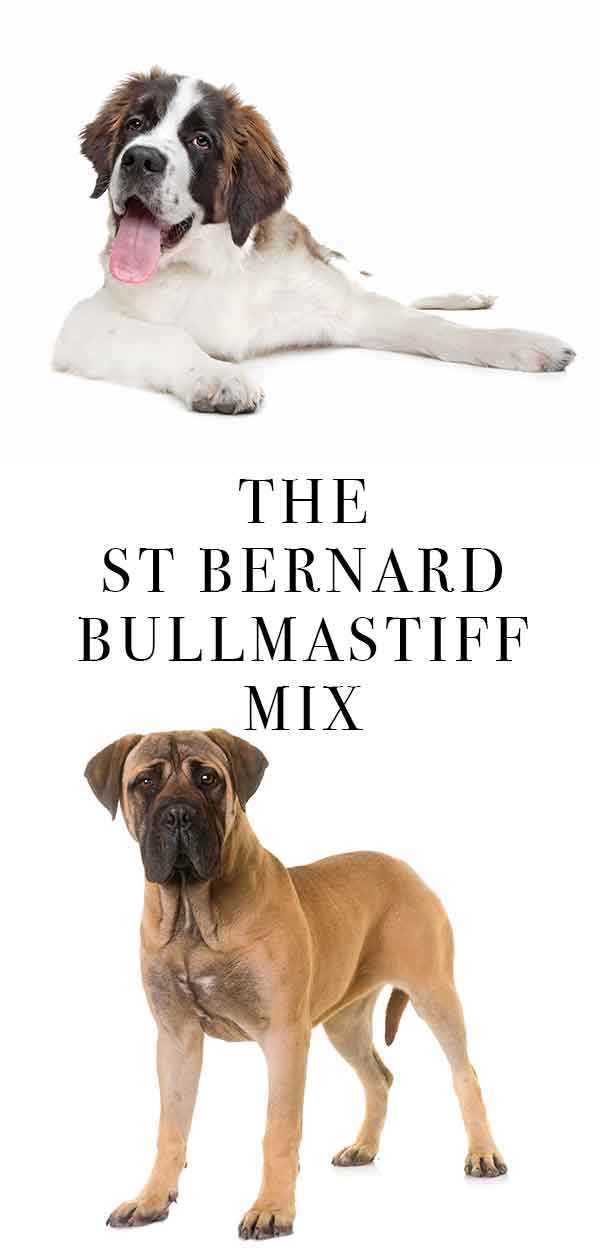 Temperament and Behavior of the St Bernard Bullmastiff Mix
The lovable St Bernard is a gentle giant, known for patience and kindness.
These mellow dogs are happy to spend time lazing around.
Very sociable, they like to be around people and other pets.
In contrast, Bullmastiffs can be somewhat antisocial.
They are highly protective, loyal, and fearless and can be destructive if left alone for too long.
Grooming and General Care of Bullmastiff Cross St Bernard
St Bernards are not noted for being the cleanest breed.
They shed and slobber—a lot.
There are long-haired and short-haired varieties of the breed.
Both require brushing once a week at minimum and daily during shedding season.
Bullmastiffs in comparison are average shedders.
Both breeds should have their ears monitored and regularly cleaned with a veterinarian-approved cleansing solution to avoid infection.
Both breeds are also known for having bad breath.
Brushing their teeth on a weekly basis will prevent tartar build-up and control odor.
Health Issues of St Bernards and Bullmastiffs
Both St Bernards and Bullmastiffs are brachycephalic dogs, which means they have a short, flat head.
This flattened muzzle can cause varying degrees of respiratory problems.
Bloat, a sudden life-threatening swelling of the stomach, is also a problem for both breeds.
Hip dysplasia is an inherited disease that is prevalent in large and giant dog breeds.
It's characterized by abnormal development of the hip socket and can cause painful arthritis of the joints.
Remember that even though the St Bernard Bullmastiff mix is a hybrid breed, they are still susceptible to health issues that affect the parents.
The breeder should have health-tested both parents.
This is the best way to ensure your puppy's overall health.
Lifespan of St Bernards and Bullmastiffs
There's a correlation between size and lifespan in dogs.
Unfortunately, both of these large breeds have considerably shorter average lifespans than smaller breeds.
The St Bernard has a lifespan of 8 to 10 years, the Bullmastiff, 7 to 9 years.
Exercise Requirements for the St Bernard Bullmastiff Mix
The St Bernard requires a moderate amount of daily exercise.
One long walk, a few shorter ones, or a half-hour play session is enough to keep him healthy.
Likewise, the Bullmastiff is not an overly active breed, but does require daily exercise.
Not the ideal running partner; these large dogs would prefer a brisk walk.
Neither of these breeds does particularly well exercising in hot weather, as they're prone to heatstroke.
Make sure to bring along plenty of water, and on very humid days keep them indoors.
A Saint Bermastiff will require daily physical activity to keep his muscle mass and not become overweight.
Training Requirements for the St Bernard Bullmastiff Mix
Early training and socialization is critical for all dogs who are as big and strong as these two breeds are.
The older they get, the harder they will be to control.
Both breeds can be eager to please, but some dogs can be a little more willful.
Another reason training should start early.
Whether you choose to enroll them in puppy classes or teach them not to knock people down yourself, it is essential to use positive reinforcement training methods.
Despite their size, both breeds are sensitive and will recoil from harsh treatment.
Ideal Home for the St Bernard Bullmastiff Mix
Due to their size, this dog is not ideally suited for living in an apartment.
St Bernard Bullmastiff mixes make good watchdogs.
Although they aren't especially aggressive or prone to barking, they are fiercely protective.
Both parent breeds have a reputation for being excellent with children, but they're big dogs, and those who have toddlers should bear this in mind.
The St Bernard Bullmastiff mix is happy to laze around the house, but doesn't like to be left alone for too long.
A cooler climate is also preferable. If you're not sure whether this is the cross for you, check out some other types of Mastiff mixed dogs here!
Choosing Bullmastiff x St Bernard Puppies
Whenever you get a hybrid breed puppy, like the St Bernard Bullmastiff mix, the outcome can be unpredictable.
They can possess various characteristics, both physically and temperamentally, of either of the parent breeds.
Both the St Bernard and Bullmastiff are large breeds with serious health issues.
Make sure your puppy is healthy by meeting both parents.
The breeder should be able to provide you with test results for any genetic health issues that impact either of the parent breeds.
Let us know in the comments below if you have any questions about the Mastiff Bernard mix.
And if you want to check out more big breeds, take a look at the Lion Dog!
References and Further Reading
American Kennel Club
Farrell, L., et al, "The Challenges of Pedigree Dog Health: Approaches to Combating Inherited Disease," Canine Genetics and Epidemiology, 2015
Beuchat, C., "Purebred vs Mixed Breed Dogs: Various Disorders," The Institute of Canine Biology, 2013
Wykes, PM, "Brachycephalic airway obstructive syndrome," US National Library of Medicine National Institutes of Health, 1991
Glickman, LT, et al., "Analysis of risk factors for gastric dilatation and dilatation-volvulus in dogs," Journal of the American Veterinary Medical Association, 1994
Greer, KA, et al., "Statistical analysis regarding the effects of height and weight on life span of the domestic dog," US National Library of Medicine National Institutes of Health, 2007
Nouh, SR, et al., "A Retrospective Study on Canine Hip Dysplasia in Different Breeds in Egypt," Department of Surgery and Diagnostic Imaging at Military Veterinary Referral Hospital – Egypt, 2014
Get Pippa's free dog training tips delivered to your inbox