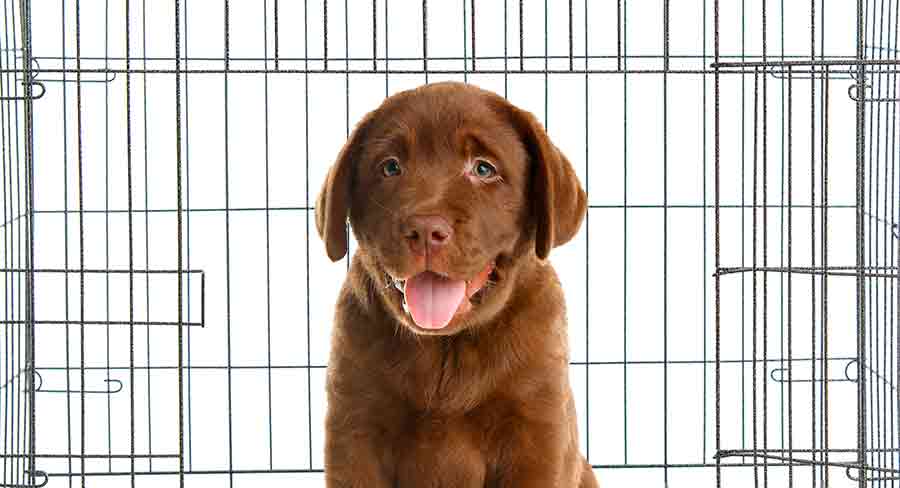 If your puppy hates crate time, then the likelihood is that you went too fast with your crate training, or are using the crate for too long. But don't worry, you can work together to resolve this issue. And still end up with a puppy that will settle down happily in their snuggly den. In this guide, we will help you work out why your puppy hates crate training, and how to improve things.
My Puppy Is Afraid Of The Crate
There are two main negative reactions your puppy might have to going into a crate. One is fear, and the other is frustration.
A puppy that is afraid of the crate, needs a little more of a gentle reintroduction than a puppy that is simply annoyed about it. If your puppy is shaking, or letting out little unintentional pees when you put them in the crate, they are probably scared. Likewise a puppy that will never voluntarily go into or near the crate might well be afraid of it.
In these circumstances, set up a temporary playpen to use instead, with a dog bed in it and the floor covered with pee pads. This is where they will go when you need somewhere safe to put them in the interim. For the next few days, or longer if necessary, simply ignore the crate completely and keep the door open. Put their favorite toy and some tasty treats near the crate but not inside.
Gradually over time leave these fun and tasty things nearer and nearer to the crate, until they are just inside the door. When the puppy is confidently going to get them, put them further towards the back. Only when your puppy is voluntarily walking in and out of their crate, move onto the steps for a puppy that hates crate time.
Why Does My Puppy Hate Crate Time?
Crates are fantastic tools that have given thousands of new puppy owners a safe place for their pup to nap and sleep. But they can be misused and misunderstood.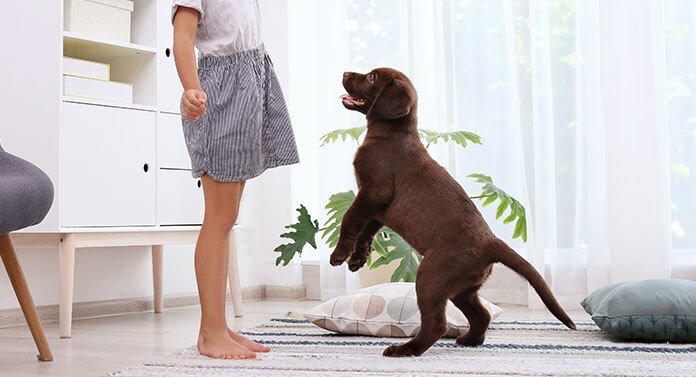 A crate is not somewhere to store your puppy while you are at work. It should not be used for hours at a time during the day. And nor should it be somewhere that your puppy is simply popped into immediately upon arriving into your home. Even if they have been used to a crate when they were with their mother and siblings, the introduction to their new comfy den must be slow and steady. Over-using the crate, or using it too much too soon, can make your puppy really hate it. But we can fix that with some gentle steps.
Learning To Love The Crate
To get your puppy to love their crate, you need to go right back to the beginning of crate training. That means building lots of positive associations with the crate, and doing so in gradual stages. Every time your puppy isn't watching you near the crate, drop some treats in for them to find next time they are sniffing around. Don't let them catch you putting the treats there, leave them as a lovely surprise. When they've been eaten, replenish them next time you have a chance to do so unseen.
Closing the door
You are now going to work on closing the door. Keep the mood calm and casual, and to begin with pop the puppy in and close the door only momentarily. Then leave it open and wander off. Repeat several times, just closing the door and opening it again.
If your puppy seems happy you can start building up the timings. But at this stage stay beside the crate. Just start counting, first to five, then ten, moving up in increments of five. When you can get to a minute it is time for the next stage. Only build up duration or distance if your puppy stays happy.
Walking away
Now your puppy is happy in the crate you are going to start increasing the distance between you. Put the puppy in their crate, shut the door and drop a small handful of kibble through the door. Walk to the other side of the room, still in full view, and wait for 30 seconds. As long as the puppy is quiet, then return and let them out. Repeat five times over the next few hours, and if they stay happy you can start to build duration away from the crate up to give minutes.
Crate naps
Now your puppy is comfortable in the crate for short periods, it is time to start using them for their naps. Put the puppy into the crate at a point that they would normally be wanting a little sleep. Let them fall asleep in the crate, but stay in the room with them. Remember for the first few days to keep a really close eye on your puppy, and get them out of the crate as soon as they stir from their rest.
Once napping in their crate is established, you can start to build the duration they are there during the day. But remember, a crate isn't a place to store your puppy. It's somewhere for them to sleep, spend the night, or stay safe when you run short errands or do chores. Tiny puppies have tiny bladders, and if you leave them in their for too long they will start to hate it again. Undoing all of your good work!
My Puppy Hates The Crate No More!
Dealing with a puppy that hates their crate can be really stressful and incredibly upsetting. Nothing pulls at the heartstrings like the sad whines of a baby dog! But with time and patience, you will be able to help them to learn to love their crate as much as you do. And don't forget, you can get lots more help with Puppy Parenting in our amazing online course here. Have you used these tips if your puppy hates crate training? Let us know in the comments!
Readers Also Liked
Get Pippa's free dog training tips delivered to your inbox