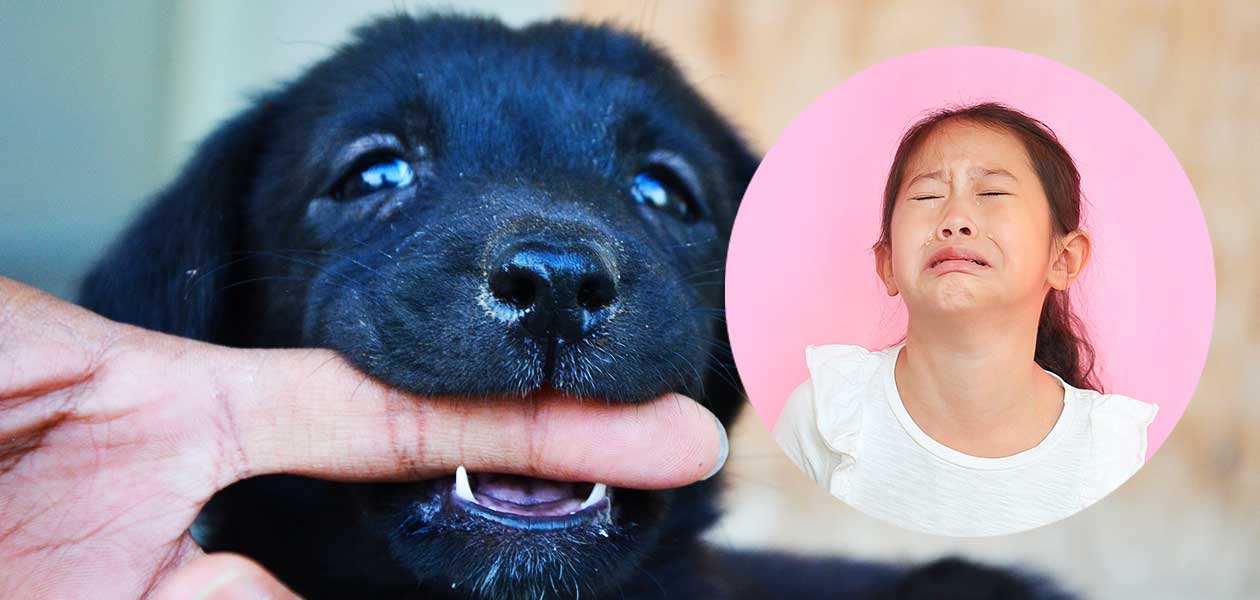 Coping with a puppy biting kids in your home can be tough. But there are things you can do to avoid it.
From management to containment solutions, we take a look at why kids are such a target and what you can do to help.
Living with a puppy biting kids
Life with a young family has its ups and downs. And life with a puppy is no different!
When you combine the two, there are bound to be some bumps in the road.
But with the right planning and management, this stage too will soon pass.
All puppies bite
I've yet to meet a puppy that never bit. It's so natural as to be completely normal.
Which doesn't mean it isn't a huge and common cause of stress for their new owners.
In fact, I would say it's the number one problem that we chat about with our students on the online Puppy Parenting course in their private forum.
Because you can know academically that puppies bite, but experiencing it first hand is something else.
Puppies bite feet, clothes, hands and seemingly indiscriminately during play. Each of these scenarios can be handled a little differently.
We'll look at some specific management techniques for these common puppy problems, and some more general ways to help your kids and puppy live together more harmoniously.
Why is my puppy biting kids?
Understanding why puppies bite can help us go some way to preventing, or at least reducing the behavior.
And they do it for a few reasons.
Teething
Poor bite inhibition
Attention
Excitement
Retrieving breeds, selected over generations to pick up and carry stuff, are even more inclined to be mouthy when young.
But even they grow out of it eventually, for the most part!
In the meantime, there is plenty you can do if you've got a puppy biting kids in your home.
First lets take a look at the reasons puppies bite in more detail. Then we'll look at why puppies bite kids, and what we can do about it.
Teething
Between a few weeks and around 7 months old, your puppy will be losing teeth and growing new ones.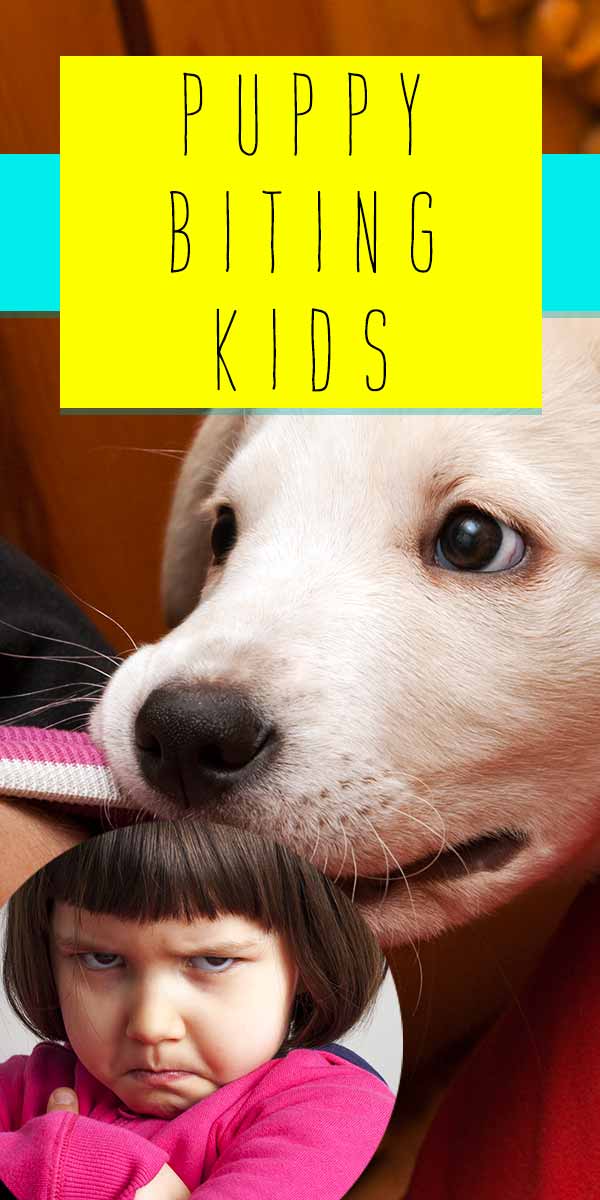 To aid this process and ease his sore gums, he'll chew a lot.
Teething often results in damage to your property, from your chairs and table legs, to the walls of your home, nothing is safe from his grinding grasp.
Your pup might try to ease his mouth by gnawing on your kids' hands, but this is usually a result of play rather than this physical change.
And what makes a huge difference to the extent of the damage done, is their bite inhibition.
Bite inhibition
Dogs can physically control how hard they bite down. We call this skill 'bite inhibition'.
It's something your puppy begins to learn from the time he's born. These lessons come from his mother and littermates.
A common result of being taken away from their family too soon, is that a puppy hasn't finished learning these lessons.
Until they are 8 weeks old puppies are learning lots about how to be gentle from their furry family.
These lessons give a great return to you as a puppy parent, because they will already be slightly holding back when they bite you.
Puppies that leave their families at 6 weeks old seem to have a lot more problems moderating their bites than those that come into your life after 8 weeks.
Once your puppy is with you, they will continue to learn bite inhibition.
And you can help them to understand how hard is too hard through your interactions with them.
But it's important not to go about it the wrong way.
Attention
Puppies get a lot of attention for biting, and they don't mind that some of it is negative.
In fact, the noises and movements we instinctively make when bitten are great fun to the average pup.
A puppy biting kids can get worse very easily, because children are prone to accidentally rewarding this unwanted behavior.
They scream, shriek, run away, flap the bitten limb around.
Totally understandable given the bite, but the puppy thinks these actions are brilliant.
It's a great fun game, that just got even funner!
And the more excited your puppy is, the more bitey she will get.
A bitten kid is unlikely to calmly move slowly away when they are bitten. But this is exactly what they need to do.
And you can help them by managing their expectations, and interactions with the pup.
Why is my puppy biting kids more than adults?
It's that excitement factor that we mentioned earlier.
Kids might look like adults in miniature form, but they sure don't behave the same way.
They move more erratically, faster and gesticulate wildly whilst making a point.
All these actions are likely to get a puppy excited.
And of course, kids don't have the height we do.
That means that they are closer to your pup's level, therefore easier to grab.
Whether it's dangling legs under the table, or fingers that naturally hang at their mouth level.
Kids are a really easy target for a playful puppy.
Let's look a bit more specifically at what our kids are doing that makes them more exciting to your puppy, and more tempting to bite.
Puppy biting kids hands
Children have a tendency to move quickly and erratically.
When they go to pet a puppy rather than reaching down gently they will often poke their hands in and out. Jerking back when the puppy turns in their direction.
This seems like a great game to the puppy, and results in their teeth meeting the target at its next arrival.
They are also poor at reading the puppy's mood, so will reach in to pet them when they are already quite excited.
Teaching your kids when and how to pet the puppy really helps.
Wait until the puppy is calmly chewing a toy, or laying in an adult's lap.
Get the child to approach slowly, raise their hand slowly and stroke down the fur near the puppy's rump.
Remind them not to jerk their hand away if the puppy turns around to investigate, but if they feel nervous to gently retract instead.
With younger kids softly but firmly holding their wrist the first few times to guide them seems to really help them become familiar with the motion.
Puppy biting kids clothes
Puppies bite everyone's clothes. They are happily non-discriminating in their love of fabric.
Unfortunately, our kids are an easier target.
They are closer to the puppy's height, and they will be inclined to interact closely with the puppy more frequently!
A good management technique for this particular problem is to get your kids to wear tighter clothes.
Jeans rather than loose trousers or skirts. Tight tops rather than flappy, over sized ones.
It just gives the pup less to grab onto, and a less tempting playmate too!
Getting kids on board
Now, I know this is not as practical as it is for adults. Kids grow fast, and they love to have creative control of their wardrobes.
Let's face it, they don't get much control yet in life, so it's nice to let them have free rein on something.
A trick we find successful is what we like to refer to as 'the choice that isn't a choice'.
You pick two outfits, either of which you'd be happy for them to wear, then let them pick one.
They can even mix and match.
It gives the kid the illusion of choice, while keeping you in the drivers' seat.
If you don't have tight outfits, then pop a hair tie around each leg at the ankle to hold the fabric in.
Just remember to take them off before you go out, or they'll never let you forget it!
Puppy biting kids feet and shoes
Feet and shoes are a little different, because they are always going to be a temptation.
When puppies bite kids' feet they make an awful racket. It hurts, after all.
And this noise, fuss and all the running that follows makes it seem like even more of a great game to your puppy.
So for the first few weeks, either relax the rules and allow shoes in the house, or invest in some very thick socks, slippers or 'indoor shoes' for the kids.
Shoes without laces are ideal, as these are a main target for puppy biting.
If all their shoes have laces, then get them to slip them straight into their shoes so nothing is dangling out.
Don't even tie a knot before they do so, just leave them loose. The knot seems to be a real target area too!
Puppy biting kids during play
Play can be the cause of a lot of puppy problems.
Not just with the puppy biting kids, but jumping up, clawing clothes and generally getting over excited.
Kids play with puppies as though they were toys with an unlimited amount of energy and tolerance.
Puppies play with kids as though they were indestructible dog toys.
It's not a winning combination.
The trick is to formalise their play.
The Best Puppy Play Structure Depends on Your Kids' Age
Kids of different ages and maturity levels can be trusted to have access to biting puppies to greater or lesser degrees.
Bit more general guidance here before the breakdown? Why does age matter?
Let's lay down some arbitrary age categories, but remember all children are different and you need to adjust to their emotional maturity as well as age.
Puppy playing with kids under 3 years old
This is tough, but it's best not to let them play together at all.
Calm petting with direct manual supervision should be their only interaction.
For grabby toddlers and babies only let them pet if you have your hand in their fist so it can't close around their fur.
Use barriers to keep them apart during play time and whenever you cannot be directly on hand.
Sadly it's just not fair on either of them to expect them to reliably moderate their behavior when they are this young.
Puppy playing with kids 3 – 5 years old
Your kid is starting to have a small amount of self control, but it varies depending on their mood!
And they probably still get excited quite easily.
Set a timer for up to five minutes for puppy play. Do it within thirty minutes of when the puppy has had a nap and a pee, to avoid accidents or over tiredness.
Give them a choice of two toys to play with. One for rolling along the floor or one for dragging.
Sit them in your lap in an enclosed area with the puppy, and help them roll or wiggle the toy.
When the puppy grabs the toy, get your kid to let go and let the puppy proudly trot off.
Swap toys if they don't drop it quickly and repeat.
Don't let them poke the puppy, just move the toy for her to get her attention.
End the game if either the puppy or the kid gets over excited!
Kids 6 years and up
Temperaments vary, but most six year olds are able to follow simple rules and instructions for interacting with animals.
Even without hands-on supervision.
If your kid is reasonably willing to follow your instructions with pets, then now is the time to give them more freedom to interact with the dog.
Now's the time to introduce a brilliant, traditional puppy game – tug!
Get a long, tough toy, a Kong Wubba is a good choice, and let them hold the end.
Show them how to wiggle it on the floor near the puppy.
The trick to getting the pup engaged in tug is to let them win. When the pup is pulling her hardest, the kid needs to release the toy.
Explain to the child if they don't let the puppy win, they'll soon get bored with the game.
The more they win, the more they will want to play, and the harder they will try.
You should even get some good puppy grunts and growls to show she's really into the game!
Remember to watch your puppy doesn't get over excited however, and to stop the game if they start going for hands and feet instead of toys!
Living with a puppy and kids
Life with a young family can feel a little overwhelming at times. Even if they are just family members that live elsewhere and visit a lot.
I know combining my lovely kids with the crazy number of pets we have at home, sometimes feels brain meltingly crazy.
But it's so worth it, and you just have to get organised.
We manage our hectic household with a combination of containment and expectation management.
Containment
Puppies aren't like most of the other pets that share our homes (cats aside!), in that they share the run of the house.
Small mammals, reptiles, fish, birds: they're all tucked away in their own enclosures.
Dogs share our space. It's their space too!
But it's important, especially in the early stages, to still have some divides.
Let's face it, you used baby gates and playpens for your toddler.
It didn't make them less of a member of the family, but it did allow you to relax a little and them to have freedom whilst growing up safely.
Here are the things you need to get out the loft and dust down, or buy from the pet store, to help keep barriers between your kids and puppy:
Baby gates
Playpens
A dog crate
Your puppy needs his own space to hang out. Somewhere the kids can't get at, that the puppy can be left in for several periods of time during the day.
A space to unwind and relax, and not be accidentally wound into a frenzy.
Somewhere you can pop him when playtime is over.
These tools will also help a lot when it comes to puppy potty training!
Managing expectations
Kids adore their pets. They teach them so much about compassion and responsibility.
(And that's the truth, not just the excuse I give to my husband when justifying our menagerie.)
But they also teach restraint.
It's just an extension of the first time they were small, noticed an animal and wanted to pet them.
So you held your finger in their open palm, so they could gently touch them without making a fist and grabbing the animal's fur.
Let your kids know that pets don't do things on their schedule alone. And kid playtime will always last longer than puppy play time.
Use a timer, set it for the allotted period, and never let this drift on past that point.
Manage their expectations, and let them reap the benefits in terms of a better relationship with their puppy.
Get your kids involved with training
A brilliant way to convince your kids to stay sensible with their puppy is to get them involved and invested in training.
Depending upon your kid, you can do this to an extent from as young as 3 or 4 years old, with lots of supervision and help.
Positive reinforcement training is amazing for lots of reasons, but a big one for kids is that it can be done straight away.
And they love quickly realizing they can have an impact on their pet's behavior.
The puppy games we play in our Puppy Parenting course are a great place to start.
Or you can begin by simply getting your kid to drop kibble on the floor every time the puppy approaches them but doesn't jump up or bite.
This will encourage good manners in the pup, and make sure your child feels really invested in promoting this great behavior too!
Get Pippa's free dog training tips delivered to your inbox