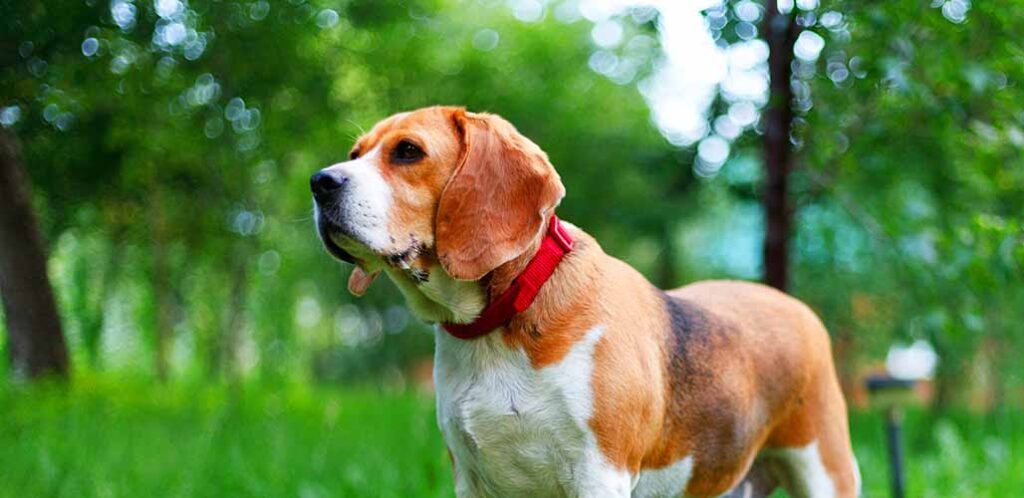 Every Beagle is unique, and how long they live is determined by a combination of genetics, lifestyle factors, and what illnesses or injuries they experience. Over the years, researchers have conducted multiple owner surveys to estimate the average life expectancy for a Beagle. And the findings have varied from less than 10 years, to over 14 years. This broad range in results really caught my attention, and I've been interested to find out how it came about, and which estimate is more accurate. So here's everything I've discovered about Beagle longevity, and how to help your little hound achieve the longest life possible.
Contents
What is the normal life expectancy for a Beagle?
Estimating the average life expectancy for pedigree dogs can be notoriously hit and miss. To collect data, researchers often rely on contacting dog owners via breed clubs and registries and asking them to fill out questionnaires about how old their pets were when they died. So already, purebred dogs which aren't officially 'papered', or whose owners aren't signed up to a breed club, won't be counted. Then on average, just under a quarter of owners contacted actually respond, which means the remaining three quarters of dogs remain unaccounted for.
In all, this means there is lots of potential for data about dogs' life expectancy to be skewed. And the averages we do have for Beagles might not really be representative of the Beagle breed as a whole. But with those caveats in mind, let's look at the four most recent examples of results that have been returned.
Average life expectancy for a Beagle
These numbers suggest that our dogs' lifespans might be changing over time, and also influenced by factors like where they live. Compared to dogs generally, it's hard to say whether Beagles are beating the odds or not. The average life expectancy of all purebred dogs taken together sits around 11 and a half years. Beagles exceed that in some reports, and fall short in others.
What is the longest Beagles can live?
What's the best lifespan your pup can hope for? Well, the Japanese study above also reported that the oldest Beagle they found a record for had survived to a stately 20 years old. In the 2010 Kennel Club survey, the oldest Beagle reported had reached 17 years and 11 months old. And these compact hounds can live even longer still. A Beagle named Butch once held the Guinness World Record for being the oldest dog in the world. He reached an astonishing 28 years old!
Factors that affect Beagle longevity
How long dogs live depends upon their genetics, their environment, how we look after them, and their encounters with illness or injury. The dogs that live the longest are the ones who get lucky in all of these areas.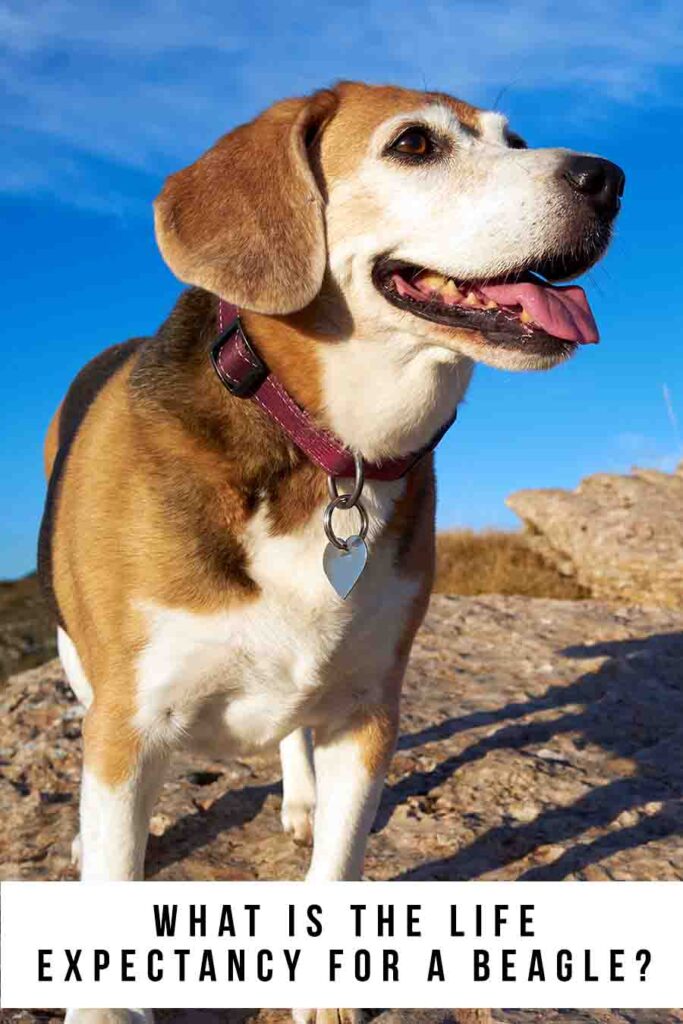 Veterinarians and animal researchers are consistently interested in universal factors that increase or reduce dog longevity generally. For example, statistically, neutered and spayed dogs tend to live longer than non-neutered and non-spayed dogs. In the case of females, it's thought to be because spaying eliminates the risk of lethal pyometra infections, and ovarian and uterine cancers. It also reduces the risk of mammary cancers. In male dogs, where the difference in longevity is less pronounced, it's thought that the risks of being non-neutered are mostly behavioral. For example getting injured whilst roaming in search of a mate, or fighting other males. Those risks can also be controlled by proper management, rather than surgery.
How to secure the longest possible life for your Beagle
The good news is, many of the factors which determine how long a Beagle lives are within our power to control, at least to some degree. So here are some of the ways we can secure them the most years possible:
Start with a healthy puppy
Keep them at a healthy weight
Don't forget preventative medicines
Take them for regular vet checks
Manage their behavior
Start with a healthy puppy
One of the secrets to a long life is good genes, and being free from hereditary health problems. Luckily, prospective sires and dams can be screened for many of the health problems that shorten life expectancy. Good breeders will have evidence that their puppies come from parents with impeccable health credentials. According to the Orthopedic Foundation for Animals Beagles being considered for breeding should have these health tests at a minimum:
Hip evaluation
Eye exam
Cardiac evaluation
Musladin-Leuke Syndrome test
Autoimmune thyroiditis test
Optional but recommended tests for Beagles are:
And advanced cardiac exam
Patellar luxation evaluation
LaFlora epilepsy test
Factor VII deficiency test
Neonatal cerebellar cortical degeneration test
Keep them at a healthy weight
Obesity is on the rise among our pets, but some dog breeds seem more prone to it than others, including the Beagle. Known consequences of being overweight include increased risk of:
Hip dysplasia
Patella luxation
Diabetes
Lung disease
Heat stroke
Non-allergic skin diseases
Urinary tract infections
Kidney disease
Certain cancers
Obesity has also been observed to go hand in hand with decreased quality of life. So, keeping your Beagle at a lean, healthy weight could help unlock months or years of extra life, and better quality of life.
Don't forget preventative medicines
Treat your Beagle for fleas and worms regularly, and don't miss their annual booster shots. Many veterinary clinics offer health packages that are paid for monthly and renew annually, and include all of the above, plus reminders to your phone so you don't forget!
Take them for regular vet checks
Regular veterinary checks catch health problems early and mean they can be managed more effectively. This is especially important from 9 years old onwards, when the risk of illnesses associated with old age starts to increase.
Manage their behavior
Be proactive about keeping your Beagle out of trouble. For example, Beagles have an overwhelming instinct to pursue interesting scents. This can put them in harm's way if, for example, it leads them onto a busy road. It's up to us to keep them safe from risks like these, by using a long lead on walks, or exercising them somewhere enclosed and secure.
What do Beagles usually die of in the end?
It's not pleasant to think about, but the information we have about causes of death also reinforce some of what we know about keeping them alive. Just like the statistics we have for life expectancy, these figures only represent part of the picture, and might not be exactly representative of the breed as a whole. But where studies have collected information about cause of death:
28% of Beagles died of cancer. Cancer is the leading cause of death in Beagles, and Beagles are also more likely to die from cancer than most other types of dog.
10% died in accidents.
9% had to be euthanized due to behavior problems
9% died or had to be euthanized due to spinal disease. Beagles experience high rates of disc herniation due to their short-but-long body type.
4% died of heart disease.
Looking at that list, it's easy to see how some of the protective measures in the previous section relate to the most common causes of death. For example, keeping a Beagle at a healthy weight through diet and exercise protects against some cancers. Teaching a solid recall and exercising your Beagle safely will reduce the risk of accidents. And choosing a puppy whose parents were both screened for heart disease reduces the likelihood they will go on to develop heart disease.
Summary of the average life expectancy for a Beagle
Beagles live for 10 to 14 years on average. To achieve the longest lifespan possible, choose a puppy from health tested parents, keep them lean and active, and keep them out of trouble! Let us know how old your Beagle is, and if you've ever met any truly golden oldies in the comments box down below!
Get Pippa's free dog training tips delivered to your inbox