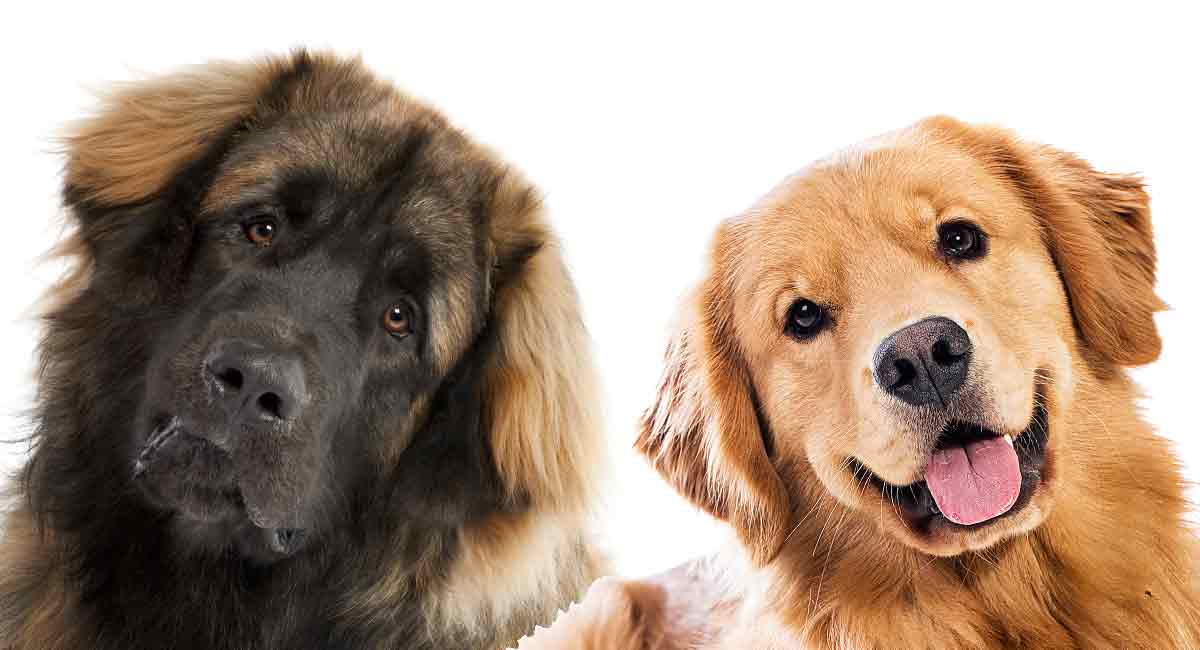 The Leonberger Golden Retriever mix is a cross between the giant Leonberger and the kind-natured Golden Retriever.
In this article, we give you all the details you need regarding the Leonberger Golden Retriever mix and discuss whether this cross-breed dog is right for you.
However, there is much debate regarding designer dogs. So first, let's look at the controversy surrounding these hybrid breeds.
Designer dog controversy
A crossbreed is the result of deliberate cross-breeding between two purebreds, with the hope of capturing the best characteristics and traits of both parents.
Crossbreeds, also known as hybrids or designer dogs, are increasing in popularity with over 500 varieties. And the list keeps on growing!
Over the past two decades, cross breeds have become extremely fashionable, with goofy names like Labradoodle and Cockapoo.
They often sell for prices higher than purebred dogs, depending on the latest trend.
Many of these hybrids are not recognized breeds, so have no registration papers.
Some experts believe that designer dog breeders are only concerned about money and care little about the welfare of these animals.
Predictable traits
One of the advantages of choosing a purebred puppy is that they have predictable traits.
Therefore, potential owners know roughly the size, temperament and coat type along with the dog's care and exercise requirements.
A cross breed dog has no guaranteed outcome in comparison to purebreds and may inherit more traits from one parent than the other.
Health – purebreds versus crossbreeds
One of the disadvantages of having a purebred dog is that, due to inbreeding practices and a small gene pool, some breeds are more prone to certain health issues.
Advocates of cross breeds prefer designer dogs because they have what is known as hybrid vigor.
Hybrid vigor is a better ability to survive and reproduce, thanks to a wider genetic diversity. "Weak" genes from one parent are more likely to cancelled out by the other parent, making crossbreeds stronger and healthier.
A study of over 27,000 dogs at the University of California, Davis from 1995 to 2010 discovered that at least 10 inherited disorders are more likely to affect purebred dogs.
Now, let's look at the Leonberger Golden Retriever mix.
The Leonberger Golden Retriever mix
There is little information regarding the Leonberger Golden Retriever mix.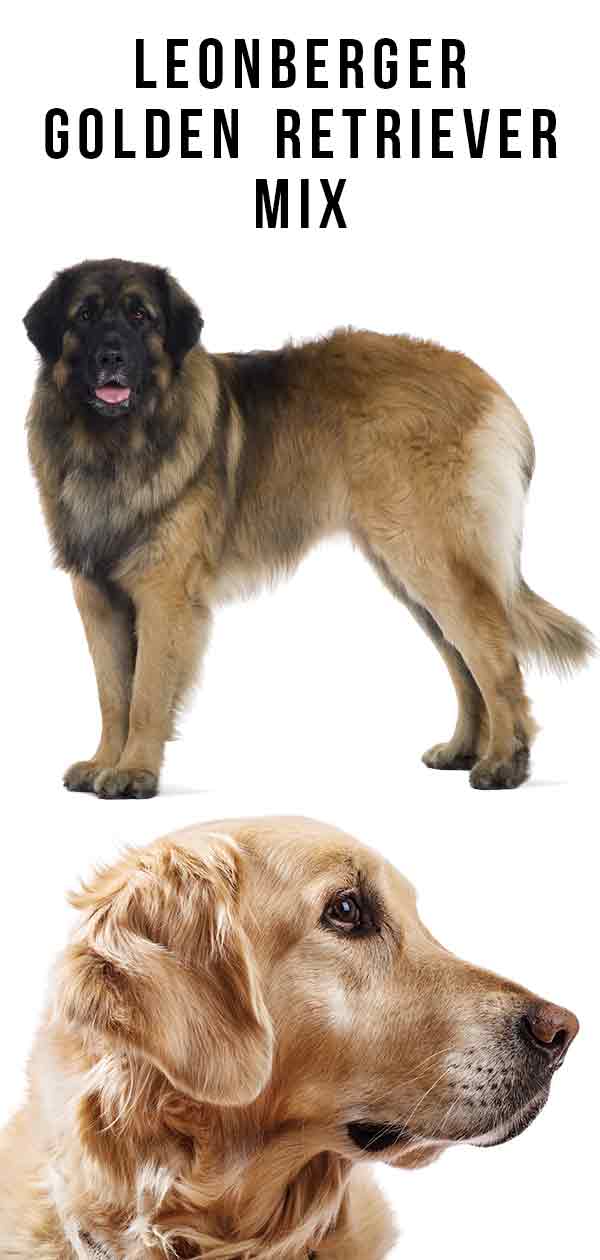 For instance, it is unknown where the idea for the crossbreed originated from or why.
When you buy a crossbreed dog, there's no guarantee of what you can expect.
A mixed pup can inherit physical and behavioral traits from either of their parents, in any combination.
Therefore, it is vital that you research the traits of each parent breed along with any possible health issues their puppies could inherit.
Origins of the Leonberger
The Leonberger, often nicknamed the Leo, originated in Germany in 1846.
A German politician named Heinrich Essig wanted to create a companion dog resembling the lion on the crest that represented his hometown of Leonberg.
It is believed that the breed is a mix of the Landseer Newfoundland, St. Bernard and Great Pyrenees.
Experts, though, believe the breed came from a much wider range of types that led to the Leonberger's unusual appearance.
This giant breed nearly became extinct during World War I. Only 25 dogs remained, with just five fit for breeding purposes.
The German government took over the breeding program in 1922, and by 1926 they had approximately 360 Leonberger dogs.
The Leonberger came to the USA during the late 1970s and registered with the Kennel Club in 1991. It came part of the AKC Working Group in 2010.
Origins of the Golden Retriever
The Golden Retriever is one of the most popular dogs in the USA.
The breed was developed in Scotland during the mid-19th century at the Highland estate of Sir Dudley Marjoribanks.
At that time, wildfowl hunting was prevalent amongst the Scottish aristocracy.
Marjoribanks visualized breeding a hunting dog who was powerful but good-natured and trainable.
It is thought that the Golden Retriever came about by cross-breeding a yellow retriever called Nous with a female Tweed Water Spaniel known as Belle.
The offspring were then crossed with other breeds including water spaniels, Irish Setters and Labrador Retrievers.
Although a few Golden Retrievers appeared in the USA at the start of the 1880s, the breed only became part of the AKC Gundog Group in 1925.
In 1938 the American Golden Retriever Club was formed.
Size, height and weight of the Leonberger Golden Retriever mix
The Leonberger is a giant breed of dog and is dimorphic, meaning that male and female dogs are noticeably different.
A male Leonberger looks more masculine and is approximately 28 to 31.5 inches in height, weighing between 100 and 150 pounds.
Females measure between 25.5 to 29.5 inches in height, and their weight ranges from 90 to 140 pounds.
The Golden Retriever is a large breed.
Males measure 23 to 24 inches in height, and weigh between 65 and 75 pounds.
Females measure between 21.5 to 22.5 inches high, and their weight ranges from 55 to 65 pounds.
The resulting Leonberger Golden Retriever mix will, therefore, likely be a very large dog.
Defining characteristics of the Leonberger Golden Retriever mix
The Leonberger is a robust and muscular dog with powerful legs that end with webbed feet.
They have a long, thick, water-resistant coat that is usually golden yellow or reddish brown with a black facial mask.
The male Leo sports a thick mane around the neck and chest giving him a lion-like appearance.
This is less evident on a female.
The male's head is larger than the female's, but both have medium sized, triangular floppy ears, a large nose, and kind-looking dark brown eyes.
The Golden Retriever is a large dog who is also strongly built with a broad head, short floppy ears, and intelligent eyes.
They too possess a long, water-resistant coat which comes in light to dark golden colors of various shades and can be straight or wavy.
A Leonberger Retriever mix will most likely have a long coat and floppy ears, with a strong muscular build.
Temperament and behavior of the Leonberger Golden Retriever mix
The Leonberger is considered a gentle giant who thrives on being part of a family but is extremely sensitive to any arguments.
He is naturally protective, and his deep, imposing bark makes him an excellent watchdog. But he is generally polite to everyone.
The Leo gets on well with other animals and children.
However, care must be taken with small children as he could easily knock a toddler over.
They do not like to be left alone for extended periods and can become destructive.
The kind and gentle nature of the Golden Retriever makes it an ideal family dog.
The breed is great with children and compatible with other pets.
They make good watchdogs but not guard dogs, as they love people too much!
However, like the Leonberger, the Golden Retriever does not like to be left alone for any length of time, and will become sad and depressed.
The Leonberger Golden Retriever mix is likely to have a loving and gentle temperament.
It is tolerant and kind with children and other animals but cannot be left alone for long.
Grooming and general care of the Leonberger Golden Retriever mix
As both breeds have long coats, the Leonberger Golden Retriever mix will have a long coat too.
It will shed moderately all year round but more heavily during the spring and fall.
You need to accept that hair will often be on your clothes and furniture!
Their coats need a regular brush, but do not need clipping.
Brush your dog's teeth regularly to carry out essential dental hygiene. Clean their ears once a week and trim nails as needed.
Exercise and training requirements of the Leonberger Golden Retriever mix
Both the Leonberger and the Golden Retriever are intelligent breeds who respond well to training and are eager to please.
Due to their kind disposition and trainability, they make excellent therapy and assistant dogs, as well as being useful in search and rescue missions.
They have high energy levels, excel in agility and obedience competitions, and are excellent swimmers.
However, they require active owners!
A Leonberger Retriever mix is highly likely to be trainable and require plenty of exercise.
Health issues of the Leonberger Golden Retriever mix
Because of its giant size, the Leonberger has a short lifespan of between seven and ten years.
One-third of Leos die from cancer, especially bone cancer, during middle age.
They are prone to some inherited health conditions that include orthopedic diseases, elbow and hip dysplasia, panosteitis, Addison's disease, eye diseases, heart disease and bloat.
The Golden Retriever has a slightly longer lifespan of 10 to 12 years and is generally healthy.
However, they are still prone to some inherited illnesses.
For instance, Golden Retrievers die of cancer more often than any other breed.
Allergies and skin conditions are common, as well as hip and elbow dysplasia, eye diseases, and heart disease.
The Leonberger Retriever mix may inherit any of the mentioned health conditions.
They have an average lifespan of approximately ten years.
Choosing a healthy Leonberger Golden Retriever mix puppy
When you meet a breeder with a litter of Leonberger Golden Retriever mix puppies, they should be able to show you detailed health records for both parents.
Both parents breeds are prone to cancers, hip dysplasia, eye disease and heart disease. Your breeder should know about instance of all these conditions in their puppies' family tree.
For each parent they should also have the results of:
hip screening carried out as recently as possible
an eye exam carried out within the last year by a veterinary opthalmologist
and a cardiac exam carried out since their first birthday by a veterinary cardiologist.
Being scrupulous and patient about finding a puppy with healthy parents can save you a lot of heartache as they grow up.
Ideal home for the Leonberger Golden Retriever mix
The Leonberger Golden Retriever mix does best with an active family or owners who require a partner for jogging, hiking or biking and are at home for much of the day.
Due to size, this breed isn't a good choice for apartment living, or families with very young children.
They really need a house with a large, secure yard for them to run around in.
How to find a Leonberger Golden Retriever mix puppy
Always be cautious when buying a puppy.
Make sure you go to a reputable breeder.
With cross breeds, there are many unknowns.
So ask to meet the puppies with their mom, and try to meet the dad as well.
Since the puppies could take after either parent, meeting both gives you the best chance of knowing if you'll be happy with the outcome.
Walk away from breeders who make excuses about why you can't meet the parents, or who haven't had the parents health checked before mating.
Is the Leonberger Golden Retriever mix right for you?
Only you can decide if the Leonberger Retriever mix is right for you.
This breed will be large and active.
Do you have the right living arrangements and enough time to devote to this kind and friendly dog?
The traits and temperaments of both parent breeds give you an idea of how a puppy may turn out, but there are no guarantees.
However, correct training and socialization early on in your dog's life are just as crucial as inherited traits.
Are you thinking of taking home a Leonberger Golden Retriever mix?
Or do you already own one? Please share your story.
Extra Reading/References
Bellumori, T.P., et. al. Prevalence of inherited disorders among mixed-breed and purebred dogs: 27,254 cases (1995-2010)
Oberbauer, A.M., et. al. Long-term genetic selection reduced prevalence of hip and elbow dysplasia in 60 dog breeds
Dorn, C.R., et. al. Survey of Animal Neoplasms in Alameda and Contra Costa Counties, California. II. Cancer Morbidity in Dogs and Cats From Alameda County
Orthopedic Center for Animals – Canine Health Information Center
Get Pippa's free dog training tips delivered to your inbox