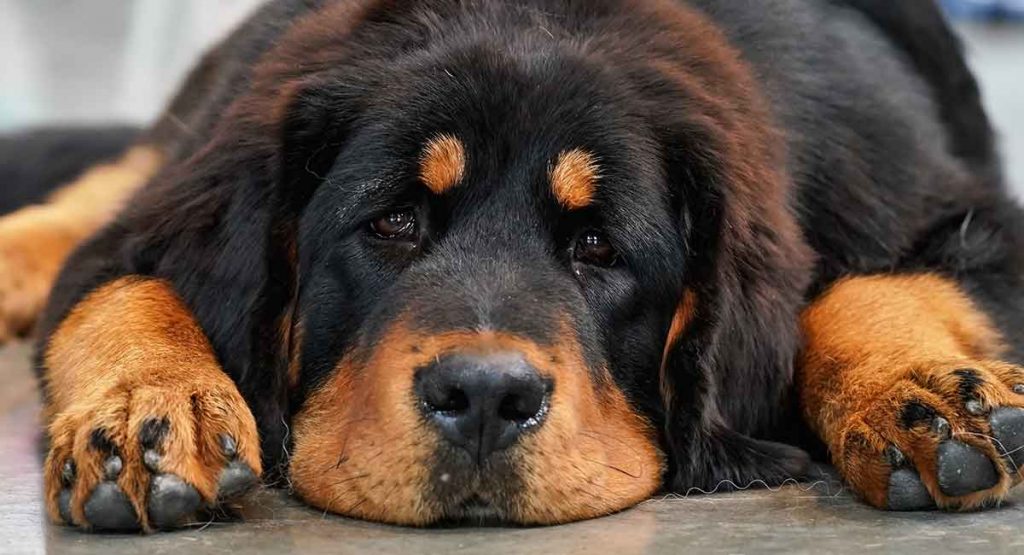 If you are struggling with a stubborn dog, you are not alone. It's a really common issue. But happily it's a problem with a great solution.
You might also find it helpful to receive my free email training tips. If so, just drop your email into the box below
Let's take a look first at some examples of stubborn behavior in dogs.
Buddy
Emily tells her dog Buddy to sit. And Buddy sits.
He does this over and again. So Emily knows that the dog understands the word sit. And she give him great rewards for sitting too.
But when Emily's friend Jim comes around Buddy won't sit at all. He just jumps all over Jim. Emily offers treats, but to no avail. Buddy is just so stubborn.
Bella
Then there's Bill's dog, Bella. She likes going for a walk and jumps into Bill's truck outside his house whenever Bill fetches the keys, and says 'get in the truck'.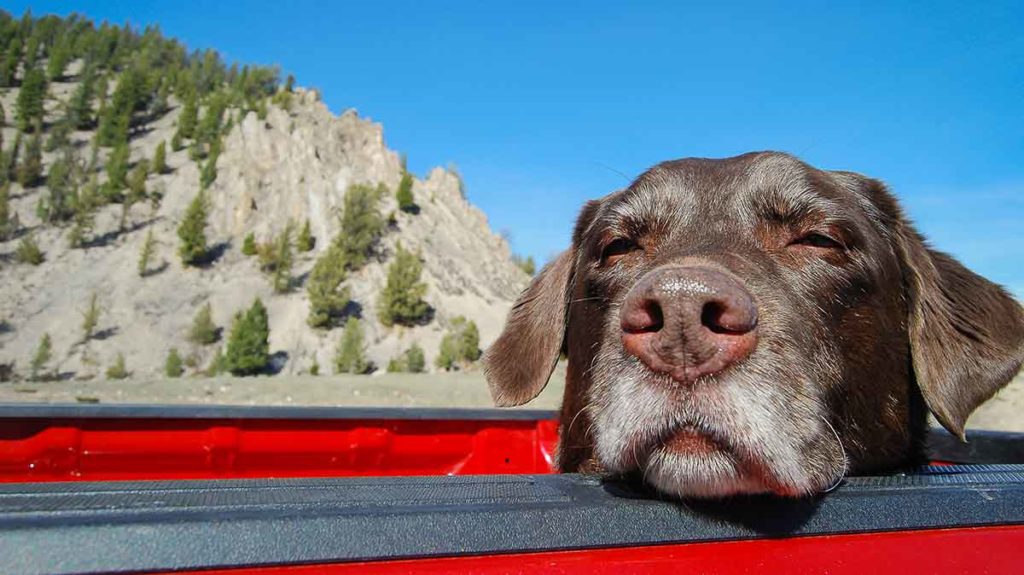 So Bill knows that Bella isn't scared of the truck, and is able to jump into it on her own. And that she understands the command "get in the truck".
But it's a different story when it's time to end the walk and get back in the truck again. When Bill says get in the truck Bella lies stubbornly on the ground and refuses.
And Bill has to lift her in.
What is a stubborn dog?
You can see there's a common theme here. The dog is not doing what the owner commands, even though the dog has clearly demonstrated that the command is one that he or she understands.
Disobeying a known command is often considered stubbornness by dog parents around the world.
So what's the answer?
Well first let's look a little closer at the examples.
What's going on with Buddy?
Emily's dog Buddy knows how to sit. Of course he does. Sit is the easiest thing in the world to teach.
Or is it.
Because here's the thing. Dogs' brains are wired up a bit differently from ours in this respect.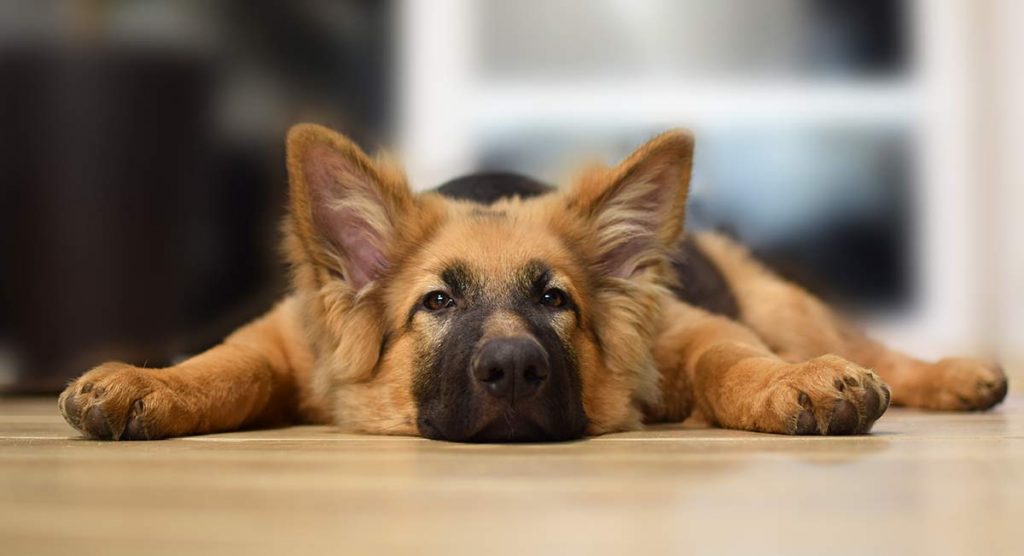 Humans are good at applying skills in one situation, that they learned in a different situation.
If I teach you to juggle in my kitchen, you'll probably be able to juggle in your kitchen too. And you'll certainly understand what the word juggle means, no matter where we happen to be at the time you hear it.
Scientists call this the ability to generalize.
And here's the catch. Dogs are really, really, bad at it.
Context based learning
When they learn a new command, a dog applies the whole context in which the command was learned.
So if you teach a dog to sit in the kitchen with no distractions, that's exactly what the dog is capable of.
Contextual changes confuse dogs
One way to illustrate this, is to give your dog a known command while adopting an unusual position. You could try turning your back on the dog and saying sit, or standing on one leg, or raising both arms in the air.
This will completely throw many well trained dogs because you've changed the context in which they understand your cue.
Those who join my Foundations Skills course will see how confused my spaniel puppy is when I simply turn sideways, before giving her a cue she has been obeying fluently for some time.
Buddy isn't choosing
Buddy isn't choosing to disobey Emily. The bottom line is that Emily's dog is NOT capable of sitting in front of Jim. At least not yet. Jim is Buddy's best friend in the world and needs (in Buddy's opinion) to be given a full on "best mates" greeting.
Happily Buddy can be taught to sit just about anywhere, if we approach this training in a structured way. Emily will need to teach Buddy in the following stages:
First the physical act or position
Then how to obey a cue in a very simple and specific context
Then how to resist very simple distractions provided by you
Finally how to resist multiple and more challinging distractions of the kind that the dog will meet in the real world
The bad news is that teaching a dog the physical act of sitting (or any other behavior) is just the very first step on a very long path to reliable obedience to the cue 'sit'
The good news is that you are now in a position to succeed where so many people fail, by acknowledging that reliable obedience is taught in layers.
And by taking steps to provide your dog with structured training that applies those layers in stages, setting your dog up to win every step of the way.
Get in the truck!
Okay, so now let's see what's going on with Bella. Because this is slightly different.
There's nothing to distract Bella from getting in the truck. What has happened is that Bill has accidentally punished her for doing so.
It's okay, Bill's a good guy!
What's with punishing the dog!
Punishment in a behavioral sense is anything that diminishes the behavior it's associated with. Punishment does not have to be inflicted by someone.
It does not have to be a cruel act. It doesn't mean that Bill has shouted at Bella or smacked her for getting in the truck – he certainly hasn't.
Positive and negative punishment
Smacking and shouting are called positive punishment. Weird right? I mean what's 'positive' about punishment?
But the study of behavior is a science and these are scientific terms. Positive is used in the mathematical sense of adding something.
There's another way to punish a dog, and that's called negative punishment. It simply means subtracting, or taking something away.
Ending the fun
What Bill has done, on a regular basis for weeks on end, is take away Bella's fun.
Every time she gets in his truck at the dog park, he takes her home. End of fun.
So now she dreads going in the truck and lies flat on the floor in the vain hope of putting off the end of play time.
So what can Bill do?
The first thing is to acknowledge that Bella is not being stubborn, but that he has accidentally been punishing her.
He now needs to find some quite powerful rewards for Bella each time she gets in the truck. He could put some tasty chunks of roast chicken in there at the end of each walk.
He could even feed her main meal in the truck after the walk. Another strategy would be to get her in and out of the truck several times at the dog park. With rewards in the truck every single time she gets back in.
Bill needs to be patient
Putting these kinds of mistakes right can take time. To start with Bill will probably still have to lift Bella into the truck.
But with patience, once she learns that getting in the truck has value and isn't the end of all her fun, Bella will start hopping in again on her own.
Getting it right
The bad news is that it's easy to punish a dog and inhibit behaviors that we like without even realizing it.
The good news is that these very human mistakes can be overcome. And with practice we get better at avoiding them.
No stubborn dogs
Being stubborn is not usually a likeable behavior and it can be annoying and frustrating to have to deal with stubborn individuals.
When we label our dogs as stubborn it can generate negative feelings towards the dog. And even if it doesn't do that, it can make us feel helpless in the face of some kind of temperament flaw in our dog.
Many times, a dog labelled stubborn has simply not been trained to cope with distractions. Other times, the dog has been punished, or at least not adequately rewarded, for doing something they don't really enjoy. Structured training is usually the answer.
Structured training
Rather than giving our dogs labels which imply a personality problem that we might struggle to overcome, it pays to think about what is really happening and what is motivating (or demotivating) the dog.
I promise you'll get the very best results with your dog if you focus on what is driving your dog's behavior and on how you can change it through structured, step by step, training.
How To Train A Stubborn Dog is by Pippa Mattinson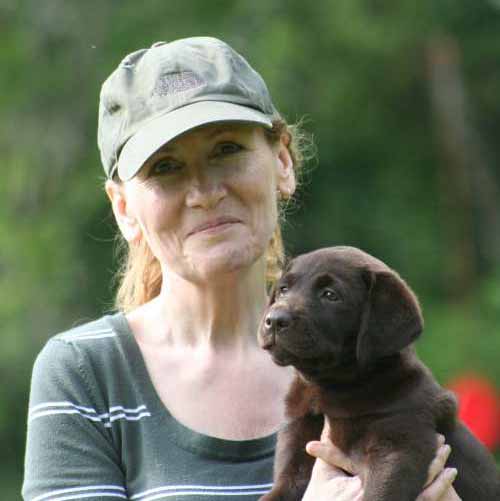 Pippa is the best selling author of The Happy Puppy Handbook, the Labrador Handbook, Choosing The Perfect Puppy, and Total Recall.
She is also the founder of the Dogsnet Online Training Program
Get Pippa's free dog training tips delivered to your inbox