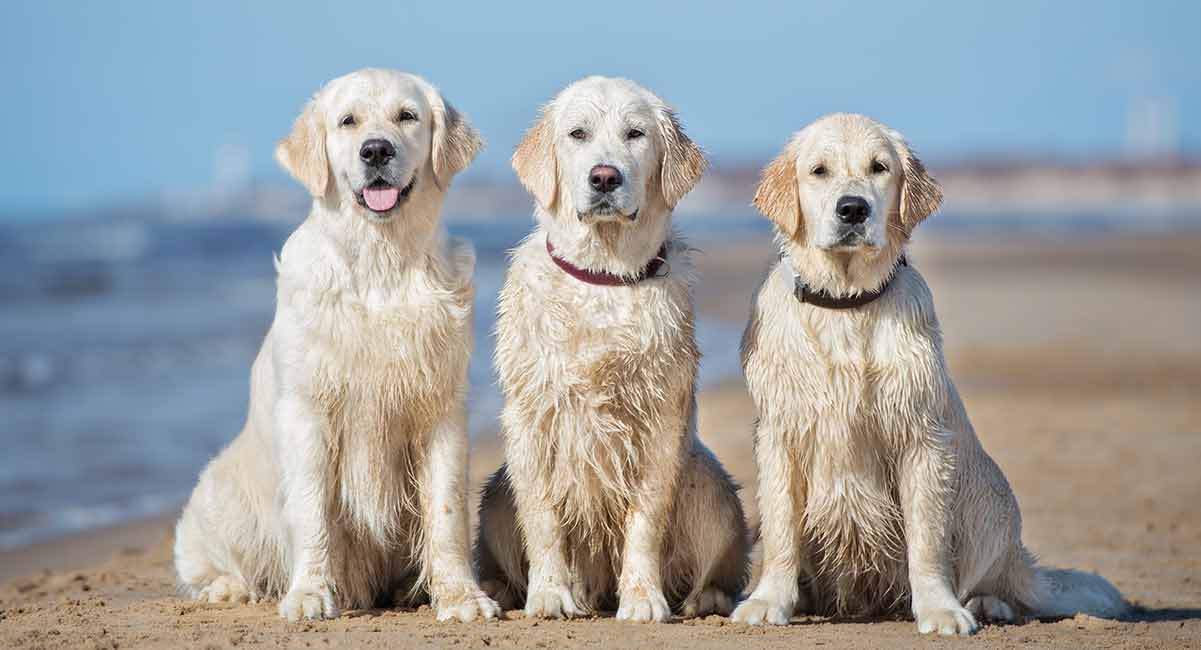 A dog with a good solid 'stay' is impressive. He sits or lies like a rock and doesn't move. But how do you actually teach a dog to stay?
Even when his handler walks away and leaves him for a while.
Training a reliable stay isn't as hard as you might think. And this article is all about setting out the principles which will help you achieve a really good 'stay' with your dog.
Let's begin by defining exactly what we mean by 'stay.'
The Meaning of Stay
Stay is simply about adding duration to a position that you have taught your dog to adopt. Usually the 'sit' or the 'down'.
Though you can also do the same with the 'stand' too.
In reality, almost every time you give your dog a positional command like this, you intend it to have some duration.
Ninety-nine times out of a hundred, if you tell a dog to sit, or to lie down you don't want him to get right back up again!
Which leads us to the meaning of sit.
The Meaning of Sit
If sit doesn't mean sit and then get straight up again, what does it mean?
Does it mean "sit for five seconds" or "sit for five minutes"?
How is the dog supposed to know how long he must stay there for? And is it important when learning how to teach a dog to stay?
How Long is a Stay?
The fact is, almost every sit or down is a 'sit-stay' or a 'down-stay'. It is just that some sits are longer than others.
What you need, is some way of telling the dog how long he should remain in the position that you just cued.
And the best way of doing that is to teach a release cue.
You don't actually need to confuse the issue by adding an extra 'stay' command or cue, to your original 'sit' or 'down'.
The Purpose of a Release Cue
A release cue effectively defines the duration of the sit, down, or stand. It tells the dog "you are free to go now"
Teaching a release cue enables you to keep the dog sitting for as long or as little as you wish.
All that is required from you is that you remember to release the dog!
And if you don't want the dog zooming around doing his own thing at the end of the sit, you can simply give an alternate cue such as 'heel.'
Choose Your Release Cue
Having decided we need a release cue, our next task is to choose one. I use the cue 'OK' however, it is not really the best release cue available to you.
That's because there is always a possibility that your dog might overhear the word OK in conversation and think it applies to him.
So the best release cues are those that are not heard so frequently. You will often hear pet dog or obedience trainers use cues like 'Free' or 'Release'
Before you introduce your release cue, you should build a little duration to your sit. This is important when learning to teach a dog to stay.
Building a Little Duration
Holding a position requires some muscle strength and concentration so you'll be building up duration slowly, especially at first.
Decide on the position that you want the dog to 'stay' in first. Sit is a good one to start with.
If your dog is not yet fluent at moving into different stationary positions (sit, stand, down), you need to teach him that first.
Remember Your Three Ds
Always begin your dog training in a distraction-free environment.
The important thing to remember is that when you increase one D, the other 2 Ds must be simplified, to begin with.
So when you add Duration to your sit, remove all Distractions and Distance from the equation. Make sure there is no-one else in the room, and begin with the dog sitting at your side or in front of you.
You'll be building the length of the sit very gradually in little steps.
First two seconds, then three and so on. To get this started, you can use a process I call treat streaming.
Treat streaming
This is a technique we introduce in our Foundation Skills training course.
When people first start to teach stay, they find it frustrating when the dog keeps getting up again. Especially with fidgety dogs.
This is often because old fashioned training methods tend to encourage the dog to move by leaving long gaps between rewards.
To begin with, you'll be providing the dog with a 'stream' of rewards for remaining in the right position. The rewards will be so close together that it won't occur to him to move.
Then, imperceptibly, you'll begin moving the rewards apart a little. First a second or two, then three, then four or five seconds between treats.
If he gets up, lure him back into a sit and treat at shorter intervals for a while.
As soon as you are able to space out to five-second gaps between treats without the dog moving, you need to get that release cue established.
You can find out more about techniques like treat streaming in the tips that I send out by email. Drop your address in the box below if you'd like to receive them.
Introducing the Release Cue
At the end of each 'stream' of four or five treats, give the release cue and throw a treat away from you so that the dog leaves his position to go and get it.
If the dog breaks his position before the release cue, two things must happen,
1. He must get no reward.
2. You must make the exercise easier for a while.
No reward doesn't just mean no treat. It also means no running around with his favorite toy. So be sure to do this training in a boring place, where you and your treats are the best things on offer.
Once your dog can sit still whilst you give him five treats at five-second intervals and then release him, you can fade out the treat stream. Feeling confident so far about how to teach a dog to stay?
Reduce the Treat Stream
Now reduce the number of treats in the stream before you give the release cue. You are still looking at a roughly 25-second sit, but with treats more widely spaced.
Go from four to three, and from three to two and so on. Eventually, there will be no treats during the stay. The treat you give after the release cue is the reward.
So make it a good one.
Add More Duration
Now you can build up the duration of the stay even further. How much further is up to you. It will depend on the age of your dog and your own needs.
A one-year-old dog should be able to sit and stay for three or four minutes after a few weeks of training, without too much difficulty. But you need to be patient, and take your time.
Try to Avoid Errors
The idea is to build a behavior history of sitting on the sit cue and remaining seated until released by the release cue.
Build up to a solid two-minute stay, in small increments before adding distractions or distance.
Add Your Ds With Care
Remember, when you make the exercise harder in one respect (distraction, for example) you must make it easier in another.
So if you want your dog to 'stay' outside the shopping mall, you must reduce the duration of the stay right back down to a second or two.
Build back up from the beginning using treat streaming just as you did in your kitchen.
Don't forget that you should make sure your dog's life is never dependent on the stay.
So if you're teaching him to stay near traffic or other hazards, use a harness and long line to keep him safe.
Summary
Teaching a stay isn't hard, but it requires regular training and persistence.
Break it down into the stages above.
Add a little duration with treat streaming, add a release cue, fade the treat stream, and build duration further.
You can do it! Let us know how you get on.
'How To Teach A Dog To Stay' was written by Pippa Mattinson, best selling author of Total Recall and The Happy Puppy Handbook, and the founder of the Dogsnet Online Training Program
More Training Guides
We've now learnt how to teach a dog to stay. However, there are a lot of other handy tricks we can teach our pets.
Take a look at some of the other guides below for more help.
Get Pippa's free dog training tips delivered to your inbox