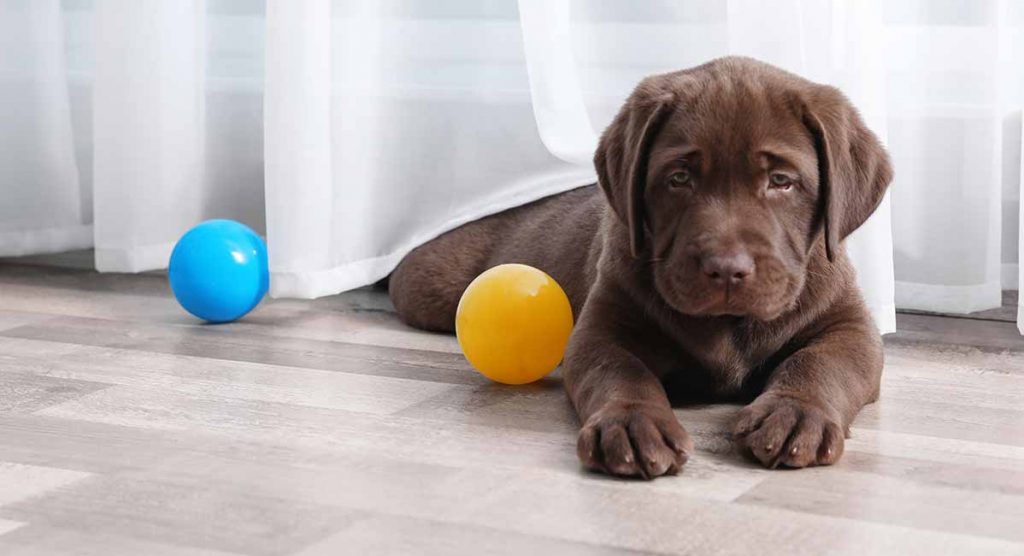 In a perfect world teaching a puppy to retrieve is easy.
All you do is sit on the floor, get a puppy interested in a toy, and toss the toy a (very) little way from you so that the puppy has to go and get it back again.
Then praise the puppy mightily as he returns.
Don't take the toy!
Then gather the puppy into your lap and let him play with the toy, while you tell him how brilliant he is.
When he loosens his grip throw it again. Stop after three or four throws and repeat later in the day or the next day
Build on your success with longer throws and reduce the time playing on your lap. Make it special. Always stop while the puppy is having fun
Simple, in a perfect world
Our imperfect world!
We have a four-month old terrier puppy right now, that fits that description at the top of the page perfectly.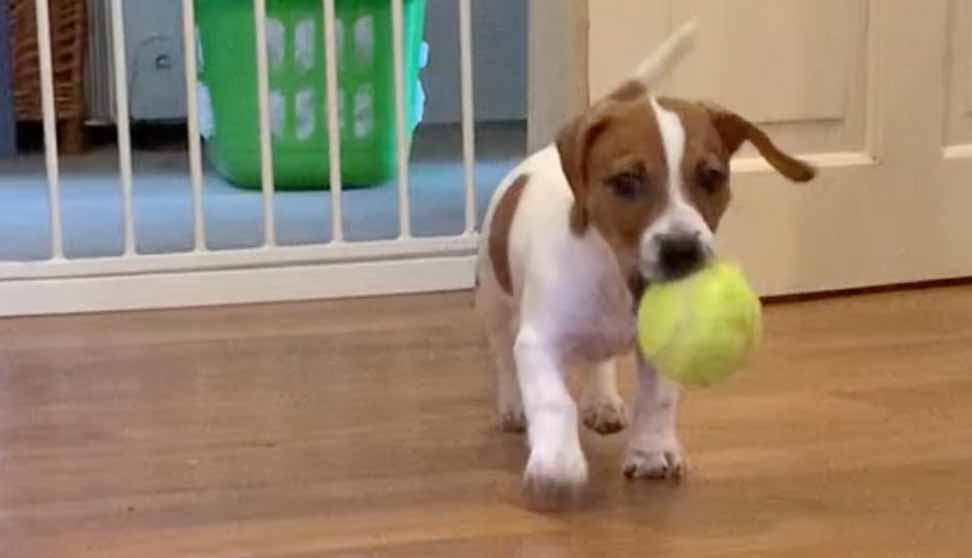 She'll now retrieve pretty much any toy I throw. But the problem is, we don't live in a perfect world.
And many dogs, including many retrievers I have owned, and including some of the most well-bred retrievers in the world, were not like this as puppies.
When a dog won't fetch
And there are many ways for a retrieve to go wrong.
Two of the most common problems are the dog refusing to give the ball or toy back. And the dog that won't pick anything up to begin with.
Fortunately both these problems can be solved by the clicker retrieve.
Is that the only way?
The clicker retrieve is not the only way.
There are other ways to get a dog playing fetch, and we'll have a brief look at those below.
But they are much more dependent on many different variables including the dog reacts at each part of the retrieving 'chain' and how react to the dog.
That's why really skilled traditional trainers can often succeed with a dog that an inexperienced trainer has failed with. So what's this about a retrieving chain?
The retrieving chain
The retrieve is not a single behavior, it's a sequence of behaviors all linked together
Including watching where a toy falls or lands, running towards it, grabbing it, orienting themselves to their human partner, returning, and handing over the item to them.
There are even more components in advanced retrieving where the location of the retrieve item might not be known to the dog.
When the chain breaks
This chain is relevant because at each link in the chain there is potential for the retrieve to go wrong.
Teaching an advanced retrieve can (and does) fill entire books. But let's look at those two common problems here.
Puppies that are not interested in toys
Of course, my opening scenario above isn't going to work if the puppy doesn't like any toy enough to get up and pick it up
In reality this almost never happens. All puppies play. And all puppies pick things up in their mouths.
Finding the right toy
You may have to be inventive to find a toy that your puppy likes enough to run after it.
I had a cocker puppy many years ago that had no interest in picking anything up. Until I rolled an old sock into a ball for her.
Later on I put a tennis ball inside, then later still removed the sock. She became one of the best retrievers I have ever owned.
Weight and texture
It turned out she didn't like picking things up that weighed much. And to make them durable, many puppy toys are relatively heavy. So you need to experiment.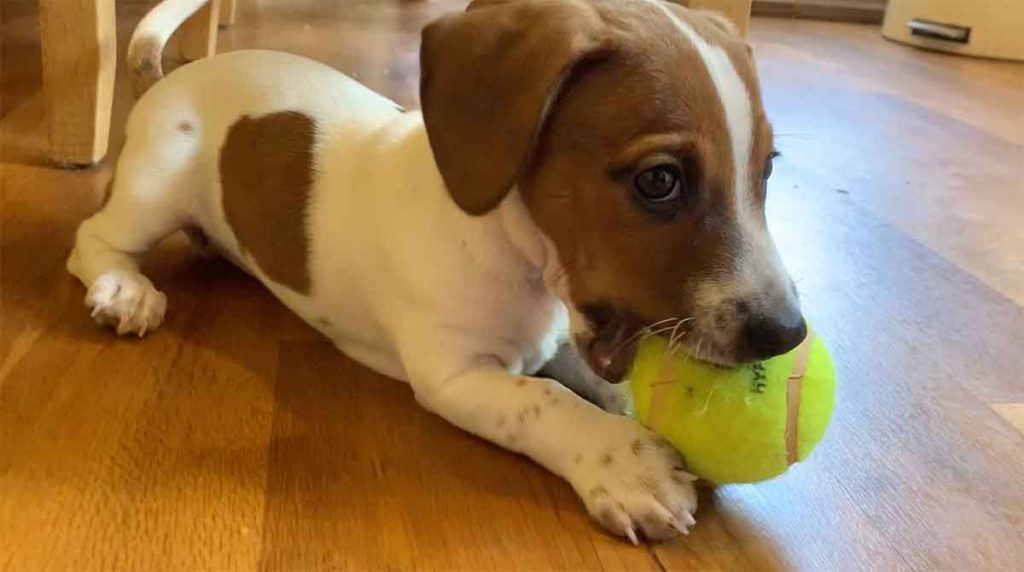 Some puppies are put off by texture too.
Find something that feels comfortable in your puppy's mouth. Get a game going with it first.
Puppies that run away with toys
A frustrating and common problem is the puppy that likes toys too much. This puppy will chase and pick up anything. It's getting her to bring it back that is the problem.
Playing keep away can sometimes be resolved with young puppies by using their dependence on you.
Don't leave me behind!
Most puppies under four months old will never let you out of their sight. So if you start to walk away just as the puppy's head goes down to pick the toy.
They may forget their need to keep the toy to themselves and run after you while holding it in their mouth
Don't take the toy!
Remember – don't take the toy.
If you succeed with your pretence of leaving the puppy behind, you need to get down on the ground as the puppy reaches you.
And fuss the puppy without taking the toy away. Or there won't be a next time.
Timing is everything
There are plenty of ways for this remedy to go wrong, and timing is everything.
If you run too early the puppy will chase you and leave the toy behind. So I wouldn't recommend it without hands on help, if you want your dog to excel at retrieving in the future
By far the best way to resolve keep away is the clicker retrieve, but if retrieving is not that important to you, by all means give walking (or running) away a shot.
The clicker retrieve
The clicker retrieve is a trained retrieve. It teaches every component of the retrieve, every link in the chain, perfectly. So that you avoid mistakes right from the start.
It's suitable for all dogs, including dogs destined for competitive retrieving
It's not the easiest thing to clicker train, so if you have never used a clicker, I recommend you get some skill with it first.
Getting clicker skills
The clicker is an event marker. It tells the dog what they are doing right.
You can join our Foundation Skills course for a good grounding in techniques that use a marker.
If you are ready for a clicker retrieve there are many versions online. Here's one I wrote a few years ago, I don't train exactly like this now, and you'll find my latest (and most structured) retrieve in our FitFetch course, due for release this summer
Get Pippa's free dog training tips delivered to your inbox