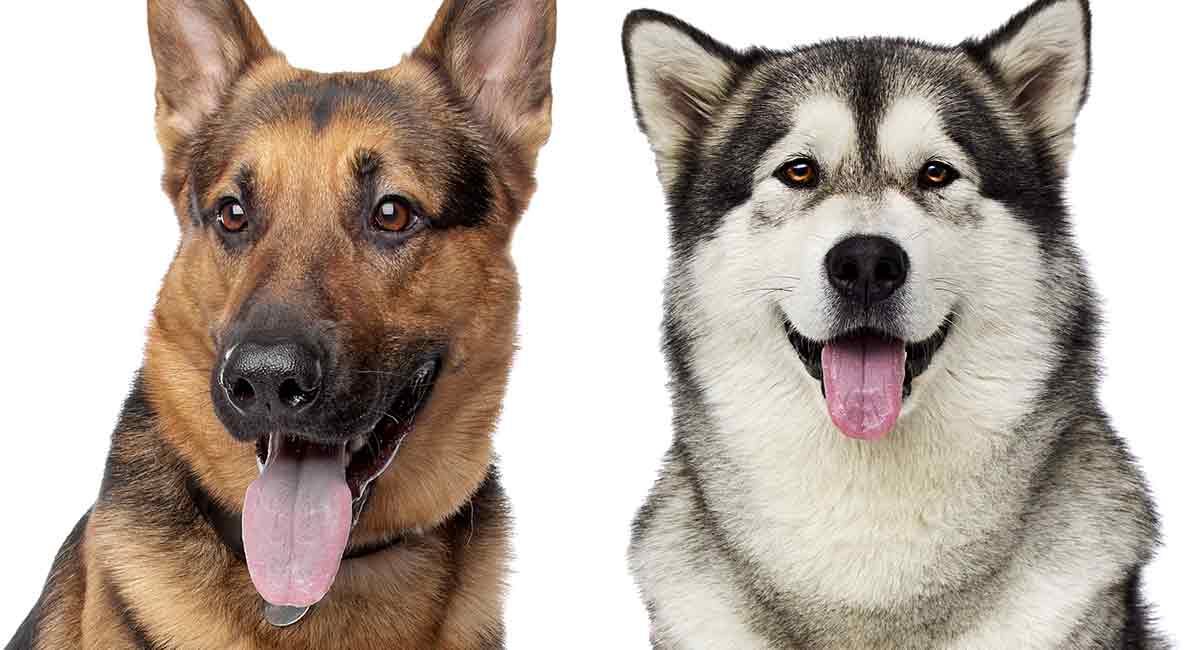 The German Shepherd Malamute mix, also known as the Alaskan Shepherd, is a powerfully built dog whose genetic lines go back thousands of years.
This is a sled dog at its core, having great endurance and strength, which was a dog trait needed by ancestral owners in order to pull and carry heavy objects.
But don't let the "all business" side of this dog deter you from having one.
He is sweet and family loving, loyal, and a highly capable watchdog. Read on to find out more.
Where Does the German Shepherd Malamute Mix Come From?
The German Shepherd Malamute mix is a hybrid dog. That is, a cross between the German Shepherd and the Alaskan Malamute.
The Alaskan Malamute breed is believed to be descended from the dogs of hunters in the Paleolithic period. Roughly 4000 years ago, they crossed into North America from the land bridges of the Bering Strait.
The dogs belonging to these people were domesticated from the wolf. Traditionally speaking, the Alaskan Malamute is part of the oldest sled dog breeds of the arctic.
The German Shepherd breed was originally created for the purpose of herding sheep. This so-called "ideal herder" for sheep was developed by careful breeding by German cavalry officer, Captain Max von Stephanitz, and others.
These people combined various dog strains from the central and northern parts of Germany. This was in order to produce what would be known as the ancestors of the modern-day German Shepherd dog.
The German Shepherd Malamute Mix vs. Purebred Debate
Fans of mixed breed dogs argue that diversity makes them healthier than purebreds, with resulting fewer health problems.
Those who are in favor of purebred dogs argue that they are healthier than mixes. They claim this due to better control over breeding, and therefore on the selection of genetic traits.
This is a debate that is surely not going to be resolved anytime soon.
Fun Facts About the German Shepherd Malamute mix
The Alaskan Malamute appeared in the movie Eight Below, which tells the tale of a scientific expedition in Antarctica. They played the roles of two of the sled dogs, Buck and Shadow.
The German Shepherd is quite the popular dog! They have appeared in numerous television shows such as The Littlest Hobo, and movies such as I Am Legend.
German Shepherd Malamute Mix Appearance
The German Shepherd Malamute mix has a strong resemblance to both parent breeds. It's quite likely that this mix will resemble one parent more than the other. Both parents have such similar features so you may see the input of both!
Dogs of this mix have muscular bodies, possessing great strength and a sturdy frame. These dogs are well-suited for carrying significant weight and pulling sleds.
They are 21 to 28 inches high, with a large weight range of 64 to 130 pounds on average, corresponding to a medium and large size dog, respectively.
They have a straight and medium-length double-coat consisting of a soft and dense undercoat and a thick, rough outer coat. Their coat colors are a combination of red, brown, gold, black, and grey.
Their eyes are brown, hazel, or blue, and their nose is black or brown.
German Shepherd Malamute Mix Temperament
This is an affectionate and loyal dog, known for being very attached to their families. They inherit this quality from both parents.
These dogs are wonderful around children, however, adult supervision around smaller children is recommended because of the large size of this dog.
They make good guard dogs due to their ability to keep a vigilant eye on strangers. German Shepherds in particular tend to be cautious of strangers and sound the alarm when unfamiliar people arrive.
This is a strong-willed dog with an independent streak. German Shepherds and Alaskan Malamutes are both loyal and loving dogs towards their families, and naturally the mix has this tendency as well.
The exceptional intelligence and courage of the German Shepherd is a characteristic that may be passed on to the mix. So it is important to keep this dog active and mentally stimulated.
Training Your German Shepherd Malamute mix
Early socialization is important to curb any aggressive tendencies this dog may have towards strangers or other animals. The natural tendency of this dog towards independent and even stubborn behavior requires consistent and firm training from the puppy stage. Positive training methods are best.
Here's a good training guide for German Shepherds, which is ideal for the intelligent and clever side of this mix.
Due to the large size and physical attributes of this dog, he needs regular exercise, such as walking, hiking, or jogging to satisfy its high energy and endurance levels.
At least an hour of physical activity a day is ideal. That said, having a big yard and/or large outdoor space for him to play in is recommended.
German Shepherd Malamute mix Health
Both parent breeds have health issues. While the German Shepherd is an above average healthy dog with few health concerns, it does have a few health issues to watch for, such as degenerative myelopathy and elbow and hip dysplasia.
These are common to the mix as well. Additional common health problems which the German Shepherd Malamute mix has are:
This is a condition where new bone is formed in the gaps within cartilage. It is more common among the Alaskan Malamute.
This is a disorder involving bone and cartilage which can result in dwarfism in the Alaskan Malamute.
This is more common to German Shepherds. It is a progressive disorder of the spinal cord which makes walking difficult and eventually results in the inability to move the hind legs.
The German Shepherd is prone to obesity caused by overeating, and the mix dog has this tendency as well.
This is a blood disorder that interferes with blood clotting.
Health Tests
Good health tests for this dog are: Elbow and hip evaluation, ophthalmologist evaluation, and polyneuropathy DNA test.
See these health info sheet for the Alaskan Malamute and the German Shepherd.
Last but not least, check with your veterinarian on which vaccines to give your dog.
Expected Lifespan
The expected lifespan of this dog is 10 to 13 years.
Grooming and Care
Brushing 2-3 times a week and using a deshedder works well for the thick medium length coat of this dog. This will help keep the coat neat and tidy.
His ears and teeth should be cleaned regularly. The nails should also be trimmed regularly.
High-quality dog food is recommended, depending on whether the dog is a puppy, adult, or senior.
Do German Shepherd Malamute mixes Make Good Family Dogs?
The great loyalty of this dog and its affectionate nature, combined with how great it gets along with children, make this a superb family dog to have.
Just remember though, that because of their large size, they should be closely watched when around very small children.
Their intuitive ability to notice things out of the ordinary when it comes to strangers, and other animals, makes this a good guard dog to have.
You can feel pretty safe knowing that this big dog has got your back!
Rescuing a German Shepherd Malamute mix
All dogs, big and small, can be the victims of terrible circumstances, and require rescue. This is just as true for a big strong dog like the German Shepherd Malamute mix.
Think about how good it feels to rescue a dog from a traumatic situation, and the gratitude this dog will have towards you. It's sure to result in lots of loving licks!
If you would like to inquire about rescuing a German Shepherd Malamute mix (or any other dog), the local humane society is a good place to ask.
Finding a German Shepherd Malamute mix puppy
As a general rule, pet stores, puppy mills, and internet sites should not be used when you are looking for a puppy. That innocent looking pet store usually gets its puppies from puppy mills, so please steer clear of that.
Every puppy that is obtained from a puppy mill, either directly or indirectly, fuels and supports an industry that exploits and mistreats dogs.
Good alternative places to go to for a puppy are shelters and rescues. They will have lots of choices for you, including of course German Shepherd Malamute mixes.
Here's a useful guide on how to find a puppy.
Hybrid Vigor
A 2018 study showed that mixed breed dogs have lower risk of diseases than purebred dogs.
Basically, the mixing of different dog breeds makes it less likely that both parents have a particular disease.
This reinforces the notion that mixed breed dogs are generally healthier, and helps justify the growing popularity of mixes.
Raising A German Shepherd Malamute mix Puppy
Puppies need special attention and know-how to raise.
If you've decided to get a German Shepherd Malamute mix puppy here is a dog training guide, and information on puppy care.
German Shepherd Malamute mix Products and Accessories
Here are some recommended products for the German Shepherd Malamute mix, with emphasis on the German Shepherd half:
Pros and Cons of Getting A German Shepherd Malamute mix
Cons:
He has a strong independent streak, and can be quite stubborn.
The headstrong nature of this dog makes it unsuitable for new owners lacking experience in dog training.
Prone to overeating and obesity.
Pros:
This is a great family dog who is very loyal to his family.
He is a great guard dog that is very aware of his surroundings. This quality, combined with his large size, makes him ideal for family protection.
If socialization is done early, this dog will get along well with people and pets outside the family.
Similar German Shepherd Malamute mixes and Breeds
Despite all the great things you've read about the German Shepherd Malamute mix, you may have decided that this is not quite the dog you're looking for. That's perfectly fine, since there are plenty of other breeds for you to consider. Here's a few of them:
German Shepherd Malamute mix Rescues
If you want to rescue a German Shepherd dog or an Alaskan Malamute dog check out the following websites. They give the information you need to know.
Canada
USA
UK
Australia
Please leave a comment below if you know of any similar organizations.
Is A German Shepherd Malamute mix Right For Me?
Given the size and activity requirements of this dog, owning one is not a small undertaking. The information given here is a good summary of what you need to know before owning one of these great dogs.
It's helpful to first think about the space requirements of this dog. Do you have lots of space inside and outside the house for this dog to roam and play in?
Can you satisfy its activity needs, which is at least an hour a day? There is also the common health issues of this dog, which must be understood, and monitored closely for.
And also very worthy of consideration, there's also the great love and loyalty this dog will give you and your family, as well as making you feel safe due to its vigilant watchdog and guarding ability.
Do you have one of these mixes? Let us know in the comments!
References and Resources
Get Pippa's free dog training tips delivered to your inbox