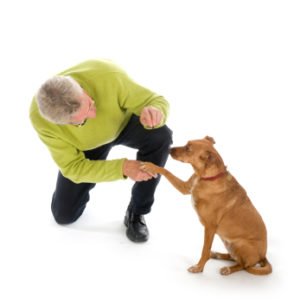 People often get confused about the concept of "fading rewards" in dog training.
When we begin teaching a new skill, we reward the dog each and every time he gets it right.
But, over time, to ensure that the new skill is maintained, many trainers make rewards more intermittent or occasional.
We often refer to this as "fading" rewards. People usually direct their enthusiasm for fading rewards at food.
They don't seem so worried about getting rid of other rewards like toys, games, or opportunities to run about and play.
Why Do People Fade Rewards? 1: Bad Reasons
There are good and bad reasons for fading rewards. Here are some bad reasons to fade rewards in dog training
Your friends don't use food.
A trainer says your dog is too dependent on food.
Carrying food around becomes tedious.
You are worried that your dog is not working for you out of love or respect.
Many people start off by training with food, with the clear goal in mind of getting rid of food as quickly as possible.
This inevitably leads people to fade rewards long before the dog is ready.
However, this leap may be far too quick to discontinue rewards altogether.
But My Friends Don't Use Food
There are still many people out there that don't reward their dogs with food, if at all.
There are also many people out there that still use a lot of punishment in dog training.
They also fail to train their dogs successfully.
If you don't want to fall into either of these camps, use effective rewards for your dog.
Food is one of the most conveniently effective rewards available to you.
Try not to worry about what other people are doing.
My Trainer Says Food Is Cheating
Many traditional dog trainers view food as cheating. This is of course entirely up to them.
To avoid being harassed by a trainer over your use of food, pick a modern dog trainer.
Why? Modern dog trainers teach according to the principles of behavioral science.
Carrying Food Is a Lot of Trouble
I used to think that food was an annoying extra to take out with me, but it really isn't a good idea to think this way.
Once you start telling yourself that food is a nuisance, the temptation is to try and wean your dog away from it too quickly.
And that way brings trouble. Try to get used to having food around when you are dog training.
Buy yourself a nice treat bag. Make sure it is:
simple to use
easy to wash
able to clip on
unclips from your belt or pocket.
Have a recyclable box in your fridge with food in it, so that you don't have to search for treats at the last minute.
Be prepared. It will make life much easier.
Dogs Obey Because They Love You
Food is fine with you, but ultimately your aim is to have your dog work for love or respect. Is that it?
Many people feel this way.
But it is a sign that you are not on board with how dogs learn and what makes dogs change their behavior permanently.
Sadly, there is no way to make a dog respect you in the way that people may respect one another.
He doesn't have the intellectual capacity for this.
Obeying Versus Intimidation
Realistically, dogs obey because they fear the consequences of not obeying.
That isn't respect; it's intimidation.
As for love, unfortunately no one has ever managed to motivate behavioral change in a dog through love alone.
We have proven beyond a doubt that the motivators for behavioral change in dogs are the expectation of a great outcome.
This increases their "good" behavior.
The expectation of an unpleasant outcome diminishes alternative behavior.
We call these reinforcers and punishers.
And they are the tools you have to choose between when it comes to training your dog.
Why Do People Fade Rewards? 2: Good Reasons
Before we look at how and when to fade rewards in dog training, let's look at some of the good reasons for doing so.
We can fade rewards:
to get the dog to try harder
in order to make behavior more reliable
to get longer behavior chains.
Sometimes we want to encourage dogs to try harder, to jump higher, to run faster, to sit more quickly, etc.
Trying Harder
If we begin to deliver rewards intermittently, or stop delivering them for a brief time, this often triggers a burst of effort from the dog.
Usually he's trying to get the rewards to come fast and thick again.
This means that we can be more selective, move the goal posts a bit, or ask for something a bit different.
Reward only the best effort or a particular aspect of the behavior that we want to develop.
Strictly speaking, this is withholding rather than fading a reward.
It is all part of manipulating the way we deliver rewards, and it is essential to the process of shaping.
When we fade rewards for a well-learned skill, we also create an opportunity to offer much better rewards (by comparison).
We do this with new or more challenging behaviors.
Improving Reliability
It has been shown in experiments that animals work harder for intermittent and unpredictable rewards.
The evolutionary advantage is that it enables animals to be persistent in the face of environmental challenges.
Not all dog trainers believe this aspect of learning theory is particularly relevant to dog training.
Some trainers nowadays do not fade rewards much, if at all.
I still do fade rewards.
However, I am open to continuous reinforcements being a better option for maintaining reliability in some aspects of training.
Getting Longer Behavior Chains
When we first start teaching long duration behaviors (ex. heeling or lying down at length), rewards need to be frequent.
To lengthen these long duration behaviors, "stretch out" the gaps between rewards.
The dog is working longer and harder for less.
Bear in mind though that this only works up to a point.
Take this too far, and your behavior will break down.
How to Fade Rewards
There are two main ways to fade rewards.
We can reward less often, but we can also reduce the value of the rewards that we do offer.
If you are using high-value rewards, this second approach is a good way to begin.
If I teach my dog to sit in my kitchen, to begin with, I might reward him with a piece of chicken for each and every sit.
Once the "sit" is well-established, I switch some of the chicken rewards to a little piece of kibble.
Once most of the rewards were kibble, I introduced the first approach and omitted some of the rewards entirely.
The dog was rewarded for some sits and not for others.
This method of "fading" is used in exactly the same way for any established skill at a given level.
When to Increase Rewards
Knowing when to increase rewards is as important as knowing when to fade them.
When we want to make things more difficult for the dog in training (ex. completing commands for longer stretches of time), reintroduce continuous rewards.
If the task is a difficult one (working with distractions, for example), increase reward value.
Are you teaching the dog to stay whilst another dog walks past him?
Ditch the "kibble" and return to the juicy chicken rewards.
Event Markers
Don't forget, if you are using an event marker in your dog training, you need to omit this whenever you omit the reward.
So, if you are clicker training, don't "click" if you are not intending to "treat."
The Problem With Fading Rewards
The most common problem with fading rewards is that people try to go too far or too fast.
Some modern  dog trainers avoid teaching people to fade rewards at all because the fading process is so often done poorly.
Remember that "fading" rewards does not mean getting rid of them completely.
If you ditch rewards completely, your trained behavior will gradually die.
Maybe not today, maybe not tomorrow, but it will die.
Never stop completely rewarding any behavior that you want your dog to carry on doing for the long term.
Remember also that rewards do not  need to be food based, though food is very convenient.
Be objective about whether or not you are reinforcing your dog's behavior effectively.
If the behavior is breaking down, you probably are not.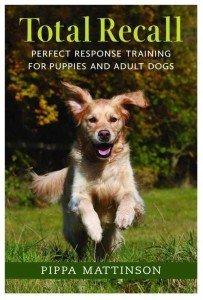 You'll find lots of examples of how to fade rewards in Pippa's book "Total Recall,"  a complete recall training program for puppies and adult dogs.
Get Pippa's free dog training tips delivered to your inbox