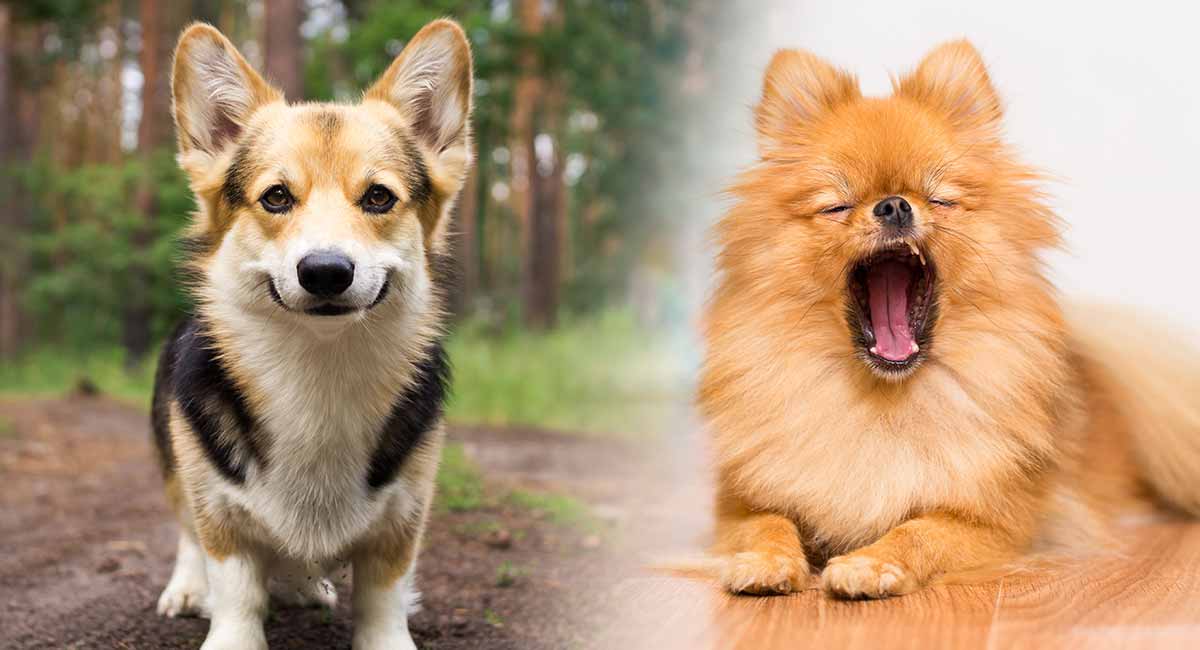 A Corgi Pomeranian mix dog is most often a cross between the Pembroke Welsh Corgi and a Pomeranian.
The Corgi Pomeranian mix has lots of traits which make them perfectly suited for companionship, but they might be tricky to train and unsuitable for households with small children.
Products included in this article were carefully and independently selected by the Dogsnet team. If you decide to make a purchase from one of the links marked by an asterisk, we may earn a small commission on that sale. This is at no extra cost to you.
The Corgi Pomeranian Mix
Have you heard of the Corgi Pomeranian mix?
Whether you've already decided to adopt, or if this is a breed that you're considering, we'll tell you everything you need to know about the Corgi Pomeranian mix so that you can make an informed decision.
Where Does The Corgi Pomeranian Mix Come From?
The Corgi Pomeranian mix is the result of breeding a Pomeranian with a Corgi.
They are not an officially recognized breed on their own.
So, to gain insight into the Corgi Pomeranian mix we will take a look at its purebred parents.
The Corgi Parent
There are actually two types of Corgis. These are the Pembroke Welsh Corgi and the Cardigan Corgi. The Pembroke Welsh Corgi is the more popular of the two.
If you want an easy way to identify which is which, Cardigan Welsh Corgis have tails and Pembroke Welsh Corgis do not. The Cardigan is also slightly bigger, up to 12.5 inches at the shoulder, with the Pembroke Welsh Corgi at 12 inches. Cardigans are also a little heavier, at up to 38 pounds.
Both types of Corgis were originally bred to herd sheep, horses and cattle. Because they are so low to the ground, Corgis were at the perfect height to nip at the ankles of the livestock. According to folklore, the original Corgi was a gift to children from fairies, and fairies and elves use them to pull their carriages.
Corgis' long, low bodies are prone to intervertebral disc disease and hip dysplasia. In a moment we'll look at the probability of those problems being passed down to a mixed breed puppy.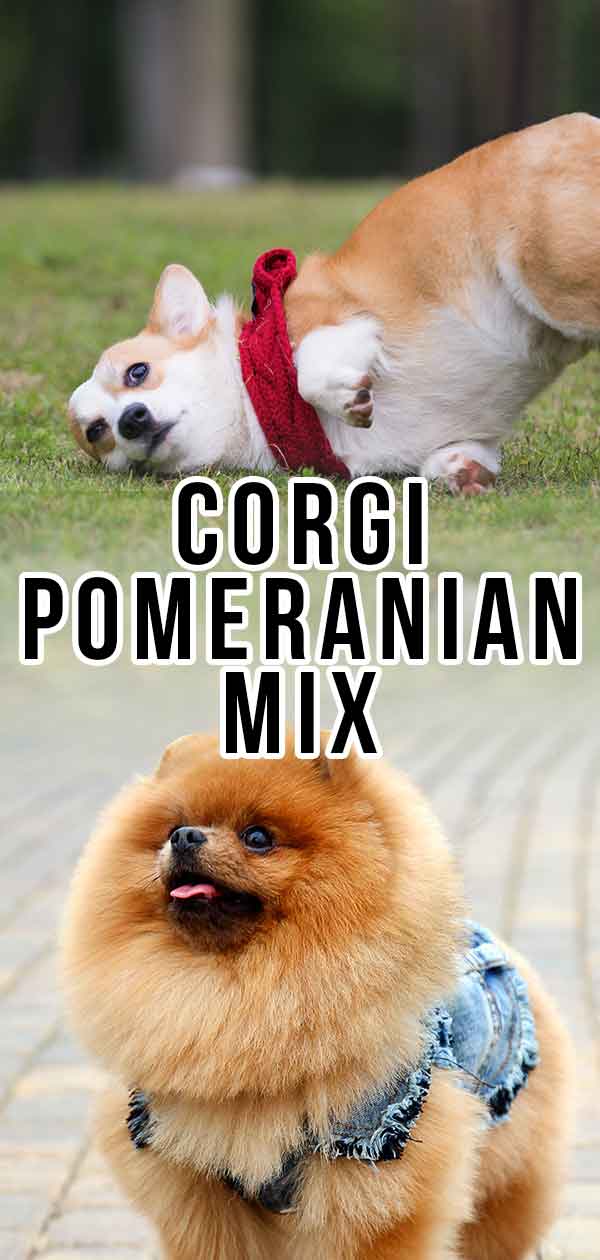 The Pomeranian Parent
Pomeranians are members of the Toy Group. They weigh up to seven pounds and stand up to seven inches. They are named for Pomerania, which was in northeastern Europe, where Poland and Germany are today.
Starting from bigger Spitz dogs, they were gradually bred down to the tiny size they are today. Their disposition is friendly and inquisitive, and overall they are lively, athletic little dogs.
They are also often loved for looking like tiny bears!
Fun Facts About The Corgi Pomeranian Mix
Both of the purebred parents are linked to royalty.
Queen Victoria was a big fan of Pomeranians, and Queen Elizabeth is possibly the most famous owner of Pembroke Welsh Corgis.
Pomeranians have another historical point, as well. When the Titanic sank, only three dogs survived, and two of those were Pomeranians.
Corgi Pomeranian Mix Appearance
The Corgi Pomeranian mix will probably take on physical traits from both parents. They might look much more like one parent than the other, or an intriguing balance of the two.
But there is no guarantee that any feature of either parent will appear in all their offspring. In fact, you might even see lots of variation with a single litter, or from one litter to the next.
We know that a Corgi Pom mix will be on the smaller side, as both parents are small. The mix will be somewhere between seven and thirty-eight pounds, but probably in the middle.
Pomeranians have many coat colors, although they are usually red or orange. Corgis can be black and tan, fawn, red, or sable. So your Corgi Pom mix will probably be shades of tan or orange, but not necessarily.
Both of the Corgi Pom's forebears are athletic, intelligent, stubborn and vigilant. You can expect an active little dog that barks a lot.
Although they are small, both breeds require a good amount of exercise, so keep that in mind. And both parents of the Corgi Pomeranian mix are double coated and shed quite a bit. You may want to upgrade your vacuum cleaner now.
Corgi Pomeranian Mix Temperament
Corgis and Pomeranians have similar temperaments, so your Corgi Pomeranian mix will be a lively, sturdy intelligent little dog.
Both parents require a good bit of exercise, so don't assume that because your dog is tiny he will be content to sit on a lap all day.
Corgis and Poms are excellent companion dogs, and also make surprisingly good watchdogs. Remember that Corgis were bred to herd cattle, so don't be surprised if you find your cats or your kids in a cluster in the corner of the yard.
Training Your Corgi Pomeranian Mix
Like many herding dogs, the most prized working Corgis were those who could carry out their job even when their owner wasn't in sight or earshot to give them commands.
They had to be very clever, but also confident making up their own mind about what to do next. For modern Corgis, choosing their own course of action is often still more rewarding than slavishly following the commands of their owner!
Meanwhile, Pomeranians are the quintessential lapdog. Their forebears were most prized for loving human company, not learning instructions or working.
This combination of traits means that a modern Corgi Pomeranian mix might be tricky to train, and perhaps even overwhelming for a first-time dog owner.
The most effective way to train a Corgi Pomeranian mix is using positive reinforcement techniques.
And if you're new to dog training, a good puppy class is an excellent way to start, both to socialize the puppy and to really develop the bond between the two of you.
As with any dog, early socialization is important so that your pup will be confident and secure. Make sure your puppy is up-to-date on his vaccinations and off you go!
Corgi Pomeranian Mix Health
As the Corgi Pom is a mix, he is less likely to be prone to genetic disorders. But there is still a chance that he could inherit issues from either parent, or from both.
Pomeranians are prone to luxating patellas and tracheal collapse. Luxating patellas happen when the kneecap slides out of the groove in the thigh.
Corgis are prone to intervertebral disc disease because of their long low back. Being bred with a Pomeranian, a breed that does not have a long back, will mitigate the risk, although your puppy may have the longer back of the Corgi.
Both parental breeds have double coats, and they shed a lot. You will need to be prepared to brush them daily.
Corgis have a tendency towards weight gain, so be sure to exercise your dog sufficiently. Do not succumb to the very sad puppy eyes watching you as you eat dinner.
Do Corgi Pomeranian Mixes Make Good Family Dogs?
Corgi Pomeranian mix dogs are best suited to families with older children. They are descended from two friendly, smart, easy-to-get-along with breeds, which makes them ideally suited for companionship.
However, they might inherit a strong herding instinct from their Corgi parent and try to round up small running children and toddlers, which can cause frustration all round!
If your Corgi Pom is very small and takes after the Pomeranian, they will also need extra supervision around younger children. Small dogs are easy to trip over.
Rescuing A Corgi Pomeranian Mix
To our knowledge, there is no specific rescue organization for Corgi Pomeranian mixes.
Therefore, if your heart is set on a Corgi Pom mix, search reputable rescue sites that offer a variety of dogs. Or try contacting shelters which specialize in either of the parent breeds. We've included a list at the bottom of this article.
Rescuing an adult dog is a great way to give a second chance to a dog. Keep in mind that most dogs wind up in shelters not because of temperament problems, but because they were inconvenient. Many, many fantastic dogs have been adopted through rescue.
Finding A Corgi Pomeranian Mix Puppy
When looking for a breeder, keep in mind that a responsible breeder cares about his/her dogs and won't just sell you a dog because you say you want one. Never buy a dog that has to be shipped to you.
A responsible dog breeder will allow you to visit and interact with the dogs. The parents of the puppies should be right there on site for you to meet.
Look for a clean, well-kept environment and healthy, happy parents and puppies. A good breeder will also explain what traits the dog is likely to have, and will have complete health records and health test proof of parents and puppies.
They should ask for vet references from you if you have other pets, and ideally, if something happens and you can no longer keep the dog, a good breeder will take it back.
Please do avoid puppy mills and pet stores. These establishments are much more focused on making money than they are on the health of their animals.
Raising A Corgi Pomeranian Mix Puppy
A Corgi Pom puppy is an active, friendly little dog that thrives on attention. There is a lot to know about raising and training a puppy.
Corgi Pomeranian Mix Products And Accessories
That double coat is going to need a lot of grooming.
This brush by Pat your Pet* is excellent for removing mats and reducing the shedding of your Corgi Pom mix.
Reviewers refer to it as "a lifesaver" and "A miracle worker."
To prevent your little ball of fur from wandering off during grooming, try the Master Equipment small grooming table*.
A nice feature of grooming a small dog is that you can place this table on any flat surface, such as your dining room table so that you can groom your dog at a comfortable height for you.
Since your Corgi Pomeranian Mix is likely to be active and intelligent, you're going to need something to provide both exercise and stimulation. This toy by Swenter* dispenses treats as your dog plays with it. However, don't leave your dog unsupervised with this toy. Most people report it being sturdy (though noisy when it bangs around on the floor) but accidents can happen.
Or consider this toy by hyper pet* that wiggles and vibrates.
If those aren't your cup of tea, any ball or toy you can toss and have you dog bring back to you, or just pounce and chew on are fine choices.
Also check out our guide to the best food storage options. If you're worried about training your Corgi Pomeranian mix, you should also take a look at dog whistles.
Pros And Cons Of Getting A Corgi Pomeranian Mix
When you are considering a Corgi Pomeranian mix, keep in mind the pros and cons of the breed. Of course, since the Corgi Pom is a mix, there is no guarantee which breed he will resemble the most, but both breeds have some similar traits.
Pros:
Friendly
Gets along well with people, cats, and other (not too rough) dogs
Adaptable to apartment living
Intelligent
Playful
Cons:
Sheds a lot. Be prepared to groom daily.
Barks. At anything and everything.
Because of their small stature, they must be supervised around small children. Of course, any dog should be supervised around small children, for the protection of both the children and the dog.
Needs exercise and is not a couch potato.
If you are prepared to train your dog for the command "Quiet!" (as well as other basic commands) and don't mind brushing your dog daily, the Corgi Pomeranian mix will make a fine pet.
Similar Corgi Pomeranian Mixes And Breeds
As you can breed any dog you like with a Corgi or a Pomeranian, there are an infinite number of possibilities. Here are some of the most popular:
Corgi Australian Shepherd mix
Pomeranian Chihuahua mix (known as a Pom-Chi)
Corgi Husky mix (called either a Horgi or a Siborgi)
Pomeranian Yorkie Mix
Pomeranian Poodle Mix
However, some of the mixes, such as the Corgi Pug mix and the Pekingese Shih Tzu mix can come with some serious health issues to be aware of.
Corgi Pomeranian Mix Rescues
We have not found any rescues specifically for Corgi Pomeranian mixes. However, if you know of any, please leave us a comment!
You might have some luck going to a Pomeranian rescue or a Corgi rescue. East Coast Corgi Rescue has both Corgis and Corgi mixes.
ForPaws Rescue also offers Corgi mixes, and Kathy Miller says Corgi mixes make great pets. She has a lot of great information in general. Her site is worth checking out.
Pawsitively Pom Rescue rescues Pomeranians and Pomeranian mixes.
You can also try all-breed rescues in your area, of which there are an infinite number. Be prepared to bring vet references and to sign paperwork saying you'll bring your new pet to obedience class and license him or her appropriately.
Affiliate link disclosure: Links in this article marked with an * are affiliate links, and we may receive a small commission if you purchase these products. However, we selected them for inclusion independently, and all of the views expressed in this article are our own.
References
Beuchat, C. 2015 "Health of Purebred Vs. Mixed Breed Dogs: The Actual Data" Institute of Canine Biology
Di Dona, F. Della Valle, G and Fatone, G 2018 "Patellar Luxation in Dogs" Dove Press
Gough, A. Thomas, A. and O'Neill, D. 2018 "Breed Predisposition to Disease in Dogs and Cats" Wiley Blackwell
Robinson, N. 2015 "An Emerging Standard of Care for Thoracolumbar Intervertebral Disk Disease in Dogs" Curacore: Integrative Medicine and Education Center
Ryan, L. 2018 "Successful Puppy Classes and Essential Early Learning" British Small Animal Veterinary Association
Tappin, S. 2015 "Canine Tracheal Collapse" British Journal of Small Animal Practice
The Human Society of the United States, "How to Find a Responsible Dog Breeder" accessed 2019
Get Pippa's free dog training tips delivered to your inbox