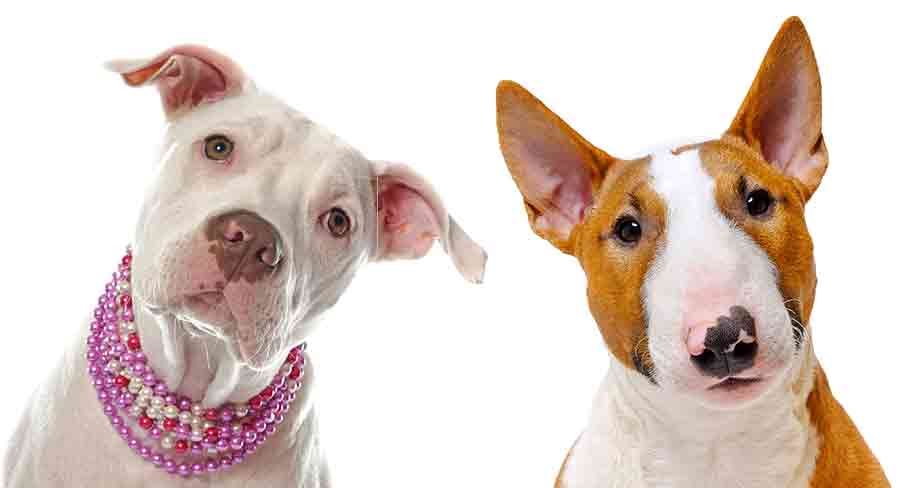 The Bull Terrier vs pitbull debate is tough, since the term "pitbull" doesn't actually refer to a single breed. Instead, it is a category of dog that often actually includes the Bull Terrier! Most people are referring to the American Pitbull Terrier when they say pitbull, but it's important to specify.
In this guide, we will focus on comparing the Bull Terrier to the most common pitbull breed, the American Pitbull Terrier. This way, you can see which one is right for your home, and whether one suits your lifestyle more than the other. Let's get started by looking at the history of these two loyal breeds!
Bull Terrier vs Pitbull History
Both Bull Terriers and American Pit Bull Terriers started their histories as fighting dogs. Breeders crossed Bulldogs with various terrier breeds to create strong, brave dogs. The resulting pitbull breeds were made to fight bears, rats, and even other dogs as a sport. Fortunately, this passtime became illegal, and the roles of these two breeds diverged.
The Bull Terrier became a popular and fashionable companion for men in the 1800s. Over time, fans and owners refined the breed to create the modern Bull Terrier that we know and love. They are recognized by the AKC and many other national breed clubs.
The American Pit Bull Terrier, in contrast, was more popular as a working breed. In particular, they were popular dogs on ranches. Often, they had all-round roles, ranging from catching hogs, driving cattle, and being a loyal family companion. The American Pit Bull Terrier is still not recognized by the AKC, but was recognized by the United Kennel Club in 1898.
Bull Terrier vs Pitbull Appearance
Appearance is perhaps the main area in which the Bull Terrier differs from the American Pit Bull Terrier. Although both breeds share similar origins, they have developed into quite different dogs! Both are muscular and athletic breeds with short, dense coats that require little grooming. Both are naturally agile, and have narrow tapering tails when left undocked.
However, their heads are very different shapes. The Bull Terrier has a long oval head, often described as egg-shaped. From the side, their head curves in a downward arch from the top of their skull to the tip of their nose. In contrast, the American Pit Bull Terrier has a large, broad, wedge-shaped head. Their muzzle will be broad and deep, with a slight taper, but nothing as extreme as the Bull Terrier.
In terms of color, both breeds have a wide variety of possible and show-accepted shades. Including less common options like brindle patterns. Both have short, dense coats that shed moderately but are easily maintained with weekly brushing and the occasional bath.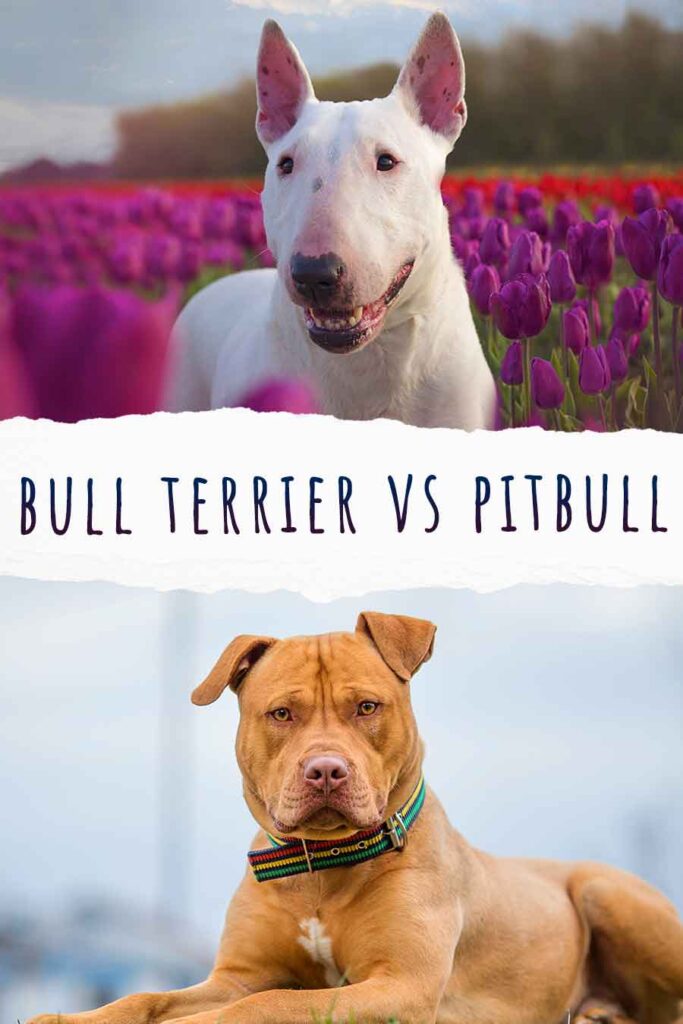 Bull Terrier vs Pitbull Temperament
In terms of temperament, both the Bull Terrier and American Pitbull Terrier are quite similar. Both are known for being incredibly loyal and affectionate towards their families. They are very people-oriented, and may guard their families against strangers or other animals. Because of this, it's very important to socialize both breeds well from a young age. Since they both have such strong jaws, any aggression can be fatal for the target.
As long as they are trained and socialized well, owners report that both the Bull Terrier and the American Pit Bull Terrier make wonderful family companions. After all, this role was a huge part of both of their histories too! However, because of their fighting past, they may not always get along well with other dogs. They will also be happiest in homes where their families have plenty of time to spend with them, whether this is cuddled up on the couch, going for a run, or playing a game together.
Bull Terrier vs Pitbull Training and Socialization
Both the Bull Terrier and the American Pit Bull Terrier tend to take well to training. Positive reinforcement methods are the most effective, since they build on the already strong bond between you and your dog. Both of these pitbull breeds will be eager to please, and will love the time spent with you and the mental stimulation that training sessions will provide. Training can offer some physical exercise, but both breeds will still need the regular change to run about in a safely enclosed space, too.
As we briefly mentioned earlier, socialization is vital for both of these breeds, as it is for any dog breed. In particular, you should focus on socializing pitbull breeds to other dogs and animals. Both the American Pit Bull Terrier and the Bull Terrier have histories in dog fighting, and the APBT in particular also has a history hunting and chasing hogs on ranches. Socializing your dog to other animals will help to reduce the likelihood of any adult aggression.
Bull Terrier vs Pitbull Health
Since they share the same initial roots, the Bull Terrier and American Pit Bull Terrier do share some common health problems. These are also partially related to the size and structure of the breed. In particular, owners should look out for joint problems and allergies.
On top of this, the APBT is prone to the following:
Hypothyroidism
Heart Disease
Retinal dysplasia
The Bull Terrier is also prone to:
Zinc deficiency
Deafness (particularly in white dogs)
Hereditary nephritis
Many of these issues can be identified with health testing before breeding. So, no matter which breed you choose, make sure you only get your puppy from a reputable breeder and see evidence of health testing before committing any of your money.
Bull Terrier vs Pitbull – Which is Right For Me?
Choosing between a Bull Terrier and an American Pitbull Terrier is a tough decision for most people! Ultimately, both are Pitbull type breeds, and both are very similar in terms of their histories and their temperaments. Both breeds are prone to certain health issues. The main differences lie in their appearance. If you prefer the wide, flattened head of the APBT, that might be right for you! But, if you love the oval nose of the Bull Terrier, they could be great for you!
Both of these dog breeds need homes where their owners have plenty of time to dedicate to training, socialization, and exercise. They may not get along perfectly with other pets, but many owners have no issues as long as their pitbull grows up alongside the other animals.
Plus, no matter which of these breeds you prefer, it's important to check local legislation. Some parts of the world have banned ownership of Pitbull breeds, or pitbull-type dogs. Other places allow them but require that they are muzzled at all times when outside. So, be sure to research any restrictions near you before finding your future companion.
Which Pitbull Breed is Your Favorite?
Do you prefer the Bull Terrier or the American Pit Bull Terrier? Perhaps one of the other common pitbull breeds is your favorite! We would love to hear your thoughts about these affectionate and loyal dogs in the comments.
Readers Also Liked
References and Resources
The United Kennel Club
The American Kennel Club
Howell, T. (et al), 'Puppy Parties and Beyond: The Role of Early Age Socialization Practices on Adult Dog Behavior', Veterinary Medicine: Research and Reports (2015)
Ozcan, M. (et al), 'What is Pitbull and What is Not?', Journal of Istanbul Veterinary Sciences (2020)
Ozcan, M. & Ozturk, N. 'The Banned Dog Breeds Issue in the World and Turkey', Journal of Istanbul Veterinary Sciences (2020)
Duffy, D. (et al), 'Breed Differences in Canine Aggression', Applied Animal Behavior Science (2008)
Kogan, L. (et al), 'Small Animal Veterinarians' Perceptions, Experiences, and Views of Common Dog Breeds, Dog Aggression, and Breed-Specific Laws in the United States', International Journal of Environmental Research and Public Health (2019)
Strain, G. 'Deafness Prevalence and Pigmentation and Gender Associations in Dog Breeds at Risk', The Veterinary Journal (2004)
Get Pippa's free dog training tips delivered to your inbox