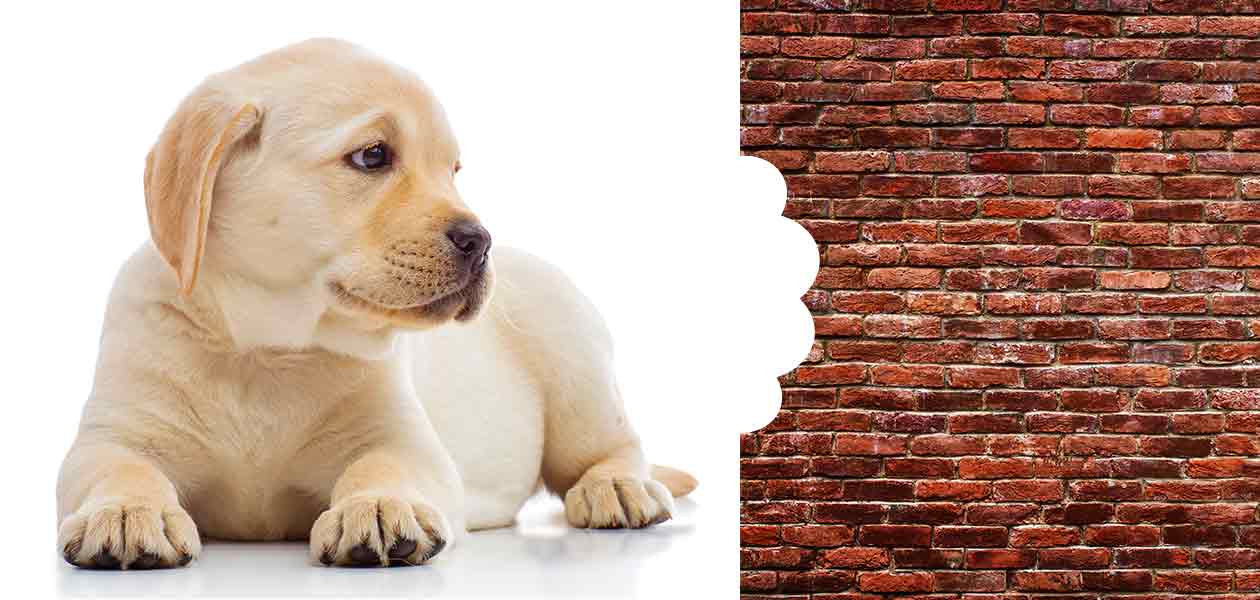 To stop a puppy chewing the corners of your walls you'll need to use a combination of prevention, distraction and training.
But don't worry, with a few quick tips, and small alterations to your home or behavior, we should be able to knock this bad habit on the head relatively easily.
My puppy is chewing the corners of my walls!
The first time you spot your puppy chewing the corners of the walls in your home, it's a bit of a shock.
So you might be amazed to discover that you are very much not alone in this issue.
In fact, a surprising number of puppies take a shine to various parts of the home when they are young.
From walls to furniture and fixtures, their tiny teeth know no bounds.
Fortunately, there are plenty of solutions to help a puppy learn that chewing the corners of walls is a habit best avoided.
Why is my puppy chewing corners of walls
There are several possible reasons that your puppy may start chewing the corners of walls.
It might be one or more of the following:
Fun
Attention
Boredom
Stress
Each of the causes can have different potential solutions, so it's important to consider each one when we want to solve the problem.
Chewing for fun
Puppies love to chew, especially those from the working dog breeds that were selectively bred to pick things up and carry them around.
Chewing is fun when you are a puppy.
It eases the pain from teething, and feels good on those developing gums and teeth.
Chewing for attention
Accidentally rewarding unwanted behavior is one of the biggest challenges of raising and training a dog.
And it's so very easy to do.
When you spot your puppy chewing the corners of your walls you panic.
You exclaim loudly, or rush up to scoop him up.
Both of these things can seem like incredible fun to a baby dog.
Chewing out of boredom
Puppies need a lot of entertainment.
Yes, they sleep for a large portion of the day, but when they are awake they need to keep busy.
This can be especially problematic for working puppy parents if they haven't made arrangements for their puppy's care during the day.
Stress relief
If your puppy is left along for long periods of time, or is not having their needs met for some reason, then they will feel stressed.
Leaving your mother, littermates and home is stressful too.
Because chewing is a productive and enjoyable behavior for your puppy, it can also feel very relaxing.
Which can help to relieve some of the stress they might be feeling.
How to stop a puppy chewing corners of walls
Whatever the cause of your puppy's wall chewing antics, a several pronged approach is the best one to take here.
This will involve some, or all, of the options below:
Do not give them any attention, negative or otherwise, when they are chewing walls
Distract them
Provide new and varied toys
Remove sources of stress
Prevent access
Positive reinforcement training
Stopping your puppy chewing corners of walls
These methods of stopping your puppy chewing corners of walls can be boiled down to two areas – prevention and action.
Let's start by looking at what to do when you catch your puppy in the act of chewing the corners of the walls.
Don't interact with them
When you see a puppy destroying your property (or, potentially worse, your landlord's property!) then it's natural to want to react immediately.
But take a breath.
It's amazing what a puppy can find rewarding.
But also scary how quickly you can lose that happy bond that makes training so simple.
How you react in this situation could have a more lasting impact than just making wall chewing even more fun.
Don't shout, call them, physically try to pull them off or put your hands on them in any way.
When you react to their action, you reward them with your attention. And puppies love getting you to notice them.
Instead, go for the distractions.
Distract them
It's important you don't inadvertently reward your pup for chewing the wall here. So don't interact with them directly.
You want to do something that gets their attention, but seems organic.
Sitting on the floor is a great one.
Most puppies will drop everything for the chance of climbing into your lap (and then onto your head).
Have a high value toy, one they don't get given often, and sit yourself down on the floor at the other end of the room, with that high value toy loose in your lap.
Once the puppy has arrived, you can give them the toy, or some little bits of kibble, once they have bounded in your direction.
Making your puppy less likely to chew the walls again
So we know what we are going to do if we see our puppy chewing corners of walls, but what's more important is trying to stop it happening again.
New toys
If your puppy is teething, then they will need some chew toys.
Without toys to chew, or more importantly the right toys to chew, they'll go elsewhere.
And you don't need to go mad or break the bank.
Our puppies have always done really well with a traditional Kong and a Kong wubba.
For really persistent wall chewers you might like to try an antler, but do read up on the potential tooth damage they can cause first and make an informed decision.
There are also types of bark that appeal to many puppies.
Take a wander around your local pet store and try to find something with the most similar texture to your tasty wall corner!
Remove sources of stress
When your puppy first arrives home, even the most confident individual is likely to be stressed due to the massive upheaval.
Keeping them in your room when you sleep can help them settle through the first few nights a little better.
And it's important that they have company during the day too.
Loneliness is a really common cause of stress, and therefore chewing in dogs. Of any age!
If you work away from the home, make sure that you have a rock solid plan for their care while you are gone. 
You can't put a new puppy in a room alone and leave it there.
You'll need to take at least the first couple of weeks off work, and from that point have several drop ins by friends or doggy day care arranged.
Make sure that they are not being harassed by any well-intentioned but over eager members of the family.
They need to have somewhere they can withdraw to when they need to.
A crate is ideal for this, as long as it's introduced gradually and your pup isn't shut in there for long periods.
Prevention
The best way to stop your puppy chewing corners of walls is to deny them access to the area they are favoring.
There are a few ways to do this, and which one you use will depend upon where the problem is happening.
Baby gates, a puppy pen and a crate are brilliant tools for containing puppies and keeping them out of mischief.
Baby gates prevent access to a specific room if that's where the issue lies and it's practical to prevent your pup.
Don't use this if the room is the hub of the home and where you'd otherwise want your puppy to settle.
In this case if possible pop up a puppy play pen, with an open crate inside for now.
When your puppy is crate trained a little later on you'll be able to leave her in there with the door shut, but don't be tempted to do this too soon.
Or to leave her in the crate for any longer than the length of her average nap.
If it's one specific area of the room then you might find you are able to make a crude barrier yourself.
Don't worry, your room won't look like a scene from Mad Max forever.
Most puppies won't go back and chew again if you leave the barrier up for a couple of weeks and remove it.
Because by then the habit is broken, and hopefully you've cured or assisted the route cause for the chewing.
Positive reinforcement training
If you want your puppy to be happy, distracted and have a great bond with you, nothing beats positive reinforcement training.
Your puppy is still young at the moment, so teaching a recall command or a release cue isn't going to be your ideal solution.
There is plenty of time for more formal training later on.
But what you want to do is make sure you have plenty of fun little puppy training games up your sleeve. 
Motivate them with tasty treats, and keep them clear that you are where the fun is at.
These will also help to keep your dog's focus on you, and off the corners of walls!
Get Pippa's free dog training tips delivered to your inbox