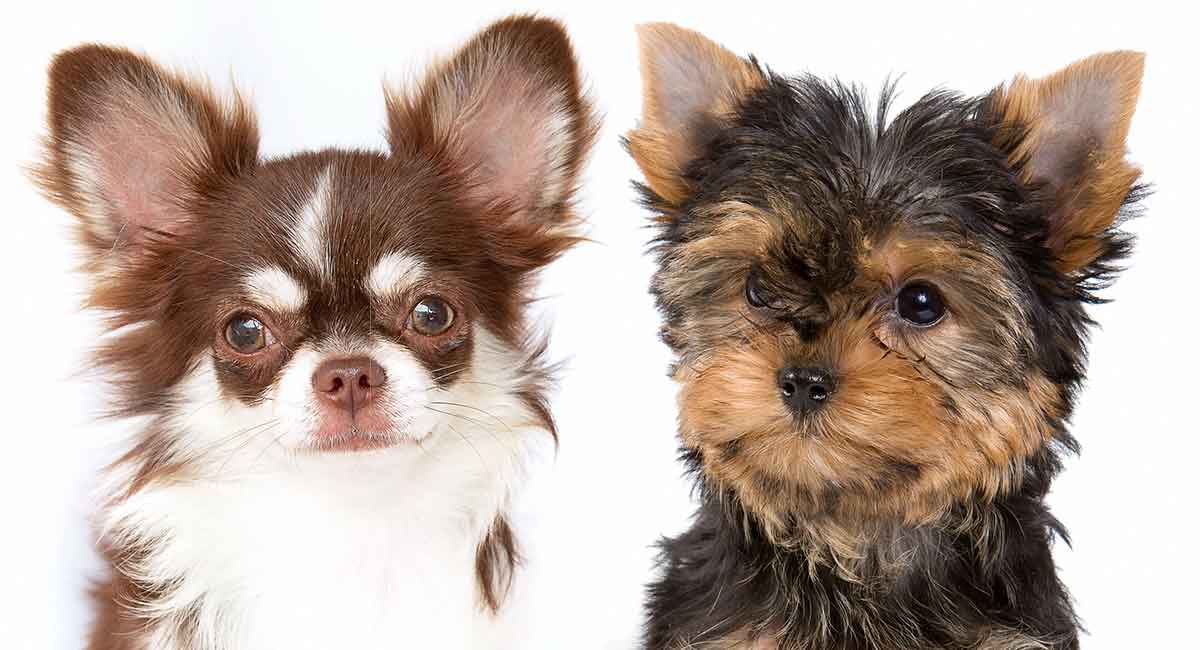 To choose between a Yorkie vs Chihuahua, compare
their size – the slightly larger Chihuahua is fractionally more robust, and safer from accidental injury
their grooming needs – the long-haired Yorkie demands more frequent brushing than a short coated Chihuahua
lifespan – on average Chihuahuas outlive Yorkies by up to three years.
Choosing Between a Yorkie vs Chihuahua
Welcome to the Yorkie vs Chihuahua debate!
There's no question both of these toy breeds pack big-time attitude into a tiny package.
So, how does the feisty, affectionate Yorkshire Terrier stack up against the sassy, charming Chihuahua?
In this article, we'll take a look at temperament, history, health, appearance, training, and exercise requirements.
With all the information you need, you'll be able to decide which one of these adorable dogs is the right one for you.
Yorkie vs Chihuahua History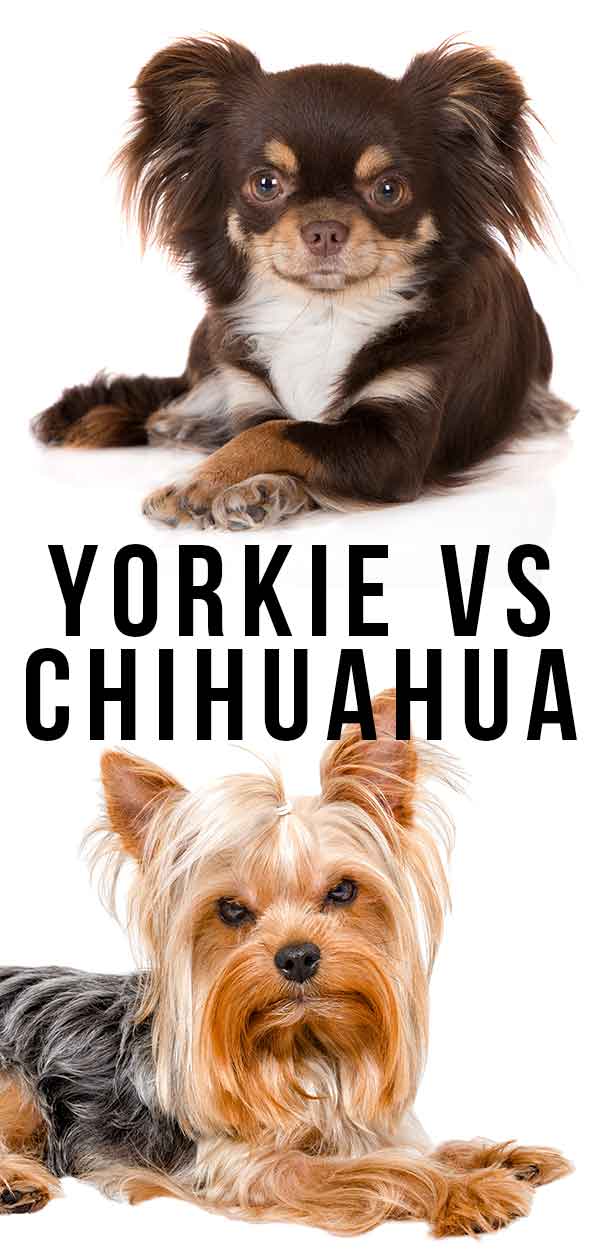 To start, let's take a look at the orgins of both breeds!
Origins of the Yorkshire Terrier
The Yorkshire Terrier was developed in the northern English counties of Yorkshire and Lancashire in the mid-1800s.
They're believed to have been created by weavers from Scotland who combined several different breeds.
Although, the breeds they actually used is a topic of debate, in itself.
The Clydesdale Terrier, Waterside Terrier, Paisley Terrier, and Dandie Dinmont Terrier are some of the dogs thought to be part of their genetic mix.
They were initially bred to catch rodents in mines and to burrow underground after badgers and foxes.
However, once the breed was recognized by the United Kennel Club (UKC) in 1886, this tiny dog with its long, flowing locks caught the attention of Victorian English ladies.
And the Yorkie ditched their working-class origins for the life of a fashionable lapdog.
Origins of the Chihuahua
The origins of the Chihuahua's extend back much further.
In fact, as one study unearthed, as far back as pre-Columbian times – they are direct descendants of the larger and heavier Techichi dog.
However, the Aztecs are credited with refining them into the smaller dog we know today.
By the early- to mid-1800s, these dogs were found in the city in the city of Chihuahua in Mexico.
Americans visiting the country immediately became infatuated with these diminutive dogs and brought them to the US.
Yorkie vs Chihuahua Appearance
Although both of these dogs are tiny, the Chihuahua is the world's smallest breed, weighing under 6 lbs and standing from 5 to 8 inches.
On the other hand, the slightly larger Yorkie weighs 7 lbs and stands from 7 to 8 inches tall.
Undoubtedly, the Yorkie's most defining characteristic is a silky, floor-length, coat of steel blue and golden tan.
Moreover, these pups are sturdy and well-proportioned, their head is held high, displaying their innate confidence.
The round apple-shaped skull of the Chihuahua is its trademark.
However, there are also less common Deer Head Chihuahuas.
Their erect ears, expressive, dark eyes, and pointy muzzle make them instantly recognizable. And they can have a short or long coat in a variety of different colors. You might want to read about the blue Chihuahua here!
Yorkie vs Chihuahua Temperament
When it comes to temperament, these two dogs have a lot in common.
They're both affectionate, love to be around people, and don't like to be left alone.
Yorkies and Chihuahuas are feisty little dogs who can be quite domineering and protective of their owners. This can inspire some tough names!
This makes them good watchdogs but can lead to unwanted behavior.
Both of these dogs regularly rank highly among other breeds for human-directed aggression in scientific studies.
The Chihuahua, in particular, can be hostile to both people and dogs.
Another less than admirable quality these two breeds share is a tendency to bark a lot.
Some Yorkies are happy to be doted upon while others have more of the typical terrier temperament with an instinct to chase.
The Chihuahua's personality can be quite quirky. They're often described as either bold or timid, sassy or mellow, comical or dignified—but never boring.
Homes with children under the age of ten are not a good match for either of these dogs. They're simply too fragile.
A small child can seriously hurt these dogs by inadvertently stepping on, sitting on, or dropping them.
And larger dogs can also easily hurt a toy breed.
Yorkie vs Chihuahua Training
Although both of these breeds are intelligent and eager to please, like many small dogs, they're considered difficult to housebreak.
One reason is that tiny pups have a faster metabolism than larger breeds and need to go more often.
Start establishing a daily routine right away for the best results.
Patience and consistency are key.
Dogs should be socialized and trained as early as possible as it's the best way to curb
aggressive behavior.
Introducing them to a wide variety of people, pets, and environments will make them less fearful.
Unfortunately, many people neglect training when it comes to toy breeds.
Since they're so small it can seem easier just to pick them up out of trouble rather than trying to teach them commands.
Regardless of size, all dogs should be trained using only positive reinforcement methods.
A tasty treat and a kind word will get you much better results than harsh corrections.
Yorkie vs Chihuahua Exercise
Even small dogs need activities to stay healthy and release pent up energy.
Both the Yorkshire Terrier and the Chihuahua are prone to obesity.
For dogs who are so tiny, even a little extra weight can affect their wellbeing.
Osteoarthritis, diabetes, heart disease, respiratory problems, and cancer are just some of the serious health problems associated with pets who are overweight.
Yorkies require a moderate amount of exercise on a daily basis.
This should include a short walk at a steady pace once or twice a day.
Bursts of cardio activity, such as chasing balls and other toys is also recommended.
Usually, a daily walk or spending time running in an enclosed space is enough exercise for the Chihuahua. Be sure to avoid overexerting them.
If you notice that your Chihuahua is panting, it's time to pick him up and take him home.
Yorkie vs Chihuahua Lifespan
The Yorkshire Terrier has a lifespan of 11 to 15 years.
The Chihuahua has a long lifespan of 14 to 16 years.
However, that doesn't mean these dogs don't have any inherited conditions.
The Chihuahua, in particular, is prone to a number of serious health issues.
These dogs' diminutive size can also cause them some problems.
Yorkie vs Chihuahua Health
When buying a Yorkie puppy make sure that the breeder has tested their parents for eye problems, such as cataracts and progressive retinal atrophy.
The Chihuahua's protruding eyes and close proximity to the ground put them at risk for eye problems such as glaucoma, as well as eye infections.
Both breeds should be tested for patellar luxation before mating, which occurs when the kneecap is dislocated from the groove of the thigh bone.
Toy breeds are prone to hypoglycemia.
Having low levels of blood sugar can be a life-threatening condition if not treated quickly.
Yorkie Health
Legg‐Calve‐Perthes is an inherited condition that can affect the Yorkie.
It involves deterioration of the head on the femur bone in the dog's hind leg and can lead to erosion of the hip joint and osteoarthritis.
Congenital portosystemic shunt, also known as a liver shunt, occurs in the Yorkshire Terrier more than any other breed.
In fact, one study found that the Yorkie was 35.9 times more likely to suffer from abnormal veins that cause the blood flow to bypass the liver than all other breeds combined.
Chihuahua Health
Periodontal disease is a huge problem for the Chihuahua.
Their little mouths just don't have enough room to accommodate their teeth.
Regular teeth brushing, watching sugar consumption, and dental checkups are imperative.
Necrotizing meningoencephalitis is an inflammation disorder of the brain that is found in this breed.
Cardiac testing is recommended for the Chihuahua, as they're prone to heart disease.
Special Care
Tracheal collapse is a common cause of airway obstruction in dogs that can be genetic or acquired.
It primarily affects toy breeds, and Yorkies, in particular, are at high risk.
When taking your dog for a walk, the traditional collar and lead can put direct pressure on the dog's neck, especially if they have a habit of pulling on the lead.
By using a harness you can reduce the risk of injuring a dog's delicate windpipe.
Yorkie vs Chihuahua Grooming and Feeding
All dogs should get high-quality dog food that's appropriate for their age and size.
As mentioned, both breeds are prone to becoming overweight, so it's important to watch calories, including those used for training purposes.
It should come as no surprise that if you choose to keep the Yorkie's hair long, they'll require daily grooming.
You can also opt to have their hair clipped short.
Even if the hair on the body is kept long, you should trim the hair on the top of the head or tie it back to avoid eye irritation.
Luckily, Yorkies don't shed much.
The short-haired Chihuahua will need only occasional brushing.
However, the long-haired variety will need weekly brushing to avoid tangles and mats.
Both dogs need regular bathing, nail clipping, ear checks, and teeth brushing.
Which Breed Makes a Better Pet?
Is the Yorkie or the Chihuahua right for you?
Well, the choice between two such similar dogs may simply be personal preference.
The Yorkie will require more grooming but also has fewer health problems.
Whichever breed you decide on, avoid choosing the smallest puppy in the litter. A bigger dog will have a better chance of living a long and healthy life.
So, have you made a decision between these two precocious pups? Let us know in the comments!
Readers Also Liked
References and Further Reading
Van Asch B et al. 2013. Pre-Columbian origins of Native American dog breeds, with only limited replacement by European dogs, confirmed by mtDNA analysis. Proceedings of the Royal Society.
Arata S. et al. 2014. "Reactivity to Stimuli" Is a Temperamental Factor Contributing to Canine Aggression. PLOS One.
Duffy DL et al. 2018. Breed differences in canine aggression. Applied Animal Behaviour Science.
German AJ et al. 2018. Dangerous trends in pet obesity. The Veterinary Record.
Park S et al. 2009. Clinical manifestations of cataracts in small breed dogs. Veterinary Ophthalmology.
Kanemaki N et al. 2013. Dogs and Humans Share a Common Susceptibility Gene SRBD1 for Glaucoma Risk. PLOS One.
O'Neill DG, et al. 2016. The epidemiology of patellar luxation in dogs attending primary-care veterinary practices in England. Canine Genetics and Epidemiology.
Vroom MW et al. 2011. Transient juvenile hypoglycaemia in a Yorkshire terrier and in a Chihuahua. Veterinary Quarterly.
Robinson R. 1992. Legg‐Calve‐Perthes disease in dogs: Genetic aetiology. Journal of Small Animal Practice.
Tobias KM. Determination of Inheritance of Single Congenital Portosystemic Shunts in Yorkshire Terriers. 2003. Journal of the American Animal Hospital Association.
Capík I. 2010. Periodontal Health vs. Various Preventive Means in Toy Dog Breeds. Acta Vet. Brno.
Higgins RJ et al. 2008. Necrotizing Meningoencephalitis in Five Chihuahua Dogs. Veterinary Pathology.
Oliveira P et al. 2011. Retrospective Review of Congenital Heart Disease in 976 Dogs. Journal of Veterinary Internal Medicine.
1996. Surgical treatment of tracheal collapse in dogs: 90 cases (1983-1993) Journal of the American Veterinary Medical Association.
Get Pippa's free dog training tips delivered to your inbox