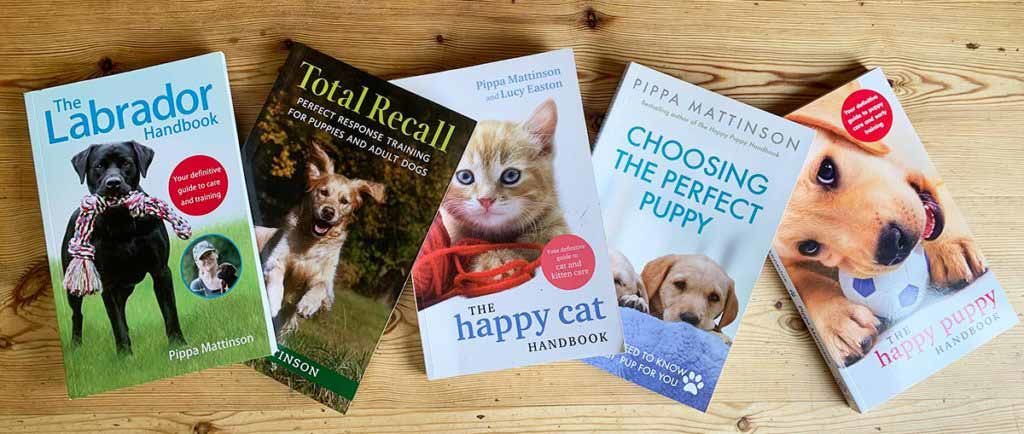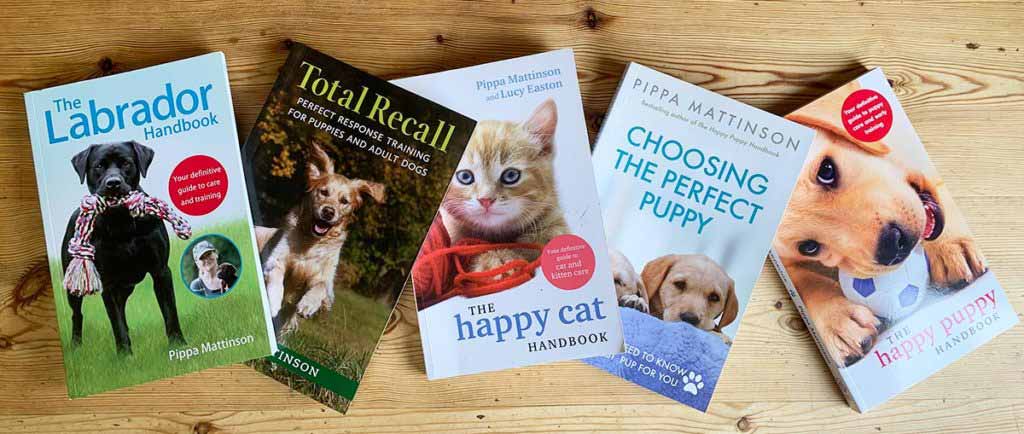 In today's post, Pippa Mattinson, author of best selling dog books including Total Recall and The Happy Puppy Handbook, explains why she is not going to publish her latest book!
I wrote another book recently. A really big book.
And then decided not to publish it.
I believe that decision is the right one, because I have found a better way to share the information in this particular book.
I've decided to create an online dog training program! And it will be available right here, on Dogsnet.
Dog Training Help!
Everyone struggles with their dogs from time to time, and fortunately, I love to help people! But I haven't always succeeded in doing so in the most efficient way possible…
A lot of people contact me asking for help to train their dogs, but one to one advice takes a long time to dish out. And there is only one of me!
Sharing information
Writing books is a fantastic way to spread your knowledge around.
It's been an absolute honor and a pleasure to have had the opportunity to create books like Total Recall and The Happy Puppy Handbook.
It's also been amazing to have worked with my team to build up a strong following for our websites, and for the articles we have all posted on them.
But even books and websites together have limitations.
The new dog training book
The book I was writing, was to be a sequel to The Happy Puppy Handbook. It was called The Happy Dog Training Guide.
The idea was to apply the breakdown of training steps that have been so popular in Total Recall, to a whole range of dog obedience skills.
But I didn't finish it.
It's not because I've lost faith in the wonderful world of books. It's because this particular topic, overall training and obedience, just seemed to grow way beyond the boundaries of any publishable word count!
Finding the right way to share
The aim of the courses is to do exactly what I set out to do in The Happy Dog Training Guide.
But to do it better.
The right way to help a person to train their dog is to teach them how to be a trainer!
And teaching you to be a good trainer to your dog lies at the heart of this new online dog training program.
Online courses
These courses will take a complete beginner, with a dog of any age, and show them, step-by-tiny-step, how to train their dog.
I am very excited to tell you that after months of planning and preparation, the first course is now almost ready to be revealed.
User friendly and fun
The program enables students to progress through the training in a very structured way and watch their progress unfold as they go.
And importantly, allow both dog and handler to have fun along the journey!
There are diagrams and videos, and quizzes to help students know when they are ready to move on. Lessons are short and digestible, and accompanied by informative and motivating emails.
Support and community
If you wish, you'll be able to join a supportive online community where you can chat to other students, upload videos and compare experiences.
At the Dogsnet Training Center we have a customer success team, IT support, and all the software needed to provide a great user experience.
The first course: Dogsnet Preschool, is due to launch in September, it will be suitable for all dogs from 12 weeks old upwards.
And the great news is, we are ready to open our student waiting list!
Dogsnet Preschool Training
Dogsnet Preschool will provide 8 weeks of guided training and the practical sessions will occupy less than ten minutes of your time each day for around 5 days each week.
And as loyal fans and followers of our books and websites, you will get a hot-off-the-press discount too if you sign up soon after it launches.
If you'd like to join the waiting list, and find out more about the courses, prices, start dates etc., just drop your email into the box below and we'll keep you in touch with developments.
Don't forget to hit the orange button and check your inbox for your first email.
Training Courses!
Online training for dogs of all ages. Get the latest course dates and information
Get Pippa's free dog training tips delivered to your inbox