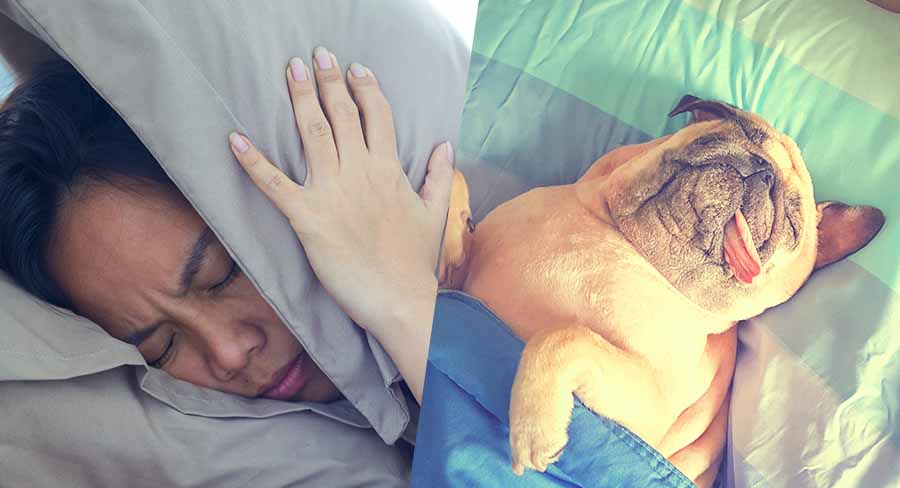 Why do Pugs snore so loud? All dog breeds can snore, but Pugs and other flat faced breeds are well known for this noisy sleep behavior! In many cases, the causes of snoring can be quite easily treated. For instance, allergies or obstructions can cause dogs to snore. So, you can make sure the air in your house is clean, and provide a pillow for your Pug to sleep on.
But, sometimes, Pug snoring is linked to their face shape. Today, we're going to take a closer look at what causes such noisy snoring in Pugs. And, we'll find out how you can stop this issue, so you and your Pug can get a good night's sleep!
Pug Snoring Problem
Pugs are a popular breed, well known for their flat, wrinkled faces. However, many owners don't realise that this face shape causes a number of health issues, including brachycephalic obstructive airway syndrome (BOAS). And, one of the many problems associated with this is snoring, or other similar sleep disturbance issues.
In fact, this issue is so common that there have been several studies and owner surveys on Pug snoring. These studies consistently found that over 50 percent of Pug owners experience or witness these problems.
Why Do Pugs Snore So Loud?
There's a chance that Pug snoring is caused by the same factors as any other snoring dog. Perhaps they're allergic to something in their environment, are responding to medication, are sleeping in a strange position, or have something in their mouth that is blocking their airways. However, it's much more likely that this problem is related to their face shape.
Brachycephalic dogs have shortened facial bones caused by generations of breeding short-nosed dogs together. Because of this, Pugs tend to have closed/pinched nostrils (stenotic nares), which restricts airflow through their nose. And, since the facial tissues in a Pug's muzzle are not reduced with bone length, their soft palate will be too long for their mouth. It may hang down their throat and obstruct their airways, causing trouble breathing and noisy snoring.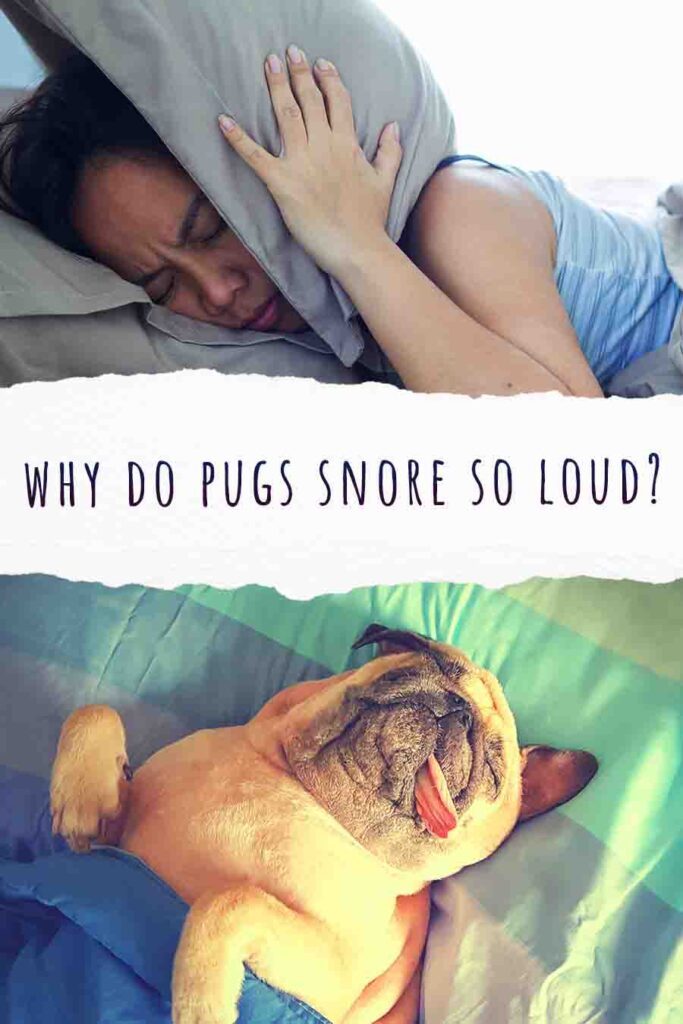 Is it Normal for Pugs to Snore So Loud?
Many owners claim that snoring and noisy breathing is "natural" or "normal". But just because something is common for the breed does not mean that it's healthy or natural. In fact, this trait is something breeders have worked hard to create over the past few decades, because flat faced dogs became a popular trend. Looking at older pictures of Pugs, you will see that they had much longer snouts than their modern counterparts.
The problems associated with Pug face shapes can cause trouble breathing, trouble regulating their heat, eye and dental problems, and more, as well as just noisy snoring. So, this face shape can severely impact a dog's quality of life. Whilst it is common for Pugs to snore and have trouble breathing, it should be questioned whether this popular appearance is worth the associated issues.
How to Stop a Pug from Snoring
There are many things you can try to reduce Pug snoring. Some owners have success with different shaped beds, providing a way for their Pug to sleep with their head elevated. Others use air purifiers, or help their Pug lose weight if they are overweight.
However, since this is usually a problem caused by their face shape, the above solutions may not work. For many owners, the best fix is surgery. In fact, one study found that snoring and related issues were significantly reduced (from 55% of dogs included to only 3%) when Pugs had surgery. But, owners must be fully aware of the risks of surgery, so speak to your veterinarian if your Pug is struggling to breathe whilst sleeping, and discuss this as an option.
If you currently do not own a Pug, but are preparing for this common issue, you can reduce the likelihood of snoring by choosing a Pug with a longer muzzle and open nostrils. A longer muzzle allows more space for their soft palate inside their mouth, preventing it from blocking the dog's airways.
Should I Be Worried About My Pug's Snoring?
Though many Pug owners will say that snoring is normal, it is still not comfortable or necessarily pleasant for your dog. It's right to be worried if your dog is having trouble breathing. But, since it is a conformational problem, there is no simple fix. In most cases, Pugs will not be able to breathe easily without surgery. You can try the other suggestions above, and may see some improvement.
Invest in a pillow to see if an elevated sleeping position helps your Pug, or speak to your veterinarian about taking further action. If you're looking at buying Pugs in the future, try to avoid the problem altogether by choosing one with a longer muzzle – just like traditional Pugs would have had! Or, choose a different small breed with a healthier face shape.
Why Do Pugs Snore So Loud? A Summary
Unfortunately, most Pugs snore so loudly because of their face shape. And, this is not a simple problem to fix. Even with surgery, some owners still observe breathing trouble whilst their dog is sleeping. But, there's a chance that surgery will help. And, some owners find success with tools like a round bed, or a pillow for sleeping.
Readers Also Liked
References and Resources
Get Pippa's free dog training tips delivered to your inbox