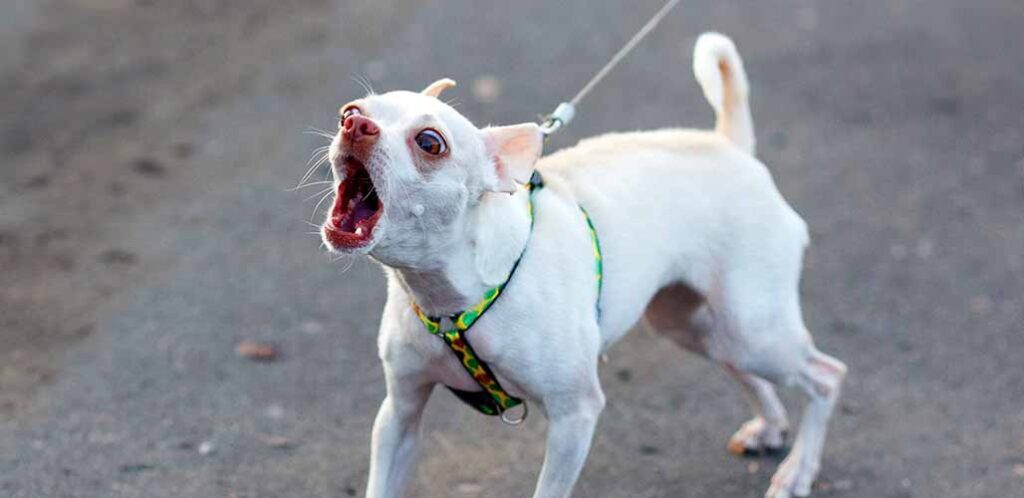 Why do Chihuahuas bark so much? And have Chihuahuas earned their reputation for being yappy dogs, or are they unfairly tagged as a breed that barks a lot? Chihuahuas and other small dogs are said to bark more than larger dogs. We'll see if there's any truth to this stereotype. We'll also look at the reasons why dogs bark and what's considered a "normal" amount of barking. Finally, we'll give you some tips on how to minimize barking if your Chihuahua barks too much. As you might expect, training plays a big role in eliminating barking and other undesirable behaviors in your dog!
Contents
Do Small Dogs Bark More than Big Dogs?
Dog behavior experts agree that little dogs bark more than big dogs. Of course, this is a generalization, as all dogs are different, and you can certainly find quiet little dogs and noisy big dogs. But if the stereotype has some truth behind it, what are the reasons why small dogs might be more barky than larger dogs?
You may have heard the term "small dog syndrome" to describe excessive barking and other pesky behaviors (like nipping and stubbornness) to describe little dogs with big attitudes.
Why Do Chihuahuas Bark So Much More Than Bigger Dogs?
Chihuahuas and other small dog breeds are not genetically programmed to be naughtier than big dogs. A big cause of barking and other negative behaviors is that small dog owners tend to spoil and coddle their dogs a bit more than large dog owners.
A spoiled dog may be more likely to bark to get what it wants when it wants it. Also, pampered small dogs can become very attached to their owners and suffer from separation anxiety, leading to excessive barking when their humans are away.
Another aspect of small dog syndrome is that small size can make Chihuahuas and other small breed dogs feel vulnerable and intimidated around people and dogs that are much larger than they are.
It's not uncommon for small dogs to bark, growl, or show other aggressive behaviors as a form of self-protection when around unfamiliar dogs and people. Barking is a way for Chihuahuas to get your attention and make themselves seem bigger and scarier when they feel threatened.
Why Do Chihuahuas Bark?
There are many reasons for barking and other vocalizations (like howling and growling) in dogs. Scientists who study canine communication say that barking is a complex behavior, not yet fully understood. The domestic dog's ancestor, the wolf, is known for howling but rarely barks. Dogs have learned to use barking to communicate with humans and with each other.
Research has shown that dogs bark in different ways to communicate different feelings. One dog can have distinctly different barks when it is alone, playing with you, or encountering a stranger.
The tone, pitch, and repetition of barks can change depending on what a dog is experiencing at the time: happiness, fear, anxiety, hunger, or other emotions. Chihuahuas can bark to express all these feelings, and when you factor in small dog syndrome, normal barking can become excessive.
Normal vs Excessive Barking
How do you know if your Chihuahua is barking too much? What is the difference between normal barking and excessive barking? Barking is a normal canine behavior, and dog owners can always expect some barking. Excessive barking occurs more frequently and for longer intervals than normal barking. It is stressful for dogs, their owners, and the neighbors.
The first step in solving the problem is to identify what's triggering the excessive barking. Observe what's happening when your dog barks the most. You may have to ask the neighbors or use a video camera if your dog barks when you are out.
For small dogs like Chihuahuas, the most common triggers for barking include fear, separation anxiety, boredom, attention-seeking, and territoriality. While large dogs can bark for these reasons too, small dog syndrome may come into play with a Chihuahua and can intensify the barking.
Why Do Chihuahuas Bark So Much Less When Trained?
Once you've identified what issue causes the most barking, you can begin to address the underlying problem with training. It can be easier to work with puppies and establish good behavior when dogs are young, but you can train an adult Chihuahua to bark less too. The Chihuahua can be a bit feisty, but it is a smart and trainable breed.
Positive reinforcement training techniques are a must, especially if you have a Chihuahua that barks out of fear. The basic premise is to reward good behavior and never punish bad behavior, for example giving your dog a treat when it doesn't bark at a strange dog.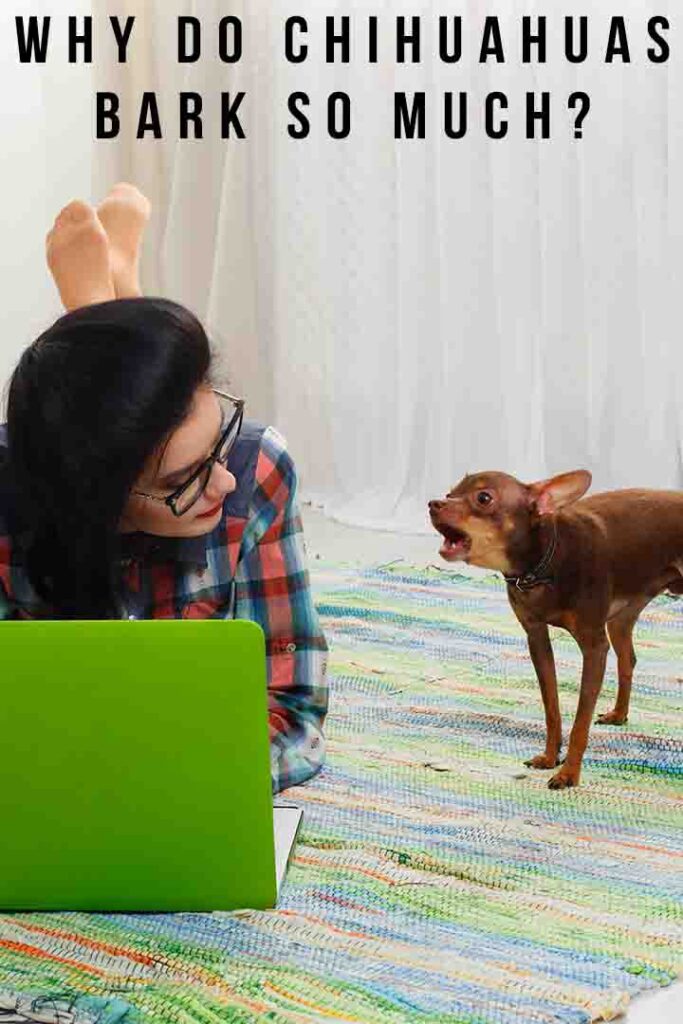 Extreme fearfulness (especially if accompanied by aggression) may require the assistance of a dog behaviorist.
If your Chihuahua barks from separation anxiety, desensitization can be a useful training technique. The idea is to gradually get your dog used to your absence by systematically leaving and reentering the house for short, then longer, periods of time.
Small Dogs Are Often Less Well Trained
Small dogs often don't get the same level of training as larger dogs, which can lead to long-standing behaviors that were never properly addressed. It's not too late to train your Chihuahua to bark less on a day-to-day basis.
A common way to reduce barking is to teach your dog "speak" and "don't speak" commands. Yes, you should teach your dog to bark on command! This is done to reinforce the command to not bark. This technique works well with a treat reward, both for when your dog barks on command and when it is quiet on command. Ignore barking that's happening off command.
Why Do Chihuahuas Bark So Much?
Chihuahuas are lively and intelligent little dogs with big personalities. It's normal for Chihuahuas and all dogs to communicate with humans and other dogs through barking. Dogs express themselves with vocalizations like barking, howling, and growling, but when normal barking becomes extreme, there are ways to reduce it.
It's never too late to train even the most spoiled Chihuahua to bark less. The key is to identify the root cause and address it with patience, consistency, and positive training methods.
Learn More About Chihuahuas
References
Hare, B., Woods, V. What are Dogs Saying When They Bark? Scientific American, 2013.
Is Small Dog Syndrome Really a Thing? Oakhurst Veterinary Hospital, 2020.
Todd, Z. What is Desensitization and Counter-Conditioning in Dog Training? Companion Animal Psychology, 2018.
Get Pippa's free dog training tips delivered to your inbox