Why are Labradors so greedy? Labs are well known for their hearty appetite and their tendency to be overweight, but what's the true cause of Labrador greed?
The Labrador Retriever breed is friendly, affectionate, and very food motivated. And, whilst this greed can make training easier, it can cause and worsen mobility issues and serious health problems. For a long time, many people believed it was simply a Labrador trait. But, recent research suggest scientists have pinned down the specific gene that causes greediness in Labradors.
Are Labradors Greedy?
The Labrador Retriever is one of the world's most popular dog breeds. But, like any purebred dog, they are prone to certain health issues. Studies have shown that obesity and being overweight is one of the most common problems that Labs face, with males being significantly heavier than females.
Not all Labradors are overweight, but even owners of healthy Labs tend to agree that their dog is very food-motivated. They may eat every meal as if they were starved before, and search for scraps at any opportunity! In fact, some Labs will even go as far as eating non-food items, like socks – which can have serious health implications.
Since this is a trait that seems to impact the Labrador Retriever breed as a whole, it's natural to assume that there's a genetic cause! So why are Labradors so greedy?
Why Are Labradors So Greedy?
There are plenty of suggested and potential causes for food motivation in dogs. And, sometimes more than one of them could apply. For instance, your Labrador could be hungry, or bored, or you might be eating something that smells particularly tasty that they'd love to try.
Greed can show up in any dog breed, not just Labradors! But, recent research has suggested that there could be a genetic explanation for food motivation in Labradors. Which could help to explain why so many Labs tend to show high levels of greed.
A Genetic Cause of Labrador Greed
A suggested genetic cause for obesity and increased food motivation has recently become a hot topic. Some Labrador Retrievers have a POMC (pro-opiomelanocortin) mutation. This mutation is associated with body weight, excess fatty tissues, and increased food motivation.
This gene mutation has also been found in the Flat Coated Retriever breed, where it is similarly associated with weight and food motivation. In Labs, studies have suggested the mutation is significantly more common in Labradors selected to be assistance dogs.
The presence of this gene mutation means some Labs may be predisposed to obesity and greed. However, this doesn't mean that other factors can't impact body weight and condition in Labs. So, controlling food levels and ensuring your Labrador is getting enough exercise will also go a long way to maintaining a healthy weight for them, whether they have the POMC mutation or not.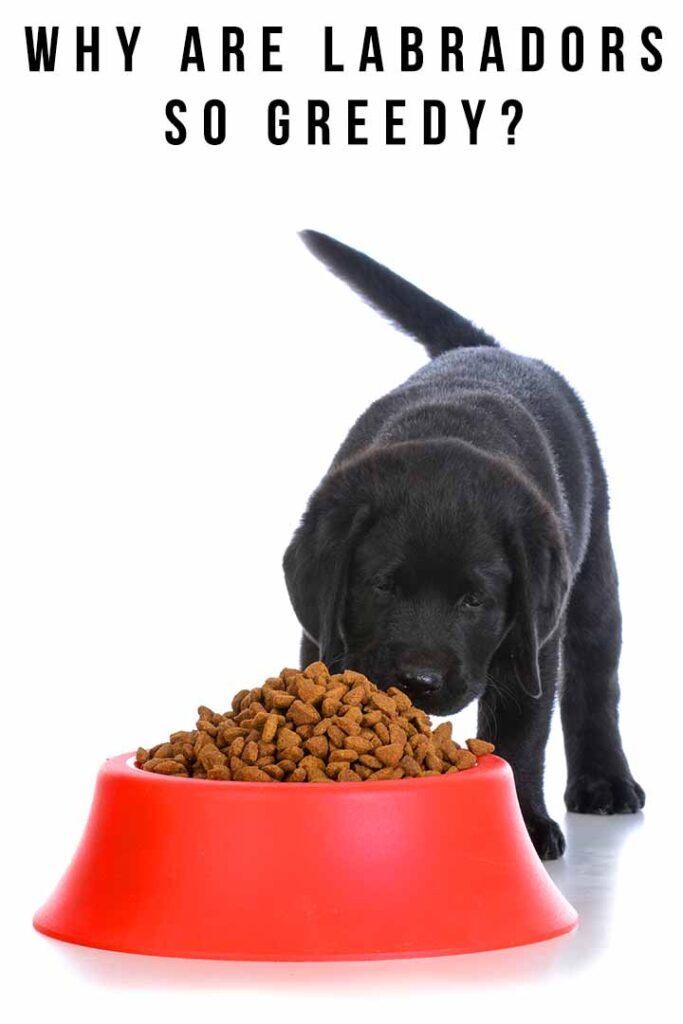 Do All Labradors Have the POMC Mutation?
Although obesity is more common in Labradors than many other breeds, not all Labs have the POMC mutation that is linked to body weight and food motivation. But, as we have mentioned earlier, the POMC mutation is more common in certain types of Lab, such as assistance dogs. One theory for this, is that higher food motivation makes these dogs easier to train, which is a key attribute of a working assistance dog.
So, there's no guarantee that your Labrador will have the POMC mutation, even if they are overweight. It could be the result of other factors, such as large meal sizes, too little exercise, and too many treats shared from your own meals. In fact, some owners accidentally encourage behaviors associated with greed like begging at the table, by giving in and rewarding the behavior with food.
Is Greediness in Labs a Problem?
Greediness and food motivation can be problematic in Labradors when they aren't monitored. Being overweight or obese can lead to mobility issues in our Labs, such as decreased agility and extra strain on their joints. But, more problematic is the health issues that can be caused and worsened as a result. Some major health concerns associated with obesity in dogs are:
Osteoarthritis
Type II diabetes mellitus
Lung and breathing problems
Urinary and reproductive disorders
And more.
So, greediness and high food motivation can be a problem when owners allow it to lead to obesity, rather than restricting their Lab's food and maintaining a healthy lifestyle with them.
Other Potential Problems
There are some other major problems related to greed in Labs that owners must be aware about. These are gastric dilatation volvulus, and eating dangerous food items.
Greedy Labs will often seek food at all opportunities. They might counter-surf in the kitchen, or even mouth things around the house to see if anything is tasty and edible. This can lead to Labs eating toxic foods, like chocolate, or even non-food items that can cause internal blockages. So, it's vital to keep any toxic foodstuffs out of reach and locked away. If your Lab is eating non-foodstuffs obsessively, you should take them to the veterinarian, as this can be a sign of pica.
Gastric dilatation volvulus is a potentially life threatening disorder that involves the stomach twisting and filling with air, blocking blood flow. As a large breed, Labs are predisposed to this problem. Eating too quickly, too soon after exercise, and from raised bowls are also potentially contributing factors. So, it can help to slow your Labrador's enthusiastic eating with smaller meals, puzzle trays, and so on.
The Benefits of Food Motivation
Greediness can be difficult to control, especially when your food-motivated Lab seeks out snacks and food from places they shouldn't. But, increased food motivation isn't always a bad thing! In the age of positive reinforcement training, a food motivated Labrador is a dream to train! And, this could be why we see so many assistance dogs with the POMC gene mutation.
Labradors are known to be eager to please and intelligent dogs. So, when these traits are combined with food motivation, training is sure to be easy enough. This is a major reason why Labs are often recommended as a first-time breed.
Tips for Maintaining a Healthy Weight
Since Labradors are potentially prone to obesity because of a gene mutation, it's important to do all we can to keep them in the best shape. Here are some tips for avoiding obesity and keeping your Lab at their optimum size, despite any greed:
Subtract training treat calories from your dog's daily allowance.
Measure out meal sizes.
Don't feed scraps from your own meals.
Make sure your Lab has daily exercise.
Invest in a nutritious, balanced dog food.
Don't leave food in easy reach, eg. on kitchen counters.
Make sure family members follow the same rules!
Maintaining a healthy weight will be good for your Labrador's health and quality of life. If you're struggling with their weight, your veterinarian is a great person to help with top advice. It can take some strong willpower to avoid giving into those puppy eyes when your Lab is acting like they're hungry. But, just because they're keen to eat more, doesn't mean they're actually hungry!
Why Are Labradors so Greedy? A Summary
Labradors are well known for their appetites! And, it turns out that their greediness and food motivation could have a genetic cause. But, whether greed has a genetic cause or not, other factors can also influence your Labrador's weight.
Do you have a greedy Labrador at home? What are your top tips for keeping your food-motivated Lab in a healthy shape?
Readers Also Liked
References and Resources
Get Pippa's free dog training tips delivered to your inbox