Why are Great Danes so big? We take a closer look at Great Dane size, development, and potential associated problems in this complete guide!
Great Danes are known for their enormous size. In fact, a Great Dane named Zeus holds the title of tallest dog ever, at a whopping 44 inches tall. And, the three tallest dogs to hold the record before Zeus were also Great Danes! So, why are great Danes so big? We're going to take a closer look at the average size of these dogs, as well as their history to find out!
How Big Do Great Danes Get?
According to the Great Dane's breed standard, their height can vary from 28 to 32 inches at the withers when fully grown. Their weight is allowed to be anywhere between 110 and 175 lbs. But, as we already know, some Great Danes surpass this size by quite a lot! A Great Dane that falls outside of these size restrictions may not qualify for show, but they can still make a wonderful companion in the right home. So just how big can these dogs get?
The largest Great Dane recorded, as we know, was Zeus. Zeus reached an incredible 44 inches tall at the withers, taking the record from another Great Dane named George in 2011. When standing on his hind legs, Zeus was a staggering 7 ft 4 inches tall – taller than most humans!
Of course, the average Great Dane won't be as large as Zeus. But, it's definitely possible for your Great Dane pet to be taller than the breed standard states.
Why Are Great Danes So Big?
It can be hard to wrap your head around a Great Dane's size without seeing one in person. A dog that reaches human heights when standing on its hind legs sounds crazy, right? So, why are Great Danes so big? Have they always been this way?
Selective breeding influences a lot of the traits our modern dog breeds have. But, the Great Dane's large stature is seen throughout its history. The first breed standard for these dogs originated in Germany in 1880. This, and subsequent standards in the following decade all remark on the large size of the breed.
Many breed enthusiasts believe that early Great Danes were crossed with Mastiff-type breeds. These original Great Danes were bred as hunting dogs, primarily targeting animals like boars. So, their large size and the strength that came with it was necessary!
The modern Great Dane is more likely to be a companion dog. But, their size has remained. And, some breeders may choose a large size as a trait that they breed for, combining two large parents in the hopes that puppies will be equally large. So, a modern Great Dane's size is most often down to a mix of the breed's history and selective breeding.
When Are Great Danes Fully Grown?
The larger a dog breed is as an adult, the longer it will take for them to reach their full size. So, whilst it can take a toy breed as little as 6 months to reach their adult size, Great Danes can take up to 2 years.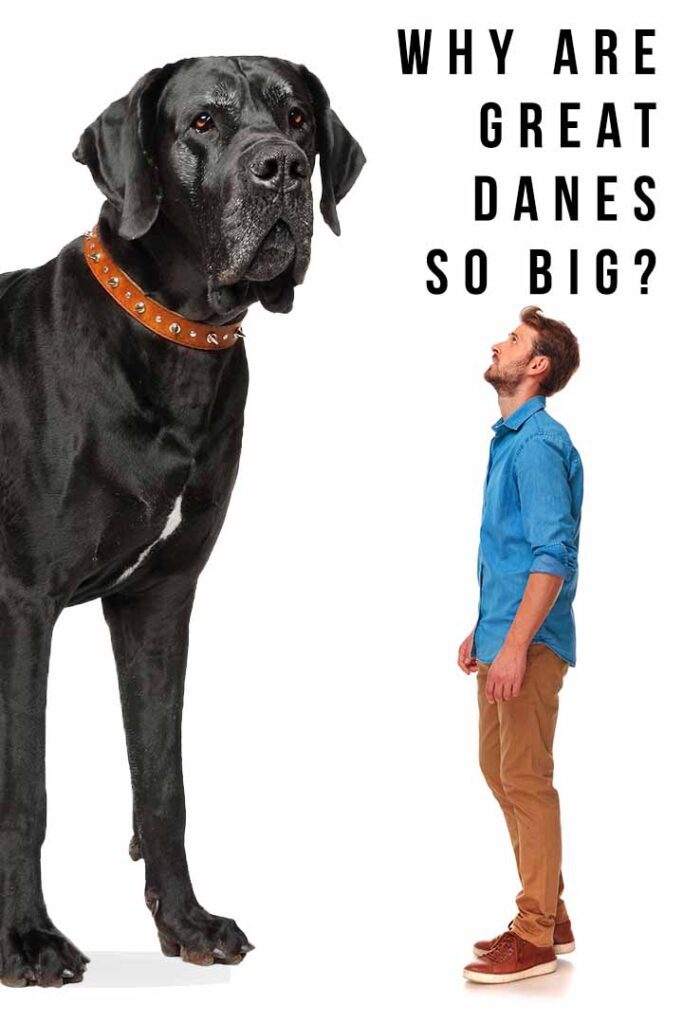 Like many breeds, female Great Danes are usually smaller than males when fully grown. So, they will often reach their adult size faster. But, all individual dogs will vary. So, some Great Danes may reach their adult height at 1.5 years old, and others may still have a little growing to do after 2 years! No matter how long it takes, make sure you're giving your puppy a nutritious, balanced diet, and great general care to support their healthy development. Your veterinarian is a great resource to support you with this.
Size Related Health Risks
Sadly, large dogs like the Great Dane live much shorter average lives than small dogs. In particular, large breeds like this can be more prone to joint problems like hip and elbow dysplasia and arthritis. In fact, some studies suggest that puppies should be kept away from stairs and strenuous exercise in the earliest months of their lives.
Another major problem that is known to impact large and giant dog breeds is gastric dilatation volvulus. Or, bloat. This is a deadly problem in which your dog's stomach fills with gas and twists, cutting off the entrance and exit of the stomach. If left alone, it is often fatal. But, prompt surgery can save dogs.
Little is known about the specific causes of bloat, but we do know certain factors that make it more likely, such as being a large or deep chested dog. It's a great idea to read up on these factors to reduce the risk for your Great Dane.
Why Are Great Danes So Big – A Summary
Great Danes are giant dogs, and have been just as large throughout most of their history. But many modern breeders will breed to keep this specific trait. A giant dog breed won't suit every home, particularly since they are so strong, and will need a very high level of socialization and training. This large size can also make your dog prone to certain health issues, so great daily care is all the more important.
Do you have a Great Dane at home that is pushing at the size boundaries of the breed standard? Perhaps you have one almost as big as Zeus! We would love to hear about them in the comments below.
Readers Also Liked
References and Resources
Get Pippa's free dog training tips delivered to your inbox