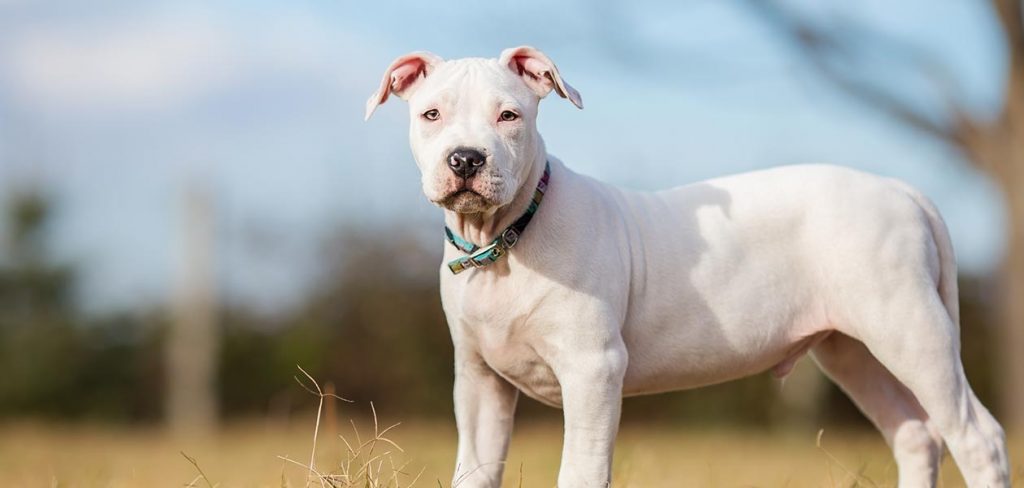 A white Pitbull is a bully breed that has completely white fur.
This coloring is popular with Pitbull-lovers, but has been linked to some health problems like skin sensitivity and deafness.
The white Pitbull will share the same temperament and needs as any other Pitbull.
But, it's important to find the best breeder to avoid puppy mills trying to profit from this uncommon shade.
What is a White Pitbull?
There are 5 types of bully breed that fall under the category 'Pitbull'. These are:
American Pitbull Terrier
American Staffordshire Terrier
Staffordshire Bull Terrier
Bull Terrier
Miniature Bull Terrier
So, the term 'white Pitbull' could refer to a white version of any of these bully breeds. In fact, white Bull Terriers are super popular!
But, most people are referring to the American Pitbull Terrier breed when they say Pitbull. So, this is the breed we will focus on today.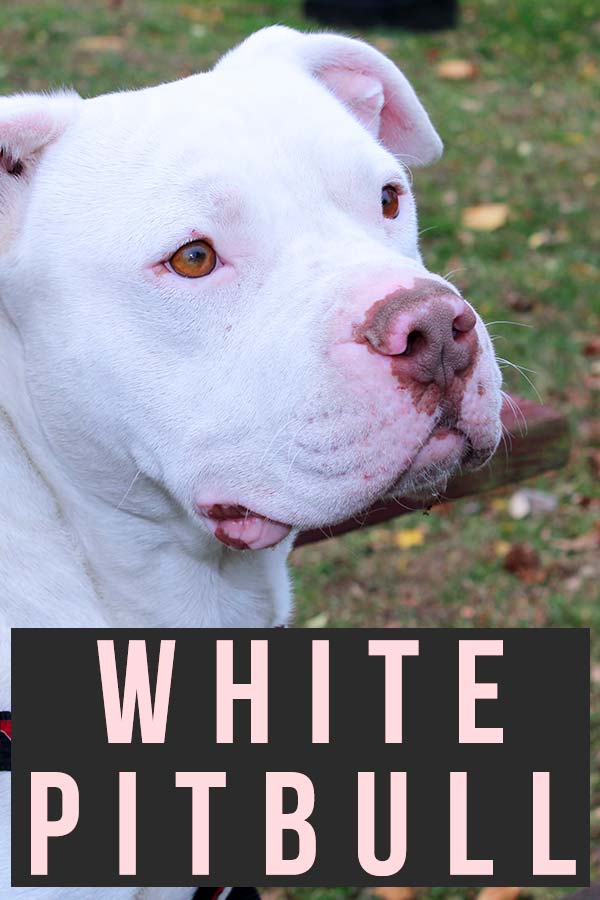 Are White Pitbulls Rare?
Getting that white fur color is all to do with the genes your dog inherits. The two main ways to get a white fur color are through pale, diluted coats, or extreme piebald spotting.
Extreme piebald spotting causes huge white spots that cover the dog's entire body.
This pattern masks any other colors on your dog's coat.
Because a white Pitbull needs a certain genetic combination, it might be harder to find a white Pitbull.
Especially because this shade is so popular, so puppies are snapped up pretty quickly.
Are White Pitbulls Albino?
Not all white Pitbulls are albino. But, some might be. Albino dogs are unable to produce any pigment on their skin or fur.
So, they are very different to white dogs with the extreme piebald spotting that simply masks other colors.
Albino Pitbulls can come with additional health problems, including skin sensitivities and eye problems.
We will be focusing on non-albino white Pitbulls here. But, if you want to read more about Albino dogs, take a look at this article.
White Pitbull Appearance
Your white Pitbull's appearance will differ depending on the type of bully breed you are getting. But, they will all share that pretty pale fur.
Whether you're getting an all white Pitbull, or a black and white Pitbull, here are some other traits to expect from your American Pitbull Terrier.
Your Pitbull will grow to around 21 inches tall, weighing between 30 and 60 pounds as an adult.
Pitbulls have a muscular appearance, and strike a great balance between grace and athleticism.
They have a wedge-shaped head, and a short dense coat that requires little grooming.
White Pitbull Temperament
White Pitbulls will have a similar temperament to any other Pitbull. Generally, this breed is known for being affectionate, loyal, and friendly, especially towards their family.
Most Pitbull owners will tell you just how family friendly this breed is. This includes being great with kids!
However, due to the sheer power of these dogs, it's really important to train and socialize them well.
Aggression
Pitbulls were originally used as fighting dogs. And this reputation has followed them to the modern day.
However, one study has suggested that Pitbull breeds are no more aggressive than any other dog.
Another found that their aggression was mainly directed towards other dogs rather than any people. So, be aware of this if you already have other pets.
Socialization as a puppy is key to reducing aggression in any breed, including the Pitbull.
So, introduce your Pitbull puppy to plenty of new experiences whilst they're young. Puppy classes are a great way to socialize them with other unfamiliar dogs.
A well socialized white Pitbull will make a friendly, affectionate companion to the right family.
Separation Anxiety
All this affection and loyalty can come with another downside. If left alone for too long, Pitbulls can experience separation anxiety.
So, it's important to only bring this breed home if you have the time to spend keeping them company and mentally stimulated.
White Pitbulls are a great choice for families who have lots of time to dedicate to training, exercise and socialization.
White Pitbull Exercise and Training
Pitbulls are athletic dogs, no matter what their color. So, it's important to make sure your American Pitbull Terrier gets plenty of exercise.
It's important to make sure your breed is well socialized and trained to keep outdoor exercise as safe as possible.
But, if you have somewhere safe and enclosed where they can run off the leash, even better.
Training is another great way to give your dog some exercise and strengthen your bond.
Pitbulls are eager to please, and intelligent. So, they will love working with you to learn new commands.
Positive, consistent training is going to give you the best results. Take a look at our online dog training course for more help.
White Pitbull Health
If you're considering bringing home a white Pitbull, it's important to learn about the potential health problems they could suffer from.
Some of these issues affect all Pitbulls, but others are linked to the pale coat color.
The problems that all American Pitbull Terriers are prone to are:
Hip Dysplasia
Hypothyroidism
Allergies
Heart problems
Color Related Problems
Unfortunately, a couple of studies have linked the white fur coat to deafness. So, your white Pitbull could experience problems with his hearing.
Additionally, you might find your Pitty vulnerable to skin problems.
You will need to be careful with your dog in the sun, as they may burn. So, make sure you have plenty of shade for them when you're in the yard.
Are White Pitbulls Good Family Dogs?
White American Pitbull Terriers will make a great dog for the right families.
You need plenty of time to dedicate to this breed. Not only in training and socializing them as a puppy, but also to exercise them and keep them company as adults.
Most Pitbulls are friendly and affectionate when trained and socialized properly. They get along well with kids, but might not get along with other dogs.
Make sure to watch out for any problems with their joints and skin, especially as they age.
White Pitbull Puppy
White Pitbull puppies might be quite hard to find because their coat color will depend on the genes they inherit. And this shade is popular.
If you're desperate to get a white Pitbull, don't turn to puppy mills. Even if you have to wait a little longer, it is worth it to purchase from a reputable breeder.
Puppies from reputable breeders are often more healthy, and they will be treated better than those bred in puppy mills or for pet stores.
Go with a long list of questions to your breeder, and be prepared to answer questions too. Reputable breeders want to make sure that their puppies are going to good homes.
You can take a look at our puppy parenting course if you want more help on what to do once you've brought your white Pitbull home.
White Pitbull Price
Because this shade is so popular, you might find that white Pitbull puppies cost a little more than their darker brothers and sisters.
White Pitbull puppies tend to sell for over $1500.
Puppies from reputable breeders will be more expensive than those found in puppy mills and at pet stores.
If you're struggling to afford a puppy from a reputable breeder, you could also consider adoption. But, make sure that you are working with rescue centers to find a puppy that isn't aggressive.
White Pitbull Breed
Do you have a white Pitbull at home or are you currently looking for this beautiful dog shade?
We would love to hear your experiences and stories in the comments!
Do you think this is the best shade for Pitbull dogs?
Readers Also Liked
References and Resources
Get Pippa's free dog training tips delivered to your inbox