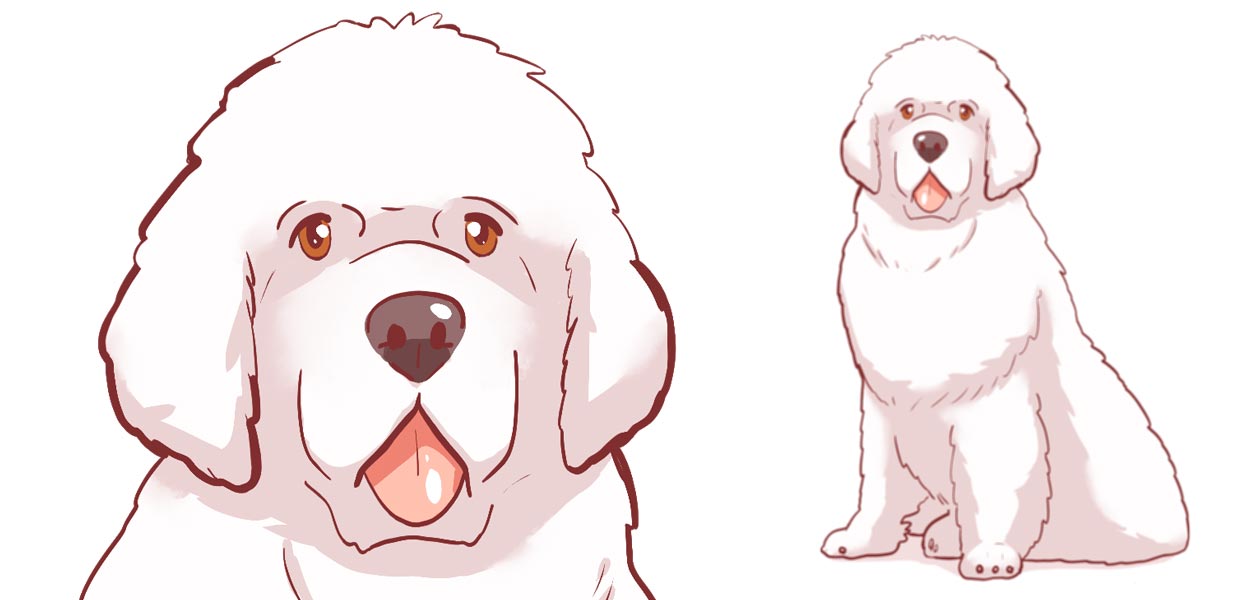 Although a completely white Newfoundland dog is not very common, black and white Newfoundland dogs have an interesting history.
This coloration is also known as 'Landseer'. But it shouldn't be confused with the Landseer European Continental Type, which is a completely different breed of dog!
Black and white is an accepted AKC color for the Newfoundland breed. But does the white Newfoundland dog differ in temperament and health?
Let's take a closer look.
About the Newfoundland
Newfies are known for being big, loyal, and patient dogs. They can grow up to an impressive 150 pounds as an adult, reaching up to 28 inches tall.
This breed has a history of working alongside Canadian fishermen on boats. They were most commonly used for water rescues, thanks to their natural strength and swimming abilities.
But, alongside this, they helped the fishermen bring their nets to land, and their catches to market!
Plus, a Newfoundland called Seaman accompanied Lewis and Clarke on their famous expedition across America.
But let's take a closer look at coat color.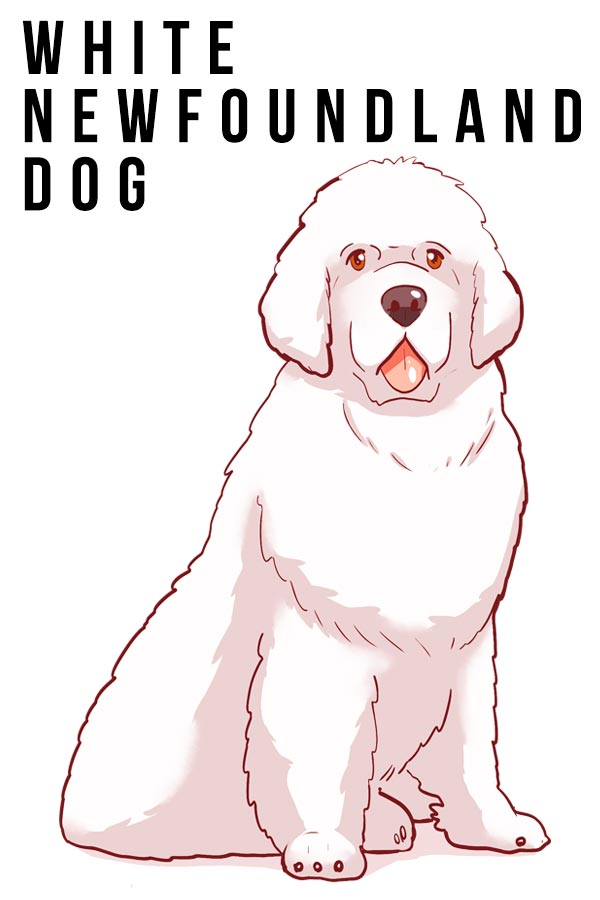 Newfoundland Colors
The AKC accepts the four following standard colors:
Black
Brown
Gray
Black and white
So, black and white Newfoundland dogs can even be shown. White markings are also accepted on the chin, chest, toes, and tip of the tail on solid colored Newfies.
But, completely white Newfoundland dogs are not accepted.
The black and white Newfoundland dog coloration is also known as 'landseer'. But what is this pattern like in Newfies?
The Landseer Newfoundland
Landseer Newfoundlands have a black base coat and white markings.
Genetically it is always this way round, even when a landseer Newfie has more white than black in their coat!
The white markings are usually clear, but you may find some ticking.
Black and white Newfoundland dogs often have a black head. But they may have a white blaze or white muzzle.
Other common black markings include a saddle and a black rump.
Where the Name Comes From
If you're wondering about the history of the landseer coloration – look no further!
The term was coined by a Victorian dog fancier named Dr. William Gordon Stables, after the many black and white Newfoundland dog paintings by Sir Edwin Landseer.
White and black landseers were around before the term 'landseer' was coined, but Sir Edwin's paintings helped their popularity soar.
However, there can be some confusion. Landseer Newfoundlands are often mixed up with the Landseer European Continental Type dog breed.
Landseer ETC vs Newfoundland
Although both of these dogs are large breeds that sport a black and white coat, there are some subtle differences that you can look out for.
According to the Federation Cynologique Internationale, the Landseer ETC comes from the Germany/Switzerland area in Europe.
These two breeds have similar appearances. But the Landseer ETC will have longer legs than the Newfoundland.
This can be hard to see when the dogs are not fully grown!
So, if you're looking for a Landseer Newfoundland, make sure to clarify whilst you're searching!
All White Newfoundland
Solid white is not an AKC accepted color in the Newfoundland breed. It's also pretty uncommon to stumble across.
But, every dog is different. So even if you can't find a completely white one, you may find a black and white Newfoundland dog with very little black fur!
However, be wary of breeders who breed specifically for an all-white coat. Some breeders will only breed for the profit of 'rare' colors, regardless of the dog's health.
If you're keen to find a big, all-white fluffy dog, you might want to check out the Great Pyrenees.
White Newfoundland Appearance
Apart from coat color, a black and white Newfoundland dog will look the same as any other Newfie.
It will be a large, muscular dog, with a big shaggy, double coat.
Your Newfie will have a large head, long tail, and big webbed paws that are perfect for swimming.
But, before getting this dog, you need to remember just how huge it can be! A white Newfoundland dog will be as big as any other type.
And, although they have gentle temperaments, this size can be problematic if you don't train your Newfie well.
So, start socializing and training them from a young age.
White Newfoundland Temperament
As we've briefly mentioned in this article so far, one of the best things about this breed is its temperament.
Regardless of color, Newfoundlands that are trained and socialized properly will be loving, gentle, and outgoing.
These dogs form strong attachments to their families, so are likely to look out for you.
But, because they are such huge dogs, they need to be socialized and trained well from a young age to achieve this brilliant temperament and keep your family and others safe.
White Newfoundland Health
A black and white Newfoundland dog will have the same health needs as any other shade of Newfie.
Here are a few common problems you will need to look out for if you're bringing this breed into your family.
Bloat
Hip and elbow dysplasia
Dilated Cardiomyopathy
Cystinuria
Cataracts
And more. But you can read more about the health of this breed here.
White Newfoundland Grooming
The grooming needs of the black and white Newfoundland are the same as any other shade or pattern.
These dogs have a heavy, double coat. And they shed all year round, and more heavily twice a year. So, be prepared to have a home that is covered in dog fur.
You will need to groom your Newfie once a week to maintain his coat outside of shedding seasons.
But when he starts to shed more heavily, you may need to up this to once a day.
Other grooming needs include clipping nails, checking ears for excess wax, and wiping away any excessive drool.
White Newfoundland Puppies
Do you have your heart set on a white Newfoundland puppy?
If so, you'll need to find a reputable breeder. Make sure to choose a breeder who health checks their dogs. Good breeders will show you any relevant health certificates.
When you visit the breeder, go with a long list of questions, and try to see both parent dogs if possible, to gauge their temperament!
Remember, the health of your puppy is ultimately more important than the color of his fur.
These dogs can range from $1500 to $3000. So you want to be sure you're getting the healthiest breed possible.
White Newfoundland Dog
What is your favorite thing about the black and white Newfoundland dog? Have you ever managed to find an all white Newfoundland?
We would love to hear your opinions and experiences in the comments!
Readers Also Liked
References and Resources
Get Pippa's free dog training tips delivered to your inbox