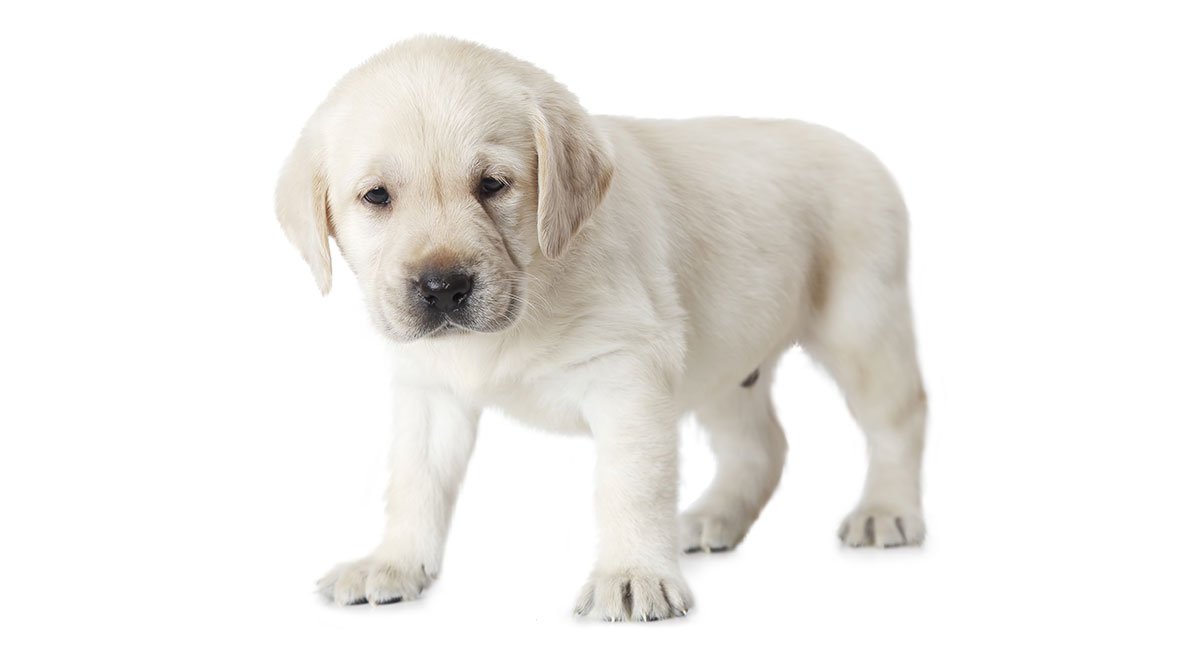 A white Labrador is not a seperate breed. A white Labrador is a yellow Lab whose fur is so pale it appears white, or almost white. Their fur may not be entirely white, and could have darker accents.
White Labradors should have the same general temperament and health as any other color Labrador.
Do you think the white Labrador is a beautiful dog that could be a good companion for you?
There are things you will want to know, though. Is this dog an albino Labrador? What causes that white color, and does it have any impact on a dog's health?
If you have questions, you've come to the right place. Let's take a look at this rare coloring on a popular breed!
Origins of the White Labrador Color
Generally, white Labradors are simply light-colored yellow Labradors.
They will have dark eyes and noses and a distinctive white fur. The fur may not be completely white, though.
Often the fur features accents of cream or yellow, especially at the ears.
A white Labrador is not a separate Lab breed.
And it's not even a real color, since there's no such thing as a real white Labrador. They're really just pale yellow – so pale, they look white.
Labrador Retriever History
Labrador Retrievers are a popular dog breed whose ancestors started out as fishing dogs in Newfoundland. They retrieved ducks for their owners.
There are actually no indigenous dogs in Newfoudland. These Canadian duck dogs probably originated from English water dog breeds.
Eventually, British breeders discovered them as they were imported back to England. The second Earl of Malmesbury and his son called them Labrador dogs.
Labrador retrievers were recognized by The Kennel Club in England in 1903 and the American Kennel Club in 1917. They've been American's most popular dog since 1991.
Original Labrador Colors
Originally, Labs were predominantly black.
Black is one of three colors that naturally shows up in Labrador puppies. Black, yellow, and brown are the others.
Of course, within those three colors, there are many shades.
The white Labrador is one of them! But there are others, like the silver Lab!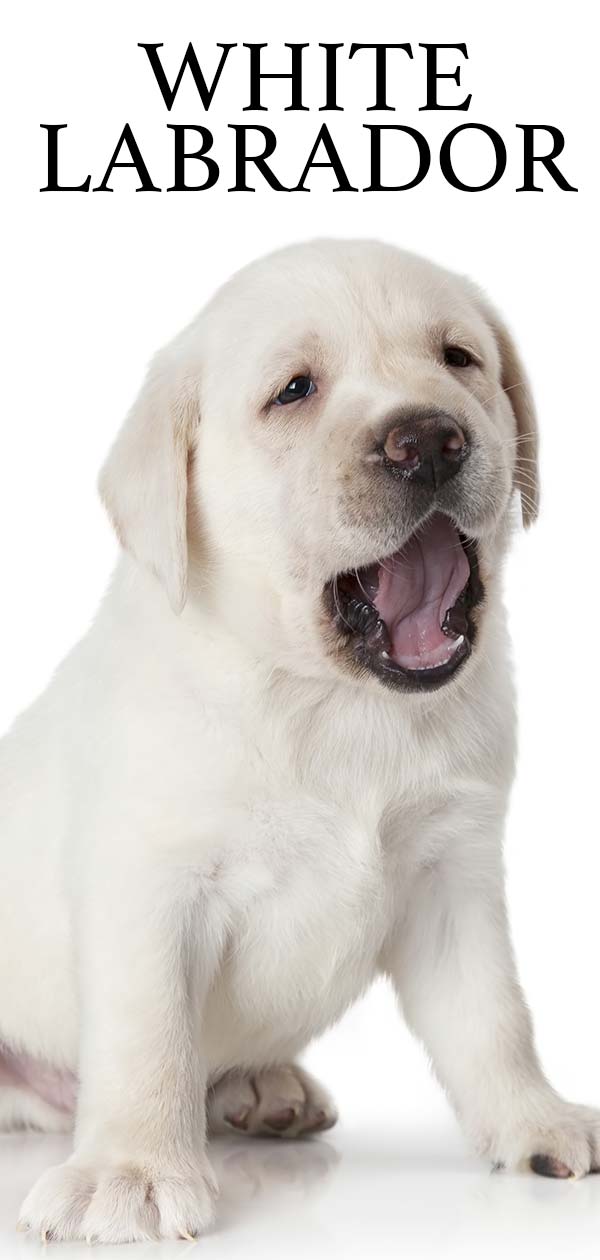 Labrador Retriever Color Coat Genetics
First, it's important to note that white Labrador Retrievers are not albinos. Albinos lack all pigment.
Albino dogs have red eyes and noses, whereas white Labrador Retrievers have dark pigment in those areas.
White hair on dogs happens when the cells don't produce any pigment at all, so a white Labrador is not a true white dog.
White genes for dog color don't exist in Labradors. They only have black, denoted as "B" as well as brown, or "b"; and yellow, or "e."
So How Does it Work?
Each dog gets two alleles to create its appearance. And, because the "e"s are a part of a different locus, they also get two "e" alleles.
The "e" genes can "switch off" the effects of the "B" and "b" genes in order to make your dog yellow.
If your dog has a big "E" gene, it actually nullifies the "e" gene. So, if you have a yellow, you probably have a dog with some combination of "B" and "b", plus two small "e"s.
So a yellow Lab can have a phenotype expressed as "bbee", "Bbee", or "BBee".
What Else do These Genes Control?
There are other genes that control more subtle parts of a dog coat's coloration, of course. For example, in yellow Labs, other pigmentation can occur on the nose, lips, gums, feet, tail, and eye rims.
Separate genes also control the intensity of the black color on the nose. This is independent of that which governs the fur.
In some Labs, the black color of the nose actually fades over time.
Sometimes, a yellow Labrador will have no pigment in the nose, eye rims, and feet. They look pink!
These dogs are called Dudley Labs.
How to get White Labradors
Two yellow Labradors, if mated, will always have yellow puppies.
That's because, as you can see, no yellow Labs have the "E" masking gene.
Otherwise, the dog would not be yellow.
So, a white Labrador will be the result of two yellow Labradors being bred together.
Shades of yellow range all the way from light cream to a fox red, which is the darkest one you can get on a Lab.
Health of the White Labrador Retriever
Labradors are generally fairly healthy dogs. But, they can be predisposed to a variety of inherited conditions.
White Labradors, unless they are true albinos, should have the same health prospects as any Labrador Retriever.
Albinos suffer from additional health problems, including a higher risk of cancer and visual defects.
General Labrador Health and Lifespan
Labradors generally live 10-12 years. Their general health is affected by exercise, environment, and diet, so the care you give them is important.
Labs are prone to obesity. Obesity can make some joint problems worse, and can lead to osteoarthritis, diabetes, thyroid issues, and other problems.
Other Health Problems
Other problems you may see in white Labradors include:
Hip dysplasia
Elbow dysplasia
Luxating patella
Vision problems, such as progressive renal atrophy and cataracts
Cancer, such as lymphoma
Exercise-induced collapse
Centronuclear myopathy
Atopic dermatitis
Ideopathic epilepsy
You should have your white Labrador tested for vision issues and hip and elbow dysplasia.
White Labrador Appearance
You can't deny that white Labradors are super cute! That white or cream coat with touches of yellow and dark eyes and nose are very endearing.
A White Lab may have those darker shades on their ears, back, and underside.
White Labradors are medium-sized dogs, They are generally about 21-24.5 inches in height, with a weight of 55-80 lbs.
Female Labs tend to weigh on the lower end of the scale, while males are larger.
Appearance and Age
Labs have long, floppy ears and tapered tails. These tails, often referred to as an "otter" tail, are used to maneuver in water – like a rudder.
One thing you should know about white Labs is that their colors may change as they grow. They may get lighter or darker.
So, it's wise not to pin all your hopes on getting a pup of just the right color, without considering that appearances may change.
White Labrador Temperament
The Labrador temperament is one of the reasons people love this dog!
White Labradors are outgoing, tractable, and sweet. They are not aggressive, and can be gentle.
White Labrador Intelligence
Labrador retrievers are also known for being smart. White Labradors are no different.
Their intelligence and temperament make them great therapy dogs, assistance dogs, and detection dogs. They are often preferred for search and rescue work.
They do not, however, make good guard dogs because they are easygoing and trusting with strangers.
Breed Popularity
Labrador Retrievers of any color are considered to be the most popular breed in the world.
The American Kennel Club lists popular breeds each year, and the Lab has come out on top for decades now.
They are also very popular in places like Australia, Canada, New Zealand, and the U.K.
White Labrador Grooming
Labrador Retrievers have a double coat that's dense and waterproof on the outside, and soft and warm on the inside.
They shed seasonally, but they also lose hair year round. The amount often depends on the dog.
Aim for brushing once or twice a week. Rake out the inner coat, and comb through the outer to reduce matting.
Getting out the dead hairs will limit shedding, and encourage the growth of new hair.
Combing will also help spread the natural oils in the hair that keeps Lab hair shiny and repels water.
Bathing strips away those natural oils, so do that infrequently.
White Labrador Training
Labradors, like all dogs, benefit from socialization and training.
Their high levels of energy make training helpful to exercise their minds as well as their bodies. Labradors have a great deal of strength which makes socialization necessary.
Their eagerness to please makes training easier than with some breeds.
Start socialization and obedience training early.
Remember that white Labradors want to be part of the family, so make sure they have the tools to be included.
Good training also reduces the chances that your Lab will develop nervous, destructive behaviors.
White Labrador Activity
White Labs have high energy levels that must be channeled properly.
That's one reason so many Labradors have jobs helping others. They like being active, and they are built for it.
Agility and obedience activities, or swimming and a good long run with a human, are great ways to expend that energy.
Labs are enthusiastic and loyal and will take to all kinds of activity with gusto. Just make sure to watch for overexertion.
White Labrador Puppies
Finding a breeder of white Lab puppies won't be difficult. Look online, and ask your social networks about breeders they like.
Make sure to vet your breeder properly.
You don't want to find that the breeder has focused on perfecting color, to the detriment of health or personality.
Before You Buy!
Before you fall in love with a white Lab puppy, make sure both of its parents have been health tested, and that their temperaments match your needs.
Make sure you like the breeder and the conditions under which your puppy is being brought up.
Remember that while you love the color, it may change over time. Choose your puppy carefully by taking into account factors other than appearance. Weigh up the pros and cons of getting a Lab puppy.
Bringing a pup home is a big decision, and you have to consider so many things before you adopt! Make sure you choose the right products, like a great dog bed, if you do decide to get one.
References and Resources
Puget Sound Labrador Retriever Association, Breed History.
Buzhardt, L. Genetics Basics – Coat Color Genetics in Dogs. VCA Hospitals.
Cornell University Department of Animal Science, Basic Animal Genetics.
Lofgren, S. E. et al (2014). Management and personality in Labrador Retriever dogs. Applied Animal Behavior Science, 156.
Templeton, J. W. et al (1977). Coat color genetics in the Labrador retriever. Journal of Heredity, 68(2).
Get Pippa's free dog training tips delivered to your inbox