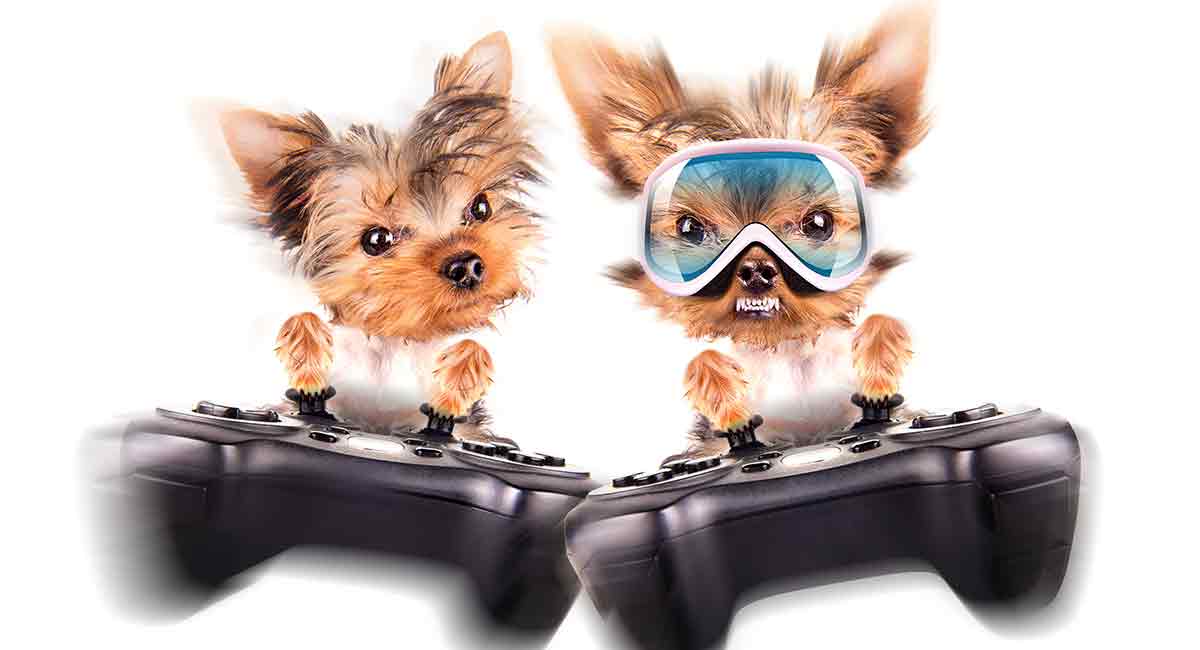 Madison Guthrie rounds up some of the cutest, coolest, and kitsch-est video game dog names for your gaming inspired pup.
Are video games your thing? And are dogs your thing too? Then why not give your new puppy one of these perfect video game dog names?
If you've just brought home a brand-new pup and are dying to name your new pal after your favorite pastime, this article is for you!
To help you out, we've compiled a list of over 150 gamer-approved names perfect for your paw-some gaming pooch below.
So, are you ready to have the coolest dog with the best game-inspired name in your circle? Perfect! Let's see if we can help you find it!
Naming Your Video Game Dog, Puppy or Rescue Dog
As video games are increasing in popularity, video game dog names have become super trendy.
So, whether you have a new puppy coming into your life or you're adopting a rescue, you'll want your dog to be a reflection of who you are and what you love!
However, there is only one place to go when you're on the hunt for the perfect video game name for your one-of-a-kind canine!
And this is it! So, are you ready to get started? Then, keep reading!
Best Video Game Dog Names
Need a list of the best, most obvious video game dog names that won't need explaining?
Maybe you want to give your pup a moniker that won't lead to confused looks from all those newbs in your life.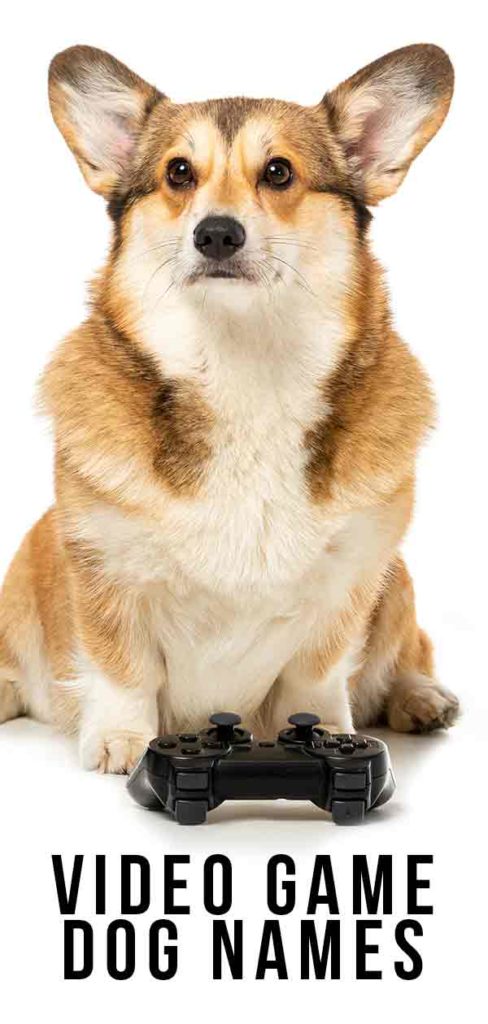 No worries, we've got a list of video game dog names even the novice gamer will recognize at the dog park.
With names for both males and females, you can easily pick your favorite popular video game dog name below!
Sonic
Zelda
Mario
Atari
Luigi
Xbox
Nintendo
Cortana
PacMan
Luna
Tetris
Kairi
Yoshi
Dreamcast
Halo
Peach
Sega
Genie
Crash
Arcade
Female Video Game Dog Names
We love this list of sassy video game names perfect for that feisty furry female in your life. However, keep in mind that there are no rules here.
If you find that one of these names below suits your male pooch, by all means, name away!
Sonya
Blade
Lara
Croft
Vivi
Senyatta
LAN
D.Va
Pharah
Quest
Kitana
Shanoa
Pong
Arya
ZugZug
Joana
Kitana
Ruby
Eve
Zoe
Fable
Fenix
But what if you have a male dog on your hands who needs a video game name? Don't worry, we've got you covered.
Read on for the best male video game dog names we could find!
Male Video Game Dog Names
Perhaps your pup is a true man's dog. Maybe he's all muscle and fang. Or maybe he's tiny but has a big, manly personality.
Or he may even be a she and you're a free spirit who isn't controlled by gender conformity!
Either way, we've got your list of traditionally male video game dog names right here!
Diddy Kong
Cloud
Spyro
Snake
Miles "Tails" Prower
Wario
Tracer
Wedge
Prince
Zone
Ryu
Lucca
Kirby
Nanaki
Leon
Kennedy
Raynor
Samus
Squall
Chief
Ganon
Cool Video Game Dog Names
If your pup is as cool as an ice rink then they need a name to match. But what are the coolest video game names around for a dog as awesome as yours?
Why don't you take a look at these twenty names for your totally rad gamer dog?
Tifa
Yuna
Zenyatta
Raiden
Lightning
Tidus
Reboot
Link
Twitch
Retro
Rumble
Ridley
Cortana
Dixie
Biggs
Ash
Alyx
Dante
King
Koopa
Cute Video Game Dog Names
Enough with the cool. Let's talk about the cute!
If your dog is as precious as they come, you just know you're going to need a name that reflects their darling personality.
At the same, if you want a name that highlights your passion for gaming, this next list is for you.
Read on for a list of twenty adorable dog names inspired by our favorite video games!
Squirtle
Princess
Peaches
Lulu
Daphne
Pikachu
Moogle
Nook
BOY
Mog
Angel
Ilo
Milo
Toadstool
Ghost
Toadette
Donkey
Yuna
Ellie
Chloe
Not satisfied with our list of cute video game names for dogs?
Funny Video Game Dog Names
For the gamers who are also comedians, we suggest you take a gander at our list of twenty funny and ironic video game names for dogs.
Whether it's gaming lingo that gets you giggling or ridiculous character names that are perfect for your new pup, these names will be sure to put a smile on your face.
Newbie
Pixel
Parasite Eve
Banjo-Kazooie
Sandbox
SIM
Aimbot
Haxzor
Nerf
Wonder Dog
Nintendog
Black Panther
Fable
Spiderman
Wolverine
Hedgehog
Portal
Wii-Wii
Level Up
Pause
Unique Video Game Dog Names
Are you fed up of trends?
Just because you're into popular video games doesn't mean you have to name your dog something uber predictable.
Here are loads of unique video game dog names for your one-of-a-kind dog.
Player 2
Okami
MUD
Adventure
One-Up
Keyboard
Action
Battle Pass
Bonus
Chiptune
Avatar
Game On
Console
Clone
Gamer
Hacker
Hitbox
Nuke
Level
Healer
Tough Video Game Dog Names
Whether you have a Great Dane or a Chihuahua on your hands, your dog is a tough guy, right?
He's resilient and totally badass and in need of a name that lets everybody know off the top he means business!
If this sounds like your dog, then this list of twenty tough-dog video game names is for you!
Vadar
Wario
Bowser
Rush
Game Over
D-Dog
Diablo
Doom
Alpha
Thore
Glitch
Byte
Immortal
Jax
Kratos
Villian
Dormin
Shao Kahn
Missle
Gravity
Fun Facts About Video Game Dog Names
Did you know that the first video game ever invented was created by physicist William Higinbotham in 1958?
That's right! So, all you gamers out there have Mr. Higinbotham to thank for your favorite past time.
And video games are no longer a human-only sport.
Some experts have come together to invent apps and devices that work like dog-friendly video games to keep your pooch busy while you're away!
Why not share your favorite hobby with your furry best friend?
Have You Found the Perfect Video Game Dog Name for Your Pup?
We would love to hear which of the above names tickled your fancy!
Tell us in the comments below!
Get Pippa's free dog training tips delivered to your inbox