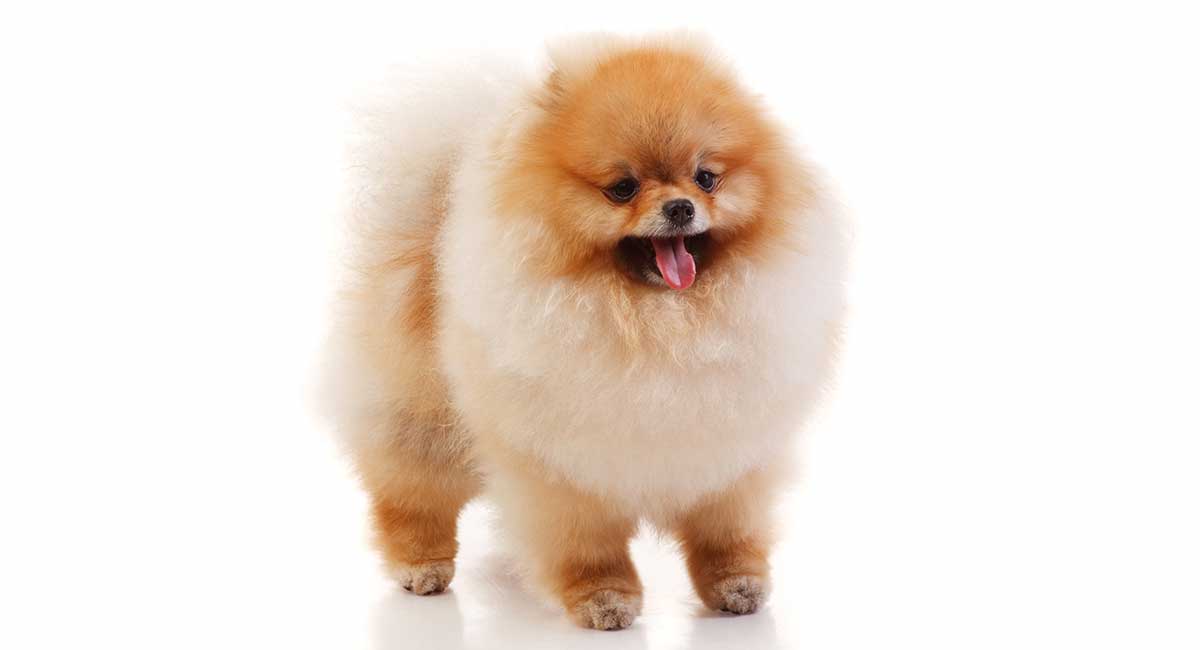 The Teacup Pomeranian is a miniature version of the well-known Pomeranian, or 'Pom'.
The distinctive little Pomeranian is known for its dense double coat, larger-than-life personality, and fox-like features.
Favored by royalty, including Queen Victoria, the Pomeranian is intelligent and loves companionship.
They are also vocal and loyal. A throwback to their heritage as a guard dog for protecting livestock.
While Pomeranians are already very small dogs, the Teacup Pomeranian is specially bred to be even smaller.
In this article, we'll discover exactly how the size of a particular breed can be decreased.
We'll also take a close look at the potential problems this can cause.
The Appeal of the Teacup Pomeranian
There's no denying that puppies and small dogs are adorable.
Of course, Teacup Pomeranians stay smaller than the average puppy. They often don't weigh more than 3 lbs when fully grown.
From a practical point of view, having a teacup dog can seem like an advantage.
You might anticipate shorter walks, lower feed bills, and potentially less maintenance compared to owning a larger dog.
Many people hope smaller dogs will be easier to take care of, But bear in mind their small bodies often contain large personalities!
The attention that comes with having a tiny Teacup Pomeranian is definitely appealing to some potential owners as well.
Where do Teacup Pomeranians Come From?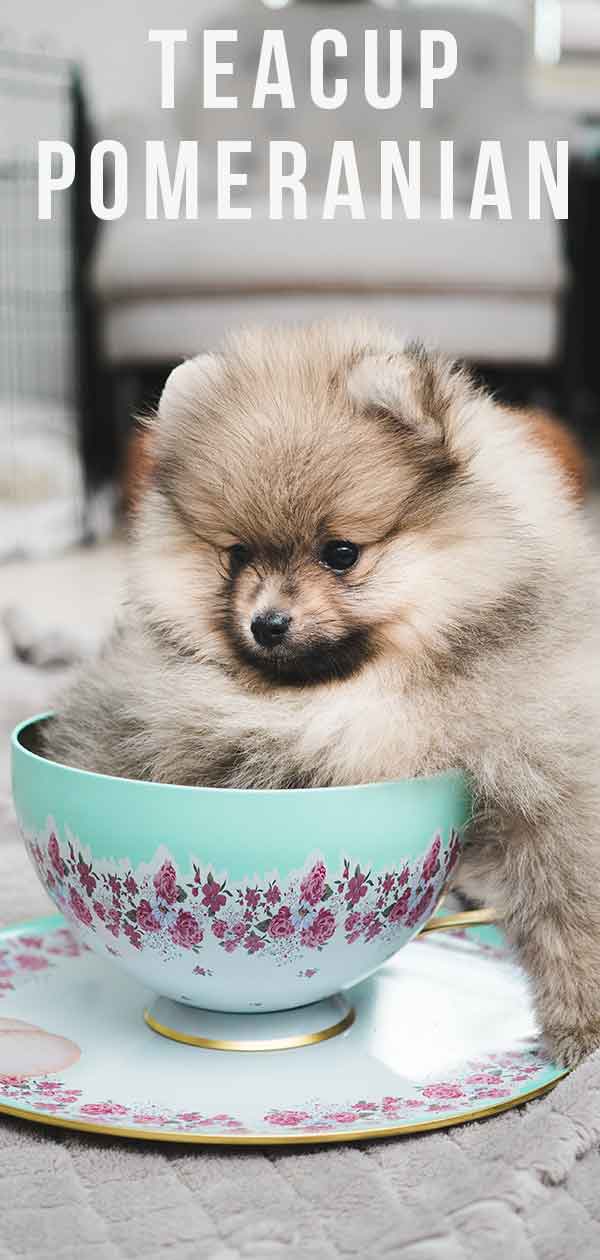 As we already mentioned, Pomeranians are a small breed belonging to the Toy Group, usually weighing between just 3 and 7 lbs.
This means that often a Teacup Pomeranian will weigh around 3 lbs or less. But how do breeders go about making a miniature version of a specific breed?
There are three main ways to go about this. And we'll look at each one.
Mixing with a Smaller Breed
The first option for creating a Teacup Pomeranian is to crossbreed with another small breed of dog.
Breeds that could potentially be used include the Chihuahua, Yorkshire Terrier, and the Maltese.
You can read more about some popular Pomeranian mixes here.
The hope is that by breeding the Pomeranian with another small breed, the puppies will be tinier than their parents.
But bear in mind, the Pomeranian is already one of the smallest dogs out there. So this method may not actually be that effective in this case.
If you're concerned that creating a crossbreed would affect the pedigree of a Teacup Pomeranian, it is important to know that the American Kennel Club does not register or endorse teacup breeds.
The American Pomeranian Club also does not recognize the terms 'toy' or 'teacup' Pomeranian.
Introducing the Dwarfism Gene
The next option is to use the gene for dwarfism to make a particular breed smaller.
This gene is common in short-legged dogs such as the Corgi and Dachshund.
Rather than make the body smaller, the gene actually acts to shorten the legs of the dog. This is also known as Achondroplasia, a type of osteochondrodysplasia.
Unfortunately, selecting this gene with the intention of 'shrinking' a dog's legs can bring with it a host of other health issues.
These can include:
Larger than normal heads
Abnormal bone shape
Enlarged joints
Undershot jaw, or crooked teeth
Poor growth
Sideways bowing of the forelegs
Spinal deviation
Dwarfism is considered a skeletal defect, and as such, can cause pain in both the legs and spine.
Dogs with dwarfism are more likely to develop arthritis as they grow older.
They may also become obese. Perhaps due to discomfort which discourages them from being too active.
The additional weight they carry will also put extra strain on their joints, which may potentially increase their discomfort.
Teacup Pomeranians that are bred using the dwarfism gene may need additional veterinary care to manage any issues arising from their shorter legs.
Breeding from Runts
The third technique used to produce Teacup Pomeranians is to breed the runts of separate litters with each other.
Within most litters, there's usually a puppy that is smaller than the rest, known as the runt.
By selecting and breeding two Pomeranian runts (once they are mature) the hope is that the resulting puppies will be even smaller than their parents.
This method retains the purebred characteristics of the breed. But can take years of breeding over successive generations to achieve a result.
One problem with this technique is that because dogs are being selected for breeding due to their small size, other health considerations may be overlooked by less reputable breeders.
Any of these three methods can leave your Teacup Pomeranian at risk of developing a number of health issues.
Let's consider those next, along with whether you can offer the care and attention a Teacup Pomeranian will need over the course of its life.
Is a Teacup Pomeranian Right for Me?
It can be tempting to decide on buying a Teacup Pomeranian due to their cuteness alone. But we recommend taking a thorough look at all the potential pitfalls of having a tiny dog.
If after considering these carefully, you believe you can offer a Teacup Pomeranian a safe home for the duration of their life, then you may decide they're still the right dog for you.
The health risks for teacup dogs can be significantly greater than either a full-size Pomeranian or many other breeds.
Due to the fact that they have been selectively bred to prioritize their size, other health issues may have been overlooked.
From an ethical point of view, it's difficult to recommend buying one of these dogs.
Pomeranian Health Concerns
As well as the potential issues that may face you tiny Teacup Pomeranian if they've been bred using the dwarfism gene, common health problems for Pomeranian dogs include:
Luxating patella
Hip and elbow dysplasia
Eye problems, including ectropion, dry eye, and cataracts
Collapsed trachea
Ear infections
Skin disorders, such as alopecia
Hydrocephalus
You can read the full health statement from the American Pomeranian Club here.
And you can read our full review of the Pomeranian breed here.
Any miniature breed can also suffer from hypoglycemia. This is where their blood sugar level drops dangerously low if they miss a meal.
Additional Care Requirements of the Teacup Pomeranian
Because their stomachs are so small, Teacup Pomeranian will need only a small amount of food but often.
So it's important to make sure your puppy has access to food at all times.
This could mean using an automatic dog feeder to release food at pre-timed intervals or making sure their bowl is never empty.
You may also need to keep an eye on their body temperature. This is one reason you sometimes see teacup dogs in jackets.
Veterinarians find that teacup dogs can be harder to operate on.
This is due to the fact that their blood sugar levels are so delicate. Combined with the fact that they can have more problems maintaining their body temperature than larger dogs.
As a rule, Pomeranians don't like being left alone. If you work away from home all day, this is an important consideration.
Because of the risk of tracheal collapse, it's important to use a body harness to walk your Teacup Pomeranian. Rather than a traditional collar.
Teacup Pomeranians can be far more expensive than many other dogs. Some breeders capitalize on the 'teacup' tag and charge a premium for this.
Pomeranians, in general, are not necessarily suited to life with children. They are fragile and can be accidentally injured by rough play, or being dropped.
This is even truer for a Teacup Pomeranian.
Finding a Healthy Teacup Pomeranian
Remember that as we mentioned before, the Teacup Pomeranian isn't a specific breed. It's just a title given to a smaller, sometimes crossbred, version of a Pomeranian.
You may also see them advertised as Mini Pomeranians or Micro Pomeranians.
We recommend focusing on selecting a dog from a breeder who focuses on the health and temperament of puppies.
Be aware that if you have your heart set on finding a Teacup Pomeranian, this may not always be the case.
Ask yourself if you're comfortable with using a breeder who prioritizes breeding for small size over health.
Any reputable breeder should be happy to talk to you about how they bred their Teacup Pomeranians. And to provide a range of health tests.
Ask to meet both parent dogs. And speak to the breeder about any concerns you may have about how to best meet the needs of your tiny puppy.
It's probably a better idea to use a full-sized Pomeranian breeder who produces puppies within the weight limit set by the breed standard.
Final Thoughts
If after everything you've read you still love the idea of having a Teacup Pomeranian but aren't happy about encouraging breeders to keep producing these tiny dogs, there is another option.
You may be able to find a Teacup Pomeranian that has been given up for adoption.
Many people who take on tiny teacup dogs soon realize they don't have the time or understanding of how to deal with these little dogs.
Wolf Spirit Rescue specializes in re-homing toy breeds in the US, as does Clive Glen Small Dog Rescue in the UK.
Bear in mind that the term 'teacup' is often just used as a marketing ploy to encourage potential buyers to pay more.
We always recommend making the health and temperament of any puppy your first priority, rather than their size.
Do you have any experiences with the Teacup Pomeranian? Or perhaps another breed of Teacup dog? We'd love to hear your story in the comments below.
References and Further Reading
Cerundolo et al. 2007. Alopecia in Pomeranians and miniature Poodles in association with high urinary corticoid: creatinine ratios and resistance to glucocorticoid feedback. The Veterinary Record.
Mooney and Hammond. 2015. Hypoadrenocorticism in a kindred of Pomeranian Dogs. The Canadian Veterinary Journal.
Oliveira et al. 2011. Retrospective Review of Congenital Heart Disease in 976 Dogs. Journal of Veterinary Internal Medicine.
Get Pippa's free dog training tips delivered to your inbox