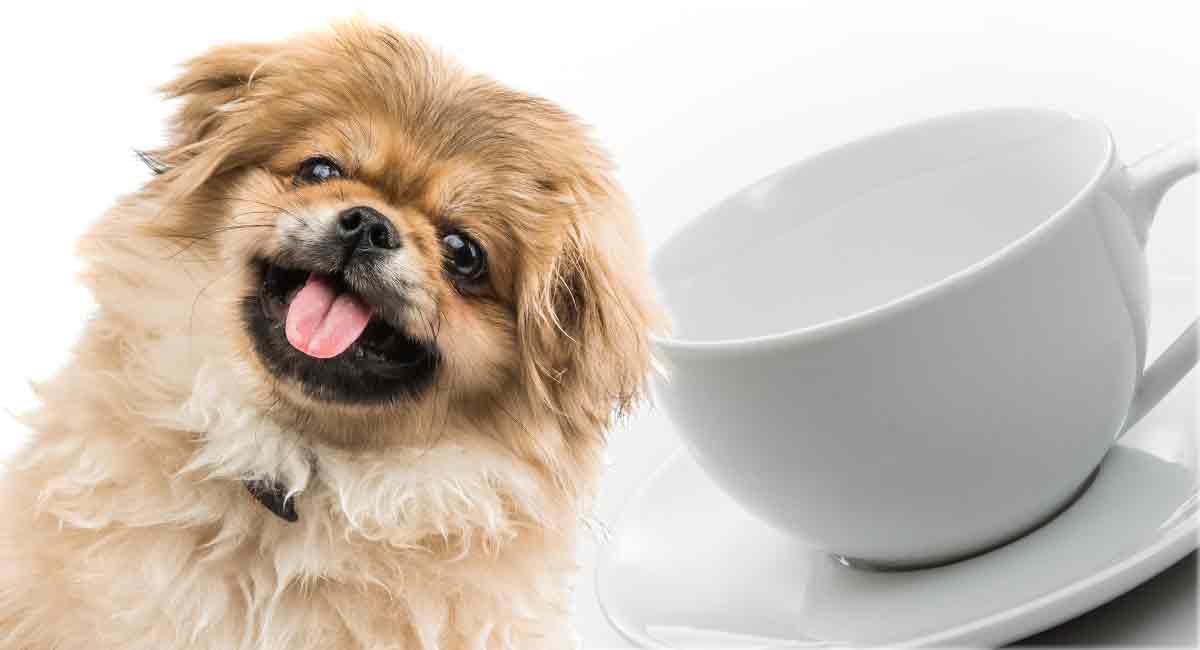 Have you ever heard of a Teacup Pekingese?
The regal Pekingese is instantly recognizable for their abundant "lion's mane" and distinctive rolling gait.
Although this toy dog is already pretty small, there's a version so tiny that they can literally fit in a teacup.
Have you ever wondered how you get a teacup Pekingese?
What Is a Teacup Pekingese?
First, it's important to know that a teacup Pekingese is not a separate breed.
They are simply a Pekingese who was bred to be smaller than average.
A typical Pekingese
A full grown Pekingese measures just 6 to 9 inches and weighs up to 14 pounds.
Though small, their build is stocky and well-balanced.
Pekingese are known for being loyal, bold, and independent.
Their profuse, straight coat is longest at the neck and shoulders and comes in a variety of red shades. Although, you can also get a black Pekingese!
The head is large, flat at the top, and wider than it is long.
Their flat face and slightly bulging eyes are the result of being brachycephalic.
This means they have a shortened skull.
While very cute, this causes a multitude of health issues, some severe enough to impact their quality of life.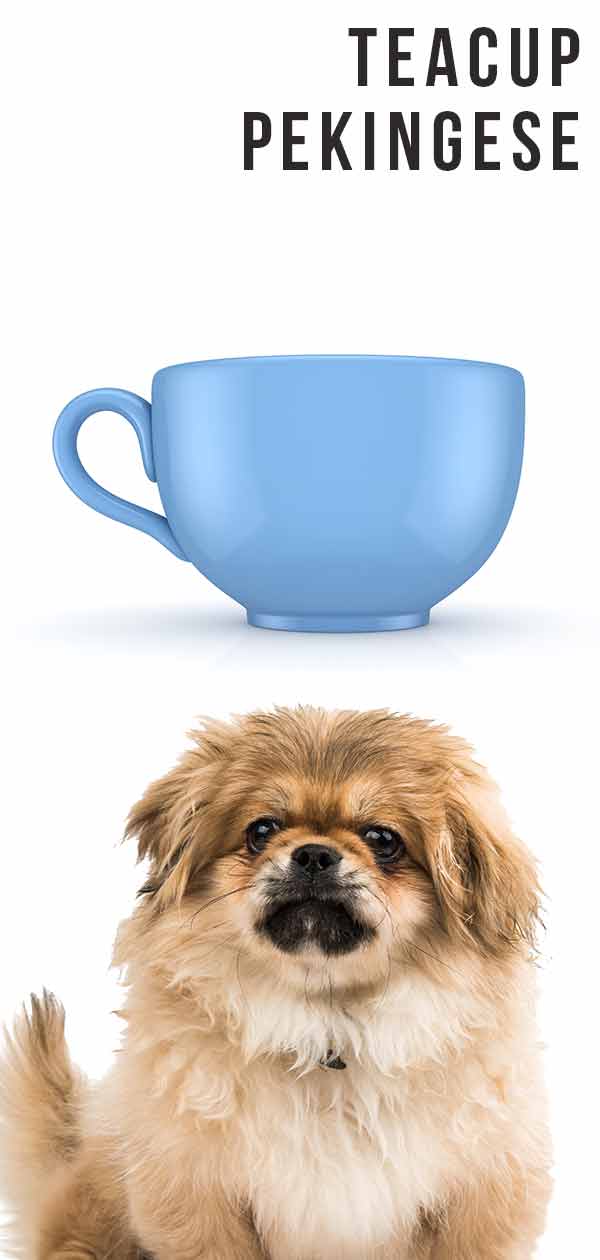 The Appeal of the Teacup Pekingese
One look at a teacup-sized pooch and it's easy to see the appeal of a dog that's so little.
A teacup Pekingese can fit right in the palm of your hand.
You can take them anywhere.
You've probably seen celebrities toting these mini pups around in a handbag like the latest fashion accessory.
There's also a practical consideration if you live in a small apartment.
A little dog doesn't need much space, exercise, or food.
Pekingese Origins
The Pekingese is one of the world's oldest dog breeds.
Their auspicious origins date back to ancient China.
Flat-faced breeds like the Pekingese, Pug, and Shih Tzu were the favored lapdogs of Chinese nobility.
It's said that stealing one was punishable by death.
According to Chinese legend, the breed was created when Buddha miniaturized a lion down to dog size.
Mythical meanderings aside, it is likely that Pekingese were bred down to toy size from a larger dog breed.
The process of miniaturization is nothing new.
Where Do Teacup Pekingese Come From?
There are essentially three ways to miniaturize a dog:
Mix with a smaller breed
Introduce the gene for dwarfism
Repeatedly breed from smaller and smaller dogs
Each of these methods comes with risks.
We'll look into each separately.
Mixing with a Smaller Breed
One way to miniaturize the Pekingese is to mix it with a smaller dog breed.
The upside to this practice is that it can reduce the chance of genetic disorders being passed down to the puppies.
Crossing a Pekingese with a breed that has a longer muzzle could potentially create a healthier dog.
The downside to mixed breeding is that the outcome can be arbitrary.
The puppies might not look anything like a teacup Pekingese.
Trying to make a smaller Pekingese can be tricky.
Because this is already a very small dog, not a lot of breeds would make them smaller than they already are.
Here are some small Pekingese mixes:
Peekapoo
The adorably named Peekapoo is the Pekingese crossed with a Miniature or Toy Poodle.
This popular mix is one of the oldest designer dogs.
Both breeds are typically outgoing and playful, which makes for an excellent companion.
Their coat is often wavy but can also be curly or long and straight.
They could be low-shedding if they take after the Poodle.
The Peekapoo can stand up to 11 inches and weigh from 4 to 20 pounds.
Cheeks
This mix unites the loyal Pekingese with the feisty Chihuahua.
Since Chis are the smallest breed, there's a chance this combination could create a teacup Pekingese.
Cheeks typically weigh between 3 and 9 pounds.
Their coat is usually long but can also be short, and it comes in a multitude of colors.
A wide round head will feature large dark eyes and ears that can be floppy or straight.
Yorkinese
Crossing a Yorkshire Terrier with a Pekingese may also produce a smaller dog.
This is sure to be a little dog packed with personality.
Their long coat and bushy tail will require daily brushing.
The Yorkinese will stand from 6 to 9 inches and weigh from 5 to 14 pounds.
Introducing the Dwarfism Gene
Another way to make a smaller dog is to deliberately introduce a dwarfism gene.
A type of dwarfism called chondrodysplasia already affects the Pekingese.
This genetic condition is why they have short, curved legs.
Unfortunately, there are a number of health problems associated with their structure including:
Heart abnormalities
Enlarged joints
Curved spine
Intervertebral disc disease (IVDD)
Breeding From Runts
The practice of repeatedly breeding from runts is a common way to get a teacup Pekingese.
This keeps the bloodlines pure in terms of appearance and temperament and is a sure way to get a smaller dog.
However, this method can lead to a long list of health problems.
When a dog is born underweight, there's a reason.
While some runt puppies will grow up to be normal, often these dogs have a developmental defect or underlying health problems.
Breeding two unhealthy dogs together has a high probability of passing along these defects to their offspring.
The Life of a Brachycephalic Dog
Being brachycephalic is no fun for a dog.
Brachycephalic airway obstructive syndrome is a condition that results in varying degrees of upper respiratory problems.
The skulls of brachycephalic dogs like the Pekingese don't have enough space.
The nostrils are too small and the soft palate is too long, which creates respiratory problems.
Hot, humid weather can make it even harder to breathe, as can excessive exercise.
Because there's not enough room in the jaw, they're also prone to dental problems.
Their conformation puts them at risk for some serious eye conditions, including corneal ulcers.
Excessive facial wrinkling leaves them susceptible to skin infections.
These deep skin folds tend to store moisture and can become a breeding ground for bacteria, which leads to skin fold dermatitis.
Other Teacup Pekingese Health Problems
Degenerative mitral valve disease (DMVD) affects approximately one third of all dogs, and the Pekingese is highly predisposed.
This congenital condition is chronic and progressive.
A heart murmur is often the initial sign and can eventually lead to heart failure.
This is a leading cause of death among older Pekingese.
The breed is also at a high risk of developing intervertebral disc disease (IVDD) due to having the skeletal disorder known as chondrodysplasia.
IVDD is a painful disease of the spinal cord that causes one or more of the discs to burst or rupture.
In severe cases it can lead to paralysis.
Ear troubles
The heavily feathered, floppy ears of the Pekingese also cause them some problems.
While ear infections may not sound serious, if left untreated they can lead to internal problems and even hearing loss.
Keeping their ears dry is the best way to avoid infection.
Is a Teacup Pekingese Right For Me?
As you can see, the Pekingese suffers from quite a few health concerns, most of which are caused by structural defects.
When you consider that most teacup Pekingese puppies will be the result of mating two very small runts together, you realize that the risk of health problems can skyrocket.
Are you prepared for the heartache and high vet bills that can result from owning a dog that's so susceptible to health problems?
In addition to being prone to so many health concerns, their tiny size means their bones are fragile and easily injured.
Remember that so-called teacup dogs are not a breed or recognized by any of the major dog breed registries.
This is a carefully crafted marketing scheme designed to convince buyers that tiny dogs are rare and worthy of a higher price tag.
Finding a Teacup Pekingese
If you still feel that the teacup Pekingese is the right dog for you, choose one that's been crossed with a breed that has a longer muzzle.
Finding a reputable breeder who has teacup Pekingese will be difficult.
Visit where the dogs live and inquire about the methods used to create such a small puppy.
Seeing the parents and having proof that they've both been health tested and cleared for inherited conditions is crucial.
Respectable breeders will be well-versed in the controversy surrounding miniaturization and will be able to answer all of your questions.
If not, it might be a good idea to look elsewhere.
Shelters and rescues are excellent places to find a dog.
Remember that even a standard Pekingese is a very small dog.
The breed is known for developing a close bond with their favorite person, and they're the perfect size for snuggling in your lap.
References and Resources
Gray, MM, et al., "The IGF1 small dog haplotype is derived from Middle Eastern grey wolves," BMC Biology, 2010
Parker, HG, et al., "An Expressed Fgf4 Retrogene Is Associated with Breed-Defining Chondrodysplasia in Domestic Dogs," Science, 2009
Wykes, PM, "Brachycephalic airway obstructive syndrome," US National Library of Medicine National Institutes of Health, 1991
Packer, RMA, et al., "Impact of Facial Conformation on Canine Health: Brachycephalic Obstructive Airway Syndrome," Public Library of Science, 2015
Oyama MA et al., "Insights into Serotonin Signaling Mechanisms Associated with Canine Degenerative Mitral Valve Disease," Journal of Veterinary Internal Medicine, 2010
Parker, HG, et al., "Myxomatous mitral valve disease in dogs: Does size matter?," Journal of Veterinary Cardiology, Volume 14, Issue 1, 2012
Mason, IS, "Canine pyoderma," Journal of Small Animal Practice, 1991
Priester, WA, "Canine intervertebral disc disease — Occurrence by age, breed, and sex among 8,117 cases," Theriogenology Volume 6, Issues 2–3, 1976
"Chondrodystrophy (CDDY and IVDD Risk) and Chondrodysplasia (CDPA)," UC Davis Medicine
Get Pippa's free dog training tips delivered to your inbox