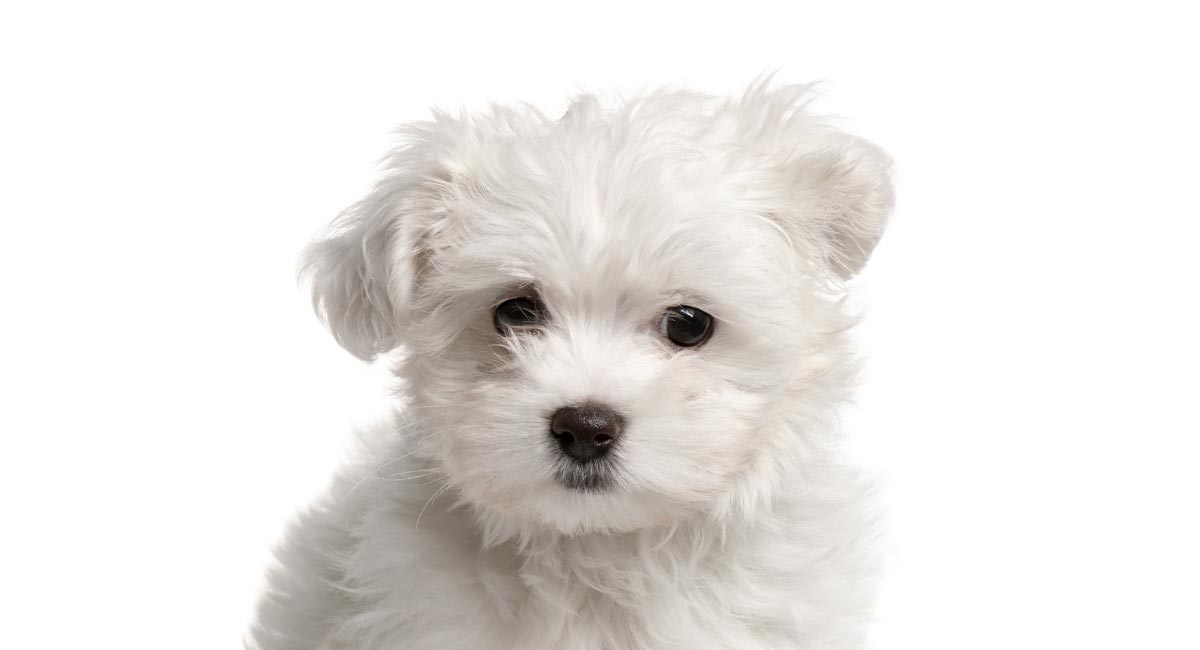 The teacup Maltese is a tinier version of the charming Maltese.
The Maltese, with their magnificent, silky, white floor-length coat, have been a favored lap dog for centuries.
Big, dark eyes, a gumdrop nose, and pendant ears are defining features of this irresistible dog.
The cheerful and charming toy breed stands 7 to 9 inches and weighs under 7 pounds.
This article will look at the ways that dogs are miniaturized to create the tinier teacup Maltese. And the potential problems associated with creating dogs small enough to be termed "teacup".
What is a teacup Maltese
The teacup Maltese is not a breed, just like the teacup version of the Bichon Frise isn't.
They're simply, by accident or design, a smaller version of the Maltese.
Although there's no official size for teacup dogs, they're generally considered to weigh between four and seven pounds when fully grown.
The Appeal of the Teacup Maltese
Miniaturization in dog breeding is nothing new.
Toy breeds like the Maltese have been companions and status symbols of the wealthy since ancient times.
In that regard, not much has changed.
The rich and famous have helped to popularize these tiny pups.
Today, celebrities are often spotted toting tiny pups around like the latest trendy accessory.
The smaller the better?
There seems to be a general consensus that smaller is cuter.
It's like having a puppy who never grows up.
A tiny dog who doesn't need much exercise and can be carried just about anywhere is very appealing for many people.
They seem perfect for those who want a dog, but don't have a lot of space.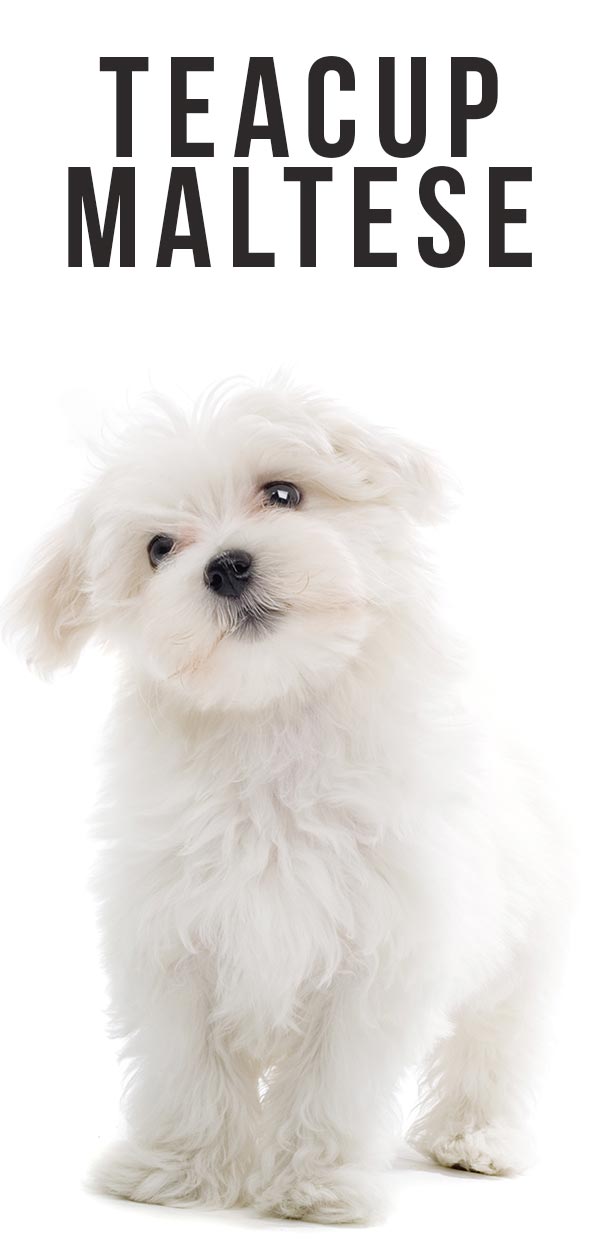 Where Do Teacup Maltese Come From?
If you're wondering how you get a teacup Maltese, there are essentially three very different ways.
The first is to mix a Maltese with a smaller dog.
Introducing the gene for dwarfism will also produce a tinier version of the breed.
The final way is to repeatedly breed together smaller and smaller Maltese.
Each of these methods has its own drawbacks and we'll look into them separately.
Mixing with a Smaller Breed
When you crossbreed two different breeds, you get a hybrid or mixed breed dog.
The major downside to this method is that this is no longer a purebred Maltese.
There's no way of knowing which parent the offspring will resemble in terms of appearance and temperament.
Even puppies from the same litter can look different from each other.
However, the upside is that mixing two different dogs can reduce the incidence of inherited health problems, if the two dogs don't suffer from the same genetic conditions.
When a dog is already as small as the Maltese, there are limited options for mating with an even smaller breed.
However, here are some mixed breeds that could potentially create a teacup Maltese.
Malchi
The Malchi is a cross between the Maltese and the Chihuahua.
This could quite possibly create a tinier Maltese, considering that the Chi is the world's smallest breed.
This petite pup will have a round head that's large in comparison to their tiny, compact body.
Their coat can be long like the Maltese or short like the Chihuahua.
Popular colors include white and tan.
In terms of temperament, expect a loyal dog with a sassy attitude.
The Malchi will not do well around children, because they can be too rough on such a delicate dog.
Morkie
The Morkie crosses the Maltese with the smaller Yorkshire Terrier.
This mixed breed can have a feisty Terrier temperament, or be more gentle and eager to please like the Maltese.
However, both parent breeds are known for their intelligence.
Appearance can vary widely, as these two breeds look quite different.
However, the coats of these two dogs are similar. Their long, silky tresses will require attention to grooming.
Common colors include black, tan, and white.
Morkies typically weigh under 7 pounds.
Maltipoo
Combine the Maltese with a Toy Poodle and you get the Maltipoo.
This is a popular mixed breed, which probably has a lot to do with their lovable, teddy-bear-like appearance.
Both parents are charming and intelligent and this mixed breed is known to make a sweet companion.
Coats can be straight like the Maltese or curly like the Toy Poodle.
A bonus is that these are both low-shedding dogs.
As Toy Poodles weigh between 4 and 6 pounds, there's a chance this will make a smaller Maltese.
Introducing the Dwarfism Gene
Bringing in the gene for dwarfism makes a smaller dog by stunting their growth.
The result is a dog with shorter than normal legs.
This makes the body appear longer and the head larger.
It's a relatively easy way to get a smaller, or teacup, Maltese, this way. But the dwarfism gene is also associated with some serious health conditions.
Intervertebral disc disease (IVDD) is a common health problem for dogs who have a long back and shortened limbs.
This condition causes the discs between the vertebrae to burst or bulge and press on the nerves in the spine.
Extremely painful, it can lead to nerve damage and, in severe cases, paralysis.
Breeding From Runts
Breeding two runts is the third way to miniaturize.
A runt is often defined as being smaller or weaker than the others in the litter.
While these puppies sometimes grow up to be healthy, happy dogs, this is not always the case.
Two smaller than average dogs are likely to create a very small dog, such as a teacup Maltese.
It will also keep the bloodlines pure and ensure the desired physical and behavioral characteristics are intact.
However, it also increases the chances of numerous health problems.
The Maltese breed is already prone to conditions that are also associated with runts.
A liver shunt is a birth defect that allows the blood to flow through the shunt and bypass the liver.
Shunts are often linked to poor growth and can cause abnormal liver function.
Heart anomalies, such as PDA (patent ductus arteriosus), are also a problem for the Maltese.
PDA is a congenital abnormality which causes fluid buildup in the lungs, making breathing difficult, and which can lead to heart failure.
Is the Teacup Maltese Right for Me?
As mentioned, having a teacup Maltese is kind of like having a puppy forever.
This applies not only to their size and appearance, but also to the level of care they require as well.
Teacup dogs need to be fed multiple small meals throughout the day to avoid hypoglycemia.
This means someone will need to be available to feed them roughly every three to four hours.
Tiny dogs that weigh in the four pound range will have fragile bones.
If they're bred from two runts, they'll be even frailer.
Great care must be taken so that they don't jump around, fall from furniture, or get stepped on.
Teacup Maltese Health
Runts often miss out on getting enough of their mother's milk during the crucial first few days of their life.
This can compromise their immune system development.
Other health concerns that can affect teacup dogs include:
Seizures
Respiratory problems
Digestive problems
Tooth decay
Gum disease
Keep in mind that this is in addition to the health problems that already afflict a standard-sized Maltese.
Are you willing and able to provide the level of care a teacup Maltese could require throughout his life?
Finding a Teacup Maltese
You might not have much trouble tracking down teacup Maltese puppies.
In fact, if you do a search on the internet you're sure to find a number of advertisements.
These postings will probably be complete with adorable photos that will melt your heart.
The problem is that most of these tiny dogs will have been bred from two runts.
And you can see the high risk of health problems associated with this practice.
Reputable Breeders
If you do choose to get a teacup Maltese, do your research and ask plenty of questions.
Any reputable breeder will be well aware of the controversy surrounding these tiny puppies.
Steer clear of puppy mills, pet stores, and buying online.
These puppies are sure to be at an even higher risk for health concerns.
Choosing a mixed breed is your best option for a smaller version of the Maltese.
Don't dismiss the possibility of finding the dog you want in a shelter.
Although they may be older, you'll be able to see exactly what you're getting.
Sometimes Bigger Is Better
The reality is that "teacup" is nothing more than an enticing adjective used by some breeders to describe undersized puppies.
You have to admit that teacup sounds much more appealing than underdeveloped or runt.
Teacup dogs like the Maltese version are very popular right now.
It's not surprising that unscrupulous breeders are charging thousands of dollars for these tiny dogs.
High demand ensures that unethical breeders will keep producing smaller and smaller dogs.
Remember that a standard-sized Maltese is still a very little dog.
They're just as adorable and lovable, but without the myriad health concerns associated with a teacup Maltese.
If you have experience with tiny Maltese dogs, let us know in the comments!
References and Resources
Brown, EA, et al., "FGF4 retrogene on CFA12 is responsible for chondrodystrophy and intervertebral disc disease in dogs," PNAS, 2017
Tisdall, PLC, et al., "Post‐prandial serum bile acid concentrations and ammonia tolerance in Maltese dogs with and without hepatic vascular anomalies," Australian Veterinary Journal, 1995
Lee, SG, et al., "Transvenous occlusion of patent ductus arteriosus using an embolization coil in a Maltese dog [2007]," Korea Agricultural Science Digital Library
Payne JD, et al., "Tracheal Collapse," Compendium, 2006
Get Pippa's free dog training tips delivered to your inbox