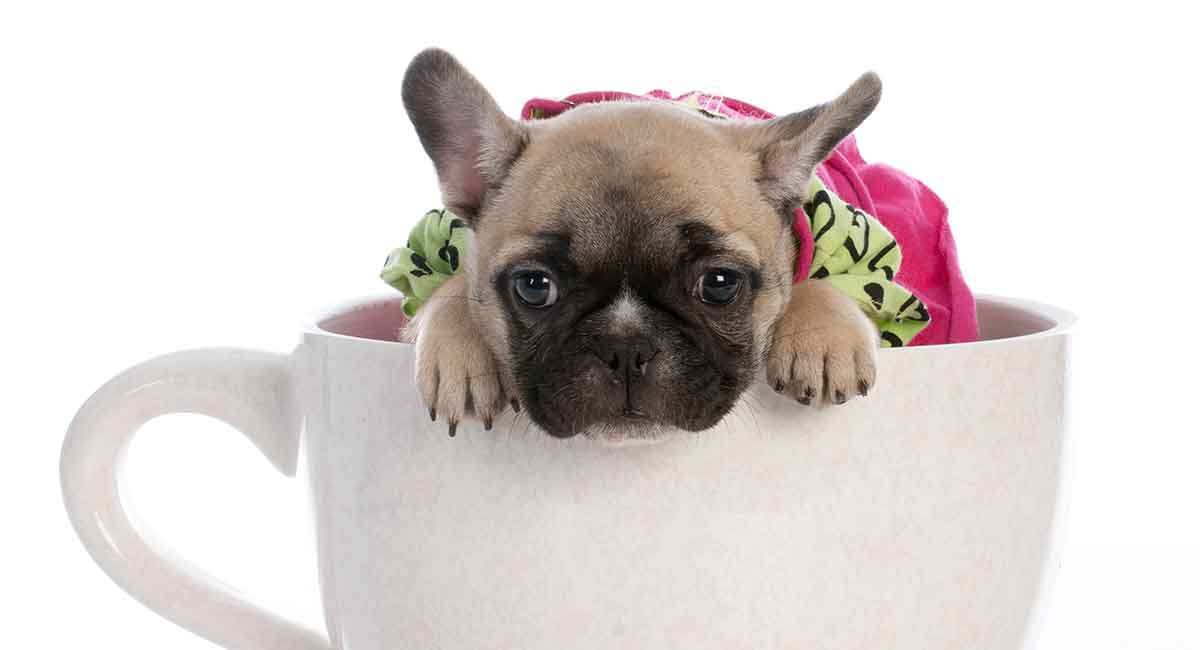 The teacup French Bulldog is an extra small, extra cute, French Bulldog.
But how did they get so small? And what are the advantages and disadvantages of bringing home such a tiny dog?
What Is a Teacup French Bulldog?
Tiny teacup dogs are a fairly recent arrival in the canine world, and they're quickly gaining in popularity.
Teacup is an adjective used by some breeders to describe the undersized puppies of already small breeds.
When you see terms like "teacup" used to describe dogs, it's simply a marketing ploy designed to make small dogs more desirable.
The teacup French Bulldog is not a new breed.
They're merely a French Bulldog who is smaller than the breed standard.
The French Bulldog
In many ways the Frenchie is already a miniature version of the larger English Bulldog, from which they are descended.
In terms of appearance, they both have a compact muscular body sporting a short, glossy coat.
Both dogs also have large square heads that are wrinkled above an extremely short muzzle.
One way that the French Bulldog differs from the English Bulldog is his trademark erect "bat ears."
The dogs are also much smaller.
The French Bulldog stands 11 to 13 inches and weighs under 28 pounds.
The Appeal of the Teacup French Bulldog
There are some practical reasons why people want tiny dogs.
They take up less space in small apartments, they don't need as much exercise, and they eat less.
But the real appeal of making a smaller version of an already small dog seems to have a lot to do with appearance.
The term "teacup" implies that these dogs are small enough to fit in a cup or the palm of your hand.
If you're familiar with the French Bulldog, then you know how cute they are.
So imagine how impressive an extremely scaled down version would be.
French Bulldog Health Problems
The French Bulldog is a breed that faces many health challenges, even before miniaturization.
This UK study found that nearly three quarters of Frenchies under veterinary care in 2013 had at least one disorder.
The breed is prone to a number of health problems that included ocular, respiratory, neurological, and dermatological issues.
The Life of a Brachycephalic Dog
The short muzzle that many people find so desirable makes the French Bulldog a brachycephalic breed.
Many, many dogs who have brachycephaly suffer from brachycephalic obstructive airway syndrome (BOAS).
Because the muzzle is shortened, the soft tissues of the nose and throat have less space.
This causes a narrowing of the upper respiratory tract.
Narrow nostrils or stenotic nares, an excessively long soft palate, and constricted windpipe makes breathing difficult for them.
This is why French Bulldogs snore, snort, and wheeze.
They're also very prone to heat stroke and must not be over-exercised.
Protruding eyes are also caused by brachycephaly, because the skull cannot accommodate them properly.
This leads to eye disorders like corneal ulcers, which can potentially cause blindness.
What's distressing is that the French Bulldog didn't always have such a flat face.
There are breeders who have purposely bred dogs with flatter faces, needlessly creating health problems for the breed.
Where Do Teacup French Bulldogs Come From?
There are essentially three ways to make a teacup French Bulldog.
One way is to cross it with a smaller dog breed.
Another is to introduce the gene for dwarfism.
And the final way is to repeatedly breed the runts from different litters within the same breed.
Each of these methods is not without drawbacks, and we'll look into each way for a better understanding.
Mixing with a Smaller Breed
Mixing a French Bulldog with a smaller dog breed is one way to get a miniature version.
Using this method is probably the healthiest way.
Mixing two different breeds can reduce the chances of passing along the many genetic disorders the Frenchie is prone to.
That is, provided the other breed isn't susceptible to the same hereditary problems.
Even when choosing a mixed breed, it's important to select a reputable breeder who health tests both parents.
The downside to mixed breeds is that the puppies' appearance and temperament can be extremely unpredictable.
You might end up with a smaller French Bulldog.
There's always a chance that the offspring will resemble the other dog breed, too.
Here are some smaller breeds that could be advertised as a teacup French Bulldog.
French Bulldog Miniature or Toy Poodle Mix
This mixed breed is also known as the French Boodle.
If the puppies have the longer muzzle of the Miniature or Toy Poodle, it reduces the chances of the puppies inheriting the problems associated with being brachycephalic.
This would probably produce a dog that weighs from 16 to 25 pounds when fully grown.
It's nice to imagine that their temperament would combine the intelligence of the Miniature Poodle with the playfulness of the Frenchie.
However, as with appearance, there's no telling which parent the puppies will take after.
French Bulldog Chihuahua Mix
Breeding a female Frenchie with a male Chihuahua produces the French Bullhuahua.
Crossing a French Bulldog with the world's smallest dog breed can make a dog that stands from 6 to 12 inches.
Their stocky body might have the longer legs of the Chihuahua.
However, the head is likely to be disproportionately larger, with big eyes, large ears, and a flat muzzle.
This pairing could also produce a stubborn pup who's prone to being overprotective.
French Bulldog Yorkshire Terrier Mix
The Yorkshire Terrier is another very small dog that could potentially make a smaller French Bulldog.
The Yorkie is an overall healthier breed than the Frenchie, and this could also improve the puppies' conformation.
Introducing the Dwarfism Gene
Introducing the short-limbed gene for dwarfism is another way that breeders create smaller dogs.
The French Bulldog has a form of dwarfism called chondrodystrophy.
Dwarfism is a skeletal disorder of bone and cartilage tissue that can create numerous health problems, including intervertebral disc disease (IVDD).
It can cause chronic pain, nerve damage, and in severe cases, paralysis.
The dwarfism gene can also affect the shape of the skull and facial bones.
It's also associated with hemivertebrae and screw tail.
Despite the interesting look, the corkscrew tail is often the sign of malformed spinal bones.
Since the French Bulldog is a brachycephalic breed who has chondrodystrophy, using this breeding method could be very dangerous.
Breeding From Runts
One way to ensure that the teacup French Bulldog maintains the appearance and other characteristics the breed is known for is to breed two very small Frenchies.
This is a common practice and might sound like a logical way to get a teacup French Bulldog.
Being a runt isn't necessarily a bad thing, if they fall within the normal weight range for the breed standard.
However, health problems can arise with dogs who are abnormally underweight.
They're often more susceptible to health problems, including heart defects and liver shunts.
It's not difficult to see how combining two dogs who are smaller than normal can increase the chance of passing on health problems to their offspring.
Is a Teacup French Bulldog Right for Me?
Despite being a loyal companion,the teacup French Bulldog undoubtedly has health problems no dog deserves.
A teacup French Bulldog is susceptible to all of the inherited issues associated with the standard-sized Frenchie.
In addition they will have to deal with the health concerns that come with being small and fragile.
If you are determined to get a teacup French Bulldog, select a mixed breed rather than one that is the result of the other methods.
Choose one who has a healthier conformation to reduce the impact of brachycephaly.
No tiny dog should be in a home that has small children.
Little dogs can be easily injured if dropped, stepped on, or mishandled.
Finding a Teacup French Bulldog
Keep in mind that there's no such thing as a teacup French Bulldog.
When you're looking for breeders, be aware that those who advertise having "teacup," or "micro" dogs are often disreputable.
They're breeding unhealthy small dogs to make a profit off of something that is currently trendy.
Prices can sometimes be thousands of dollars more than for a regular-sized dog.
Good breeders can produce smaller than average puppies, but they probably won't exclusively specialize in them.
Those who are in it for the love of the breed, will be able to prove that their stock is health tested.
They'll also be able to answer any questions you have and allow you to see the puppy's parents.
This will give you an indication of what the puppies will be like.
Alternatively, consider adopting a dog from a shelter.
There are many small dogs looking for a home.
What are Your Views on Teacup Puppies?
Join in the conversation, using the comments box below.
References and Resources
Farrell, LL, et al., "The challenges of pedigree dog health: approaches to combating inherited disease," Canine Genetics and Epidemiology, 2015
Kyöstilä, K., et al., "Canine Chondrodysplasia Caused by a Truncating Mutation in Collagen-Binding Integrin Alpha Subunit 10," US National Library of Medicine National Institutes of Health, 2013
Brown, EA, et al., "FGF4 retrogene on CFA12 is responsible for chondrodystrophy and intervertebral disc disease in dogs," PNAS, 2017
Verheijen, J., et al., "Canine intervertebral disc disease: A review of etiologic and predisposing factors," Veterinary Quarterly, 2011
O'Neill, DG, et al., "Demography and disorders of the French Bulldog population under primary veterinary care in the UK in 2013," Canine Genetics and Epidemiology, 2018
Ladlow, J., et al., "Brachycephalic obstructive airway syndrome,"The Veterinary Record, 2018
Packer, RMA, et al., "Impact of Facial Conformation on Canine Health: Corneal Ulceration," PLOS One, 2015
Get Pippa's free dog training tips delivered to your inbox