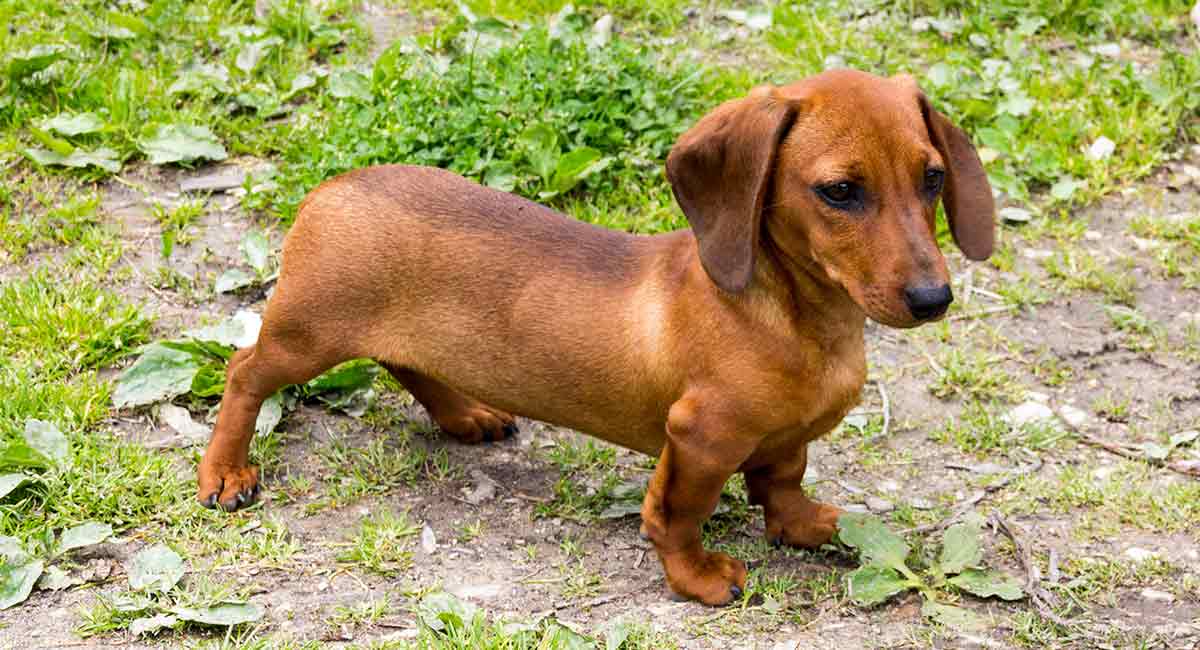 Search "teacup Dachshund," and you find the heart-melting gazes of teeny tiny little sausage dogs.
You may have seen for yourself the photo of one such pup all wrapped up in a hot dog bun.
The full-sized Dachshund itself is one of the most distinctive looking dog breeds, with a loyal following.
So breeders no doubt believed they'd struck a gold mine when they took to shrinking this already diminutive dog.
But the practice hasn't come without a price.
So let's find out more about the teacup Dachshund – where they come from, what they are like as pets, and, ultimately, if they would make a good pet for you.
The Dachshund
If you have never personally become acquainted with a Dachshund, here is a quick rundown:
They have short legs, long backs, a houndlike face, intelligent eyes, and long velvety ears.
Personality-wise, they have a lot of spunk.
Their cute and quirky appearance belies their pluck and bravery.
If you would like to know more about the Dachshund, you can find all you need to know about the breed here.
The Appeal of the Teacup Dachshund
It is easy to see why the teacup Dachshund is such a regularly searched term.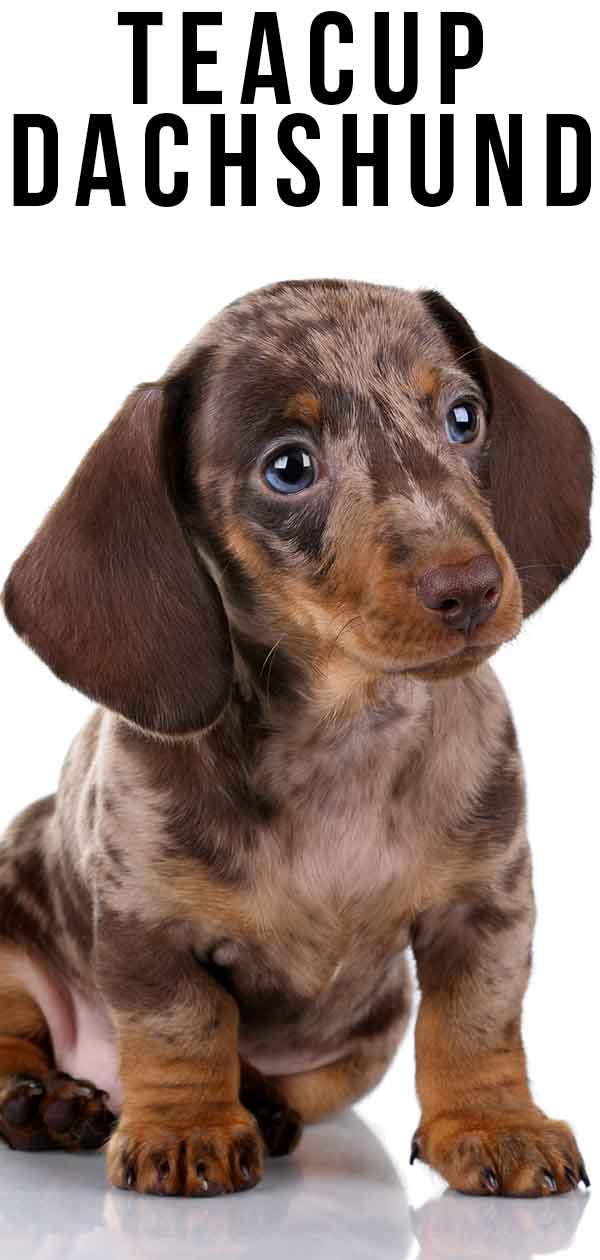 They look very sweet.
In fact, there is science behind our delight at small, cute dogs.
"Kinderschema" describes the set of physical traits which results in us going, "Awwww!" and feeling the overwhelming urge to cuddle and protect.
This feeling not only ensures we care for babies but also take delight in doing so!
Interestingly, according to a study in 2013, these traits and our reaction to them aren't species specific.
When humans see an adorably tiny, wide-eyed puppy looking all cute and cuddly, the feelings which well up inside are not much different to those triggered when we see a human baby.
For those that insist they are completely practical people who don't experience such mushy feelings, there is another common reason people like small dogs.
Many people are city dwellers, whose living quarters are compact.
So a small dog which does not take up much space is far more manageable than something the scale of a Great Dane.
Similarly, it is generally cheaper and easier to meet the dietary and exercise requirements of a smaller dog than those of a large one.
Where Do Teacup Dachshunds Come From?
There are three ways to make a miniature dog.
Introduce the gene dwarfism
Mix a standard-sized dog with a smaller breed
Or repeatedly breed from runts
In the case of the teacup Dachshund, information is scant as to which method created such a small dog.
Perhaps this is partly due to the fact that teacup Dachshunds are not a breed recognized by reputable breed registries.
Most likely these teacup pups are bred from runts.
It should also be noted that the regular-sized Dachshund already has been miniaturized by introducing the dwarfism gene.
So essentially, teacup Dachshunds are dogs which have been shrunk twice over.
With that in mind, let's look at these three methods of making a mini-dog, starting with the introduction of the dwarfism gene.
Introducing the Dwarfism Gene
Dwarfism is a genetic condition.
Its scientific name is chondrodysplasia.
Dwarfism not only results in shortened limbs but is associated with other health problems as well.
The degree to which the bones are affected can vary.
Other health concerns include eyesight problems, joint issues, and mobility difficulties.
The signature stumpy legs of the Dachshund are a telltale sign of dwarfism.
Some of the side effects of such stumpy limbs have become "normal" to some within the Dachshund community.
An example of this is evidenced by this quote from Dr Marcellin-Little, as cited on the Dachshund Australia website:
"Breeders and owners of chondrodystrophic [dwarf] dogs anticipate a certain degree of curvature in the limbs of their dogs, and they may not seek medical care to treat the consequence of these deformities unless the dogs are limping consistently."
Another form of dwarfism can result from problems in the pituitary gland.
In these cases of dwarfism, while growth is stunted, the dog remains in proportion.
This tends to affect some breeds more than others, such as the German Shepherd.
Dogs that happen to be born with dwarfism still deserve to live out full and enriching lives and can do so with proper care.
However, the ethics of deliberately breeding dogs with such a condition is troubling.
Mixing with a Smaller Breed
Another way to shrink down a dog is to breed it with another, smaller breed.
Of course, the result of this is not a purebred but rather a crossbred dog.
Of all the ways to make a dog smaller, this is perhaps the least risky.
By bringing outside genes into the mix, the problems often associated with purebred dogs can be avoided.
However, when miniaturizing a dog through crossbreeding, care still needs to be taken that the tiny size of the organs and bones in the resulting puppies do not become problematic.
Care also needs to be taken that the birth does not become dangerous for the mother dog if she has been bred with a dog larger than her.
Some popular Dachshund crosses include:
The Doxiepoo (Dachshund x Toy Poodle)
With the wits of a Poodle and the attitude of the Dachshund, these lively little dogs make loyal companions for those who are at home a lot and have the time to put into training them.
The problems associated with dwarfism may be lessened due to the introduction of the Poodle genes but cannot be guaranteed even with a mix breed.
Either way, the Doxiepoo is a distinctive looking little fellow with a sharp mind.
The Chiweenie (Dachshund x Chihuahua)
While this crossbreed sounds good, this is a mix that can go wrong.
The tiny frame and fine bones of the Chihuahua mixed with the shortened limbs of the Dachshund can sadly lead to a dog which has troubles supporting itself.
Aside from this concern, the Chiweenie is a cross that is very plucky indeed.
Both the Chihuahua and the Dachshund are vocal and protective breeds.
Don't be fooled, these little fellas need plenty of socialization from a young age and lots of consistent, positive reinforcement training to produce a pooch that is not nippy.
The Dorkie (Dachshund x Yorkie)
First up, I must point out that this little pup seems to have got the short end of the stick when it comes to names – surely Yorhund would be far more dignified!
Then again, perhaps the name is part of the appeal.
Like the crosses we have already mentioned, we cannot recommend this mix.
This is due to the inherent structural problems associated with the Dachshund and the chances the pups will suffer the same issues.
That aside, these little dogs are usually a little scruffy, very loyal, and most definitely small.
Breeding from Runts
It is likely that teacup Dachshunds are the result of breeders selecting runt Dachshunds and breeding from them.
Being the smallest puppy in the litter is not necessarily a bad thing.
But obviously the situation is different if an undersized puppy is failing to thrive, and the breeder attempts to make them appear all the more desirable for it.
Such dogs especially shouldn't be put through the physical strain of bearing their own litter.
Any responsible breeder as careful to check that a small dog is not the result of an underlying health problem or malnourishment.
The fact is that often the runt of the litter does not have the strongest constitution, so breeding runts with runts can result in weak, sickly puppies.
Is a Teacup Dachshund Right for Me?
We cannot recommend a teacup Dachshund as a pet.
The full-sized Dachshund is already a dog with structural issues which can affect its quality of life.
A teacup version of this breed will most likely have even more problems.
As we are about to discuss, there may be options for those that have their heart set on one of these little dogs.
If this is the path you chose to take, make sure that your house is Dachshund friendly.
Stairs, furniture that can be jumped up and down from, and kiddies or bigger dogs that play rough all pose real risks to these fragile dogs.
You should also prepare for any extra vet bills that could crop up when taking on a pet with structural deformities.
Finding a Teacup Dachshund
If you are set on one of these tiny dogs, all is not lost.
Why not consider rescuing an adult dog or a puppy that has been rescued?
These dogs are gaining popularity, but sadly when dogs have a moment in the limelight, many are abandoned in shelters in the following months and years that follow.
This could be because their owners weren't ready for the commitment of owning such a small dog, or they couldn't afford the specialized vet care they need.
A good place to start looking is a Dachshund-specific rescue organization or a Dachshund club.
Otherwise, general dog or animal rescue organisations may be able to help.
If you let them know you are keen to adopt one of these dogs, they may be able to keep an eye out for you or point you in the direction or a more specific rescue group.
Don't miss out on our guide to great Dachshund names either!
References
Golle, J., et al "Puppies and Cute Babies: Perceptual Adaptation to Babyfacedness Transfers across Species" PLOS One, 2013
Verheijen, J., Bouw, J., "Canine Intervertebral Disc Disease: A Review of Etiologic and Predisposing Factors" Veterinary Quarterly, 1982
Everts, R.E. et al "Bone Disorders in the Dog: A Review of Modern Genetic Strategies to Find the Underlying Causes" Veterinary Quarterly, 2000
Kooistra, K.S., et al "Combined Pituitary Hormone Deficiency in German Shepherd Dogs with Dwarfism" Domestic Animal Endocrinology, 2000
Da Silva, C., "Dog Welfare Groups Warn Teacup Puppy Craze is Harmful to Pets" The Independent, accessed online 3/12/2018
MSD Veterinary Manual
The Kennel Club UK
Get Pippa's free dog training tips delivered to your inbox