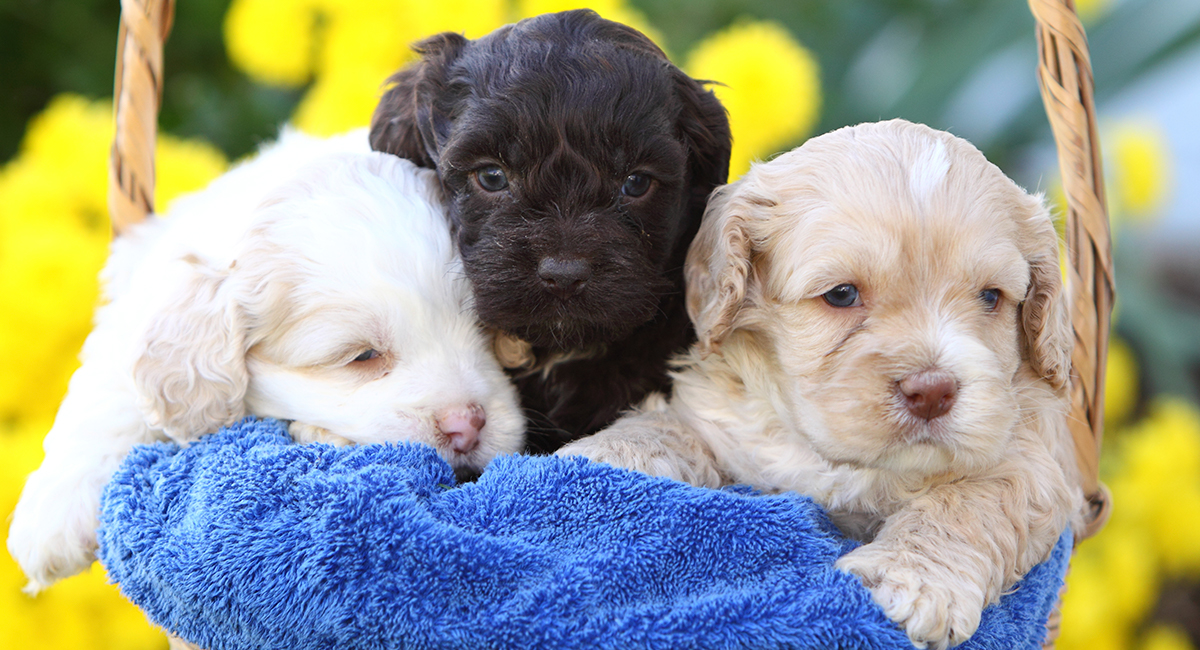 Is there really such a thing as a teacup cockapoo? And, how does it differ from a usual Cockapoo?
The Cockapoo is a mix between the Cocker Spaniel and Poodle. This small breed has become extremely popular in the last few years.
Many people praise the outgoing loving temperament of these low-shedding dogs.
While they love to play—many owners report that Cockapoos are particularly fond of retrieving games and swimming—they don't actually have high exercise requirements.
In recent years, there have been reports of a teacup cockapoo breed. Some breeders have even started selling puppies under this name.
So to help you wrap around this rare dog breed, in this article we discuss everything you need to know
The Appeal of the Teacup Cockapoo
Many dog owners are drawn to teacup cockapoos for a number of reasons.
Firstly, potential dog owners who live in apartments or small homes often choose smaller dogs due to their size constraints. Smaller dogs take up less room and do better in small spaces.
Even if their home isn't unusually small, many space-conscious owners choose small dogs to save space.
Secondly, many dog owners think that smaller dogs are cuter. Smaller dogs often look more baby-like, which makes many people find them more adorable.
Thirdly, smaller dogs are much easier to travel with than larger dogs. If you travel a lot or spend a lot of time in the car, a smaller dog is often easier to manage than a large dog.
Finally, smaller dogs often make less of a mess than bigger dogs. They shed less and have smaller accidents during potty training.
Where Do Teacup Cockapoos Come From?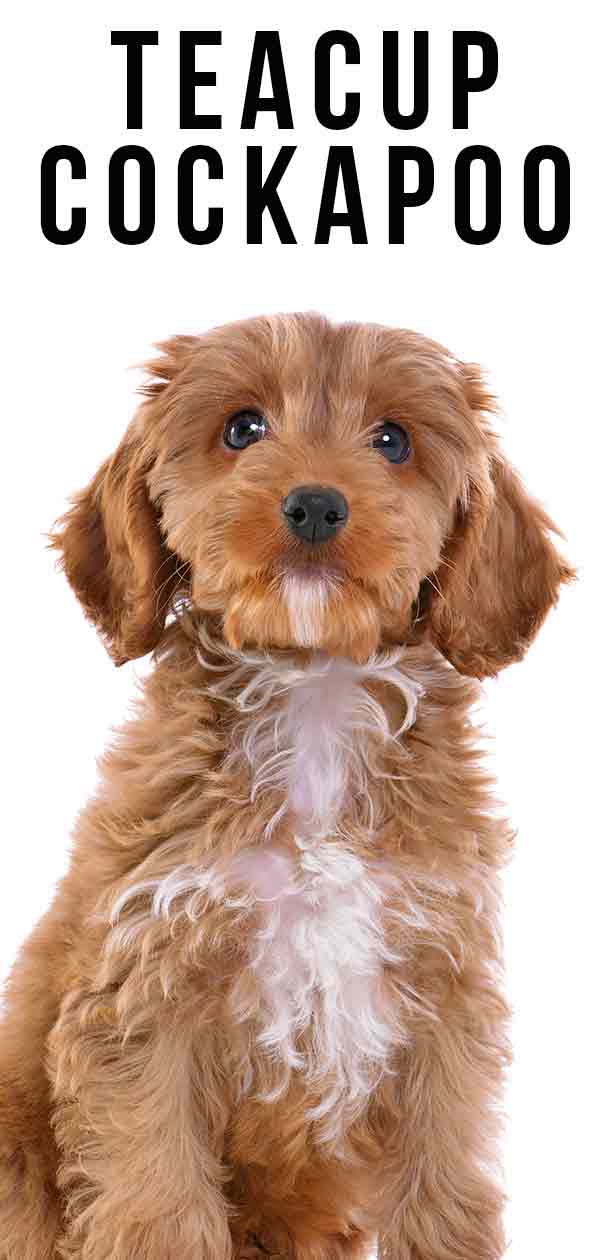 Because teacup dogs appeal to such a large audience, many breeders and puppy mills try to create them.
There are three primary ways they do this: mixing with a smaller breed, introducing a gene for dwarfism, or repeatedly breeding from runts.
Each of these methods has their drawbacks and advantages. We will discuss each one, in turn, to give you a complete overview of how these dogs are created.
Mixing with a Smaller Breed
This is perhaps the easiest way to create a teacup breed. When you breed a larger dog with a smaller
one, there is a possibility that the resulting puppies will be smaller as well.
Many breeders create smaller versions of dogs in this way.
However, mixing two breeds is not foolproof. You never know which puppy is going to inherit which traits. This makes the whole process very unpredictable.
The puppies could not be smaller in size at all. Or, they could look nothing like a cockapoo.
But that does not mean that it is impossible. With a little bit of luck, breeders can create a smaller puppy that looks and acts like a cockapoo.
This method is also one of the healthier options. Mixed breed dogs are often healthier than their purebred counterparts due to their larger gene pool.
Here are some of the most common mixed breeds marketed as teacup cockapoos:
Chihuahua Cockapoo Mix
Chihuahuas are one of the smallest dogs around. When a breeder wants to create a miniature version of a breed, Chihuahuas are often their go-to dog.
This breed will often be smaller than a Cockapoo. But everything else is left up to chance.
They might be friendly and outgoing like a Cockapoo, or they could be reserved like a Chihuahua. They could not even look like a Cockapoo at all, and instead, resemble their Chihuahua parent.
It is nearly impossible to get a puppy that both looks and acts like a cockapoo, but it smaller. Odds are, some of the Chihuahua's other traits are going to be passed on as well.
Yorkie Cockapoo Mix
The Yorkie is another go-to dog for many breeders looking to make teacup puppies. This breed is smaller, but still very "fluffy" and friendly.
These dogs are often affectionate and friendly. They act similarly to a full-blooded Cockapoo in this sense.
But these dogs will differ at least somewhat from their larger Cockapoo cousins. Many of these mixes bark more, and some are also reported to be more active.
Introducing the Dwarfism Gene
Many breeders might also attempt to introduce the dwarfism gene into a breed of dogs to make them smaller.
Much like mixing two different breeds, this is often a game of chance.
Breeders must either introduce a breed of dog that already has a dwarfism gene, like a corgi. Or they must wait around until the gene naturally shows up in a Cockapoo puppy.
Sometimes, a breeder will get lucky and find a Cockapoo with a dwarfism gene by accident.
There are many different kinds of dwarfism. Most affect how a dog's bones and joints develop, making them grow disproportionally and smaller. This is why corgis and dachshunds have short stubby legs.
Often, introducing the dwarfism gene will not merely result in a smaller cockapoo. Instead, they will only have smaller than average limbs.
These smaller limbs can also cause many health problems.
Those with the dwarfism gene often suffer from spinal, joint, and bone problems. Arthritis, spinal compression, and bone dysplasia are prevalent.
Some dogs with the dwarfism gene are also prone to hormonal problems.
The Risks of Breeding from Runts
Runts are the smaller dogs in a litter. If a breeder is attempting to create a smaller version of a dog, it only makes sense to breed the smallest dogs they can find.
While this might seem innocent enough, it can create many health problems.
Smaller puppies are usually smaller for a reason. Many have heart defects or other developmental problem that causes them to be smaller than average. Many true runts do not live to adulthood.
Even if the puppy is born healthy, puppies are extremely sensitive to diseases.
If they get sick, it can leave a permanent marker on their overall health and cause them to gain weight slower than their siblings.
Those that do survive can pass these health problems onto their puppies if breed. Most congenital heart defects are genetic.
The cockapoo complicates matters a little bit because it is a mixed breed. This means that some cockapoo puppies are going to be smaller than others due to the genes they inherit from either parent.
These puppies will not be true runts in the traditional sense. And, many will not have health problems associated with being a runt.
It is possible for breeders to breed these smaller canines together and create more miniature puppies.
While research has not been done in this area yet, these puppies do not seem to suffer from more health problems than their larger counterparts.
Is a Teacup Cockapoo Right for You?
A teacup Cockapoo can be a good pet for the right person. But owing to the increased risk of health problems and potential for poor breeding practices, we simply cannot recommend them.
There are also other cons in addition to potential health problems. You should keep these in mind when deciding whether or not this dog is for you.
Their smaller size means that the will need some help getting around, especially if you have stairs. They will not be able to jump or climb as high as other dogs.
They also have moderate exercise requirements. But, their small size will prevent them from taking part in long hikes or strenuous outdoor activities.
The teacup Cockapoo is also prone to separation anxiety. So, they usually do best in a home where someone will be with them most of the day and night.
These dogs do best in apartments and small houses. But, you should keep in mind that your puppy may not be able to navigate the stairs very well.
If your home does have stairs, you'll likely need to keep your dog's food and bed on the lower floor.
Therefore, these dogs are best for those looking for a lap dog or someone to cuddle with.
Other Teacup Breeds
If you want to find out more about the different teacup breeds out there, check out some of our guides below.
Finding a Health Teacup Cockapoo
Finding a teacup cockapoo can be a challenge. We recommend choosing a cockapoo that has been breed from smaller canines, as opposed to those bred through a different method.
Smaller than average cockapoos can pop up at any cockapoo breeder. Because no one knows which puppies will inherit which genes. So, any litter can produce a small but healthy Cockapoo.
Contacting a breeder and letting them know you're looking for a smaller Cockapoo is an excellent place to start.
Be aware that the small size of the Teacup Cockapoo comes with an increased risk of heartbreaking health problems.
Also, you should keep in mind that even though the Cockapoo puppy may be small, it's nearly impossible to tell what size each puppy will grow into.
You might adopt a smaller puppy only to find it grows into an average sized adult Cockapoo.
If size is important to you, we recommend adopting an adult Cockapoo instead. That way you'll know exactly what size your dog will be when fully grown.
Have you had any experience with the Teacup Cockapoo? We'd love to hear your story in the comments below.
References and Further Reading
Fox MW. 1965. The Pathophysiology of Neonatal Mortality in the Dog. Journal of Small Animal Practice.
Breit S. 2002. Osteological features in pure-bred dogs predisposing to thoracic or lumbar spinal cord compression. Research in Veterinary Science.
Roth JA et al. 1984. Improvement in clinical condition and thymus morphologic features associated with growth hormone treatment of immunodeficient dwarf dogs. American Journal of Veterinary Research.
Patterson DF. 1989. Hereditary congenital heart defects in dogs. Journal of Small Animal Practice.
Get Pippa's free dog training tips delivered to your inbox