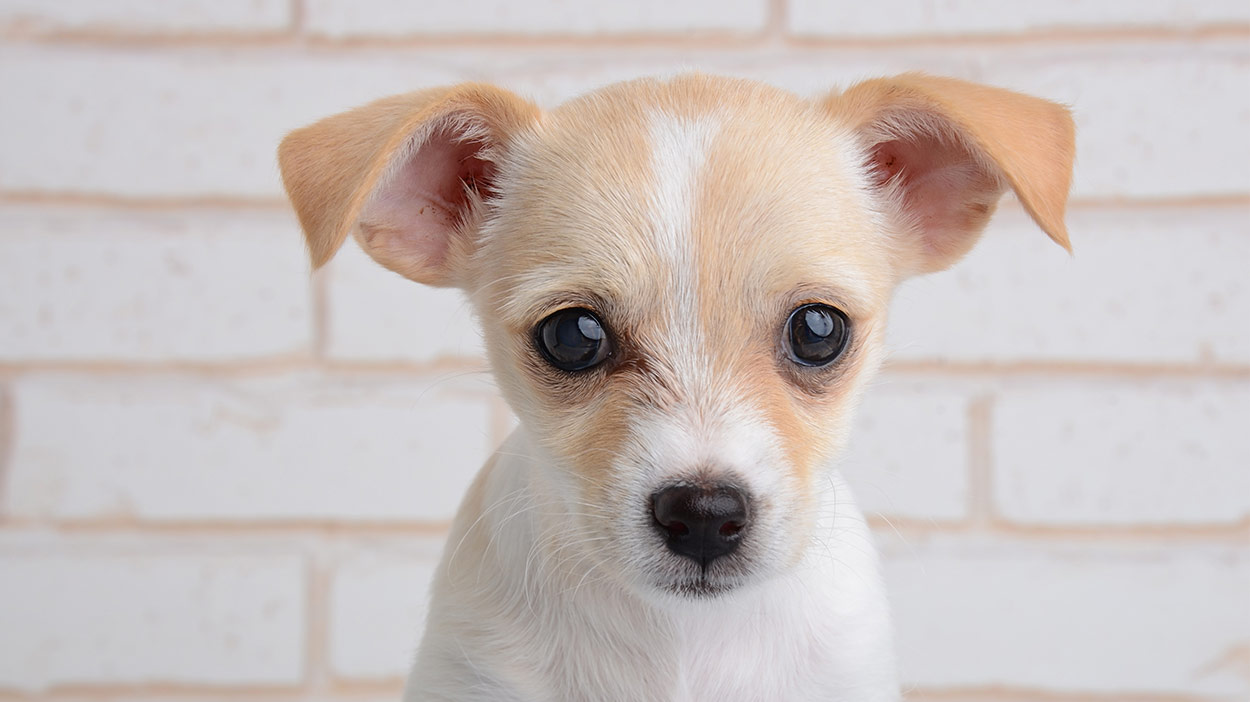 Are you interested in a teacup Chihuahua?
Would you like to know if they'd make a suitable pet? What about how to properly care for them?
You've come to the right place. In this article, we'll tell you everything you need to know about these tiny dogs.
Their micro size makes them amazingly cute!
However, there are a number of health and ethical issues associated with these pups that may make them less desirable as a family dog.
Read on to find out more.
What is a Teacup Chihuahua?
Technically speaking, a "teacup" anything isn't actually a breed of dog.
The term refers any dog that is so tiny they fit in a teacup, especially when they are puppies!
Other terms are also used to refer to dogs that are the smallest of their breed, including toy, tiny, micro, mini, pocket-sized, and miniature.
These aren't official terms, but rather, descriptors.
This means when you're talking about a teacup chihuahua, you're really just talking about a miniaturized version of what's already the world's smallest dog!
There's no real size designation of "teacup Chihuahuas," so if you want a really tiny dog, take note. Size variations in Chihuahuas are normal, according to the Chihuahua Club of America.
To find out more about Chihuahuas, check out this article.
Briefly, Chihuahuas are believed to be descendants of the Techichi dog, which was a companion of the ancient Toltec people.
Hailing from present-day Mexico, Chihuahuas may have been brought to Europe by Christopher Columbus.
Over time, they've actually become smaller thanks to cross-breeding with the Chinese Crested dog.
Registered in 1904 with the American Kennel Club, they are one of the oldest breeds.
Teacup Chihuahua Puppies
If you are looking for a baby teacup chihuahua puppy, be careful! Since teacup chihuahuas are really just small chihuahuas, they may simply be the runt of the litter.
So, they may still grow to be large for their breed, that is, in terms of chihuahua size and weight.
If you desire something more specific, you may wish to find out more about the parents of any potential teacup Chihuahua puppy you plan to adopt.
Otherwise, it's hard to know what your teacup Chihuahua will look like as an adult.
What is the Fully-Grown Teacup Chihuahua Like?
Fully-grown micro teacup Chihuahuas can weigh 3 to 6 lbs with a height of 6 to 9 inches and can have either short or long haired coats
Even at maturity, teacup Chihuahuas may weigh less 3 lbs as there is no minimum standard weight for the Chihuahua breed.
Chihuahuas have an independent nature, so they won't be easy to train and are known for being prone to aggression.
They also form strong bonds with their owners and can be territorial.
Chihuahuas have big eyes and tiny bodies, which can be really adorable when they are miniature but can also lead to numerous health issues.
Types of Teacup Chihuahua
The only officially recognized differences in Chihuahua breeds, according to the AKC, is in relation to coat variety—long-haired or smooth haired.
Teacup is not, in fact, an official type of Chihuahua breed!
Both long-haired or smooth haired teacup Chihuahuas can be similar in size.
Long-haired teacup Chihuahuas, as the name suggests, have longer hair! With a softer texture and perhaps a bit of a wave, along with feathered hair on their legs and ears.
Naturally, longer hair requires more grooming. But don't be fooled, even long-haired teacup Chihuahuas are prone to the cold since their tiny bodies don't retain heat very well.
How Much Does a Teacup Chihuahua Cost?
Price is definitely one of the ethical considerations associated with teacup Chihuahuas.
And one reason micro-sized Chihuahuas are even called teacup Chihuahuas is that their size can be a huge selling point.
Instead of just calling them "small," breeders use the "teacup" descriptor to raise the price!
Doesn't teacup Chihuahua sounds a lot better than "runt of the litter?"
You can find chihuahuas at many different price points.
Since health is such an important factor with Chihuahuas, if you do actually decide to buy one, it's best to look for purebred puppies costing $400 and up.
And because they're such fashionable dogs, teacup Chihuahuas often go for much more than that!
Before making any commitment, make sure to find out everything you can about a potential breeder.
Teacup Chihuahua Breeders
To breed tiny teacup dogs, breeders often use smaller than average dogs, which may already suffer from weakness and other health issues.
In other words, there may be a reason your Teacup's parents are so small in the first place.
Therefore, your number one priority when looking for a teacup Chihuahua dog breeder should be health.
Checking out your pup's parents and siblings can tell you whether your potential pet is just the runt of the litter being sold at a premium price.
In general, Chihuahuas face numerous health challenges. And since teacup Chihuahuas are even smaller, they may face even more.
Therefore, it's vital to check out the health history of any teacup Chihuahua you are considering taking home.
You should also consider your puppy's living situation and be sure to check any health documentation, which should be provided by the breeder.
A good breeder will promote good practices to develop healthy puppies and to minimize genetic problems within the breed.
Look for a breeder working towards improving the overall health of the Chihuahua breed, and who is concerned about the future of Chihuahuas.
And if you have your heart set on a teacup Chihuahua, make sure you're willing to accept any health issues and obligations that may come with them.
Teacup Chihuahua Care
It's best to be gentle with teacup Chihuahuas since they are small and originate from a warm environment.
Since your puppy's bones are small, you'll need to make sure your teacup pup isn't stepped on, dropped from a height, or handled roughly.
In addition, be cautious of other dogs who may hurt your teacup Chihuahua without even realizing it.
You'll also have to protect your teacup pup from children.
Your micro pocket teacup Chihuahua is likely to suffer from health issues, so expect to deal with these as your dog grows up.
Let's look at some of the health issues we've been talking about.
Teacup Chihuahua Health
All teacup dogs including Chihuahuas are extremely vulnerable to health problems.
Despite not being officially recognized as a distinct breed, these trendy pups suffer from many health conditions related to their size.
These include bone fragility and bone growth issues. Bone pains and fractures are common in teacup Chihuahuas, as well as bladder issues.
Because they're so small, they just can't hold it that long so indoor accidents may be a part of life.
Also, with such small dogs, you need to be careful of accidental poisoning.
A small amount of chocolate or some other toxic substance may not affect larger dogs but may be fatal to your teacup Chihuahua.
Some of the common health issues encountered in teacup Chihuahuas are listed below.
Cranial Soft Spots and Other Musculoskeletal Conditions
Soft spots on the head are common in teacup breeds because cranial bone development of often stops before the skulls' fontanels have been closed.
This condition is so common that it is mentioned in the AKC breed standards for Chihuahuas. Dogs that have cranial soft spots must be protected from blows to the head.
Although human babies often have cranial soft spots, these spots tend to close up after a year. In teacup Chihuahuas, they may never close.
Some Chihuahua lines may also be at risk of the following:
Cleft palates;
Patella luxation (dislocated knees);
Leggs-Calve-Perthes disease, affecting the hip joint;
Idiopathic polyarthritis, an inflammatory joint disease.
Hypoglycemia
Teacup Chihuahuas, especially puppies, are susceptible to low blood sugar and must eat regularly—in some cases, every hour.
Some teacup Chihuahuas suffer this condition throughout their lives, from weaning to maturity.
Hypoglycemia can be exacerbated by stress, which may be induced by changing home or living situation.
Puppies who are hypoglycemic appear dazed.
A spoonful of corn syrup or honey thinned with warm water may help, however, unresponsive dogs may need to be administered glucose by a vet.
Dental Issues
Teacup Chihuahuas seem to be genetically prone to periodontal disease resulting in early tooth loss.
Dental care is an issue for many small dogs like teacup Chihuahuas since trying to grow teeth in those tiny mouths can cause crowding and decay.
Diet is extremely important in preventing dental issues in these pocket-sized pups! As are regular check-ups with the vet.
Dermatological Problems
Teacup Chihuahuas are predisposed to fungal infections from Malassezia and demodectic mange, a skin disease caused by mites.
Cardiological, Blood-related, and Respiratory Conditions
Teacup Chihuahuas are prone to:
Hemophilia A;
pulmonic stenosis, which occurs when a valve between heart and lungs doesn't open properly;
methemoglobin reductase deficiency, a lack of an enzyme that turns methemoglobin to hemoglobin;
myxomatous valvular degeneration;
collapsed trachea;
primary ciliary dyskinesia, which slows the movement of cilia thereby causing respiratory infections.
Neurological Issues
Teacup Chihuahuas are at risk of:
Hydrocephalus (fluid in the brain);
Congenital deafness;
Syringomyelia, a progressive disease of the spinal cord;
Caudal occipital malformation, also known as fly biting syndrome or head/foot irritation syndrome;
Some spinal disorders, such as spina bifida.
Occular Concerns
Teacup Chihuahuas are often prone to:
Endothelial corneal dystrophy, a degenerative disease of the innermost layer of the cornea;
Keratoconjunctivitis sicca, affecting the aqueous tear film;
Progressive retinal atrophy;
Secondary glaucoma;
Iris atrophy;
Cataracts.
Is a Teacup Chihuahua Right for You?
As humans, we are conditioned to love the cute features of miniaturized animals.
So the idea of a teacup Chihuahua—so small, helpless, and cute—appeals to us on a very deep level.
But any teacup dog—Chihuahuas included— are extremely vulnerable and face numerous problems and challenges.
Sure, we can put them in our purse or bag and take them everywhere with us, potentially giving them the best life possible.
But the more we expose them to the world, the more dangerous it is.
More importantly, whenever someone buys a teacup Chihuahua, an unscrupulous breeder thinks they can make more money so they produce more of them.
Unfortunately, for these reasons, the risks and worries of owning teacup Chihuahua are just too high.
Since encouraging good breeding practices is so important, as well as finding permanent homes for many other small dog breeds, we encourage you to consider some of the other great family dogs.
Are you considering or have you ever owned a teacup Chihuahua? Tell us about your experience in the comments below.
References and Further Reading
Clark RD et al. 2017. Medical, Genetic, and Behavioral Risk Factors of the Toy Breeds. XLibris.
Farrell LL et al. 2015. The challenges of pedigree dog health: approaches to combating inherited disease. Canine Genetics and Epidemiology.
Get Pippa's free dog training tips delivered to your inbox