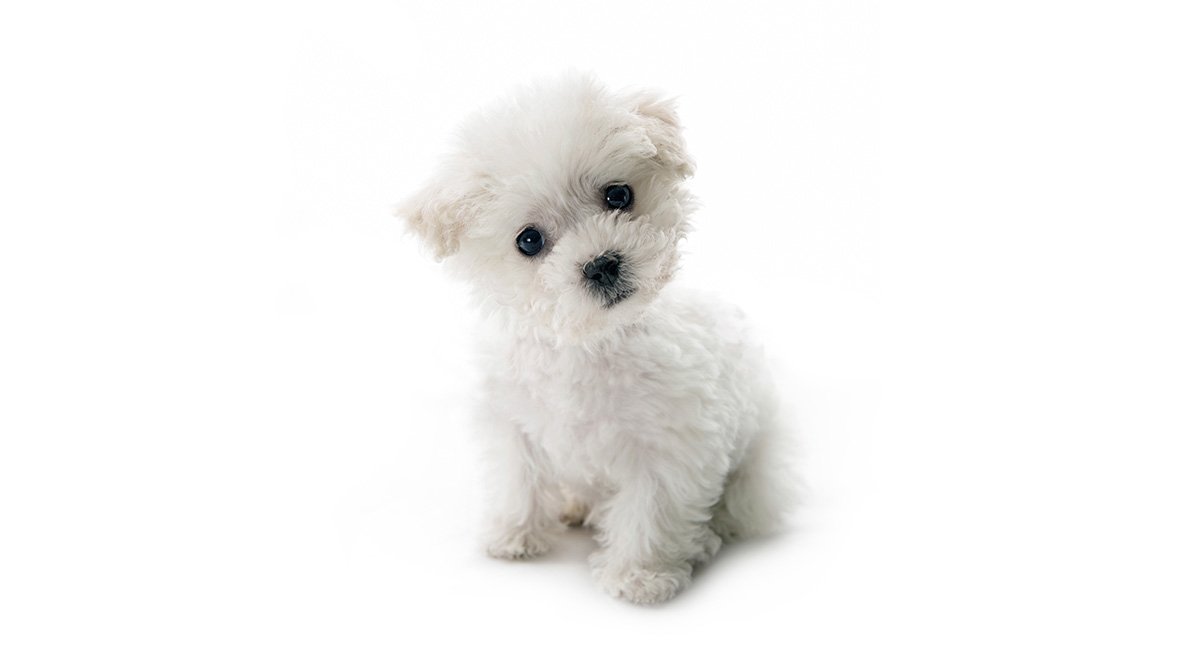 A teacup Bichon Frise is a miniature version of the fluffy white Bichon Frise.
Even full-sized, a Bichon is petite, but packs a big personality.
There are several ways a breeder might try and make a Bichon even smaller, but they don't all produce equally healthy dogs.
The Bichon Frise
The popularity of the Bichon Frise breed dates back all the way to the 13th Century when they were highly favored by European nobles.
Their current popularity isn't surprising; they're ranked 46 out of 193 of the most popular breeds by the American Kennel Club.
As companions, Bichon Frises are happy to curl up on your lap or run around your backyard. They are social, easy-going, and get along with other animals and children well.
Bichon Frise dogs are adaptable and desirable companions for families and homes of all sizes.
The Appeal of the Teacup Bichon Frise
A standard-sized Bichon Frise weighs 12 to 18 pounds and stands 9.5 to 11.5 inches tall. A teacup Bichon Frise will be significantly smaller.
In general, teacup dogs from toy breeds weigh just 4 pounds or less when fully grown.
A smaller than standard Bichon Frise can be desirable to owners for several reasons, the first of which is its appearance. Is there anything cuter than a tiny ball of white fluff?
In addition to a precious appearance, teacup dogs are easy to take practically anywhere. They easily fit in handbags for running errands around town and smaller airplane-approved travel carriers for longer-distance travel.
Nowadays, many apartment buildings and hotels have dog size restrictions. This is something you certainly won't need to worry about with a teacup Bichon Frise!
If you're a busy, less active, or elderly pet owner teacup pups typically require less exercise than their full-size counterparts. It's likely that their tiny legs will tire-out quickly.
Where Do Teacup Bichon Frises Come From?
It's important to note that the teacup Bichon Frise is not a breed in its own right.
None of the major breed registries recognize teacup dogs, and in the UK, the Kennel Club have gone so far as to warn puppy buyers off choosing dogs described as teacup dogs.
That's because unscrupulous breeders and puppy farms have used the term teacup to make small, sickly puppies appear special and more desirable.
So how do you make a small dog smaller? And can it be done safely?
There's three ways to achieve teacup size: mixing with a smaller breed, introducing the dwarfism gene, and breeding runts.
Of the three methods, mixing with a smaller breed is the healthiest way to achieve teacup stature.
Mixing with a Smaller Breed
If a purebred pedigree isn't a requirement for you, mixing a Bichon Frise with another small breed is the healthiest way to achieve teacup size.
Puppies generally take on the size of their parents. Selecting smaller, yet healthy parents to breed will likely result in smaller puppies.
As with all mixed breeds, a Bichon Frise mix can inherit health issues from either parent breed. Always inquire with your selected breeder about the health history and screenings for each parent pup.
Here are some recommended small Bichon Frise mixes:
Shichon
The Shih Tzu and Bichon Frise mix will be petite, playful, and affectionate. Both breeds are small-sized, and a mix will likely result in small puppies.
It may have one of several colorations that Shih Tzus display but will have either a fluffy or long coat. It will need daily brushing, no matter which parents' coat it resembles more.
A Schichon will be laid back but still need exercise, socialization, and training. The Shih Tzu side of the mix may make it a little bit stubborn.
Maltichon
The Maltese and Bichon Frise mix is very popular because of its beautiful, pristine appearance, and good temperament.
A Maltichon will be sized in between the two parent breeds—about 8 to 13 pounds and shorter than 11.5 inches.
Maltichons make excellent watchdogs and lapdogs. It may bark excessively, since both parent breeds are known to do so.
Bichon Poodle
A Bichon Frise and Poodle mix will certainly be small, cute, and smart.
The parent Poodle should be of the miniature or toy variety to achieve a small stature.
The Poochon or Bich Poo will have a curly coat that is favored for its minimal shedding.
This small mix will be active and intelligent. It will have a lot of energy and also may bark a lot.
Introducing the Dwarfism Gene
Teacup stature can be achieved by selectively breeding for dwarfism. Only one parent dog needs to be a carrier of the gene.
Some breeds, such as Basset Hounds or Dachshunds, have been selectively bred throughout history to achieve a disproportionate, dwarflike stature through genetic mutation.
However, intentionally introducing the dwarfism gene into an otherwise healthy genetic lineage is not recommended.
The dwarfism gene causes skeletal and hormonal abnormalities, which may lead to health issues down the road.
In addition, the size of a dog may be influenced by several other environmental and yet-to-be-discovered genetic factors.
Breeding From Runts
Breeding the smallest of the litter seems like a good way to achieve the desired teacup stature.
However, due to the health problems associated with runts of the litter, we don't recommend this practice.
A breeder refers to a runt as a puppy with an abnormally low and unhealthy birth rate. Along with this can come health problems and developmental issues.
Congenital health issues may be responsible for the runt's size, and that is something a breeder would not want to pass along to future generations.
It's also possible that a Bichon Frise runt will grow up healthy and full-sized, which would not make them a good candidate for breeding smaller puppies.
Is A Teacup Bichon Frise Right for Me?
If you're hoping for a pocket-sized pup that has a good temperament, then a teacup Bichon Frise might appeal to you.
Bear in mind that very small dogs have equally tiny bladders, and sometimes it is impossible to ever fully toilet train them.
A teacup Bichon Frise will likely be more fragile than a standard-sized one. Small children and larger animals may pose a threat to the more delicate teacup pup. Supervise small children with a teacup Bichon Frise until they learn how to handle it delicately.
You'll need to pay special attention in your home to things that may be dangerous for your pint-sized Bichon Frise. Jumping from a high bed or couch; traversing stairs; etc.
Activities that a standard-sized Bichon Frise normally has no trouble achieve can become dangerous for a teacup Bichon Frise.
Finding A Teacup Bichon Frise
A purebred and healthy teacup Bichon Frise may be challenging to find.
An internet search will lead you to several options for teacup puppies. Always thoroughly research a breeder to ensure they are responsible and producing healthy puppies.
Ask a breeder to see important health screening results for the parent dogs, and the puppies if applicable.
Don't purchase a teacup Bichon Frise from a pet store or puppy mill. Pet stores usually purchase puppies from puppy mills, and puppy mills sacrifice the health and welfare of their puppies and their dams to pursue greater profits.
Because of the risks associated with creating teacup-sized puppies, we'd recommend selecting a smaller, mixed breed pup instead.
Rescuing a Teacup Bichon Frise
Rescuing an older puppy or adult teacup Bichon Frise will allow you to see its full-grown size.
Here are some Bichon Frise rescue organizations:
References and Resources
Get Pippa's free dog training tips delivered to your inbox