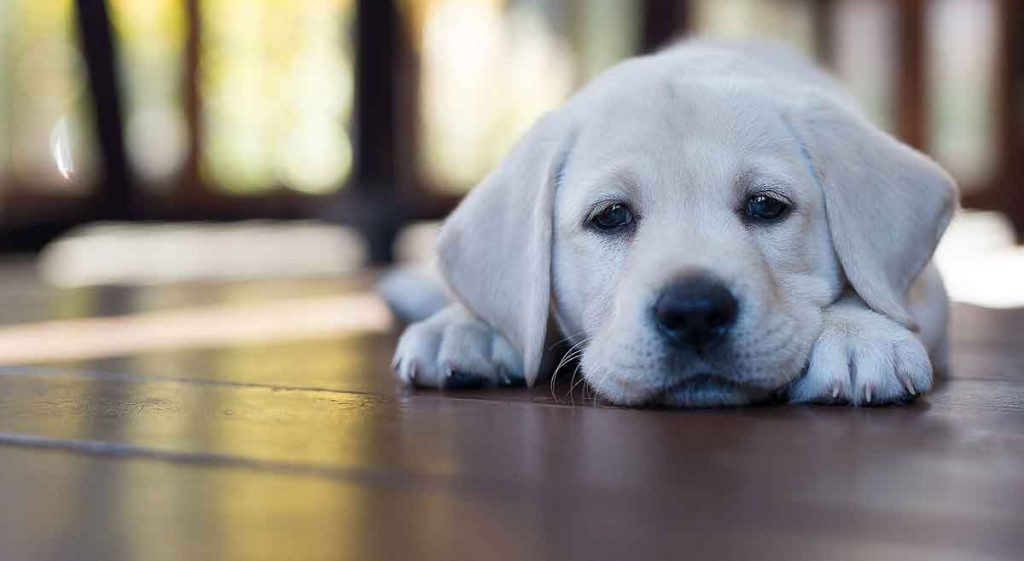 One of the biggest challenges for puppy parents during the current global health crisis is socializing their new puppy.
You've almost certainly been told that your puppy needs to meet lots of people and that's true!
But how can you meet new people and keep to the social distancing rules at the same time?
Doing your best
The truth is, you can't work miracles.
And you are just going to have to make the best of whatever resources and opportunities you have.
But those opportunities may be greater than you think.
At home and away
You'll need to take a two-pronged approach:
Do as much as you can at home
Make the most of any opportunities outside the home.
Inside your home
Accustoming your puppy to all kinds of new experiences begins in the home.
Think about your puppy's hearing, sight, and her sense of touch too.
And try to help her accept all kinds of experiences in those categories.
Noise
Run the vacuum, far enough away from the puppy for her not to be concerned. Give her treats and bring the vacuum closer.
Sit her on your lap and watch the washing machine together, or the tumble dryer.
Take the paper and cap off a large lemonade bottle and let your puppy chase the bottle around on a hard floor.
Find unusual noises, loud noises on Youtube or the TV and listen to them together. Try to include sirens, trucks, trains, fireworks, and any other sound you can think of that might startle an unprepared puppy.
Musical pots
Line up some saucepans and grab a large spoon. Tap them all gently. Then harder if your puppy isn't bothered. If the puppy looks concerned at the gentle taps, throw him some treats while you do this.
Texture and surfaces
Empty out a cardboard box and tape some sandpaper onto the bottom. Put your puppy in the box with some treats. Remove the box once she starts to break it apart or chew it up.
Play puppy games in a carpeted room for a few minutes. Then in a room with a slippery floor.
Blow up an inflatable airbed and feed the puppy treats on it. Try a rubbery mat if you have one, a trampoline, or a rug.
Visual changes
Make yourself look strange. Put a large hat on. Or a big flapping coat. Grab a rucksack, a musical instrument, a large box. Anything that changes your silhouette.
Balance a box on your head. Pick up a large pillow and wave it about. Drape a blanket around your shoulders.
Dance about feeding treats as you go. Hop on one leg. Put a towel over your head.
Be strange, be different.
Physical contact
Make a ball pool with some lightweight balls in a laundry basket. Let your puppy wriggle about and find some treats in the bottom.
Touch your puppy gently on different parts of her body. Teach her that a marker word like 'YES' means a treat is coming, and use the marker word as you touch her. Follow each 'YES' with a treat. She'll soon focus on the treats and stop worrying about what you are doing.
Hold her paws, in turn. Look in each ear in turn. And get her used to being brushed.
Drape a light towel over your puppy and remove it again. Feed treats. Repeat and if the puppy isn't concerned, let them wriggle their own way out to get a treat. Then try with a heavier towel. Put some treats under the towel too.
Confinement and restraint
Put your puppy in and out of a crate. Open the door immediately after closing it and let the puppy out. After much practice, start to leave the door closed for two seconds, before opening it again.
Feed your puppy next to her harness laid on the floor. Progress to feeding the puppy with your hand pushed through the harness. Gradually put less of her hand through until she is having to put her nose through the harness to get the food.
Outside the home
In some areas rules about what you can do outdoors are gradually being relaxed.
Here in the UK for example, we've been told that from Wednesday May 13th we are allowed to sit outdoors in public places (before we had to keep moving).
This is huge for puppy parents!
Take a picnic
If you are allowed this freedom, pack your puppy's lunch in a treat bag and head out together.
Although it is beneficial for puppies to ride on public transport under normal conditions, this is probably something you'll want to avoid for now. So walk or drive if you can.
Where to go
Consider locations where you can sit for a little while and watch the world go by with your puppy.
Rank your list of locations according to how busy they are and start with the quietest.
The idea is to get the puppy comfortable and feed them their lunch, one piece at a time while they watch what's going on around them.
You might even start by sitting on your doorstep or standing at the end of your drive, just watching the cars go by. The fewer the better to start with.
Here are some ideas
Benches: in parks and towns, sit well away from other people of course. Once the puppy is post-vaccination you can sit on the grass in a park and watch the world from lower down.
Car parks: Sit in the car with the puppy on your lap and the windows down. Feed the puppy if people or vehicles approach you.
Water: If you live near a lake, river or the sea, take your puppy to watch the waves, and soak up the new sounds and smells. If it's safe to paddle, take your puppy into shallow calm water for a splash about.
Roads: Stand near the edge of a quiet road with the puppy in your arms and watch the cars go by. Progress to a busier one, then a very busy one. Repeat with the puppy on a harness and leash, well back from the traffic. Starting with the quietest road again.
How close is too close?
If your puppy is worried, you are too close to whatever is worrying him. Move back to a distance where your puppy can relax and eat.
Move forwards as your puppy becomes happier and accepts that everything is okay.
When to stop?
Get ready to leave when you are running out of treats, or if your puppy is looking worried.
The idea is not to overwhelm the puppy but just to help her adjust to, and accept, the new things around her.
Think of each outing as a brief picnic lunch break, and once the food has gone, pack up and go home.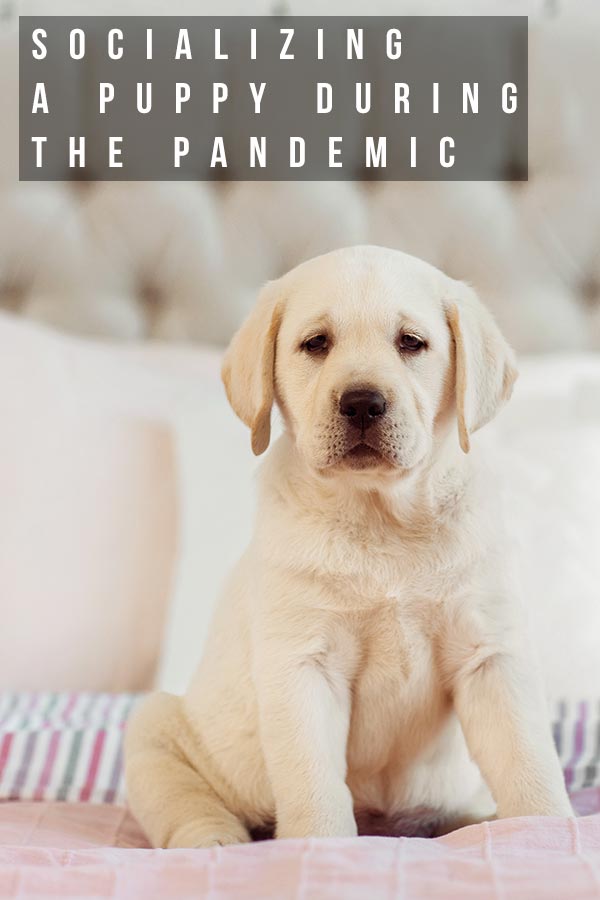 How often?
Try to introduce your puppy to something new every day of their lives until they are four months old.
Then at least once a week until their first birthday. If you can achieve this you stand a very good chance of having a confident happy dog.
What's next?
Hopefully the lockdown situation will continue to ease, and you'll soon be able to get closer to strangers and allow them to pet your puppy.
That may seem very odd for your pup at first. Try feeding your dog with a new person nearby, then see if the dog will take a treat from them.
Don't rush it, or let strangers poke or pet your puppy if they seem worried.
The idea is not to overwhelm the puppy but just to help her adjust to, and accept, the new things around her.
---
"Socializing your puppy during the pandemic" was written by Pippa Mattinson, author of Total Recall and The Happy Puppy Handbook and founder of the Dogsnet Online Training Program.
Pippa's Puppy Parenting Course is packed with information to help you raise your puppy, and deal with common puppy problems. Membership of the students' support forum is included.
Get Pippa's free dog training tips delivered to your inbox