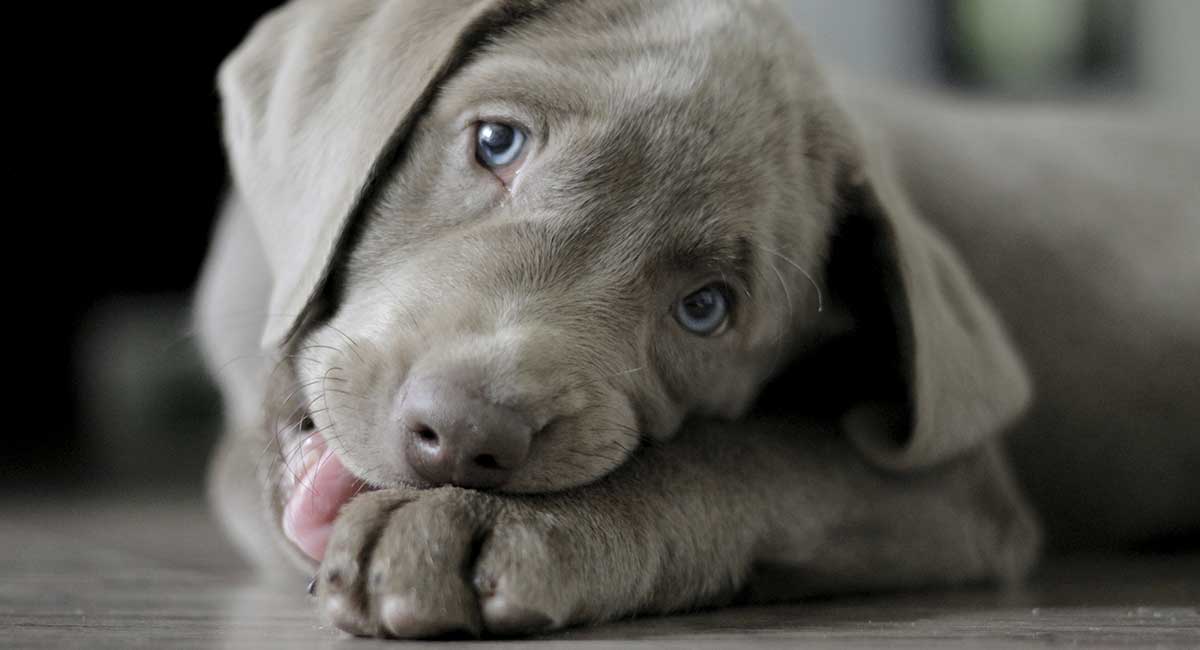 The Silver Lab is just like any other Labrador Retriever, but it has a silver, or grey, coat!
This unique color is a diluted version of the chocolate coat color. But the exact shade of silver can vary from one Silver Labrador to the next.
Because this type of Lab is the same as any other, it will be friendly, playful, and happy. Especially when it gets to spend time with its family.
Let's take a closer look to see if this breed is for you. Make sure you also check out our guide to the best dog bed for Labradors afterwards!
About The Silver Lab
There are certain dogs that just stop you in your tracks, such are their stunning good looks. The Silver Lab is one of those kinds of dogs.
Silver Labrador retrievers are genuinely beautiful canines. But they are every bit as controversial as they are pretty. We'll get into just why that is a little later.
Unusually colored dogs often send potential owners' minds racing.
'Is the color difference merely superficial?'
'Can unusual colors be indicative of a breeding practice which puts the dog at risk of poor behavior, an unpredictable temperament or worrying health risks?'
These are just some of the bigger questions that come to mind. They're also really quite understandable questions, though. Ones we'll address here in some depth for you.
History & Origins of the Silver Lab
Historically, Labradors were bred to be gundogs. Their job was to accompany their human owners on hunts and 'retrieve' the game animals that were shot.
Rich and aristocratic families, in and around the late 19th century, would often import St. John's water dogs for this purpose. With some selective breeding they created the Lab breed we know and love today.
Their speed, loyalty, soft mouths and and retrieval skills quickly established them as the gundog breed of choice.
The breed's excellent temperament soon had people taking them inside as companion dogs. Soon enough, they became among the most popular breeds of any pet on the planet. As they remain today.
As for how the silver Lab came about? Well, it's a hotly debated topic. Some dog breeders and experts say that they were bred intentionally. Others say that they came about naturally in the US in the 1950's, after a dormant color gene resurfaced.
Silver Lab Appearance
As you can no doubt imagine, silver Labs look like any other Labrador, except they're silver (or grey) in color.
But that 'silver' isn't really silver at all. It's actually a light chocolate hue; a diluted down brown color. Just like white Labs are a lighter version of yellow Labs.
Silver Labs don't come in one precise or exact shade. There's no real way of predicting just how silver or grey a puppy will be.
These dogs can either be a deep bluey-grey, a washed-out silver or a light brown (we'll explore color more in the next section).
Lookalikes
Aside from the difference in shade, silver Labradors look just like regular Labrador Retrievers. That said, many owners report anecdotal evidence suggesting that silver Labs often have slightly longer ears than non-silver specimens of the breed.
Due to its color and slightly larger ears, some dog lovers liken the look of a silver Lab to that of a Weimaraner
It's this similarity to the Weimaraner that has convinced some Labrador owners and fans to dismiss silver Labs, branding them a mixed breed. They say that they aren't pure Labrador; but a cross breed between a Lab and a Weimaraner.
There is very little certainty or agreement on the matter. In fact, it's a matter of some controversy and consternation in the dog breeding and showing world!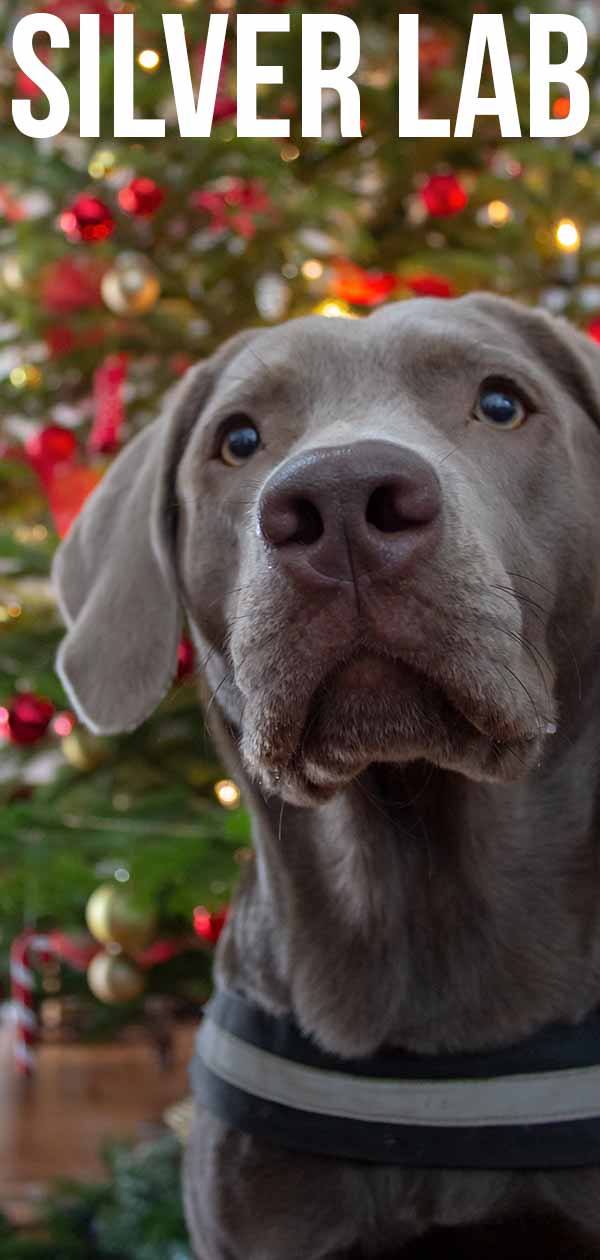 Labrador Colors
We're focusing on the eye-catching silver Labrador here. But, like we say, while many dog owners accept silver as a Lab color, many won't.
three different colors of Labrador
In fact, some folk dispute the idea that a 'silver' Labrador is a Labrador at all. There are only three different colors of Labrador that are formally recognised by The Kennel Club: Yellow, black and chocolate
Debate is rife in the Lab community. Many people actually have little or no issue with the color of the dog and say that it's more than just coat color that determines what truly makes a Labrador.
Non Standard Colors
Those people will happily express their opinion that there are many different colors that Labradors come in
Yellow
Black
Chocolate
Silver
Champagne
Fox red
Charcoal
A mixture of any of these colors
It doesn't matter what you believe about the 'three main colors' when it comes to how agreeable, healthy and loving your pet Lab will be, though.
Regardless of its color, these are amazing dogs. Here are a few things worth bearing in mind:
Popularity of the Silver Lab
Despite the pervasive idea that silver Labs are not 'real Labs', that doesn't affect their popularity.
Staunch Labrador enthusiasts may reject them, but 'normal' dog lovers the world over are drawn to them. And it's no surprise, really. You only need to see a picture of one to appreciate how incredibly beautiful they are.
Their popularity is reflected in their price, however.
Silver Lab Grooming
As with any colored Labrador, grooming is essential but not particularly demanding.
Bathing isn't really required too often. Regular brushing (preferably after an all-over massage) helps. Once or twice a week is ideal.
A Lab's coat is short, dense and prone to moulting (it's also waterproof). This shedding means it's probably a smart move to brush your Lab down outside.
Silver Lab Training
This breed has worked very closely with us humans down the years. So it's relatively easy to establish a working relationship with one.
It's well worth your time to fully trained any dog. It will improve not only your life, but theirs too. An obedient dog is generally happier and you're much more likely to have a better companionship.
Set up a well thought out, rewarding and effective training regime and you and your silver Lab will have fun and learn together.
Like with all breeds of dog, positive reinforcement works best, So make sure you've plenty of treats to hand. Or a ball (whatever helps motivates your pet).
Again, color doesn't really matter here. All Labradors are smart and should love interacting with their owners and learning. So training should not present any major obstacle.
For more information on training your Lab visit our guide to training dogs here.
Silver Lab Temperament
It doesn't matter that the Lab is silver… A Lab is a Lab is a Lab! You can expect a silver Labrador to behave in much the same way as a regular example of its breed.
These are the traits most associated with and seen in the Labrador breed include:
Loyalty
Lovingness
Happiness
Friendliness
Energetic
Enthusiastic
Playful
Food-motivated
Intelligent
Can Coat Color Affect Temperament?
There seems to be very little scientific basis for the suggestion that coat color can affect behavior, temperament or skills. However, the shooting community certainly takes a very strict view on the matter.
Those that use their Labs as gundogs rate black Labs as the best. Yellow Retrievers come in second as acceptable but not perfect. Chocolate (and, by extension, silver) Labs are thought of as purely pet and/or show material.
Silver Lab puppies
Some more hardline Labrador breeders and enthusiasts think that the breeding of silver Labs is unethical and damaging to the legacy of the Labrador as a breed.
This isn't an opinion shared by all Lab owners, of course. Many are happy to see silver Lab puppies being bred and born.
Here's more on the controversy surrounding the breeding of silver Lab puppies.
Health of the Silver Lab
Despite what some Lab fans will tell you, silver Labradors are still Labradors. Whether they're 'pure' or not isn't really a concern when it comes to Labrador health.
That said, any 'breed impurity' is usually a good thing for cutting down the risks of health issues.
When it comes to silver Labs, the only thing that can occur, separate from other dogs of the breed, is a type of hair loss.
Silver Labrador breeders and owners are wise to look out for this 'color dilution alopecia', as it can lead to infected hair follicles and discomfort for the dog.
Health Concerns
The following are afflictions that all Labs are prone to suffer from:
Obesity
Hip dysplasia
Elbow dysplasia
Ear infections
Heart disease
Bloat
Cancer
Progressive retinal atrophy
That may seem like a fairly lengthy and concerning list, but you needn't worry. Most Labradors live a fully and healthy life anywhere up to around 10 or 12 years. Maybe even longer.
Make sure you get your puppy health checked. Take your dog to the vets for regular check ups and keep them in shape, exercised and well fed. Then things for you and your pooch should hopefully be fine.
Risks in Breeding Silver Labs
Other than the health issues that all Labradors face, there are no real added risks or dangers inherent in breeding silver Labs. Aside from that color dilution alopecia we've already touched upon, of course.
Breed traditionalists say that the main issue with breeding these dogs is that they threaten the purity of the breed. It's their belief that silver Lab breeders are doing a disservice to Labradors.
That's more a matter of opinion, though.
One less debatable point is that it seems as though silver Labrador breeders have had to breed quite closely to ensure their Labs are born silver. So the gene pool is on the small side.
Limited sized gene pools bring about dangers. It may not qualify as 'inbreeding', but the wider the gene pool, the healthier the dog.
Summary
Bear that in mind when buying a silver Lab. It's worth having your silver Lab puppy fully health checked before committing to a purchase.
Wherever you stand on whether the 'silver' in these dogs is indicative of a mixed breed, or you think it's merely a coat color, you're all but guaranteed a great dog.
These dogs are smart, easy-going, loyal, patient and loving. Of course they looks stunning too. Have you got a Silver Labrador or have you always wanted one? Let us know in the comments!
More Labrador Reading
There's so much more to learn about the popular Labrador breed!
We've got a lot more articles that you can explore here:
References and Resources
Buzhardt, L., DVM, 2016, "Genetics Basics – Coat Color Genetics in Dogs," VCA Animal Hospitals
Chappell, J. Merle, Dog Coat Color Genetics
Coren, S., 2005, "The Intelligence of Dogs: A Guide to the Thoughts, Emotions, and Inner Lives of Our Canine Companions"
McGreevy, P.D., et al, 2018, "Labrador retrievers under primary veterinary care in the UK: demography, mortality and disorders," Canine Genetics and Epidemiology Journal
Godfrey, R., BVetMed MRCVS, et al, 2011, "Labrador Retriever: Hypoadrenocorticism," Universities Federation for Animal Welfare
Kampo, Jr., F., et al, 1994, "Labrador Breed Standard," Labrador Retriever Club of America, 1994
Davol, P.E., 1999, "B/b, E/e, and Beyond: A Detailed Examination of Coat Color Genetics in the Labrador Retriever," Wing n Wave Labradors Kennel
Welle, D. 1998, "Coat Color Inheritance in The Labrador Retriever," Blue Knight Labradors Kennel
Young, J. 2016, "Best labrador color: does coat make a difference?", The Field
Todd, Z. PhD, 2014, "Are All Labrador Retrievers the Same?", Companion Animal Psychology
Fratkin, J.L. et al, 2014, "The Role of Coat Color and Ear Shape on the Perception of Personality in Dogs" Anthrozoös Journal
Ziessow, B. PhD, et al, 1994, "The Labrador Retriever: Origin & Purpose of the Breed," The Labrador Retriever Club
McGreevy, P. PhD, 2018, "Labrador color may determine lifespan, researchers report," Science News
Get Pippa's free dog training tips delivered to your inbox