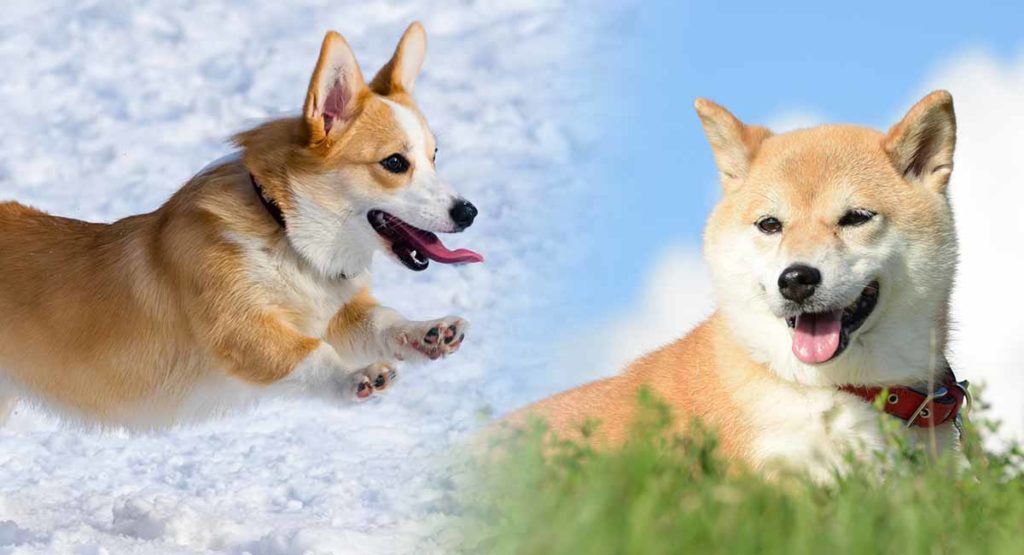 The Shiba Inu Corgi mix is a small hybrid that ranges from 10 to 17 inches tall, and weighs less than 30 pounds as a healthy adult.
The appearance and temperament of a mixed breed can be hard to predict. But looking at the parent breeds is a good place to start.
Generally, the Shiba Inu Corgi mix is intelligent, loyal, and often a little stubborn!
Read on to learn more about whether this mixed breed is right for your family.
Where Does the Shiba Inu Corgi Mix Come From?
Both Corgis and Shiba Inus are well known breeds and internet sensations, from the Corgi's famous "sploot" to Shiba Inu inspired doge memes, you'll be hard pressed to find someone who doesn't know about these breeds.
But a lot of people don't know their exact history. To find out more about the Shiba Inu Corgi mix history, we need to look at its parents. But first, let's take a look at the pure breed vs mixed breed debate.
Pure Breed vs Mixed Breed
Deciding to bring a mixed breed dog into your family is not a decision to take lightly. Just as you would research a purebred, so you should research a mix (and you're reading this, so you are on the right track!).
What are the benefits of adopting a mixed breed over a purebred? This is a question that has caused quite a bit of debate, especially regarding concerns of inbreeding. There is some evidence that the selective breeding of purebred dogs is causing issues for the animals. This is something known as inbreeding depression.
Mixed breed dogs are more likely to have what is called hybrid vigor, because of the combination of two different sets of parental genes (or genomes).
The University of Sydney put out a study in 2016 that examined hybrid vigor in mixed breeds of dogs. They found that only certain mixes exhibited favourable and advantageous traits. Others were more likely to have health issues than the pure breeds that created them.
In general, mixed breed dogs are more likely to be carriers of a genetic disorder than pure breeds, as shown by a study from the University of Helsinki in 2018.
Since mix breed dogs are not often regulated by governing bodies (such as kennel clubs), they can have an elusive history. However, their purebred parents have rich histories, sometimes spanning back hundreds of years.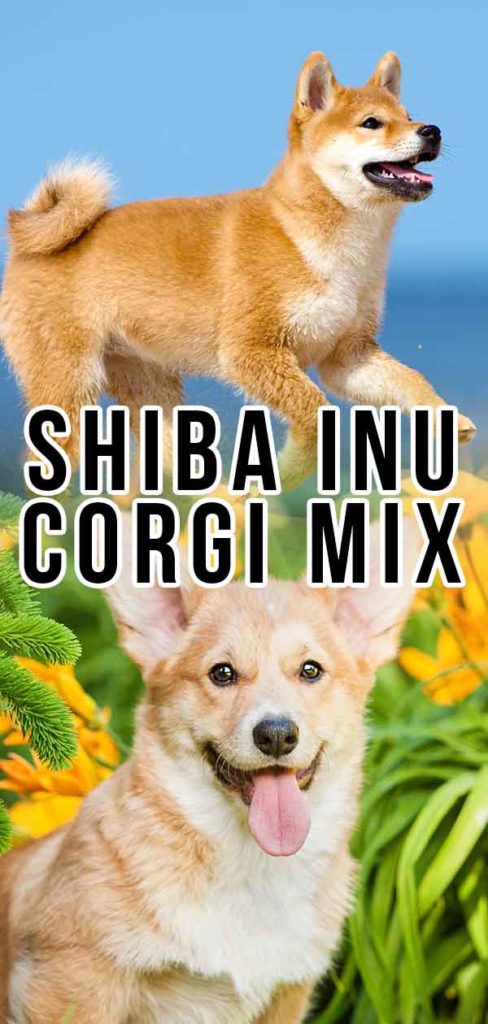 History of the Corgi
Now let's get back to the history of the parent breeds.
The Corgi has a very long history and the exact origins of the breed are unknown. It is thought that Corgis are descended from Scandinavian dogs that were brought to the UK by explorers in the 9th and 10th centuries.
These dogs then bred with native Welsh dogs and produced the adorable little guys we know and love.
These dogs have always been working dogs for those who farm cattle and sheep as they have a natural ability to herd. The name Corgi comes from the Welsh words "Cor" (to gather) and "gi" (dog).
History of the Shiba Inu
The Shiba Inu is an ancient Japanese breed that can be traced as far back as 300 BC. They were traditionally hunting dogs used to hunt small rodents and wild boar. They were brought to the USA in the 1950's and has been soaring in popularity ever since.
Their name comes from the Japanese words meaning brushwood (for either their red color or the vegetation in the mountains where they hunted) and dog.
Fun Facts About the Shiba Inu Corgi Mix
There is a legend surrounding the origin of the Corgi that dates back to the 12th century. The legend says that Corgis were gifts from fairies to cattle farmers. The fairies would use Corgis to pull their carts and ride them into battle. The marking on the shoulders of the dogs are where the fairy saddles would be.
Queen Elizabeth II absolutely loves Corgis. Her father bred them and she has had a Corgi ever since 1930, she also bred the dogs until 2015. Most of her dogs were direct descendants of her original Corgi Susan. In 2018 her last Corgi passed away. She has decided not to adopt any more for fear of leaving them behind when she passes.
In 2010 a Shiba Inu was behind a popular doge meme which has since been transformed into all types of merchandise. 'Doge' is also a Shiba Inu by the name of Kabuso that lives in Japan.
The world almost lost the Shiba Inu at the end of WWII and the breed was on the brink of extinction. Thankfully they have made a comeback and now are the most popular companion dog in Japan. They are also considered the smallest and oldest Japanese dog breed.
Shiba Inu Corgi Mix Appearance
Since the Shiba Inu Corgi mix is relatively new and multiple factors go into the genetics of appearance, there is not a lot of concrete information. But, you are able to make an educated guess based off of the parent breeds.
The coat of a Shiba Inu Corgi mix will be very similar to their parents. Both breeds have coarse hair, that is generally short, and sheds quite often.
With respect to color, Shiba Inus and Corgis are also quite similar. Both breeds show black-brown, red, and tan bodies with white markings. A fox like appearance is also common and considered standard between breeds.
They can range in size from 10 to 17 inches and should be less than 30 pound at a healthy weight.
The length of their legs can also vary as Shiba Inus tend to have more proportional legs than Corgis do.
Notable Features
This mix will almost certainly have erect ears that come to a rounded point. This is a feature common to both parent breeds.
The length of the tail on this mix would depend on if it is docked by the breeder or not. Corgis naturally have a variety of tail lengths, even though the short tail is breed standard and often docked to achieve this.
There are naturally occurring short tailed and tailless corgis. But tailless dogs have many known genetic issues. So, breeding to achieve taillessness should not be done.
Shiba Inu Corgi Mix Temperament
A Shiba Inu Corgi mix is sure to be an intelligent and eager to please dog like its parent breeds thanks to their long history as working dogs. But, these dogs can be a little stubborn.
A study from the University of Tokyo in 2006 looked at personality characteristics and temperament of different dog breeds. They found that both the Corgi and Shiba Inu were more prone to exhibit behaviors of excitability, watchdog barking, overall higher levels of energy and aggression towards other dogs.
Both breeds are also known to be destructive if given the opportunity to do so and deprived of more appropriate outlets for their energy.
Aggression
Shiba Inus tend to be very territorial and can be aggressive, which is a genetic quality in this breed. A 2009 study from the University of Tokyo found that owner reported aggression levels can be traced to differences in a gene.
It is worth noting that the highest level of aggression reported in this breed is aggression to strangers not general aggression or aggression towards owners and children.
A 1996 study from Massey University in New Zealand looked at 108 dog breeds and classified them based on their veterinarian reported levels of aggression. The Corgi was in the group considered to be very aggressive.
This however was a subjective study in an environment that causes great stress to the animal and should only be used as a guideline for behavior that may be exhibited by the animal.
Socializing your puppy from a young age can help to avoid aggression as an older dog.
Training Your Shiba Inu Corgi Mix
Both Shiba Inus and Corgis are working dog. So, your mix will have the qualities of a working dog as well. Fearfulness is a large indicator of how successful your training for a working dog will be.
A study conducted at San Jose State University in 1995 examined the main reasons why training for work failed in various breeds. They found that fear responses were the largest reason dogs would fail out of training programs.
As both parent breeds are working dogs, the best training method would be one that uses positive reinforcement instead of punishment.
It is very important to begin training your dog at a young age. A study from Azabu University in Japan looked at the trainability and social responses of dogs when they were exposed to a puppy training class at four months of age, included in this study were Shiba Inu and Corgi puppies.
All dogs showed a better response to training in the future when compared to dogs not exposed to young training. They were also more likely to be better with strange humans and dogs after socialization during the crucial period of development.
Training your dog can be overwhelming and confusing. Especially if you are not totally sure of what you are doing.
Shiba Inu Corgi Mix Health
Corgi Health
Corgis are known to be susceptible to back problems including intervertebral disc disease due to their long, low, body shape.
They are also vulnerable to genetic diseases like Degenerative Myelopathy. This disease is also seen in other breeds, but the Corgi has a longer onset period.
Unlike many other breeds, specifically larger breeds, the Corgi is not particularly prone to hip dysplasia or osteoarthritis despite their hip joint structure. This could be in part to extensive screening done by breeders.
Shiba Inu Health
Shiba Inus are at risk for hip dysplasia, knee joint issues and eye problems such as glaucoma.
There is a relationship between ligaments in the eye and glaucoma risk. This suggests that the length and shape of the eye may predispose the dog to the disease.
Genetic testing is important for all breeding efforts. This can prevent dogs from suffering the consequences of hereditary diseases. Dogs with these issues should not be bred.
Both parent breeds need minimal grooming to keep their coats in good shape. But, both also shed. So, regular brushing will keep shedding to a minimal.
The expected lifespan for a Shiba Inu Corgi Mix is between 8 and 12 years. Check out the longest living breeds here.
Do Shiba Inu Corgi Mixes Make Good Family Dogs?
If you are a family with older children, a lot of time to devote to the training and experience with dogs, then you should consider adopting a Shiba Inu Corgi Mix.
They are intelligent dogs willing to work and please if you put the time into them.
They have watchdog tendencies, which means they could be temperamental with children. But they will also provide added security to your home.
Rescuing a Shiba Inu Corgi Mix
Rescuing a dog is not something to take lightly. You will likely have to look for a while and contact multiple rescues before you can find the breed that you are looking for.
More than likely, you will have to fill out an application in order to adopt your dog or puppy.
The organization will want to ensure that the needs of the dog are being met and that the house is a suitable environment to raise a dog.
Finding a Shiba Inu Corgi Mix puppy
When looking for your new family member, it is important to do your research. You want to make sure that your dog is coming from a reputable breeder that allows you to see where the dogs are being raised, the parents, and are willing to provide references when requested.
Raising A Shiba Inu Corgi Mix Puppy
Raising a puppy of any breed can be challenging. They require persistent and firm training but will prove to be a great pet.
Pros and Cons of Getting A Shiba Inu Corgi Mix
Cons of Getting a Shiba Inu Corgi Mix
High energy dogs
Can be aggressive or show aggressive behavior
Require extensive training due to their intelligence
Pros of Getting a Shiba Inu Corgi Mix
Highly intelligent
Low maintenance grooming
Good size for apartments or small houses
Watchdog tendencies
Low number of genetic diseases compared to some other breeds
Similar Shiba Inu Corgi Mixes and Breeds
Other breeds that are similar to the Shiba Inu Corgi Mix that you may want to consider:
There are similar breeds like the Corgi Pug mix, Corgi Lab mix, German Shepherd Corgi mix and the Pekingese Shih Tzu mix, but unfortunately these can have a lot of serious health problems.
Shiba Inu Corgi Mix Rescues
Take a look at rescue centers for the parent breeds if you a struggling to find a Shiba Inu Corgi mix.
Is A Shiba Inu Corgi Mix Right For Me?
A Shiba Inu Corgi Mix can be a great addition to your family. But their high level of intelligence and energy demands require an experienced owner.
They have been known to be aggressive with strangers and young children if they are not socialized properly.
If you have plenty of experience with raising dogs as well as the time and motivation to train them properly, you may want to consider bringing this charming little mix into your home.
We'd love to hear about your pup. So feel free to share in the comments below!
You'll Also Love…
References and Resources
Kato K. Possible association of glaucoma with pectinate ligament dysplasia and narrowing of the iridocorneal angle in Shiba Inu dogs in Japan, Veterinary Ophthalmology, 2006.
Kart G. Radiographic Hip Joint Phenotype of the Pembroke Welsh Corgi, Veterinary Surgery, 2012.
Coates J. Clinical Characterization of a Familial Degenerative Myelopathy in Pembroke Welsh Corgi Dogs, J Vet Intern Med 2007
Kutsumi, A. Importance of training for Future Behaviour of the Dog, Ethology 2012.
Grunow S. Fearfulness and failure in training working dogs. SJSU ScholarWorks, 1995
Stafford KJ, Opinions of veterinarians regarding aggression in different breeds of dogs, Clinical Communications, 1996.
Takeuchi, Y. Association analysis between canine behavioural traits and genetic polymorphisms in the Shiba Inu breed, Animal Genetics, 2009.
Takeuchi Y, A Comparison of the Behavioural Profiles of Purebred Dogs in Japan to Profiles of this in the United States and the United Kingdom, Ethology 2005.
Indrebo A, A study of inherited short tail and taillessness in Pembroke Welsh corgi. Journal of Small Animal Practice, 2008.
Donner J, Frequency and distribution of 152 genetic disease variants in over 100,000 mixed breed and purebred dogs, PLOS Genetics, 2018.
Nicholas F. Hybrid vigour in dogs? The Veterinary Journal, 2016.
Get Pippa's free dog training tips delivered to your inbox