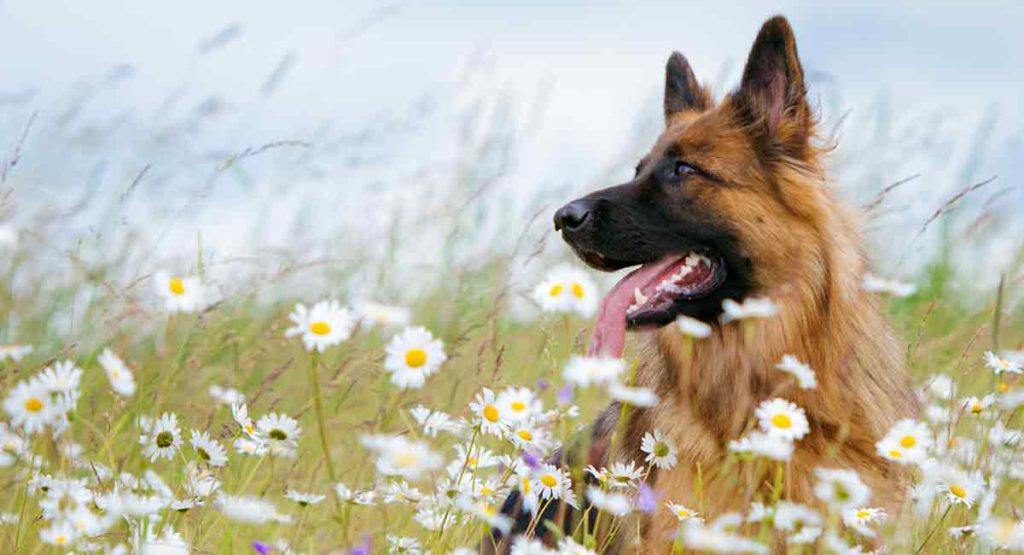 Shepherd dog breeds are amongst some of the most loyal and intelligent breeds in history.
Refined over centuries and valued for their work ethic and incredible instincts, shepherd breeds can make wonderful pets for the right owner.
However, not every shepherd dog breed is right for every person or family.
Would you like a shepherd dog breed but aren't sure which one would make the right fit for you?
Don't worry. We are here to assist with a list of eighteen of the most popular shepherd dog breeds!
No 1: The Australian Shepherd
Known for his gorgeous look and incredible intelligence, the Australian Shepherd is one of our best-known shepherd dog breeds on this list.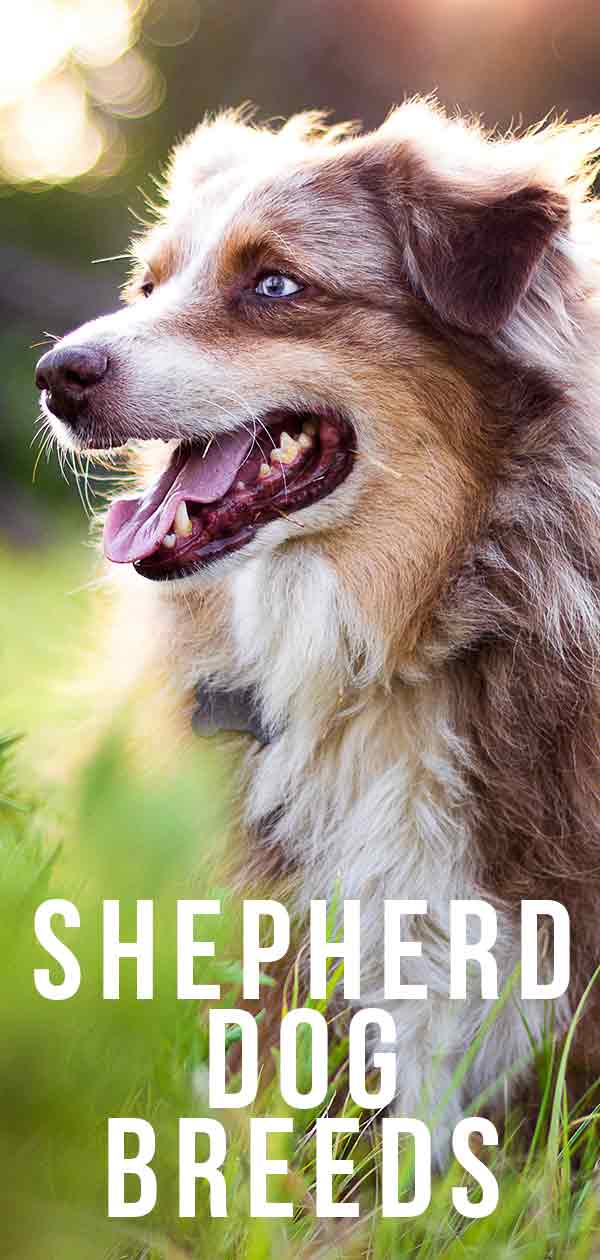 A vivacious ranch dog, the Aussie, as he is sometimes known, is considered an American dog at heart although he does have some Australian roots.
This breed was refined in California, and even played a vital role in the cowboy's way of life during the days of the wild west.
Today, the Australian Shepherd is still a valuable ranch dog and rodeo dog, although he also makes for a fabulous family pet.
He does well with children and other household animals, however, his herding instincts can be bothersome at times.
This is a shepherd dog breed that will need plenty of daily exercise, training, and lots of doggy jobs and mental stimulation to stay happy. He will also need regular grooming.
Check out our guide to the blue merle Australian Sheperd here!
No 2: The German Shepherd
Another one of our most famous shepherd dog breeds is the German Shepherd.
Ranking in at number two out of 194 on the American Kennel Club's list of America's most popular dog breeds, the German Shepherd is perhaps best known for his work with law enforcement and military officers.
Large, muscular, and stunning, the German Shepherd is a clever and courageous breed who will willingly lay down his own life to protect the life of his human counterparts.
And while German Shepherd enthusiasts are simply gaga over this breed, the novice owner should be aware that German Shepherds require lots of commitment.
Early socialization, loads of exercise, and plenty of obedience training throughout his life are going to be key to ensuring this old herding breed turned police dog grows up to be a well-rounded and adaptable companion.
No 3: The Border Collie
Known by many as the world's best herding dog, the Border Collie is an unbelievably intelligent breed that the American Kennel Club calls a "workaholic".
Not happy without purpose, the Border Collie must be given jobs to complete to keep his active and clever mind busy.
He has to feel useful in order to feel happy.
That means lots of physical and mental agility work outs to stave off boredom and mischief!
No 4: The Caucasian Shepherd Dog
Massive and bear-like in appearance, the Caucasian Shepherd Dog is not for the owner who is faint of heart.
Although this shepherd breed is said to be calm and affectionate with family and other household pets, he can be a fearsome protector against any who threaten his domain.
Like all our Shepherd breeds on this list, the Caucasian Shepherd Dog is known for his outstanding wit and work ethic.
No 5: The Anatolian Shepherd
The Anatolian Shepherd is an ancient shepherd breed whose lineage dates back as far as the Babylonian Empire.
He is a leader at heart and prefers his independence, although he can be very loving and affectionate with his family, his children, and other pets inside his home.
However, he has very strong guarding instincts and can be rather wary of strangers or anyone he deems suspicious or untrustworthy.
Early socialization and obedience training are instrumental in helping to reduce any unwanted behaviors.
If you're new to dog training, you might find this strong-willed and brainy breed is too much to handle for the novice owner.
No 6: The Belgian Tervuren
Hailing from Belgian in the town of Tervuren, the Belgian Tervuren is said to be a mischievously clever shepherd breed with a zest for life, work, and play.
Unlike many of the Shepherd dog breeds on this list, the Belgian Tervuren enjoys play almost as much as he does work, so long as the game is a challenge and he may have the ability to outwit his person.
The Belgian Tervuren becomes very bonded with his family, however, and has been known to show possessiveness.
He would do best with an experienced, active, and creative owner who can keep up with this breed's desire for both work and play.
No 7: The Belgian Malinois Dog
The Belgian Malinois, also known simply as the Mal, is a famous modern-day military and police dog just like his German Shepherd counterpart.
This Belgian shepherd dog, who is a close cousin to the Belgian Tervuren, is said to even resemble the German Shepherd, although most Mal enthusiasts will tell you that the Mal has a different shaped head and is lankier.
This is another one of our Shepherd dog breeds who needs plenty of exercise, affection, and mental stimulation to stay happy and healthy.
Without doggy jobs, time with his human, and lots of exercise, the American Kennel Club warns that this breed can become bored, depressed, and destructive.
No 8: The Beauceron
Despite his imposing look, the Beauceron is said to do well with young children and small household pets.
He becomes bonded with those he loves and is protective of his domain and, like all the shepherd dog breeds listed so far, the Beauceron is known for his intelligence and athletic nature.
Without proper socialization and training, however, the Beauceron can have strong guarding instincts and may be very demanding, hard-headed, and wary of strangers.
No 9: The Old English Sheepdog
Of all the shepherd dog breeds on this list, the Old English Sheepdog may be the one best suited for families with children.
Gentle, kind, and amazingly smart, this is a shepherd dog breed who will wow you with his keen work ethic while also amazing you with his ability to adapt to a number of home types.
So long as this dog is properly exercised, trained, and loved, he will thrive.
No 10: The Bearded Collie
Although his name sounds similar to the Border Collie and his look suggests he is related to the Old English Sheepdog, the Bearded Collie is a shepherd dog breed all his own!
Hailing from Scotland, the Bearded Collie, also known as the Beardie, is beloved for his friendly nature, intelligent mind, and comedic personality.
He does well with children and other household pets so long as he is properly socialized and trained at an early age, and he will need plenty of exercise to maintain his health and happiness.
He's even made it onto our top 15 fluffiest dogs!
No 11: The Puli
The Puli is as unique on the inside as he is on the outside! Known for his famous dreadlocked coat, this smart shepherd dog breed is friendly, powerful, and becomes very bonded with his family.
He has a strong work ethic and needs plenty of exercise and mental stimulation.
Still, even an expert owner may become exhausted with the Puli's unique, corded coat, which needs constant attention and care.
No 12: The Swedish Vallhund
Also known as the Swedish Shepherd, the Swedish Vallhund comes from—you guessed it—Sweden!
This is another of our shepherd dog breeds known for his intelligence and vivacious work ethic.
An ancient Viking breed, the Swedish Vallhund is an adaptable little herding dog known for his happy-go-lucky nature and love of life.
He bonds closely with his family members and requires plenty of exercise and training, however, he does well with kiddos and other household pets.
And if you think this breed resembles the Corgi, you're onto something!
In fact, the Swedish Vallhund is a distant relative of the Corgi, with his squat body making it safer and easier for him to herd cattle without getting injured or kicked.
No 13: The Pyrenean Shepherd
The Pyrenean Shepherd comes in two coat types that include both rough and smooth, and both coat types bring their own unique, rugged look.
A shepherd dog breed hailing from the Pyrenees Mountains, this guy was built for rough terrain and is loaded with energy.
He is playful, highly intelligent, and eager to please, meaning this breed does well in homes with active families.
No 14: The Icelandic Sheepdog
The adorable Icelandic Sheepdog is special because he is the only native dog breed to Iceland.
With a foxlike face and a smaller than medium-sized build, the Icelandic Shepherd was bred for herding sheep and corralling horses.
Considered a national symbol of Iceland to this day, the Icelandic Sheepdog is a popular companion pet due to his intelligence and charming nature.
He is friendly, playful, and bonds very closely to his human family!
No 15: The Bergamasco sheepdog
With a corded coat that looks similar to that of the Puli, one might assume that the Bergamasco Sheepdog is a high maintenance breed who requires plenty of grooming.
However, this can't be farther from the truth!
Bred for herding and guarding sheep in the Italian Alps, this dog is maintenance free when it comes to grooming.
He also has a charming personality and is said to get on well with his whole family, including children and even other household pets!
However, this breed can have some guarding instincts.
No 16: The Pembroke Welsh Corgi
Bred in medieval times to herd livestock like sheep and cattle, the Pembroke Welsh Corgi is perhaps best known today for his royal connection to Queen Elizabeth, who has long favored the breed for decades.
Preferred by shepherds for his short build, the Pembroke Welsh Corgi was the ideal herding dog due to the fact that he could chase and nip at his flock whilst avoiding kicks and other various injuries related to the job.
An intelligent, playful breed, the Pembroke Welsh Corgi does best in homes with older children.
His herding instincts are sometimes misapplied to small children and other household pets!
No 17: The Cardigan Welsh Corgi
The Cardigan Welsh Corgi shares a history with his Pembroke cousin and is, in fact, the older of the two, although the two breeds have been considered separate breeds in the United Kingdom since 1934.
Built low to the ground like the Pembroke to help him in his herding days in Wales, the Cardigan Welsh Corgi was an ideal shepherd breed.
Today, he makes a good family pet so long as he is properly trained and is well socialized and exercised throughout his lifetime.
Is A Shepherd Dog Breed Right for Me?
All Shepherd breeds on this list have one thing in common – they are highly intelligent.
However, and as we discuss above, intelligence does not always mean ease when it comes to training.
Some sheep herding dogs tend to be strong-willed and can be independent thinkers, especially if they were bred to run free on ranches while herding and protecting livestock.
Other sheepdog breeds may retain a number of instinctual traits that could be bothersome to certain owners, especially those with smaller children.
A prospective owner of any shepherd dog breed should understand that these types of dogs may require more training, exercise, and socialization than other breeds.
But with time, patience, and positive reinforcement, most shepherd dog breeds make wonderful pets and companions.
As always, we suggest that you do plenty of research on any breed or crossbreed before you commit.
And of course, for those looking for a new puppy, we urge you to stay away from pet stores and puppy mills. And speaking of puppies, check out our guide for how much to feed a German Shepherd puppy!
We hope this article helped you decide on which shepherd dog breed would fit into your lifestyle!
We love hearing from our readers! Please let us know which of the shepherd dog breeds above stole your heart in the comments below!
References
Lowell Ackerman, The Genetic Connection; a Guide to Health Problems in Purebred Dogs, Second Edition, 2011
Howell, et al, Puppy Parties and Beyond: the role of early age socialization practices on adult dog behavior, Veterinary Medicine: Research and Reports, 2015.
Ruefenacht, et al, A Behaviour Test on German Shepherd Dogs: Heritability of Seven Different Traits, Applied Animal Behaviour Science, 2002.
Mehrkam & Wyanne, Behavioral Differences Among Breeds of Domestic Dogs (Canis Lupus Familiaris): Current Status of the Science, Applied Animal Behaviour Science, 2014.
McConnell & Baylis, Interspecific Communication in Cooperative Herding: Acoustic and Visual Signals from Human Shepherds and Herding Dogs, International Journal of Behavioral Biology, 1985.
Get Pippa's free dog training tips delivered to your inbox