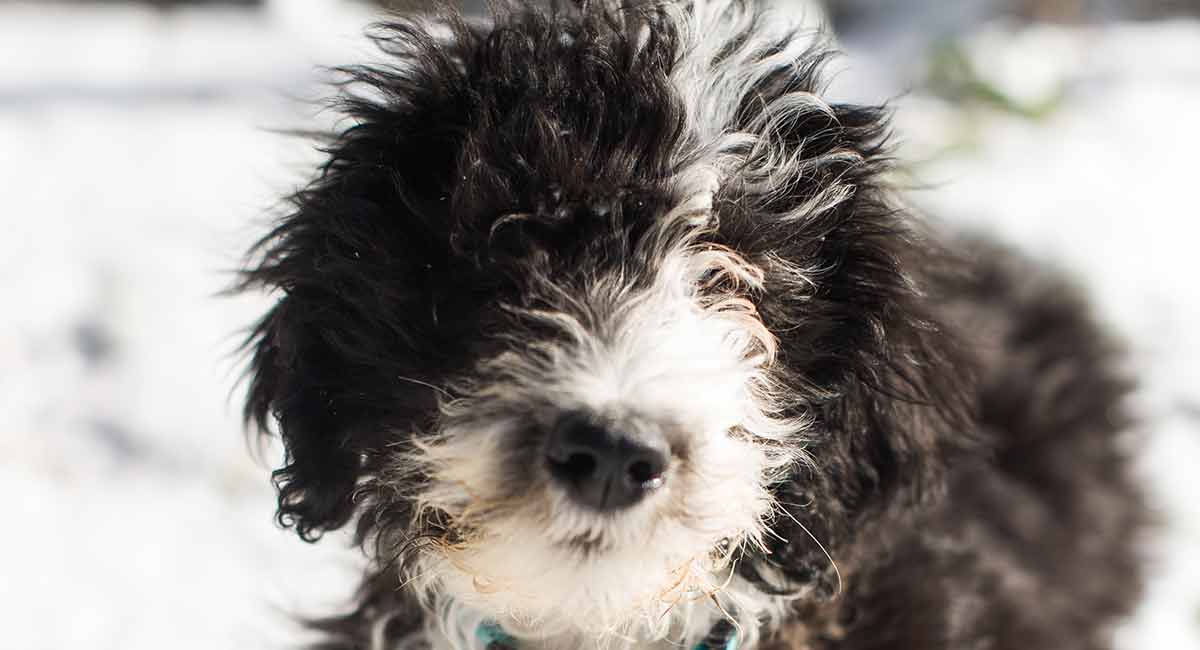 Welcome to our article all about the Sheepadoodle!
This hybrid is a cross between a purebred Poodle and a purebred Old English Sheepdog.
These dogs are friendly, outgoing and energetic. But do have high grooming and exercise needs.
And they are just waiting for you to learn more about them!
Let's find out more about this interesting cross.
Where Does The Sheepadoodle Come From?
Like many hybrids, Sheepadoodles came from a desire for a particular kind of dog.
Crossbreeding is one way in which breeders try to combine the best traits of one breed with the best traits of another.
However, the results aren't always guaranteed. There's quite a bit of debate on whether crossbreeding is better or worse for a dog.
Some experts point to "hybrid vigor" as a proving point. Hybrid vigor is the phenomenon of improved health that may come from mixing bloodlines.
In this case, Sheepadoodles were deliberately created from Old English Sheepdogs and Standard Poodles.
The First Sheepadoodles
While Sheepadoodles don't have much history of their own yet, their parents more than make up for that.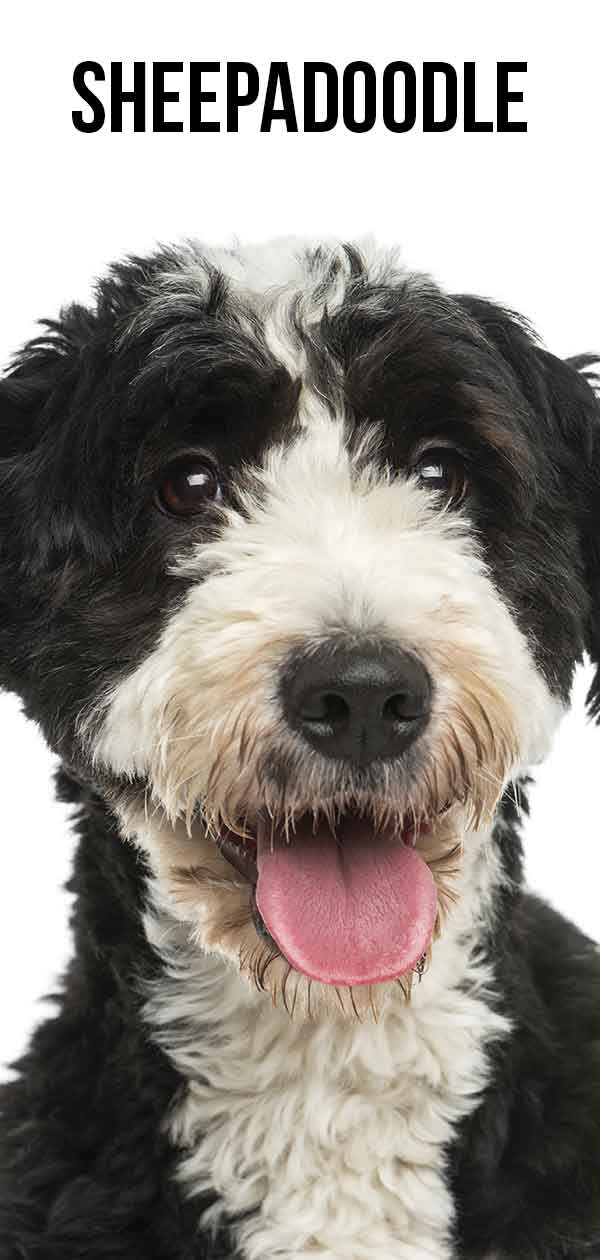 Both sides of the family have long and interesting histories going back hundreds of years.
Let's Look at the Parents
The Old English Sheepdog hails from murky origins in the late 1700s from the countryside of England.
Most people think that they came from some type of Collie or other herding dog; however, we just don't know.
On the other side of the family tree, the Poodle has been a staple breed in the world of dogs for the last six hundred years or so.
From working dog to pampered pet, Poodles know how to manage almost any situation a dog may face.
Fun Facts About The Sheepadoodle
One of the most interesting facts about Sheepadoodles is how they came into the public eye.
Figure skaters Meryl Davis and Fedor Andreev brought this breed front and center when they told the world about their Sheepadoodle, Bilbo Baggins.
They are naturally some of the most social dogs around, due to their long mixed heritage of being with people.
While they don't need to herd for a living anymore, their Old English Sheepdog side will still at times pop out and demand to herd something. This can include small children and other pets.
Finally, they are fluffy, fluffy, and did we say fluffy? A Sheepadoodle's coat is soft, curly and thick. Between their love for you and their huggability, they are some of the best better snugglers in dogdom.
How does this play out in day to day life with a Sheepadoodle? What are their temperaments like? And what do they look like?
Sheepadoodle Appearance
Let's start with some basic facts about a Sheepadoodle's size.
They are generally around 18-23 inches tall and weigh anywhere from 50 to 85 pounds.
The males tend to be about 10 pounds heavier than the females, but they are both generally the same height.
These dogs are fairly solidly built and are usually medium to large size.
Sheepadoodle Coat
A normal Sheepadoodle's coat is fairly thick and curly. The curliness of their coats depends primarily on their Poodle parent.
Because of the thickness and texture of this breed's coat, it will require regular brushing and grooming.
There's quite a wide variety possible when it comes to coat colors for this crossbreed.
These include:
cream
white
black
blue
gray
red
brown
black and white
bicolored.
Is One More Common?
Black and white tends to be the more common color scheme.
While we are on the different colors of Sheepadoodles, their eyes are either blue or brown, and their noses are black or brown.
It's important to realize that the parents play a large part in how a Sheepadoodle will turn out. It's always best to meet the parents, if you can, and see what their puppy could be like.
Sheepadoodle Temperament
Now that we've covered what these dogs look like, how will they act around you? Are they herders, workers, protectors or a mix of all three?
Sheepadoodles are bred to be companion dogs.They are friendly almost to a fault.
However, only recently have people started keeping dogs just to be companions. Old English Sheepdogs were herders long before they were kept indoors and snuggled in cozy chairs and couches.
This can lead to Sheepadoodles herding other pets or small children, sometimes by nipping. Other quirks that these dogs may have include jumping, vigorous play regardless of the situation, and a drive for activity.
Sometimes, these dogs can seem a little rambunctious. Don't worry! That's where training and positive reinforcement help you and your newest member of your family.
Training Your Sheepadoodle
Training a Sheepadoodle is an easier job due to their intelligence.
However, they may be a wee bit stubborn when their natural instincts need to be overridden by their loving owners.
What does this look like in training sessions?
Consistency is key to training this breed. Positive reinforcement training methods definitely work best.
On the flip side, you won't need to worry about difficulties socializing these pups. They are naturally very friendly and can't wait to meet new people and things!
If you feel a bit lost or uncertain about training, check out our training guides for both a quick overview of the subject and a deeper dive into particulars, such as crate training and potty training.
Sheepadoodle Exercise Requirements
These dogs will need about an hour of play every day and should be walked according to their age. The normal rule is five minutes of brisk walking for each month until they are about a year old.
An adult Sheepadoodle will need an hour's walk each day or equivalent, such as romping in a dog park or in a large backyard.
Because these dogs were working dogs, they need more exercise than other companion breeds or mixes.
However, once they have had their play and walk time, they are more than happy to settle down with you to watch your favorite shows and snuggle.
Sheepadoodle Health
While this will vary a bit from dog to dog, this breed should have a long and healthy life with you.
For starters, these dogs live for about twelve to fifteen years and do not have any special care needs specific to the Sheepadoodle mix.
The parent breeds do face a selection of major health concerns, including:
hip and elbow dysplasia
diabetes
Addison's Disease
bloat
cataracts.
Other Issues
Minor concerns that can come up include entropion, ectropion and some skin issues.
A good breeder will provide hip and elbow scores for their puppies' parents, as well as the results of a recent health check and eye exam.
Regular vet visits are the best way to check if your pup may be facing any of the above situations.
Skin and eye evaluations are a simple request if you have concerns, as are X-rays.
Sheepadoodle Grooming Requirements
Moving back to things that you can do at home, these dogs require fairly intensive grooming.
Their long, curly coats should be brushed at least every other day and every day is better.
You should also check their ears on a regular basis to prevent ear infections from their long fur.
Finally, a Sheepadoodle will need to have a haircut about every two to three months.
Due to their Poodle heritage, a lot of fun and quirky cuts make great options for you and your dog.
Do Sheepadoodles Make Good Family Dogs?
The answer is an overwhelming yes! Sheepadoodles make a wonderful family dog.
From a small family of owner and friend to a large family with multiple kids, these dogs are ready and waiting to join in the fun!
Both parent breeds are great with people and families. Their puppies are no different.
Beyond the normal amount of training and socialization that all dogs need, Sheepadoodles are about as ready for family life as a dog can be.
However, it is important to remember how much exercise these dogs need if you plan on adding a Sheepadoodle to your family.
They can't spend all day waiting for you to come home and then snuggle up on the couch to watch television or Netflix.
Just make sure that your pup is well exercised, and enjoy your time together.
Rescuing A Sheepadoodle
First of all, thank you for considering rescuing a Sheepadoodle.
Due to the scarcity of this mix, this may be a bit more difficult than for other breeds.
Keep an open mind as you look. Some of the most practical places to start are your local pounds and animal rescue organizations.
Let them know what you are looking for and ask them for help.
Since this is a highly location-specific topic, it's best to start in your city or area versus a regional or national organization.
Finding A Sheepadoodle Puppy
As more and more people begin searching for designer dogs and various mixes, it can be overwhelming to try and find a Sheepadoodle puppy. Where should you start?
First of all, please, please do not start at your local pet store or puppy mills, including most online breeders!
These people look at these puppies as commodities and generally do not take care of them. Let's break the cycle one pup at a time.
Instead, look for breeders with a long wait list and solid references from multiple different places.
Ask around in the community and get ready to spend some solid time searching.
Another great place to begin your search is at our online puppy search guide.
Raising A Sheepadoodle Puppy
It's never too early to think about raising a puppy the right way.
The basics don't change much, but they are rather a lot to even outline here. Check out our collection of puppy training guides for the ones that you think will be most helpful for you and your puppy.
And be patient with yourself. Rome wasn't built in a day and a puppy won't be trained in a day, either.
Sheepadoodle Products And Accessories
Given what we've covered about the coat your Sheepadoodle may inherit from either parent, it's probably a good idea to have recommendations for coat care!
Here are some products that may come in handy:
Pros and Cons of Getting A Sheepadoodle
What are some of the pros and cons of getting a Sheepadoodle?
Cons
May have a very low tolerance for being alone
May nip and herd small children and/or other pets
Needs almost-daily brushing and grooming
Pros
Amazing family dogs
Easier to train than some other dogs
Very low-shedding mix
Similar Breed Mixes And Breeds
What are some other similar breed mixes and other breeds that you might consider if you can't find a Sheepadoodle?
Various Poodle mixes are a great alternative! If you are considering rescuing a dog, these mixes will be much easier to find. We've got some guides here:
What about some similar breeds?
A Golden Retriever shares many of the most lovable traits of a Sheepadoodle, but may avoid some of the setbacks, such as a Sheepadoodle's herding tendency.
Old Danish Pointers provide an exotic flair, while a Labrador is familiar and easy to train.
Keep an open mind as you look; you never know what might surprise you!
Sheepadoodle Rescues
There aren't a lot of rescues available that are specifically for mixed breeds, but don't let that discourage you!
Here is a list of rescues for Poodle mixes, Poodles, and Old English Sheepdogs.
If you come across any others that aren't on the list, please let us know!
USA
UK
Canada
Australia
Is A Sheepadoodle Right For Me?
At the end of the day, while the answer to this question will depend heavily on you, your situation, and/or your family, it's safe to assume one simple statement.
If you want a fun, family-friendly mix, this breed may be just right for you.
Has this article helped you decide whether to look for a Sheepadoodle? Let us know about your choice below!
References and Resources
The Poodle Club of America
Old English Sheepdog Club of America
Nicholas, F, et al., 2016, "Hybrid Vigour In Dogs?" The Veterinary Journal
Day, M., Penhale, W, 1992, "Immune-mediated disease in the old English sheepdog," Research in Veterinary Science
Beuchat, C, 2014, "The Myth Of Hybrid Vigor In Dogs…Is A Myth," Institute of Canine Biology
Get Pippa's free dog training tips delivered to your inbox