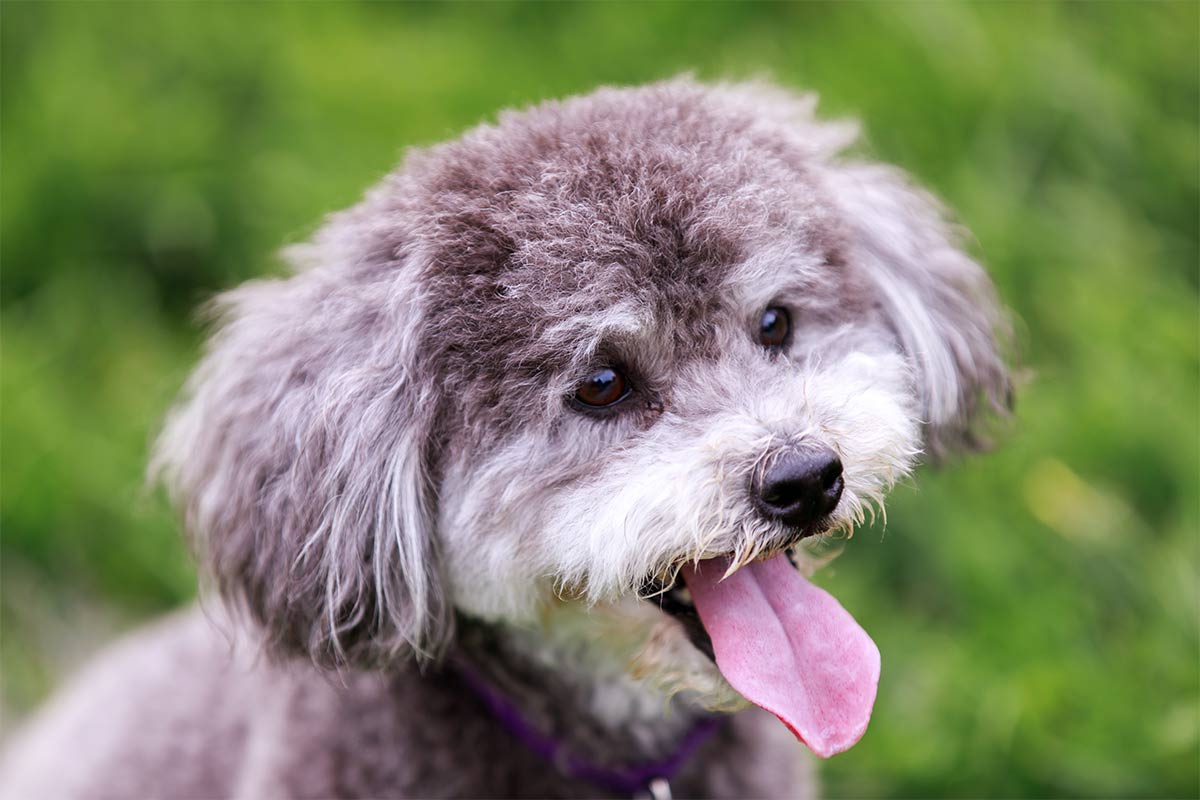 The Schnoodle is a Schnauzer and Poodle Mix.
This is a smart, active, and adorable breed that can be found in practically any size.
Teddy Bear Schnoodles can be as small as 6 pounds, while a Giant Schnauzer Poodle mix might be as large as 75 pounds.
The size variation is due to the fact that there are three different classes of both parent breeds, ranging from a toy variety to a large, full-size dog.
Since the young Schnoodle pups will take on the characteristics of their parents, their size will vary significantly depending on the genetics of the parent breeds.
The Schnoodle is a popular crossbreed that can make a great family dog, performance competitor, or even a therapy dog.
We'll go over all the information you need if you're considering this dog, but first, let's look at the controversy that can surround "designer dogs" in general.
Designer Dogs: The Controversy
In the dog owner community, there is an ongoing debate over the ethics of "designer dogs" like the Schnauzer and Poodle mix.
Some people are convinced in the benefits of crossbreeding, arguing that crossbreeds can be healthier pups and pointing to the hybrid vigor phenomenon as evidence.
At the same time, other groups claim that purebred dogs are superior, due to their consistent, predictable nature. Still, others claim breeding designer dogs is too much like playing God.
Who's Right?
In the end, neither side is right or wrong. There is some truth to each argument – and the battle between purebred and mutt will likely go on forever.
If you're not sure where you stand on the matter, perhaps some perspective will be beneficial. If we think about it, we realize that every dog was crossbred at some point in time.
Whether it happened naturally or required human intervention, it happened!
Ultimately, the characteristics and health of the dog will depend mostly on the way it was bred and the way it was raised. Proper breeding techniques are key, so it's important to find a reputable breeder.
It is true that some crossbreeds are prone to certain health problems – but, the same could be said for purebred pedigree dogs.
We honestly love all dogs, but for those of our readers seeking mixed breed dogs, there is one important thing to understand: you never really know exactly what you're going to get.
Mixed dogs will take on the characteristics of their parents. However, the specific mix and the dominant genes will not be clear until the puppy grows up.
Thus, you can never really know the exact characteristics – both physical and behavioral – that your new dog will take on. With purebred dogs, there's a bit more consistency and predictability.
When considering a mixed breed dog like the toy Schnoodle or giant Schnoodle, it's wise to examine each parent breed for hints at what the schnauzer poodle mix puppies may grow up to be like.
Let's first look at the origin of these breeds, and move on to health concerns, characteristics, temperament, and more.
Origin of the Schnauzer
There are actually three Schnauzer breeds: The Standard Schnauzer, the Mini Schnauzer, and the Giant Schnauzer.
The Standard Schnauzer was the original prototype for the other two Schnauzer breeds.
The Standard originated in Germany in the mid-19th century, although breeds of similar stature were noted as far back as the Middle Ages.
It is thought that German breeders crossed native German dogs similar to the Schnauzer with gray Wolfspitz and black German Poodle breeds.
This led to the creation of the uniquely distinct salt-and-pepper coloring of today's Schnauzer.
The first exhibition of the Schnauzer breed took place in Germany in the 1870s. At the time, breeders referred to the new breed as "Wire-Haired Pinschers."
But later took on the name Schnauzer – a reference to the dog's signature muzzle ("schnauze" in German).
The breed made its way to America in the early 1900s, and in 1925 the official Schnauzer Club of America was founded.
The Standard Schnauzer was officially recognized by the AKC in 1904, the Miniature in 1926 and the Giant in 1930.
Origin of the Poodle
The Poodle is thought to have originated in Germany, although the records are unclear.
It was known as the Pudel originally (meaning "to splash in the water" in German), which over time morphed into "Poodle" in English.
Although its origin is likely in Germany, the Poodle has long been regarded as the national dog of France.
In both countries, the breed was used as a retriever for duck hunting. As strong swimmers and loyal working dogs, the Poodle was prized by hunters throughout Europe.
Like the Schnauzer, there are multiple types of Poodles. There's a Standard Poodle, a mid-sized dog, and the Miniature Poodle, which falls into the toy category.
The Standard Poodle was officially recognized by the AKC in 1887, although the breed didn't gain popularity in the US until the 1930s.
Origin of the Schnoodle Dog Breed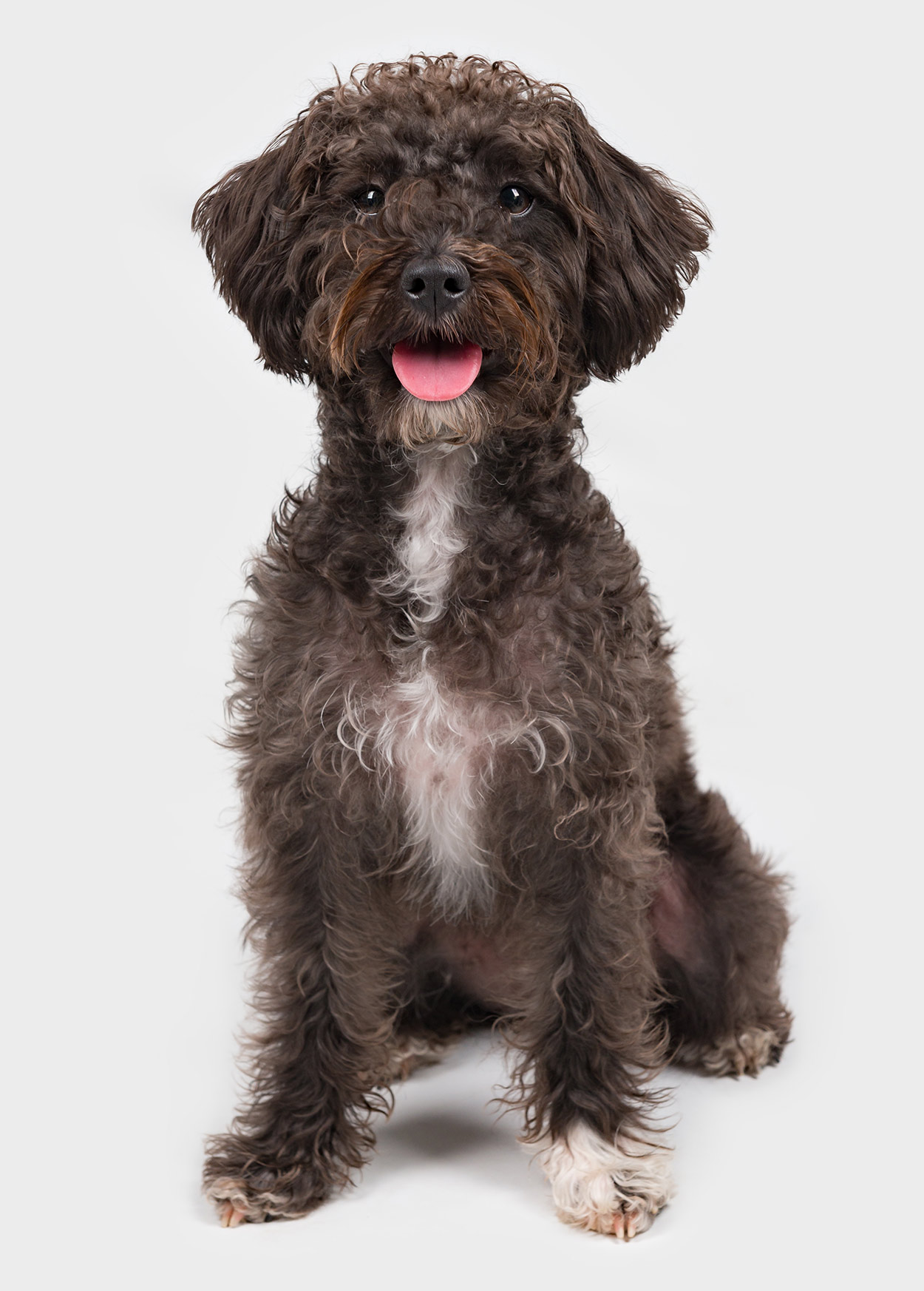 The Schnoodle originated in the 1980s. It was originally a cross between the Poodle and the Miniature Schnauzer, although today the term can encompass any cross between Poodle and Schnauzer varieties.
The Schnoodle breed has gained significant popularity in recent years and continues to be a popular choice for families wanting small to mid-sized dogs.
Schnoodle Characteristics
The Schnoodle can vary significantly in size and physical appearance depending on the genetics of its parents.
With that said, the majority of Schnoodles are small dogs, often in the 10 to 20-pound range. They can range up to 60+ pounds, though, if their genetics come from the Giant Schnauzer and Standard Poodle.
Physical appearance also varies significantly. Coats can be practically any mix of color, and even the dog's signature bearded face can vary.
Thus, it's important to remember with this breed – even more so than other crossbreeds – that there are a lot of variables at play.
You may see a Schnoodle at the dog park that is twice the size of your Schnoodle, has completely different colorings, and even a differently shaped face.
Schnoodle Temperament
Regardless of their size, Schnoodles tend to be fun, energetic, and intelligent dogs. They love people and will always try to be the center of attention.
Schnoodles are eager to please, which makes them relatively easy to train. They can be used in performance competitions and even trained to be service dogs.
At home, Schnoodles love to play and have a moderate to high energy level. They are very friendly, loving dogs and they do great with children.
Some Schnoodles can get aggressive with other dogs, but this mostly depends on how they were raised and if they were socialized properly.
If you get a Schnoodle puppy, be sure to socialize it early on with dogs of various size and with other humans.
Schnauzer Poodle Mix Coat
The Schnoodle typically has a soft, wavy coat that remains soft throughout the dog's life.
With that said, if more Schnauzer genetics come through, you may find the coat of your Schnoodle becoming wiry and a bit course over time.
Schnoodles typically have mid-length hair and are relatively low shedders.
As for coloring, Schnoodle coats can range anywhere from black, silver, gray, white, brown, apricot, sable, black and tan, or black and white.
This unique mix of colors in the same breed means that there is a ton of variety within the Schnoodle population.
Schnoodle Grooming & Care
Grooming
The amount of grooming required to keep your Schnoodle in good health really depends on the type of coat they develop.
The soft, wavy coat typical of a first-generation Schnoodle cross requires regular grooming, with brushings once to twice a week. This will help to prevent matting and tangled hair.
The rougher, wiry coat typical of multigenerational Schnoodles requires less frequent grooming. Brushing once a week should be sufficient.
Regular haircuts are recommended about every 6 to 8 weeks. You can look for Schnoodle haircuts online to get ideas, but just a quick trim will usually suffice.
Other Care
Beyond coat grooming, it's important to check your dog's ears for redness, dirt, or odors – ideally once a week. Schnoodles can be prone to ear infections, so keep the ears clean and check them regularly.
If you need to learn how to clean ears that are prone to infection, check out this article.
Teeth should be brushed two to three times a week to reduce the buildup of tartar. Nails should be trimmed monthly unless your dog tends to wear them out naturally.
Adult Schnoodle Energy & Exercise Needs
A Schnoodle full grown will require regular exercise, with at least 2 walks a day. These are relatively high-energy dogs that enjoy playing and running frequently.
While high-energy, the Schnoodle is typically not overly intense. They will certainly remind you when it's time for a walk, but they are not as high-strung as some breeds.
Schnoodles LOVE to play ball and retrieve toys for their owners. The ancestors of the Schnoodle were hunting dogs and retrievers, so this is no surprise.
Schnoodle Life Expectancy
Schnoodles tend to live long, healthy lives. The average expected lifespan is 10 to 15 years.
Standard Schnoodle Health Concerns
Overall, Schnoodles are healthy pups – but like every other breed, they can be prone to certain health problems.
Not all Schnoodles will develop any or all of these health concerns.
But as a potential owner, it's still very important to learn about health problems your dog may face.
Eye Problems
Schnauzers and Schnoodles are prone to PRA, a category of eye diseases that leads to a gradual deterioration of the retina.
It can lead to night-blindness and eventually to full blindness. Schnoodles are also prone to cataracts, particularly in old age.
Joint Problems
Schnoodles are prone to issues with their knees, hips and other joints. Patellar luxation and Legg-Calve-Perthes disease are the most common, which affect the knees and hip, respectively.
Epilepsy
Schnoodles can be prone to epilepsy and seizures. This is usually an inherited trait, so it's important to find puppies whose parents have been tested for the condition.
Epilepsy can cause seizures and odd behavior, but typically does not greatly affect the dog's overall health in the long-term.
Gastric Torsion
This serious condition, also called bloat, mostly affects large dogs – so, it's only a risk factor for large Schnoodles with Giant Schnauzer blood.
It can be life-threatening. However, so if you have a large Schnoodle you should learn more about gastric torsion in dogs.
Some Schnoodles may also be prone to diabetes, Addison's disease, and other health concerns.
It's important to select a healthy pup from a good breeder.
In addition, take your dog for regular veterinary checkups.
Ideal Home For Schnoodle Puppies
Schnoodles make great pets. There is quite a variety of sizes within this breed, which means Schnoodles are a versatile breed for a wide variety of homes.
If you live in a smaller house or apartment, a miniature Schnoodle may be the best bet. A mini Schnoodle will still have a lot of energy, but they won't require as much space to run around in.
If you prefer a larger dog, a Standard Schnoodle will be a great dog for you.
Regardless of size, Schnoodles are smart, friendly dogs that do well with children. They may or may not be friendly with other dogs, so those in multi-dog households should proceed with caution.
Before getting a Schnoodle, do keep in mind the relatively high energy levels of this breed.
Also, remember that this breed can suffer from separation anxiety, and should not be left alone for extended periods of time.
How to Find a Schnauzer Poodle Puppy
It's very important to locate reputable Schnoodle breeders in your area. A licensed and experienced breeder will conduct the necessary health tests and raise the pups in a responsible, healthy manner.
In general, the Schnoodle price will vary significantly based on genetics and geographic location. For a rough ballpark estimate, expect to spend between $400 and $1,500 for a well-bred pup.
The other option is a Schnoodle rescue. Call animal shelters in your area to see if there are any Schnauzer x Poodle mixes available.
We love rescuing animals and believe that every dog deserves a loving home.
With that said, keep in mind that rescuing a dog is always a bit of a gamble, as you simply don't know how it was treated and how its early life experiences may affect its future behavior.
When you do get a Schnoodle puppy, make sure to socialize it early and often. Expose it to a wide variety of new experiences, including other dogs and strangers.
If you want to read more, make sure to check out our sheepadoodle guide!
References and Further Reading
Get Pippa's free dog training tips delivered to your inbox