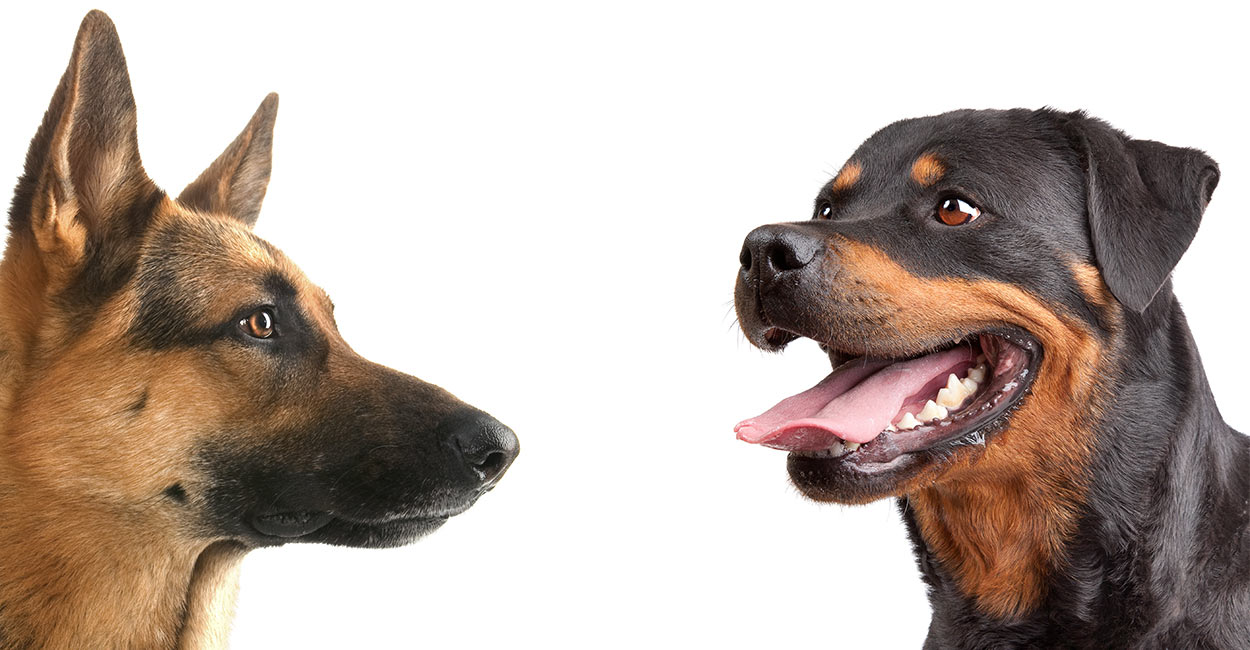 Rottweiler vs German Shepherd? German Shepherd vs Rottweiler?
It's A Seriously Tough Choice!
But Don't Panic Just Yet – Because We've Done A Lot Of The Hard Work For You.
Comparing All The Important Aspects Of These Two Fascinating Breeds.
Helping You To Make The Best Choice For Your Family.
Choosing a dog for your family is a huge decision.
As much as any dog lover might want to let their heart rule their head, research into suitable breeds is vital.
Choosing the specific dog or puppy? Well, we'll leave that to you.
But which breed of dog suits you best… We can certainly help you out there.
Both German Shepherds and Rottweilers are iconic dogs, recognizable almost instantly.
They're both similar in many ways.
But also have quite stark differences and qualities.
Rotties and GSDs are quite distinct in their potential health issues, their temperaments and, of course, their physical appearance.
Picking the right dog for your situation is essential to a long and happy relationship. So we want to help!
But which breed is right for you and your family?
Well, there isn't a 'one size fits all' answer to that question.
But by comparing the various qualities of both dogs, we can help you to make the right choice.
Rottweiler vs German Shepherd – The great dilemma!
Obviously, no one dog breed is superior to another.
This isn't a competition designed to work out which is 'best'.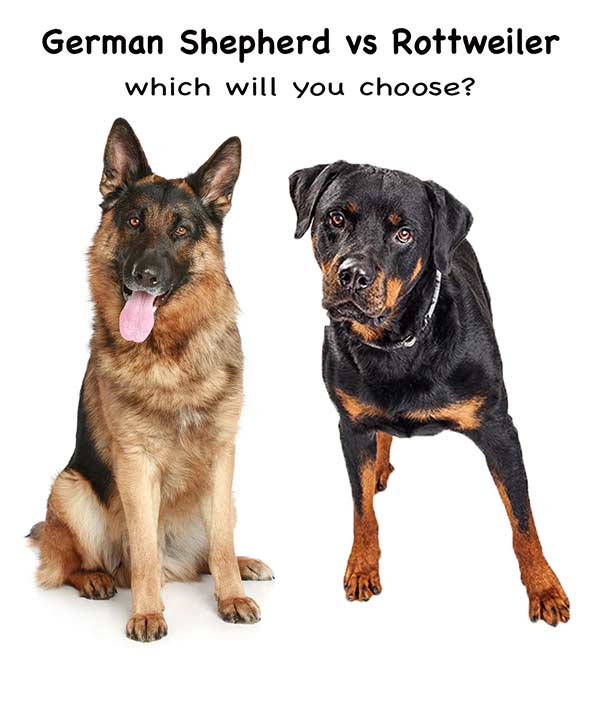 This guide is all about helping you decide whether your home is more suited to welcoming a Rottweiler or a German Shepherd into it.
Now, there's a good chance that you and your kin would make a fantastic family for any number of types of dogs.
But it's as much about your new canine friend suiting you as it is about you suiting them.
We're going to explore the specifics of each breed here and really drill down into the details and present to you where the differing breeds, well… Differ!
You'll soon learn that, while they may look quite different to one another, ultimately, they're much more similar than you might have imagined.
They may be similar, but each breed definitely still has its own quirks and idiosyncrasies.
Let's start by looking at Rottweiler vs German Shepherd types.
Rottweiler types
Technically, there's only really one 'type' of Rottweiler – the Rottweiler!
But some breeders insist on breaking down the breed into subsections.
Specialized and intentional breeding has created slight variations within the breed, but don't be fooled into buying into the idea of the 'American Rottweiler' or the 'German Rottweiler'.
An American Rottweiler is really only a Rottweiler born in America.
There is no real difference between an American or German Rottie.
That said, the 'Roman Rottweiler' is bigger than its peers. But it's less a natural type of Rottweiler, it's more that the size has been bred in.
These dogs will appear almost Mastiff-like. But by design.
German Shepherd types
Similar to Rottweilers, German Shepherds are German Shepherds.
If they're pedigree dogs, that means they're 'pure', but there are no 'types' of GSD.
That said, German Shepherds can be grouped by what's known as 'lines'.
There are 'show lines' and 'working lines' and each is closely monitored and guarded by GSD aficionados.
There are German show lines and American show lines, each differing slightly.
The main difference is that the German show line requires hip certification to prove that work is being done to discourage the famously bad hip problems that Shepherds suffer from.
Working line-wise, there are German lines and Czech lines.
Each requires the dog to be hard working, agile and mentally stable.
But the German lines have more emphasis on the dogs' ability to settle down in a home environment.
When we're comparing the Rottweiler vs German Shepherd dogs we'll be looking mostly at the breeds in general, though we will refer to type if it becomes relevant.
So how does Rottweiler vs German Shepherd history compare?
Rottweiler history
Rottweilers are believed to come from the large 'drover dogs' of Ancient Rome.
As the Romans conquered Europe, they took these trusty dogs with them everywhere they went. Why?
Well, because they were guard dogs par excellence.
They would be primarily utilised as guarders of cattle and other livestock, watching over their herds and flocks intently.
They'd stop predators, poachers and indigenous attackers.
Sometimes, the Roman Army's dog handlers would employ their packs of drover dogs in hunts too.
The name 'Rottweiler' didn't come about until a large settlement bred the dogs in the German town of Rottweil.
The early standard for pedigree Rottweilers was established in Germany way back in 1901.
With the first Rotties coming over to America and Britain just before the Second World War.
Ironically, their popularity in the UK grew as they were used as police and military dogs throughout the war against Germany.
German Shepherds also have a strong working history.
But there are also some big differences.
German Shepherd history
Compared to Rottweilers, German Shepherds are a rather young breed of dog.
Originated as a cross breed between various different breeds of Shepherd, the 'German' variety that we know and love today wasn't really seen until the very late 19th Century.
They were bred as 'the ultimate Shepherd' and have a man called Max von Stephanitz to thank for their popularity.
A former cavalry captain and ex-student of the Berlin Veterinary College, von Stephanitz was an ex-member of The Phylax Society, a dog development institution.
The retired soldier nurtured and lauded the breed, espousing its values and pretty quickly convincing the world that the Schäferhunde is the very best in large Shepherd dog.
As with Rottweilers, German Shepherds made their way out to the rest of Western Europe and into America in the 1930's, quickly establishing themselves as immensely popular working dogs and pets.
But what about the present day?
How do these two breeds stack up against each other in terms of their apperance?
German Shepherd dog vs Rottweiler physical overview
The fundamental difference between these two comes in their appearance.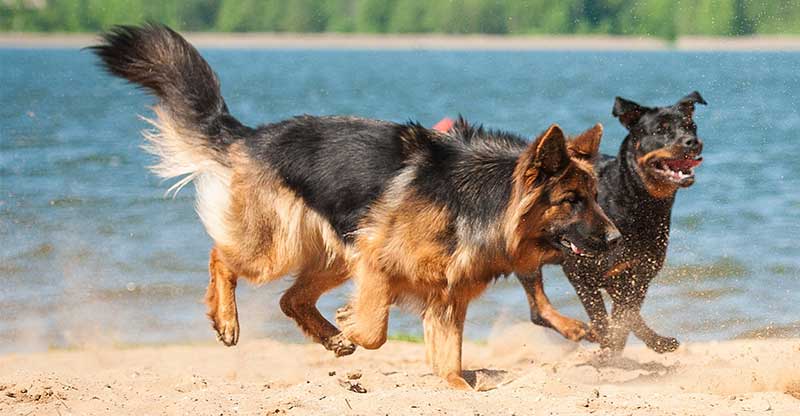 Rottweilers are squat, weighty-looking and stocky.
They have compact heads, straight backs and look like they could run through a wall.
GSDs, meanwhile, are much more athletic looking.
They're still strong, but they are longer than they are tall, with slimmer builds and longer muzzles.
German Shepherds' tails are long and bushy, whereas their counterparts' are short haired, though still long.
There are a few other notable differences in the bodies of these two similar dogs.
Their necks are particularly unalike; Rottweilers have strong, muscled and comparatively short necks.
Whereas German Shepherds are known for their longer, slimmer necks.
Rottweiler dog vs German Shepherd size
Rottweilers compared to German Shepherds, well, both of these breeds are big.
It's important for prospective owners to realize just how big.
Neither are the world's largest breed of dog, that honor belongs to the Great Dane.
But don't underestimate just how big and heavy Rotties and German Shepherds can get.
Rottweilers can weigh anywhere up to 115 lbs! And measure up to around 28" (up to their shoulders).
These dogs are big, broad and packed with muscle.
German Shepherds are just as tall as Rottweilers, coming in anywhere between 22" and 29".
Weight-wise, they're a little lighter, averaging in at around 80 lbs.
Rottweiler vs German Shepherd grooming
Both breeds of dogs are easy to groom and care for. A brushing two or three times a week should suffice.
Both need the odd nail trim, but be careful not to trim them too short.
Rottweiler vs German Shepherd shedding
Rottweilers have short, manageable coats and do not moult a great deal at all.
German Shepherds, by contrast, shed a fair amount. So make sure you've a good vacuum cleaner!
But how does the Rottweiler vs German Shepherd personality stack up?
Rottweiler vs German Shepherd reputations
No dogs are inherantly 'bad'. But some have bad reputations, based upon their traits.
Years of humans utilizing large dogs like Rottweilers and German Shepherds as guard dogs and using them in the military and in police forces has earned them both an unfair reputation.
Anyone with a working knowledge or even brief amount of experience with either breed of dog will know that that they are neither violent nor aggressive when trained.
The large teeth and loud bark of the GSD and the stout build and mean-looking 'angry' face of a fully-grown Rottweiler may look intimidating.
But their reputations are not always fairly assigned.
Both breeds can be big softies if trained and socialized correctly, and bred from friendly parents.
It is equally important with both to meet the pup's parents and assess their temperaments, as well as to really thoroughly socialize the puppy from the day they come home.
So what do we know for sure about Rottweiler vs German Shepherd temperament?
German Shepherd dog vs Rottweiler temperament
GSDs are highly intelligent, devoted, dependable and loyal.
And so too are most Rottweilers.
Neither breed is likely to be pushy with strangers, or overly bouncy.
However, both breeds are often wary of strangers if not thoroughly socialized, and have been known to become aggressive even with their own families.
One study has shown that 15% of dogs with severe aggression are German Shepherds and around 5% by Rottweilers.
But given how much more common GSDs are than Rotties, you can see that the risk with either is high.
German Shepherds have been shown in several studies to be a high risk breed for bites, even when the odds were adjusted to take into account their popularity.
The GSD has also been recorded as being the breed responsible for the second highest amount of fatalities.
Rottweilers and GSDs are calm and self-assured, but Rotties tend to be a little more aloof and able to enjoy their own company more.
German Shepherds are slightly more vocal.
The only possible downside to the temperaments of these animals comes from their natural instincts.
Both have the urge to guard and protect.
Rottweiler vs German Shepherd as guard dogs
These are the top two guard dogs on the planet.
They're both herding dogs by nature, but guarding is also a huge strength of both breeds.
Perhaps Rottweilers appear a little more fierce, so may be preferred for this purpose.
But you will need to seriously consider whether this is a trait you want in a family pet.
Because while they can be amazing companions, both dogs have a strong protective streak.
German Shepherd vs Rottweiler socialization
In order to help a Rottweiler or German Shepherd fit into your home, the key is socialization. And lots of it.
Hours of dedication, patience and hard work may be required.
You need to make sure that you dog is trained and calm around other people and dogs.
These dogs are not small.
You are duty bound (not to mention legally required) to ensure that your dog is safe.
And you do this with socialization.
Make sure that from 8 weeks to 14 weeks old visitors come to the house every single day.
A range of ages and types is ideal. From noisy babies, to the elderly, people in bright clothing to men with beards.
Make sure they are comfortable with anyone coming and going.
You will also need to take them somewhere busy every day, to begin with due to lack of vaccinations they will need to be carried.
Meet as many people as possible.
Once they are three months old you can reduce the intensity, but it will still need to be at least a couple of times a week.
Both breeds are hugely alike when it comes to socializing and its importance.
You're on an even keel when it comes to Rottweiler vs German Shepherd socialization.
But what about training?
German Shepherd dog vs Rottweiler training
There is little contrast in the way a dog owner should approach training a Rottweiler or GSD.
As with all dogs, treats should be used as encouragement and punishment-based training is not advised.
All dogs need training and boundaries, but this is especially true with larger dogs.
After all, who wants a crazy 115 lb dog running amok around their house?!
Extensive training is also needed to ensure that Rottweilers and German Shepherds are obedient, especially went out walking in public.
Fortunately, they are both pretty clever and quick to learn.
Rottweiler vs German Shepherd intelligence
Another area where the two breeds can't really be separated is intelligence. Both Rotties and GSDs are about as sharp as dogs get.
They both have high canine IQs and can learn and retain new information with just a few repetitions.
Where some real differences emerge is when we start to look at Rottweiler vs German Shepherd Dog health.
Although there is one big similarity.
Health Issues Affecting Both GSDs and Rotties
No lover of dogs wants to think too much about their lovable canine pals in pain.
But it's to do a disservice to your pet to ignore the very distinct possibility that, one day, they might get sick.
It pays to be armed with a little knowledge about what afflictions your dog is particularly susceptible to.
That way you can look out for possible symptoms in the future.
Each breed here has its medical quirks, with them being more genetically predisposed than the other to certain conditions.
But there is one major health issue that Rottweilers and German Shepherds share…
Specifically, hip and elbow dysplasia.
It's a genetic trait that, while inherited, is often exacerbated by environmental factors.
Dysplasia refers to the abnormal function of any major joint and leads to discomfort, lameness, arthritis and extreme pain in some cases.
One cause can be size. Large dogs are more likely to get hip and elbow dysplasia than smaller dogs. Inbreeding in the breed's early stages is perhaps the most notable reason, however.
Don't let it put you off the breeds though, just make sure that you only buy a puppy whose parents both have good hip and elbow scores.
Now let's take a look at those health differences you'll need to consider.
Rottweiler health
Rotties have a slightly higher chance of developing osteosarcoma, or bone cancer.
They also have a higher chance of suffering with von Willebrand's Disease (vWD), a bleeding disorder not dissimilar to haemophilia.
Progressive Retinal Atrophy (PRA) is also noted as an affliction more prevalent among Rottweilers than many other breeds.
Potential owners should also be aware that Rottweilers sometimes show a tendency to suffer with thyroid problems and Panosteitis, an inflammation of the bones in the limbs.
If you buy a Rottie puppy you'll need to make sure the parents also have clear PRA DNA tests, clear vWD tests and no family history of the other issues.
German Shepherd health
'Canine degenerative myelopathy', otherwise known as 'chronic degenerative radiculomyelopathy' is not uncommon among German Shepherd dogs.
It's an incurable disease of the spinal cord caused by a gene mutation.
German Shepherds are predisposed to suffer with musculoskeletal diseases and problems more than almost any other breed of dog.
Osteoarthritis is also not uncommon in the breed.
Like the Rottie, GSDs are also known to get vWD.
German Shepherd vs Rottweiler life expectancy
The average German Shepherd, compared to a Rottweiler, will live longer.
Rottweilers are only expected to live between eight and ten years.
German Shepherds however, live anywhere between nine and twelve years. The average GSD living to 10.95 years
German Shepherds vs Rottweiler puppies
It doesn't matter which breed of dog you end up choosing, you should go about selecting a breeder and puppy the same way.
Do your research. Take your time.
Select a respectable and recommended breeder.
You'll want someone who knows their stuff, only expects their dogs to produce one litter a year maximum and generally seems above board.
It is vital that the breeder allows you to meet the puppy's mother and you can do so in the house in which she and the puppies live.
With guarding breeds it's also a good idea to meet the father, to make sure of his temperament.
Make sure the puppies are bright, alert, happy and playful.
Rottweiler vs German Shepherd price
In the battle of the budgets, it's tough to split the cost between these two breeds.
If you're able to adopt instead of shop, the fees you pay will dictated by the rescue center and probably just cover costs.
Although, of course, you're very welcome to donate more.
If you're going to buy a Rottweiler or German Shepherd, as with all dogs purchases, the amount you pay – again – will depend on where you buy it from. And if the dog is a pedigree or not.
As a guide, though? You're looking at around $1,500 – $2,500 per puppy.
Less often for older dogs.
You can double those figures for a breedable and/or show quality young pup.
German Shepherd or Rottweiler for family
Both German Shepherds and Rottweilers can be viewed as controversial choices, due to their guarding natures.
But despite their big sizes and fearsome reputations, both German Shepherds and Rottweilers can make great family pets.
If trained and socialized, of course.
But if you have young children you will need to carefully consider whether you are willing to take on one of these breeds, given the frequency of attacks on children under the age of 12.
Both breeds can be quite protective of their families, in fact.
And are often said to act really quite silly and clown-like when relaxing at home with their human pals.
So, then… A Rottweiler or a German Shepherd?
Rottweiler vs German Shepherd – have you decided?
We hope you've enjoyed reading this guide to both breeds and that it's helped compare the doggy duo.
The intention was that this article comes in handy for anyone choosing between a Rottweiler and a German Shepherd.
With a little bit of luck you've now got a better understanding of both breeds and you're some way closer to being able to make a decision.
Choosing a dog is a big thing. You have to be sure you've picked the right kind to suit you and your family. And that you'll be a good owner for the mutt.
Rottweiler vs German Shepherd dog. Neither is better.
But, by now, one will seem preferable to you.
If not, get both! Or neither!
What are you experiences with these two breeds? We love hearing from our readers and finding out some of their canine tales. Let us know some below!
References & Further Reading
Brazil-Adelman, Dr. M, The German Shepherd Dog Handbook, 2010
Blackmore, J, A Dog Owner's Guide to the Rottweiler, 1997
Leighton, E.A, Genetics of Canine Hip Dysplasia, Journal of the American Veterinary Medical Association, 1997
Mackenzie, S.A, Heritability Estimate for Temperament Scores in German Shepherd Dogs and its Genetic Correlation with Hip Dysplasia, Behavior Genetics, 1984
O'Neill, DG, Longevity and Mortality of Owned Dogs in the UK, The Veterinary Journal, 2011
JK Blackshaw. 1991. An overview of types of aggressive behaviour in dogs and methods of treatment. Applied Animal Behaviour Science
Gershman et al. 1994. Which Dogs Bite? A Case-Control Study of Risk Factors. Pediatrics.
Sacks et al. Dog Bite—Related Fatalities From 1979 Through 1988. The JAMA Network.