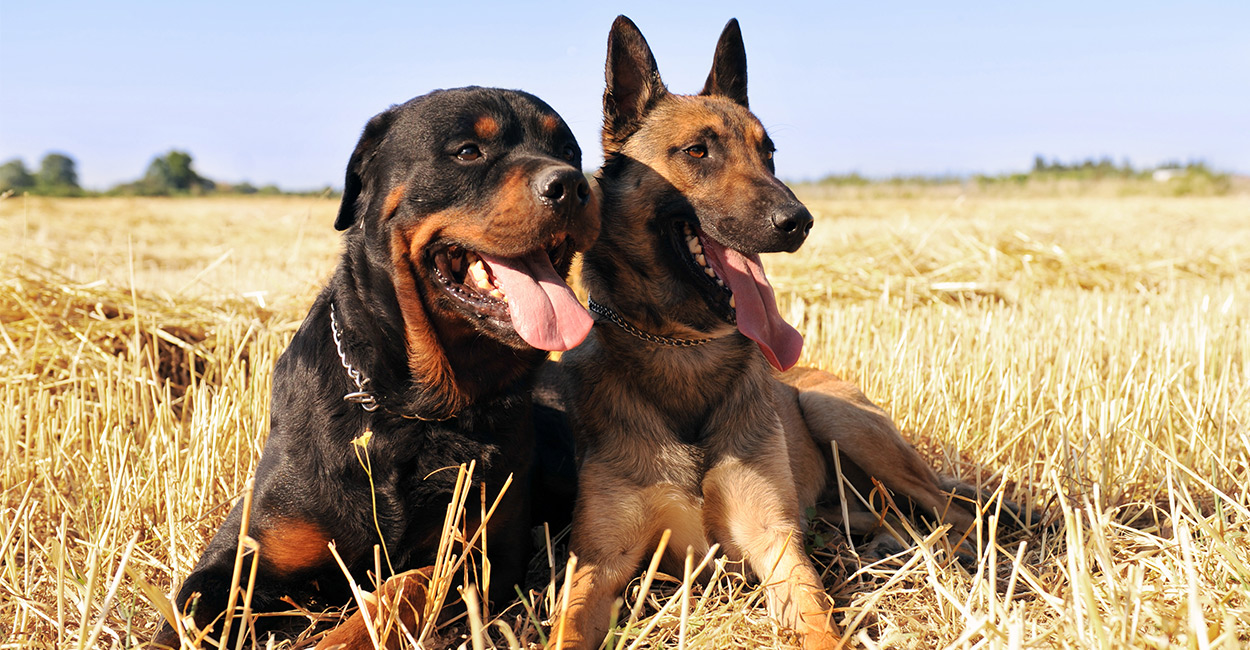 Welcome to your complete guide to the Rottweiler Malinois Mix
Everything you need to know about the Belgian Malinois Rottweiler Mix!
From it's origin to it's personality.
Helping you to decide whether or not this is the right dog for you.
Over the last couple decades, cross breeding in dogs has become an increasingly hot topic amongst animal lovers and experts alike.
There is quite a bit controversy over whether crossbreed puppies, (puppies of two different purebred parents), are really just mutts, or if they actually deserve a category all their own.
While some love mixed breeds purely for the novelty of them, many experts argue that crossbreeding helps eliminate certain genetic defects associated with purebred dogs.
So who is right?
Let's start off with some pros and cons of crossbreeding.
After that, we'll dive right in to everything you need to know about the Malinois Rottweiler Mix!
Designer Dog Controversy
Most new things are bound to cause some controversy.
First generation crossbreeds are no exception.
Below are the most common traits to consider with crossbreeds, and the pros and cons that go along with each of them.
When adopting a crossbreed puppy, it is often difficult to predict what the dog will look like once it gets older.
While this can be fun for some, others will need to know exactly what they're getting into, especially when it comes to the ultimate size and weight of their desired dog.
However, the fact that crossbreed litters can be very different in appearance, is ideal for the owner seeking to adopt a unique looking pet.
Crossbreeding can sometimes lead to unpredictable results regarding not only a dog's physical attributes, but also its temperament and personality.
When adopting a crossbreed, one has no way of knowing what traits their puppy will take on from his or her parents.
There is also the health issue to consider.
Purebred dogs come from a closed register and therefore a small gene pool.
This means purebred puppies have a higher chance of inheriting two of the same defective gene.
Crossbreeding can help reduce the chances of this.
However, this is not always the case.
This is why it's important to know the history of your crossbreed pup's parents, including health problems, temperament, and size.
And this is especially true when mixing two big personalities like the Rottwiler and Belgian Malinois.
So where did this interesting mix come from?
To find out, we'll need to start with their purebred parents.
Origin of the Belgian Malinois
The Belgian Malinois hails from Belgium, Germany.
It was first recognized in the US as it's own breed in 1959.
Originally, the Malinois was bred for herding, although it's intelligence and protective nature has made it an ideal police dog.
The Malinois also excels on search and rescue missions and works with the armed forces.
The Secret Service even uses this breed to guard the White House!
Origin of the Rottweiler
The Rottweiler's history dates back as far as the Roman Empire.
Much like it's Malinois counterpart, the Rottweiler was bred to herd livestock and pull carts.
Rottweilers are also known for their work as police dogs and search and rescue dogs.
Origin of the Belgian Malinois Rottweiler Mix
The Rottweiler Malinois mix is still a relatively new crossbreed.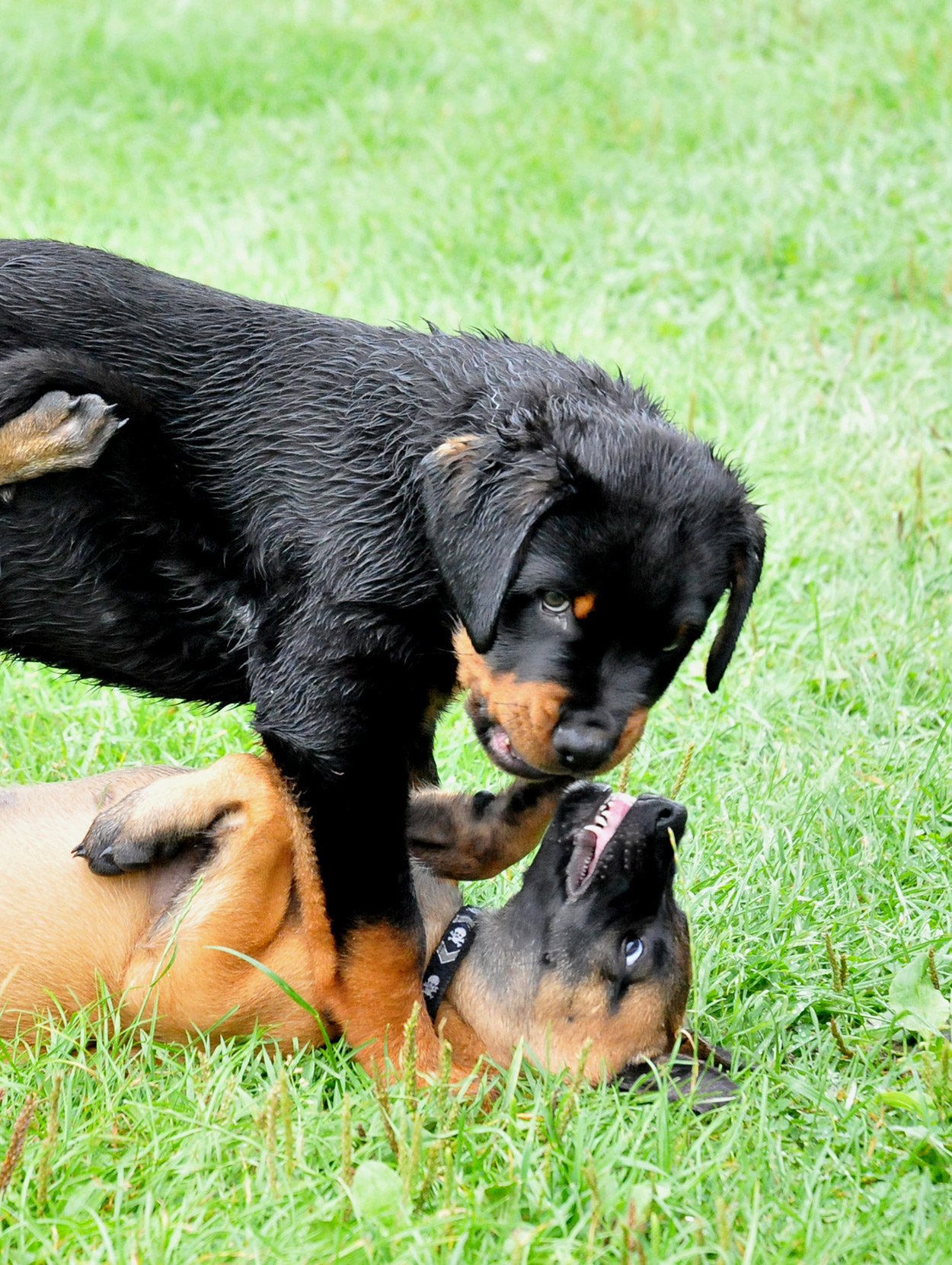 However, the temperament and historical background of both the Malinois and Rottweiler are incredibly similar in some ways.
This means a potential owner can likely expect a protective, high-energy, intelligent dog.
But what else can you expect?
The Average Size of A Rottweiler Malinois Mix
Both the Belgian Malinois and the Rottweiler will grow up to be a medium to large sized dog.
Malinois males are known to be about 26 inches tall, and weigh an average of 55-66 pounds.
Females will typically be 22-24 inches, with a weight of 45-55 pounds.
The Rottweiler is a bit larger, with males growing to a height between 24-27 inches tall and weighing a hefty 110-130 pounds.
Females are smaller, but not by much, growing up to 22-25 inches tall and weighing between 77-110 pounds.
With a combination of the two breeds, the Belgian Malinois Rottweiler Mix is going to be a bigger dog.
You won't know whether it will take after its smaller Malinois parent, or its larger Rottweiler parent until your puppy is fully grown.
Physical Attributes of the Belgian Malinois Rottweiler Mix
Rottweiler Malinois Mix dogs vary a lot.
This, my friends, is crossbreeding.
It is the puppy of two very different looking parents, so its appearance will differ.
Even within litters.
Sometimes it will favor one parent over the other, and other times the puppy's physical appearance will land somewhere in the middle.
So what physical features could your Rottweiler Malinois Mix inherit?
Rottweiler Malinois Mix Appearance
The Malinois was bred for brawn over beauty.
This means even though it's a purebred, its appearance varies .
On average, the Malinois coat will range from tan to mahogany.
Sometimes with a black mask on the face and white patches on the chest and toes.
Most will know a Rottweiler when they see one.
With its distinctive black coat and precise mahogany markings, these powerful dogs are hard to miss.
These dogs will have a rusty brown dot above each eye, on the cheeks, and a mahogany stripe along the snout.
Your Rottweiler Malinois puppy could look more like one than the other, or a mixture of both.
Rottweiler Malinois Mix Temperament
This is the part I would consider most important if I was researching a potential pet.
Both the Malinois and the Rottweiler are larger breeds and known for their protective nature and natural strength.
It is important to consider all aspects of temperament with both purebred parents when contemplating if a Malinois Rottweiler Mix is right for you.
I've listed the most common temperament and behavioral traits in both the Belgian Malinois and Rottweiler below.
Temperament of the Malinois
These dogs were not initially bred to be family pets, but adopting one can be worth it!
These animals are chock-full of personality, highly energetic, and enjoy being included in family activities.
Malinois will need constant stimulation to avoid boredom that could lead to destructive behavior in the home, such as damaged furniture or belongings.
It is also recommended that potential owners have prior experience with dogs and understand proper training, as these dogs have been known to behave like puppies up until the age of five.
Temperament of the Rottweiler
In the media, Rottweilers have been typically portrayed as vicious guard dogs.
In reality, they have the potential to make great pets and are usually goofy and loving towards their family members.
According to a study done in 2008 by the Center for the Interaction of Animals and Society and the Department of Clinical Studies, Rottweilers came up as average in their aggressiveness when compared to other breeds.
The study did find, however, that Rottweilers were more likely to be aggressive towards strangers than other breeds.
Although Rottweilers can make good family pets, they are certainly not for everyone.
Rottweiler Malinois Mix Socialization
Both the Malinois and the Rottweiler are extremely intelligent dogs, making them great trainees. They enjoy a challenge and will love following commands.
Just remember, both dogs were bred to work, so the Malinois Rottweiler Mix will need at least an hour or more of exercise a day.
Both the Mali and the Rottie have a strong potential to show guarding behaviors.
It is therefore very important that you meet both parents before committing to your puppy.
Make sure that they are at ease in your presence as a stranger.
Even then, you will need to commit to some intense socialization to reduce the risk of inappropriate guarding around your home.
From 8 weeks old take your puppy out to a busy area where they will meet new people on a daily basis. Try to have a range of visitors to the house each day too.
Make sure they greet the puppy kindly and positively, and make them associate guests with a pleasant experience.
Continue to do this until 14 weeks of age when the socialization window will begin to close.
After that point still try to keep them meeting new people at least a few times a week to ensure that things don't slide.
Rottweiler Malinois Mix training
With a big intelligent dog like this mix will likely be, proper training is also very important.
We don't recommend punishment based training at all.
You will also be happy to hear that Alpha Dog theory and the need for dominance has been largely discredited these days.
Happily, these potentially stubborn dogs will respond really well to positive reinforcement training.
You can find out all about how to do this here.
Grooming and general care for the Rottweiler Malinois Mix
Both the Malinois and the Rottweiler are shedders, however the Malinois sheds more heavily year around.
With his shorter coat, the Malinois does not require trimming or intense brushing.
The Rottweiler has a short coat as well, and only sheds occasionally, so he too only needs minimal grooming.
Since both parent dogs are on the easier spectrum as far as grooming, the Malinois Rottweiler Mix shouldn't present any grooming difficulties.
Now, whether or not it sheds heavily like a purebred Malinois or only occasionally like a purebred Rottweiller will be up to chance.
Malinois Rottweiler Mix Health
When dealing with a crossbreed like the Rottweiler Malinois Mix, you need to make sure that both parents are health tested for the conditions relevant to their own breed.
This will reduce the likelihood of them being passed on to your puppy.
Let's take a look at some health issues you will need to make sure the breeder has considered.
Like most larger breed dogs, both the Malinois and the Rottweiler are prone to hip dysplasia.
The Rottweiler has also been known to suffer from Osteosaracoma.
According to one study that looked at 137 deceased Rottweilers, over 45% of those surveyed died from cancer. Only 5% died from old age.
They have been shown to be more likely to have brain tumors than other breeds.
Malinois are also prone to tumors, and the risk of them being malignant is significantly higher than in some other breeds.
In their youth, Rottweilers are more susceptible to Parvovirus than other breeds, although the reason behind this is still unclear.
The Malinois are also susceptible to cataracts, epilepsy, thyroid disease, Progressive Retinal Atrophy, and pannus.
If you decide to buy a Rottie Mali mix puppy, then make sure the breed gives evidence of good hip and elbow scores for both parents.
Ask about the family history of cancer in both parents, and if there is any then find an alternative breeder.
The Mali parent should also have a recent eye test and be PRA clear.
Rottweiler Malinois Mix lifespan
The average lifespan of the Rottweiler is just 8 to 9 years.
One study of Malinois showed a very short lifespan of just under 8 years, however the sample size was not massive.
Finding and Picking My Malinois Rottweiler Mix Puppy
Getting a dog is a big commitment, and choosing the right one for you is incredibly important.
Make sure the breeder is producing puppies from a mother who is also a treasured member of the family.
She should be in good health and have an obvious bond with her owner.
The breeder should provide evidence of both parents' health tests, and be happy to answer any questions you have.
Don't forget to arrange to visit the sire if he lives away from the home, to check his temperament.
Whether you choose to adopt your Malinois Rottweiler Mix from a breeder or you have your heart set on a rescue, it is important to make sure you get your dog from a reputable source.
It matters not only to you, but also for your Rottweiler Malinois Mix's future.
Is a Rottweiler Malinois Mix the Dog For Me?
The ideal home for a Malinois Rottweiler Mix would have a large backyard and an owner who has the ability to exercise their crossbreed for an extensive period of time every day.
Because the Malinois and the Rottweiler are both prone to boredom, an ideal owner will have experience in positive reinforcement based dog training.
You will need plenty of spare time, and an enthusiasm for exercise!
Remember that for those first few months you will need to spend an even more considerable amount of time each day on training and socialization.
Keep in mind any health issues that impact the Rottweiler Malinois Mix's parents could potentially impact the Rottweiler Malinois Mix as well.
Only buy a puppy from fully health tested parents, that you have met and feel are friendly examples of their breeds.
References
Nadia L. Kopec, Jane M. Williams, Gillian F. Tabor. (2018) Kinematic analysis of the thoracic limb of healthy dogs during descending stair and ramp exercises. American Journal of Veterinary Research 79:1, 33-41.
Online publication date: 29-Dec-2017.
Carol Beuchat PhD, Health of Purebred vs Mixed Breed Dogs: The actual Data, The Institute of Canine Biology
Mhlanga-Mutangadura et al. 2016. A Homozygous RAB3GAP1:c.743delC Mutation in Rottweilers with Neuronal Vacuolationand Spinocerebellar Degeneration. Journal of Veterinary Internal Medicine.
Purebred Vs Mutt- Common objections to mixed breed dogs
Carol Beuchat PhD, The Myth of Hybrid Vigor in Dogs…is A Myth, 22-December-2014
Find out more about crossbreeding and it's pros and cons here
O'Neill, DG et al. 2013. Longevity and mortality of owned dogs in England. The Veterinary Journal.
Adam et al. 2010. Methods and mortality results of a health survey of purebred dogs in the UK. Journal of Small Animal Practice.
McNeill, CJ et al. 2007. Characterization of the biological behaviour of appendicular osteosarcoma in Rottweilers and a comparison with other breeds: a review of 258 dogs. Veterinary and Comparative Oncology.
Langenbach et al. 1998. Extraskeletal osteosarcomas in dogs: a retrospective study of 169 cases (1986-1996). Journal of the American Animal Hospital Association.
Peterson et al. 2000. A Study of the Lifetime Occurrence of Neoplasia and Breed Differences in a Cohort of German Shepherd Dogs and Belgian Malinois Military Working Dogs that Died in 1992. Journal of Veterinary Internal Medicine.
Smith GK et al. 2001. Evaluation of risk factors for degenerative joint disease associated with hip dysplasia in German Shepherd Dogs, Golden Retrievers, Labrador Retrievers, and Rottweilers. Journal of the American Veterinary Medical Association.