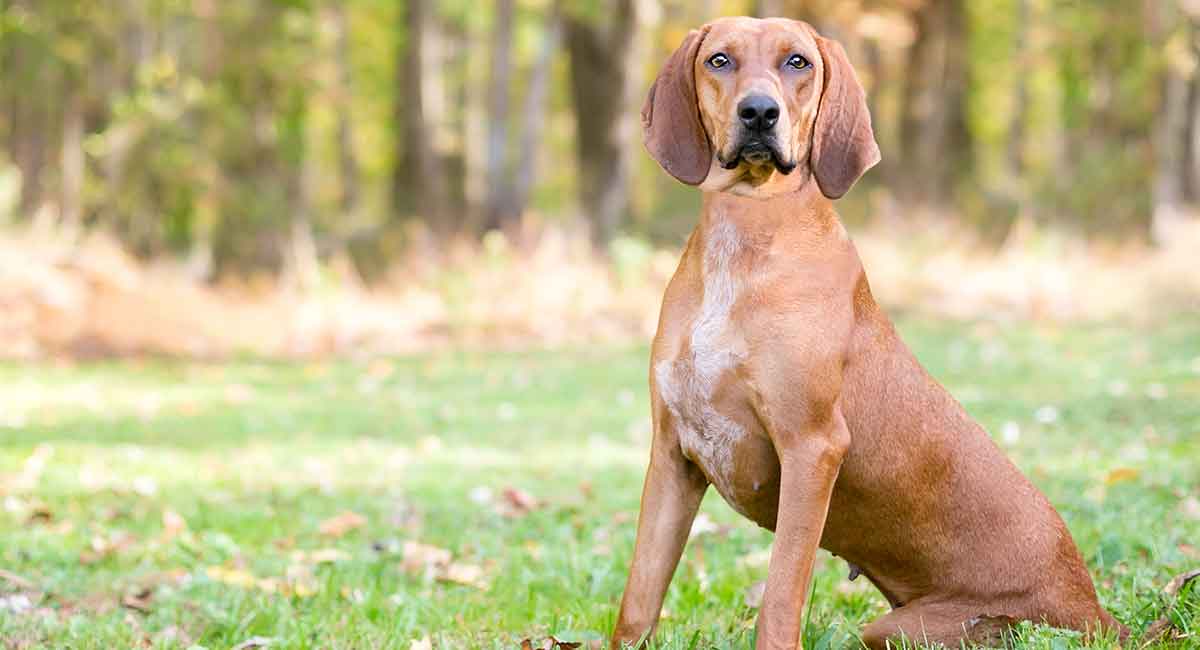 Are you thinking about getting a Redtick Coonhound?
These medium-sized dogs are sleek working dogs known for their speed and athleticism.
Also called the American English Coonhound, this breed is energetic and requires an experienced hand when it comes to training.
So they're not for everyone.
But are they for you?
Read on, and let's find out if you can handle this sociable but tenacious dog!
Where Does the Redtick Coonhound Come From?
It's a bit strange that the official name for this dog has both "American" and "English" in it, right?
Where are these pups really from?
The fact is, the Redtick Coonhound has English ancestry but was born in the U.S.
These scent hounds are descended from English foxhounds that were brought to the American South in the early 1800s.
They share a history with almost all the breeds of coonhound.
Backwoods breeders crossed the foxhounds with other breeds to create the English Fox and Coonhound, which hunted foxes by day and raccoons at night.
This new breed was then refined to specialize for hunting and treeing the raccoon, a good source of food, fat, and fur for American frontiersmen.
It also been known as the English Coonhound.
Breed Recognition
In 1905, it was recognized by the United Kennel Club (UKC).
Since 1995, the breed has been recorded in the American Kennel Club's Foundation Stock Service.
This often serves as a precursor to full recognition as a pure breed.
In 2011, the Redtick Coonhound was fully recognized in the hound group by the American Kennel Club.
They were first shown at the Westminster Kennel Club Show in 2012.
Fun Facts About the Redtick Coonhound
Ever since colonial times, these coonhounds have been very popular among hunters who prefer to track and kill raccoons.
Practical hunters and competitive ones favor the breed, as it can follow a "hot" trail all night!
Back in the day, most types of foxhounds were called English after their ancestry but were all considered the same breed.
Color was the distinguishing factor, and the word redtick comes from the markings on this dog.
Bluetick and tricolor tick dogs also exist.
Redtick, however, is the predominant color, which is why these dogs are often called Redtick Coonhounds.
Before 1945, the Bluetick Coonhound and the Treeing Walker Coonhound were also considered American English Coonhounds, but breeders decided to focus on different traits so the breeds diverged.
This breed is considered to be the forefather of the American Coonhounds.
It is also adapted to hunt opossum, cougar, and some types of bear.
Redtick Coonhound Appearance
The Redtick Coonhound has a strong, supple body, a deep chest, and well-defined muscles.
These dogs stand 21–27 inches in height, with females just slightly smaller than males.
They have a broad head with a kind, hound-like expression, dark brown eyes, low-hung ears, and a squared jaw.
Their coat is hard, with protective hair, and comes in a few colors:
red and white ticked
blue and white ticked
tri-colored with ticking
red and white
white and black
Ticking, by the way, refers to small spots or flecks of color on white areas of the body.
Redtick Coonhound Temperament
Redtick Coonhounds are pleasant, sociable dogs.
They do well with both humans and other canines.
These dogs prefer to be part of a pack.
They are alert and confident and graceful.
Speedy and powerful, they are considered one of the fastest hunting breeds and have a great deal of endurance.
They are known to howl.
A 2012 poll of American veterinarians rated them one of the top talkative breeds.
But, they don't necessarily make great guard dogs because they are too friendly.
They might be good watch dogs, though.
However, they will climb trees!
They also like to nest and chew.
And, as athletic working dogs, they need a lot of exercise.
They also have a high prey drive.
Don't let them off leash, as their hunting instincts are strong.
They may not get along with smaller pets unless introduced very young.
At home, Redtick Coonhounds can be mellow and sweet.
On the trail, they are determined and tireless!
Training Your Redtick Coonhound
These coonhounds are eager to please when it comes to raccoon hunting, but anything other than that will require a lot of patience on your part.
They are smart but stubborn!
And they have a lot of energy, so they need to work.
You might be doing this dog a disservice if you have no trailing and hunting tasks for it to do, but agility and other training can fill those gaps.
They'll need extensive daily running or brisk walking alongside their owners.
Additionally, they should be taught to heel next to or behind their human.
This dog must be led.
These strong-willed hounds should be socialized early to prevent possessive, reserved behaviors.
While they can be good companions, they need firmness and consistency from human leadership.
Redtick Coonhounds that do not have enough mental and physical exercise can become destructive and high-strung.
And they require a lot of space to run around in.
Redtick Coonhounds do not thrive in city apartments.
Redtick Coonhound Health
The Redtick Coonhound is a generally healthy breed.
The expected lifespan is 12–15 years.
However, this dog is prone to hip dysplasia, a disorder of the joints that causes shallow hip sockets and joint laxity, leading to arthritis and lameness.
Coonhounds are generally predisposed to blastomycosis, a fungal infection.
Symptoms include weight loss, anorexia, and cough.
Megaesophagus also occurs in this breed and includes esophageal dilation and hypomotility.
Throwing up is the main symptom.
Watch for acute idiopathic polyradiculoneuritis (Coonhound Paralysis).
This is a neurological problem that causes weakness in the rear legs after exposure to raccoons.
In the jaw and teeth, Redtick Coonhounds may experience prognathism (undershot jaw) or brachygnathism (overshot jaw).
This Coonhound may also experience retinal atrophy and persistent pupillary membranes.
As with any long-eared dog, you will need to check for ear infections.
They can also get overheated easily.
Also, the Redtick Coonhound's stomach is prone to bloat, like other large, deep-chested breeds.
This can be life-threatening, so learn the signs!
According to the AKC, there are currently no recommended health tests for this breed.
As for grooming, your dog will need a minimum of care.
Redticks shed in moderate amounts but only need an occasional weekly brushing and a bath every 4–6 weeks.
Do Redtick Coonhounds Make Good Family Dogs?
It depends on the family, actually.
Redtick Coonhounds can be great family pets, but they do best with older children who understand how to treat dogs.
And they need a family that can meet their energy needs.
A hunting family that lives in a country-like environment with lots of acreage might work quite well.
A good family for a Redtick Coonhound will have experience with confident discipline for their pet dogs.
The right family won't mind loud barking and will understand the needs of working animals.
If your family meets that criteria, the Redtick Coonhound might indeed be a good dog for you.
Rescuing a Redtick Coonhound
Rescuing a dog can cost less, and makes you feel good, because you are helping an animal that needs you.
You can rest assured you're not getting an animal from a puppy mill, which is a factory-style breeding facility that many not offer the best care to puppies offered for sale.
Your rescue might already have some training and some veterinary procedures taken care of.
If you're rescuing an adult dog, you'll know what the dog looks and acts like already.
This takes some of the guesswork out of getting a dog!
On the other hand, you will have fewer options in choosing a new dog in terms of health, temperament, and age.
If you're planning to rescue a dog, make sure to do your research.
Know what kind of dog you can handle.
And be patient!
You may have to keep checking back for the kind of dog you want.
If you have your heart set on a Redtick Coonhound, you may have to wait a bit.
Finding a Redtick Coonhound Puppy
To find your Redtick Coonhound puppy, start your search online.
We recommend avoiding pet stores.
To make sure you're not supporting a puppy mill, start with breeders and rescues.
Use a search engine, ask friends for recommendations, and do your own research to satisfy yourself about any organization that you find.
Need additional help?
Raising a Redtick Coonhound Puppy
Raising a puppy is rewarding and fun, but it also takes work and care on your part.
Like all puppies, Redtick Coonhounds will require training and socialization.
With their high energy levels and love of work, these dogs especially need obedience and consistent positive reinforcement.
They can be stubborn.
So training may be more difficult than with some other breeds but is definitely worth it in the end.
Need some advice on this part of raising your puppy?
Pros and Cons of Getting a Redtick Coonhound
Let's look at the cons first.
Redtick Coonhounds require lots of activity and are happiest when working.
They need space to run and a family that knows how to handle dogs.
They do best with experienced owners who can spend time and exercise with them.
These are loud dogs that will bark and howl.
Some people may not like that.
Also, they have a strong prey drive.
So a Redtick Coonhound may not be for everyone.
If you're looking for a lower-energy companion pup, this isn't the one for you!
But Redtick Coonhounds have some great pros, as well.
They can be great pets because they are social, friendly, adorable animals.
When not out on the hunt, they can be sweet and mellow.
For families that can meet their need for attention and excitement, Redtick Coonhounds may be a great option.
Similar Breeds
Not sure if this is the right breed for you?
If not, consider some other options.
The American Foxhound is a healthy breed, similar in temperament to the Redtick Coonhound in some ways.
The Redbone Coonhound is a capable hunter, friendly, and easier to train.
Another good option, the Treeing Walker Coonhound, is a tri-colored purebred with an outgoing demeanor and a slightly lower energy level.
All these dogs were bred for hunting and so share some traits with the Redtick Coonhound.
There are six different coonhound breeds.
Redtick Coonhound Rescues
Want to find some rescues that take in Redtick Coonhounds?
You'll probably find that your best best is one that takes in all types of coonhounds.
Let us know about your favorite rescue in the comments below!
Another good rescue resource is the Coonhound Rescue Network community on Facebook.
Is a Redtick Coonhound Right For Me?
Only you can decide if this is the dog for you.
Your Redtick Coonhound is likely to be a loyal friend, mellow at home and excellent at scenting and following raccoons.
Can you and your family handle such a loud and active dog, while working to curb its stubborn qualities and high prey drive?
Do you love the redtick markings that this dog sports?
If so, a Redtick Coonhound might be for you!
Resources and References
American Kennel Club, American English Coonhound.
American English Coonhound Association
Coon Hunting Club, The American English Coon Hound.
United Kennel Club, English Coonhound.
Westminster Kennel Club, American English Coonhound.
Schmutz, S. M. (2018). Genetics of Coat Color and Type in Dogs.
Clark, R. D. (2015). Medical, Genetic & Behavioral Risk Factors of Coonhounds. American English Coonhound. Xlibris.
Sutter, N. B. and Ostrander, E. A. (2004). Dog Star Rising: the canine genetic system. National Review of Genetics, 5(12).
Get Pippa's free dog training tips delivered to your inbox