This breed is known for its fantastic looking dogs, but for some, the red merle Australian Shepherd in particular stands head and shoulders above the other members of the breed!
Australian Shepherds are lovely, active dogs, and the red merle Australian Shepherd is no different.
In this article, we will be providing a detailed look at the red merle Aussie, giving you everything you need to know, from their appearance to their health issues, and how the red tri Aussie is distinct.
What Are the Genetics of the Red Merle Australian Shepherd?
To get things started, we will break down the basics of the genetics involved that produce this particular coat and pattern within Australian Shepherds.
Having an understanding of how this coat happens is important, especially due to the fact that certain configurations of the merle gene can lead to a significantly higher risk of debilitating health issues.
Don't worry, though, we will be keeping things as basic as possible!
There are multiple genes that can affect a dog's coat color, but for specifically Australian Shepherd colors red merle, we only need to worry about two of them.
Color
The first of these genes designates their overall color.
Think of the gene as a blueprint which gives the coat instructions on what to be.
Every Australian Shepherd puppy will receive a coat color gene from each parent, for a total of two.
However, only one of these genes can be expressed as the true color seen in the coat.
To ascertain which gene will be the one expressed, we will need to have an understanding of dominant and recessive genes.
Some genes are dominant, while others are recessive.
A dominant gene will always beat out a recessive gene and become the one that is expressed.
Therefore, if your puppy receives a dominant coat color gene, you can bank on that gene being the one expressed.
This also means that for the recessive gene to be expressed, there must be no dominant gene present.
The only situation where a recessive gene will be expressed is when the puppy has received a recessive coat color gene from each of its parents.
For the Australian Shepherd, the black coat color gene is dominant, while red is recessive.
To breed red Australian Shepherd puppies, they must receive the recessive red gene from both parents.
So with that, we have ourselves a red Australian Shepherd, but what controls whether they are merle or not?
Pattern
It comes down to the same concept.
Another pair of genes in the Australian Shepherd controls the patterning of the dog.
In this case, the merle gene is dominant to the solid color gene.
Therefore, for a red Australian Shepherd to have a merle coat, they only need to inherit one dominant merle gene.
In summary, for red merle Australian Shepherd puppies to be born, they must receive two recessive red coat color genes and one or two dominant merle pattern genes.
Still with me?
It can be hard to get your head round at first.
Once you do, it can help you talk with breeders properly about the potential coat colors in their litters and the health concerns of the merle gene.
Now that we have got all that dry science out of the way, let's get back into the breed itself!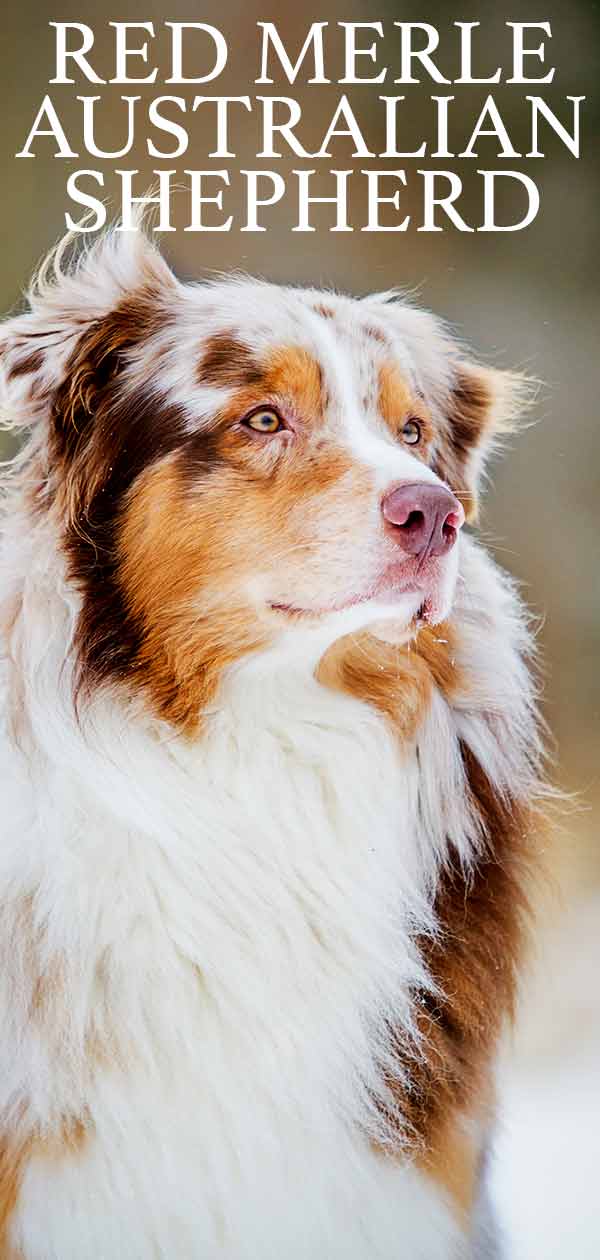 Red Merle Australian Shepherd Appearance
Did you know you can also get a blue merle Australian Shepherd?
If you aren't actually aware of what a merle coat is, it is where the coat is mottled, and patches of color appear within the coat on top of the base coat color.
As for the red merle Aussie, this usually means lighter or darker splotches of the red color.
The red merle coat is incredibly eye-catching, and there are actually multiple variations of this coat that you may find in this breed!
Some red merle Australian Shepherds are various shades of red all over with only minimal white spotting.
However, it is possible for red merle Aussies to also exhibit tan points or significant white patches of fur.
Australian Shepherd Colors Red Tricolor and Bicolor
If just one of these markings is present, we would call the dog bicolor with a merle pattern.
If both white and tan are present, we can call it a red tri Australian Shepherd puppy with merle patterning.
Whether these markings appear or not is dependent on the genetics of the parents and whether the puppy inherits them.
A good breeder should be able to state the chances that these markings may appear within their litter.
It's important to note that there are no physical differences between the Australian Shepherd red tri and the other variations of the breed.
The only difference is the color!
Their coat is still straight to wavy, of medium-rough texture, with a bit of a mane and some frilling.
You shouldn't expect any changes in the physical makeup of the coat or the dog itself.
Check out some great brushes for Australian Shepherds here.
Red Merle Australian Shepherd Temperament
First, we must make clear that there is no marked difference in the general temperament of the red merle Australian Shepherd and the other variations of the breed, regardless of what you may hear.
Some people believe that Australian Shepherds of this coat color and pattern have a unique temperament compared to other members of the breed.
However, there has never been any proof within a scientific setting that this is the case.
Therefore, it is much more likely that these beliefs are due to superstition more than anything else.
We would not purchase a red merle Australian Shepherd hoping for any particular unique temperament.
We would also advise to be wary of any breeders who are stating these claims about their puppies.
At best, they are simply misinformed, which isn't ideal, as a breeder should be an expert on the dogs they are producing.
At worst, they are lying to get more interest in their puppies, or even to try and charge more for them.
Australian Shepherd Temperament
With this in mind, you should expect the general temperament known within the breed: incredibly intelligent, active, and playful.
Good training and socialization from a young age will help ensure that they take on a positive temperament.
However, while the positive traits within this breed will appear in red merle Aussies, that goes for potentially hard to deal with traits and instincts too.
For example, a strong herding instinct may likely be present within the breed.
If this is not properly controlled, it can lead to negative behaviors such as herding and nipping at children.
Be sure you are aware of both the good and bad of the temperament in this breed, and consider whether you have the experience and family situation to properly accommodate and control them.
Red Merle Australian Shepherd Health
Unfortunately, the red merle Australian Shepherd could be subjected to extra health risks.
This is due specifically to the merle patterning.
Hearing
The first health concern related to this coat pattern is deafness in one or both ears.
The merle pattern often brings with it patches of white fur.
These patches are white because they contain absolutely no pigment whatsoever.
The lack of pigment seems to be linked to deafness.
Vision
The other concern with merle patterning is that it can cause ocular problems that may affect vision.
One of these is a condition called microphthalmia, which is where the dog is born with eyes which are much smaller than usual.
In severe cases, the dog may be blind.
The risks for these conditions sharply increase in puppies of two merle parents.
Receiving two of the dominant merle gene causes excessive amounts of white patches.
More importantly, it can severely increase the risks of hearing and eye conditions.
Therefore, we heavily recommend that you buy an Australian Shepherd that only has one copy of the merle gene.
A good breeder should be able to prove this, but you can tell by looking at the amount of white within their coat.
If more of the coat is white than colored, we would not recommend purchasing that red merle Aussie puppy, just to be safe.
Other Health Issues
On top of the health risks that come with the merle patterning, there are predispositions to conditions and diseases present within the breed itself that you should be aware of.
An Australian Shepherd may also be at increased risk of:
hip dysplasia
elbow dysplasia
cataracts
epilepsy
It's important that you choose a trustworthy breeder to receive a healthy red merle Australian Shepherd.
Choose a breeder who has recognition from various breeding societies and good feedback from previous customers.
A good breeder should be able to prove the genetic health of the parents.
And that their merle puppies have been bred with only one copy of the gene.
It's also important to note that there are no significant differences in the health of the red merle Australian Shepherd compared to other variations of the breed, other than the extra health risks posed by the merle pattern.
Do not trust any breeder who advertises red merle Aussies as particularly healthy compared to other members of the breed.
The Red Merle Australian Shepherd – A Visually Striking Variation!
With that, we have covered everything there is to cover on this beautiful variation of a wonderful breed.
In summary, there are no physical differences, unique temperaments, or significantly better health in red merle Australian Shepherds.
Do not trust breeders who state such things.
It's worth taking extra precautions when purchasing a merle-patterned dog due to the increased risk of health conditions, especially deafness.
Be sure to find a trustworthy breeder.
For more information on purchasing a puppy, see here.
Have you ever owned a red merle Aussie?
What did you think of the breed?
Let us know below!
Check out more dogs with cool colors, like the white English Bulldog!
References and Resources
American Kennel Club
Strain, GM, Canine Deafness Veterinary Clinics: Small Animal Practice, 2012
Strain, GM, Deafness prevalence and pigmentation and gender associations in dog breeds at risk The Veterinary Journal, 2004
Schmutz, SM, Genetics of Coat Color and Type in Dogs
Gough, A, et al, Breed Predispositions to Disease in Dogs and Cats John Wiley & Sons, 2018
Cachon, T, et al, Risk of simultaneous phenotypic expression of hip and elbow dysplasia in dogs Veterinary and Comparative Orthopaedics and Traumatology, 2009
Hédan, B, et al, Coat colour in dogs: identification of the merle locus in the Australian Shepherd breed BMC Veterinary Research, 2006
Australian Shepherd Health & Genetics Institute
Dea, CO, The Prevalence of Ocular and Auditory Problems in Homozygous Merle Dogs Szent István University, 2014
Get Pippa's free dog training tips delivered to your inbox