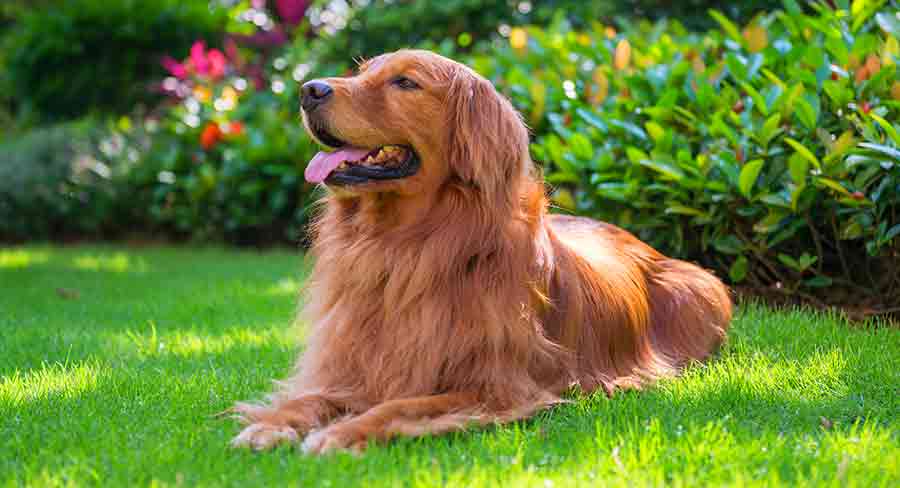 A red Golden Retriever is the same as any other Golden, but it has a darker, more red-toned coat. This specific shade isn't linked to a different temperament or health, so you can expect the same from a red Golden Retriever as any other shade.
So, you can expect a red Golden Retriever puppy to be friendly, energetic, and very people-oriented. They'll be happiest when they get to spend all of their time with you!
Ideally, this dog needs a family that has plenty of time to dedicate to exercise, training, and fun!
What is a Red Golden Retriever?
A red Golden Retriever is just a purebred Golden Retriever with reddish fur. The Golden Retriever breed comes in a spectrum of colors, from a light cream, to a deep rusty red.
This variation is natural and doesn't necessarily mean that a non-golden pup is not purebred.
In fact, a red Golden Retriever usually has a similar temperament and overall appearance to any other shade. They may have feathering around their legs and chest.
They will be energetic and active, suiting working roles just as much as they suit life as a family dog.
And, as long as they're well socialized from the time they're a puppy, red Goldens will get along with pretty much anyone. Including other dogs and pets.
Can Golden Retrievers Be Red?
It's perfectly normal to find a purebred Golden Retriever that has a red tint to his fur. All dog coat colors start with two base pigments:
Eumelanin (black)
Pheomelanin (red)
The pheomelanin pigment is the one that we are dealing with in red Golden Retrievers. This pigment spans from a light cream to a deep, rich red.
The exact shade will depend on the different genes that act on this base pigment.
So, some Golden Retrievers, even those from the same litter, can be strikingly different colors!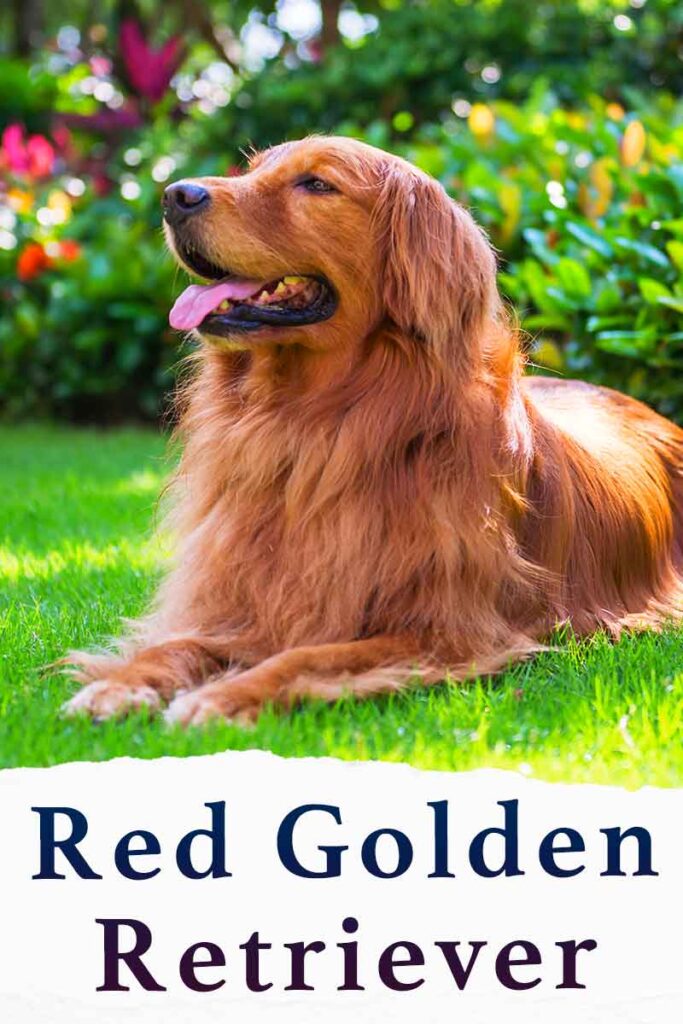 Are Red Golden Retrievers Rare?
Red Golden Retriever puppies aren't necessarily rarer than golden puppies. But, if demand for red puppies is lower, breeders may deliberately try to breed puppies with lighter coats.
This can mean that it's much harder to find red Golden Retriever puppies unless you go to someone that's deliberately breeding them.
So, in some places, they will be rare because demand for golden puppies is higher.
However, there's no guarantee that litters of puppies won't naturally vary in color. So, two lighter Golden Retriever parents may throw a slightly darker puppy in their litter.
But it's much less likely. If your heart is set on getting a red Golden Retriever, it may be easiest to choose a breeder that specializes in this shade.
Do Red Golden Retrievers Shed Less?
Since red Golden Retrievers actually aren't different to golden versions, their shedding levels will be very similar.
All Golden Retrievers have a double layer coat made up of a water-resistant outer layer, and a thick, warm undercoat.
They shed moderately all year round. But, this increases to heavy shedding for a few weeks in spring and fall.
So, no matter what color your Golden Retriever is, be prepared to clean up shed fur from your floors. Grooming regularly will help to control the amount of hair your Golden sheds.
But, this is something every owner experiences! Whether they have a golden puppy or a red one. If you want a low shedding dog, you may be better off choosing a different breed.
Red Golden Retriever Temperament
Red fur color won't change the typical Golden Retriever temperament. In general, this is a high energy dog that has plenty of intelligence and loves spending time around family.
Golden Retrievers are highly social and don't suit families where they will be left alone for long periods of time. Doing so can result in destructive behaviors, like barking, digging, and chewing.
They are also large dogs that need space to exercise and play, even outside of formal exercising times. So, they are often happiest in a home with a large enclosed yard.
As long as you have plenty of time to train, socialize, and play with your Golden Retriever, they will be a happy and confident dog that gets along with everyone.
But, socialization from a young age is vital, even with a friendly breed like this. Especially if they will be sharing their home with children or other animals.
Red Golden Retriever Health
Fortunately, there are no studies linking red Golden Retriever fur to certain health issues. However, this doesn't mean they will avoid other common health problems.
Golden Retrievers, like all other purebred dogs, are prone to certain hereditary issues. Choosing a reputable breeder can minimise your dog's risk, but there's no guarantee they won't experience these problems.
Here are some of the most common issues that can affect Golden Retrievers of all colors:
Hip and elbow dysplasia
Cancer
Gastric Dilatation Volvulus
Muscular Dystrophy
Progressive Retinal Atrophy
Pigmentary Uveitis
Heart problems
Health testing is available for many of these issues. So, choose a reputable breeder that only breeds from Golden Retrievers who have clear health certificates.
Red Golden Retriever Puppies
There are breeders out there that will specialize in breeding certain colors. But, many red Golden Retriever puppies are just a happy accident!
And, since some people may prefer the standard lighter gold shades, it may not be too hard to get your hands on a red colored puppy.
However, it will depend entirely on where you live and the demand for puppies at that time. Since some breeders may try to actively avoid this shade, you may also have to find one that isn't breeding for lighter golds.
Golden Retriever puppies tend to cost from $900 to $2000. But, these prices will vary depending on a number of factors, including location, demand, and the quality of the parents.
If you're struggling to meet the price, or to find a red Golden Retriever puppy, another option is rescue. Rescuing an older dog can be very rewarding, and you will often know more about the dog's temperament and health before taking them home.
Should I Get a Red Golden Retriever?
Before committing to a red Golden Retriever, you must make sure their personality and needs are a good fit for your home and lifestyle. Even if you love that beautiful red colored fur!
There are plenty of other dog breeds that can have red coats. And some of these may be less high energy, lower shedding, and less prone to boredom than the Golden Retriever.
If you aren't able to spend almost all of your time with your dog, including for training, exercise, mental stimulation and grooming, you may be better off with a different dog breed.
But, if you think you are suited to the Golden Retriever breed, you can get started on your search for a red puppy!
In the right home, this breed can make a wonderful companion.
Do You Have a Red Golden Retriever?
Do you already have a red Golden Retriever puppy at home? Or are you currently searching for one to welcome into your family?
We would love to hear your favorite thing about this shade in the comments!
Readers Also Liked
References and Resources
Get Pippa's free dog training tips delivered to your inbox