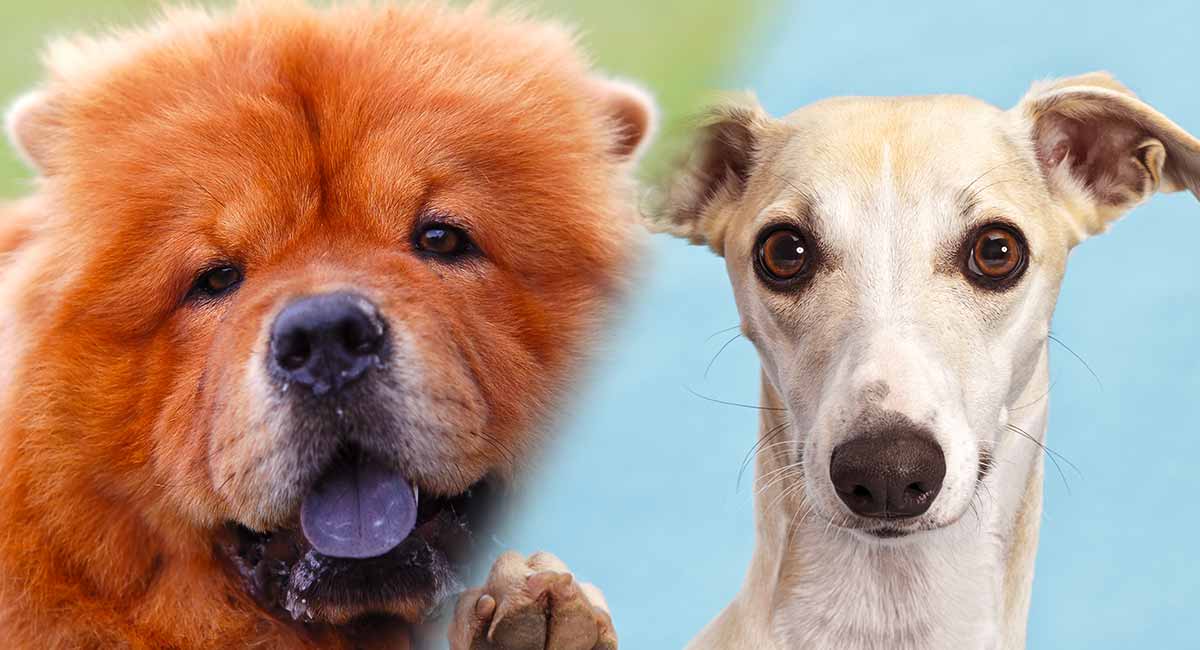 There are plenty of reasons to choose quiet dog breeds. Perhaps you live in an apartment, or are prone to headaches.
Quiet dog breeds are less likely to bark or whine. All dogs will make noises to some extent. Even those from 'quieter' breeds.
But, these breeds are less likely to make noise. Plus, when paired with training, you could have the quietest dog on the block!
Top 14 Quiet Dog Breeds
All dogs vocalize to some extent. And even among quiet dog breeds there will be noisy pups. But these are the best quiet dog breeds:
Before we get to know them better, let's look at why some dogs are quieter than others in the first place.
Why Do Dogs Bark?
Barking is one way that dogs communicate with people and with each other.
And there's no question that, like humans, some dogs have a lot more to say.
There are breeds who are very noisy and will bark at almost anything. Just as there are calm, quiet, small dog breeds who rarely speak.
Environmental factors can contribute to how much a dog barks.
Separation anxiety, boredom, seeking attention, and not getting enough physical activity or mental stimulation can all make even the most quiet dogs more vocal.
Individual temperament can also play a role. So one dog from the same breed, or even the same litter, can converse much more than another.
In this article, we'll focus on the most quiet dog breeds.
From quiet dogs that don't shed to small quiet dogs for apartments. We'll compare them all to help you find the right quiet dog breed for you.
Quiet Small Dog Breeds
Some people think that small and quiet dog breeds are a myth. But, not all little dogs are yappy!
Here are some small, quiet dog breeds. These are perfect for anyone seeking a little dog with a quiet personality.
Italian Greyhound
Small, slender, spirited, and speedy, the Italian Greyhound is a true Greyhound in miniature.
Like their larger counterparts, they were bred to chase prey silently. These elegant dogs are quiet and relatively laid back indoors.
They're a very sweet, sensitive breed. They do best in a harmonious home where their needs for attention and affection can be met.
But, they're not as delicate as they look. These fine-boned dogs are at risk for leg fractures.
Other health issues to watch for include autoimmune problems, Legg-Calve-Perthes disease, and hypothyroidism.
French Bulldog
It seems like the French Bulldog gets more popular every year.
Bred to be a charming companion, these playful and lively dogs don't bark much at all.
Their very short nose and trademark bat ears are loved by many.
But, sadly, Frenchies have a lot of health problems. Many are caused by their flat face and shortened legs.
Eye diseases, breathing issues, and back problems are just some of the health concerns that plague the Frenchie.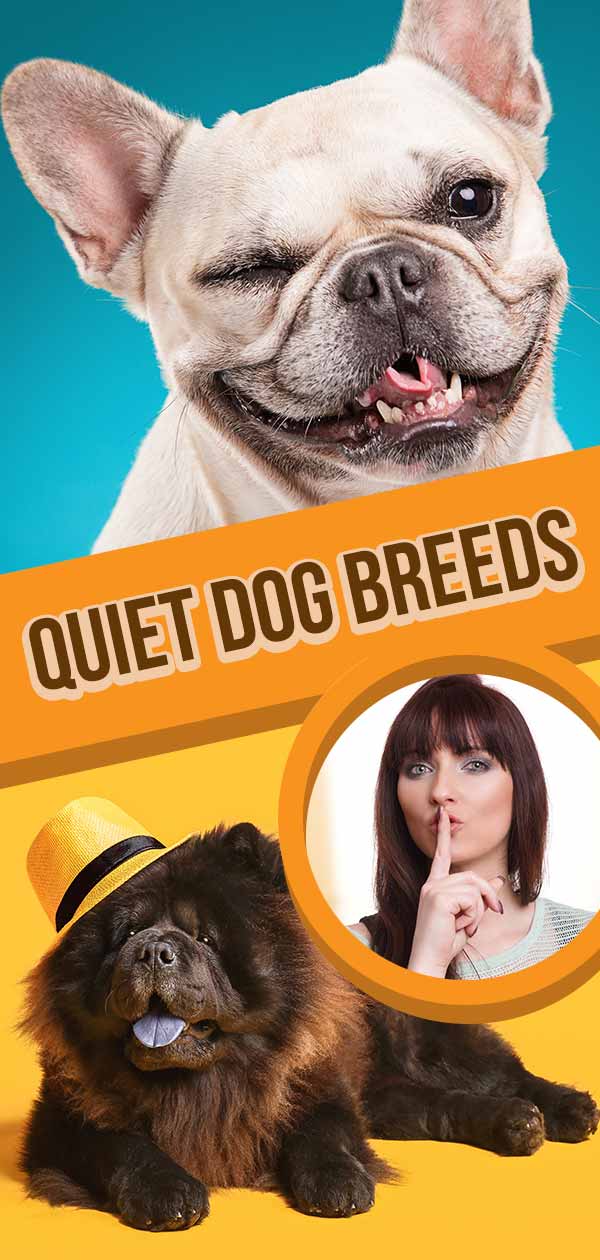 Quiet Medium Dog Breeds
These dogs are not too big or too small. If you like mid-sized mutts, here are some medium-sized quiet dog breeds for you to consider.
Chow Chow
The stoic Chow Chow has a bear-like fur, blue-black tongue, and a scowling expression.
People have used this breed for sporting, hunting, herding, and guarding purposes in their over 2,000-year history.
They're naturally a quiet dog breed unless they sense danger.
In fact, some people think that breeders selectively bred to have a quiet temperament for guarding temples and palaces.
They have a reputation for being aggressive. But this is usually to protect themselves or their loved ones.
However, Chow Chows do need plenty of training and socialization.
Health problems the Chow Chow is prone to include: eye diseases, hip and elbow dysplasia, allergies, and thyroid problems.
Shar-Pei
The Chinese Shar-Pei has a hippopotamus muzzle, tiny ears, blue-black tongue, and lots of wrinkles. They are one of the canine world's most unusual looking breeds.
They are intelligent, stubborn, loyal, and confident. Originally, breeders bred them as guard dogs.
But unless someone is breaking into your home, these dogs are basically silent.
But, the Shar-Pei is at risk for a long list of health conditions. A number of eye disorders plague the breed, including SARDS, which causes sudden blindness.
The most serious condition is Shar-Pei fever. It is linked to extreme wrinkling and is found only in this breed.
They're also at risk for a number of respiratory, cardiovascular, musculoskeletal, and gastrointestinal disorders. As well as skin conditions and certain cancers.
Large Quiet Dog Breeds
When it comes to choosing a dog, for some people, bigger is better.
They can provide security and some are easier to train.
These large dogs are also quiet dog breeds.
Borzoi
The Borzoi is a large but incredibly agile dog.
It is originally from Russia, where aristocracy used it for hunting.
They have a silky coat, elongated snouts, and lean muscular build. So, this is an impressive looking dog.
Borzois are loyal, affectionate, calm, and agreeable. They are also a very silent breed.
In fact, they're so quiet that they're unlikely to bark even during a break-in.
Borzoi retinopathy is an eye condition unique to these dogs.
Rhodesian Ridgeback
The South African Rhodesian Ridgeback was originally a hunting breed.
Today, people recognize them as a loyal, family-oriented dog. And they are known for being tolerant of children.
These dogs have an independent nature, strong prey drive, and can be protective of loved ones.
But, Rhodesian Ridgebacks are very quiet and rarely bark.
Responsible breeders will health test for hip and elbow dysplasia, thyroid problems, and eye conditions.
Quiet Non-Shedding Dogs
Before we get your hopes up, it's important to note that all dogs shed somewhat.
But there's certainly a big difference in fur loss from breed to breed.
Here are quiet dog breeds that don't shed much at all.
Basenji
This small, African breed is an energetic sighthound. They are called "barkless dogs."
Although the Basenji literally never barks, they do make a sound that's similar to yodeling. But this only happens when they become overly excited, which thankfully isn't often.
As to why Basenjis don't bark, it appears it has something to do with having a narrower larynx than other breeds.
People once prized this one-time pack hunter for their explosive speed and keen eyesight.
Independent, intelligent, and meticulous about grooming themselves. The Basenji's short coat sheds only lightly for those seeking small, quiet dogs that don't shed.
Overall, they are a healthy breed. But you should have them health tested for hypothyroidism, an inflammatory bowel disease called IPSID, and canine hip dysplasia.
Whippet
The sleek and dignified Whippet is a sweet-natured soul. They're not prone to becoming excited and bark very little.
English miners originally bred them to be a smaller version of the Greyhound.
Known as the fastest breed for their size, they can reach speeds of up to 35 miles per hour.
But, Whippets are one of those quiet, gentle dog breeds who are happy to cozy up to you at home.
They have a short, tidy coat with fine hairs that shed very little and don't need a lot of grooming.
Breeders should screen their breeding stock for deafness, eye disorders, and heart disease.
Calm Quiet Dog Breeds For Apartments
Today many people live in condos and apartments.
If you're interested in quiet dog breeds that are suitable for city living, here are some that won't annoy the neighbors.
Cavalier King Charles Spaniel
The Cavalier King Charles Spaniel is a great option if you're looking for quiet toy dog breeds.
British aristocrats bred them as a lapdog. These dogs have a gentle attentiveness and even temperament.
With their big, brown eyes, sweet little faces, and fluffy drop ears, it's easy to see their appeal.
The only time that the Cavalier King Charles Spaniel is likely to make noise is if they don't get enough attention.
Otherwise, these quiet lapdogs are happy to bask in your adoration in satisfied silence.
Unfortunately, this breed is at risk of having a serious condition called syringomyelia. This is due to the small size and shape of their skull.
The heart condition mitral valve disease is also quite common in this calm, quiet small dog breed.
Japanese Chin
The Asian aristocracy bred the Japanese Chin as a companion.
And there's no place this toy breed would rather be than sitting in the lap of those they love.
This is a very sensitive breed. They love it when their owners pamper and cuddle them.
Happy and friendly, these little dogs get along with everyone and make great indoor pets.
They don't bark much at all. And they have many cat-like traits such as a fondness for perching in high places.
With their profuse, silky coat and big, wide-set eyes these little dogs are adorable.
Unfortunately, they also have a flattened face. Which puts them in danger of associated health issues.
Japanese Chins are also at risk of being diagnosed with a fatal neurological condition called GM2 gangliosidosis, patellar luxation, epilepsy, and early-onset heart murmurs.
Quiet Friendly Dog Breeds
For some people, size is less important than temperament.
If you're wondering which canines are not only friendly but calm and quiet dog breeds, keep reading.
Bernese Mountain Dog
The Bernese Mountain Dog is a huge dog with an even bigger personality.
Calm and good-natured, you could say they're the strong, silent type. They rarely bark unless there's a good reason.
Originally they worked as farming, herding, and hunting dogs. But today, they make a wonderful companion with a loving, playful temperament.
This breed of dog is a gentle giant. And they are particularly patient with children.
Hip and elbow dysplasia, blood disorders, cancer, and systemic histiocytosis are health concerns for the Bernese Mountain Dog.
Saint Bernard
There's a reason that the genial giant of the Swiss Alps is such a beloved breed.
Saint Bernards are very social, charming, and affectionate dogs.
As long as you properly socialize them as puppies, they can be a quiet dog breed.
A Swiss hospice developed Bernards were to locate and rescue lost travelers stranded in the snow. And today, these giant dogs make wonderful family companions.
People know them for being playful, yet calm, and easy-going. And they are particularly with children.
Like other deep-chested breeds, they're at risk for the life-threatening condition commonly known as bloat.
Heart conditions, hip and elbow dysplasia, and eye diseases also affect Saint Bernards.
Lazy Quiet Dog Breeds
Are you looking for quiet dog breeds that don't require tons of physical exercise?
Here are the best quiet dog breeds for people who want a laid back companion.
Newfoundland Dog
Despite their intimidating size, dog lovers prize the Newfoundland Dog for their sweet temperament and calm demeanor.
They do require space and some moderate daily exercise. But, they can be very docile in the home.
These dogs don't bark much. And if they do, it's always for a good reason.
Newfies were renowned seaman's dogs. They specialized in water rescue.
So, they're exceptional swimmers and even have partially webbed feet.
You can find cardiac disease, hip and elbow dysplasia, and cystinuria as health problems in this large, quiet dog breed. The latter can cause stones in the urinary system.
Take a look at our guide to the white Newfoundland dog here.
English Bulldog
If you're familiar with this friendly, calm breed, you can't imagine that they were originally bred for the vicious sport of bull-baiting.
With their fighting days in the past, English Bulldogs are happy to curl up next to you on the sofa and take a nap. Bulldogs don't bark much. But they do snore and snort.
Their exaggerated short muzzle and undershot jaw is the result of selective breeding. And they make those noises because they have a hard time breathing.
For this reason, they aren't able to cope with much physical exercise. They are much better off lounging indoors on hot, humid days.
Unfortunately, the Bulldog's conformation has been so compromised. As a result, they're prone to many health conditions.
This breed has serious respiratory problems. As well as dental and eye issues. Bulldogs can also have deformities of the vertebrae in the tail, which can also cause painful spinal problems.
Quiet Dog Breeds
As you can see, there's a wide array of quiet dog breeds.
Are you interested in a dog who barks as little as possible? Have we covered all of the quietest dog breeds?
Tell us your thoughts in the comments.
Readers Also Loved
Newer References and Resources
Older References and Resources
Get Pippa's free dog training tips delivered to your inbox